Known for movies
Short Info
| | |
| --- | --- |
| Date Of Birth | July 27, 1967 |
| Spouse | Rachel Mitchell (m. 2010), Jeanette Robbins (m. 1990–1997) |
| Fact | Calvin Klein blue jeans model studied acting at the National Improvisational Theater in NYC [1988] |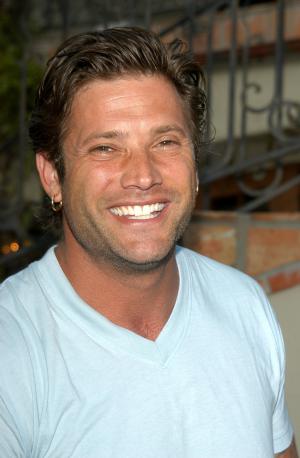 Who is Sasha Mitchell?
Sasha Mitchell is an American actor, model as well as a martial artist, who is perhaps most widely recognized for starring in the recurring role of James Beaumont in the TV drama series "Dallas", and as Cody Lambert in the TV comedy series "Step by Step". He is also known for his big screen appearances in the action movies franchise "Kickboxer".
Early Life
Sasha Mitchell was born under the zodiac sign of Leo on the 27th July 1967, in Los Angeles, California. Apart from being of American nationality and white ethnicity, he is also of some Russian and Jewish descent.
There isn't much relevant information regarding his educational background, except that he studied acting at the New York City's National Improvisational Theater.
Prior to diving into the moviemaking industry, Sasha practiced mixed martial arts, which led him to earn the black belt in Muay Thai and Tae Kwon Do. During his teenage years, he won a local amateur kickboxing championship. Additionally, during the late 1980s, he collaborated with fashion photographer Bruce Weber, and walked the cat walk as a model for Calvin Klein.
Acting Career
Mitchell made his acting debut in the 1986 TV drama movie "Pleasures", after which he appeared in an episode of the Golden Globe-nominated TV comedy drama series "St. Elsewhere". By the end of the 1980s he'd added several supporting roles to his portfolio, such as in the TV series "Rags to Riches" and "William Tell", as well as in the comedy drama film "Spike of Bensonhurst". The real breakthrough in Sasha's career occurred in 1989, when he was cast for the recurring role of James Beaumont in the CBS TV's soap opera "Dallas" which he portrayed through the show's three seasons, appearing in a total of 45 episodes.
In 1991 Mitchell landed the main role of David Sloan in the second installment of the action film series "Kickboxer", entitled "Kickboxer 2: The Road Back", appearing as the younger brother of Kurt Sloane originally portrayed by Jean-Claude Van Damme. Additionally, Sasha reprised the role in two other installments from the series – "Kickboxer 3: The Art of War" in 1992, and "Kickboxer 4: The Aggressor" in 1994.
Apart from the abovementioned, in 1991 he began starring in the recurring role of Cody Lambert in the critically praised ABC TV's comedy series "Step by Step", that led him to appear in over 100 episodes of the show 'til 1996.
Additionally, he reprised the role in the series' spin off TV comedy series entitled "ABC TGIF", as well as in the 1994 TV movie "ABC Sneak Peek with Step by Step".
With the beginning of the 2000s, Mitchell appeared in movies such as "Luck of the Draw", "This Is How the World Ends" and "Gangland", after which he was cast in the romantic comedy film "The Failures" in 2003. Later that year he made a guest appearance in an episode of the TV crime drama series "L.A. Confidential", before starring in the comedy movie "Dickie Roberts: Former Child Star" as well as in the critically booed action film "Slammed" in 2004.
Between 2004 and 2005 he made several guest appearances in the NBC's praised medial drama series "ER".
After a five-year-long hiatus, in 2010 Sasha appeared in the poorly rated adventure film "Abelar: Tales of an Ancient Empire", while after another five years he re-appeared in the TV action drama movie entitled "Frontlines". Later in 2015 he was cast for the leading role in the action movie "EP/Executive Protection", after which he appeared in the comedy drama film "I Love You Both" in 2016.
In the following years, Sasha was engaged in several supporting roles in movies such as "Smoke Filled Lungs" and "Assassin X", as well as in the critically praised short movie "Father and Father". His most recent on-screen acting appearance occurred in 2019, when opposite Salma Hayek and Alec Baldwin, he appeared in the comedy movie "Drunk Parents".
Personal Life
When it comes to his private life, Sasha was married twice, between 1990 and 1997 to Jeannette Robbins with whom he welcomed four children, three daughters – Paulina Justine born in 1988, Caroline (1990) and Stacy in 1996, and a son Ethan born in 1997.
Prior to their divorce, in 1996 Mitchell faced charges of domestic abuse, and was sentenced to three-year-long probation for beating his wife. Eventually, after violating his probation, he was sentenced to a 30-day-long imprisonment.
In January 2002, in one of his interviews and regarding his domestic abuse accusations, he stated that he was just trying to protect his children from their violent and abusive mother who was also a drug addict. After years of legal issues, Sasha eventually won full custody of his four children.
In December 2010 he married Rachel Mitchell but five years later he filed for divorce.
The 52-year-old American actor sports a 'buffed up' figure, and is standing 6ft 3ins (1.91m) tall. On his left shoulder, Sasha has a huge dragon tattoo.
Net Worth
Authoritative sources have estimated that, speaking as of mid-2020, the total of Sasha Mitchell's net worth figures around the sum of $600,000, primarily acquired through his successful acting career that has currently spanned nearly 34 years.
General Info
| | |
| --- | --- |
| Full Name | Sasha Mitchell |
| Date Of Birth | July 27, 1967 |
| Height | 1.9 m |
| Profession | Actor, Model |
| Nationality | American |
Family
| | |
| --- | --- |
| Spouse | Rachel Mitchell (m. 2010), Jeanette Robbins (m. 1990–1997) |
| Children | Paulina Justine Mitchell, Stacy Mitchell, Ethan Mitchell, Caroline Mitchell |
| Parents | Sherwin Mitchell, Renée Mitchell |
| Siblings | Marissa Mitchell |
Accomplishments
| | |
| --- | --- |
| Movies | Kickboxer 2, Kickboxer 4, Kickboxer 3, Class of 1999 II: The Substitute, Spike of Bensonhurst, Dickie Roberts: Former Child Star, Death Before Dishonor, Tales of an Ancient Empire, Step by Step: TV Favorites, Cyborg Nemesis, Smoke Filled Lungs, I Love You Both, Gangland, Slammed |
| TV Shows | Step by Step, Dallas |
Social profile links
Facts
| # | Fact |
| --- | --- |
| 1 | Co-starred with Patrick Duffy on "Dallas" and "Step By Step". On both shows, Sasha Mitchell played Duffy's nephew. |
| 2 | While growing up in Los Angeles, he frequently spent his summers in New York City. |
| 3 | Is an avid motorcycle enthusiast, and enjoys building and collecting Harley Davidsons. |
| 4 | Lives in California's San Fernando Valley. |
| 5 | Younger brother of Marissa Mitchell. |
| 6 | January 2002) Stated on Entertainment Tonight (1981) that his arrests for spousal abuse stemmed from trying to protect his kids from their mother's abuse. He says that his wife was addicted to drugs throughout their marriage and that she abused the children physically, which caused him to intervene. He also claims that his wife then sold the spousal abuse stories to various tabloids. Today, Sasha has full custody of his four children, and his ex-wife is only allowed five supervised visits with the children every year. |
| 7 | Sasha became interested in lifting weights right before making the kickboxing movies in the early 1990s. |
| 8 | Has a giant tattoo of a dragon on his left shoulder |
| 9 | He likes hot and spicy Chinese food with BIG red peppers and ice cream. |
| 10 | Children: Paulina Justine (b. 1988), Caroline (b. 1990), Stacy (b. November 1996), and Ethan (b. 1997). |
| 11 | Calvin Klein blue jeans model studied acting at the National Improvisational Theater in NYC [1988] |
Pictures
Movies
Actor
| Title | Year | Status | Character |
| --- | --- | --- | --- |
| St. Elsewhere | 1986 | TV Series | Southie |
| Pleasures | 1986 | TV Movie | Antonio |
| Drunk Parents | 2017 | post-production | Shope |
| Algiers | | announced | |
| Cyborg Nemesis: The Dark Rift | | announced | Corporal Roland |
| Assassin X | 2016 | | Blade |
| Smoke Filled Lungs | 2016 | | Peter |
| I Love You Both | 2016 | | Ted |
| EP/Executive Protection | 2015 | | Issac |
| Frontlines | 2015 | TV Movie | Capt. Samuels |
| Abelar: Tales of an Ancient Empire | 2010 | | Rodrigo |
| ER | 2004-2005 | TV Series | Bartender Patrick |
| NYPD Blue | 2005 | TV Series | Darian LaSalle |
| Slammed | 2004 | | Slammer |
| Dickie Roberts: Former Child Star | 2003 | | Angry Driver |
| L.A. Confidential | 2003 | TV Movie | |
| The Failures | 2003 | | Reflexor |
| JAG | 2002 | TV Series | Commander Curry |
| Gangland | 2001 | | Derek |
| This Is How the World Ends | 2000 | TV Movie | Cop |
| Luck of the Draw | 2000 | | Buddy |
| Step by Step | 1991-1998 | TV Series | Cody Lambert |
| Love Boat: The Next Wave | 1998 | TV Series | Ron |
| ABC Sneak Peek with Step by Step | 1994 | TV Movie | Cody Lambert |
| Class of 1999 II: The Substitute | 1994 | | John Bolen |
| Kickboxer 4: The Aggressor | 1994 | | David Sloan |
| Kickboxer 3: The Art of War | 1992 | | David Sloan |
| Dallas | 1989-1991 | TV Series | James Beaumont |
| Kickboxer 2: The Road Back | 1991 | | David Sloan |
| Parent Trap: Hawaiian Honeymoon | 1989 | TV Movie | Jack |
| The Flamingo Kid | 1989 | TV Short | Jeffery Willis |
| Spike of Bensonhurst | 1988 | | Spike Fumo |
| Not Quite Human | 1987 | TV Movie | Bryan Skelly, Becky's Crush |
| Rags to Riches | 1987 | TV Series | The Duke |
| Death Before Dishonor | 1987 | | Ruggieri |
Self
| Title | Year | Status | Character |
| --- | --- | --- | --- |
| Ric's Corner | 2014 | TV Mini-Series | Himself - Guest Speaker |
| Tales of an Ancient Empire: Behind the Scenes | 2012 | Video documentary | Himself |
| Circus of the Stars Gives Kids the World | 1993 | TV Movie documentary | Himself |
Archive Footage
| Title | Year | Status | Character |
| --- | --- | --- | --- |
| Rags to Riches | 1987 | TV Series | |
Source:
IMDb
,
Wikipedia