• Joe Penny is an American actor who has had an impressive career in film and television from 1977 • 2016
• He is most famously known for his roles in the detective series "Riptide", "Jake and the Fatman", and "Jane Doe"
• His career took off after he read the script for "Riptide" and was convinced by the producer to take it on
• He is known as a "handsome, hunky, tough guy actor" and has kept his personal life mostly private
• Joe Penny's net worth is estimated to be around $500,000

Known for movies
Short Info
| | |
| --- | --- |
| Date Of Birth | June 24, 1956 |
| Fact | Played football during high school in Huntington Beach, California. Odd jobs before acting including washing postal trucks, crew foreman, and dishwasher. |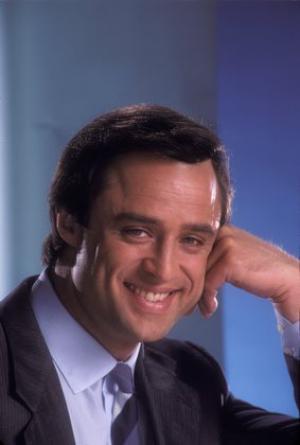 Do you remember Joe Penny?
Joe Penny is an American actor, who has an impressive filmography of film and television roles from 1977 to 2016. He's gained fame mainly from the detective series "Riptide" which aired during the 1980s, "Jake and the Fatman" from the late '80s to early '90s, and from 2005 onwards in the mystery TV film series, "Jane Doe".
Joe Penny's family and education
He was born Joseph Edward Penny Jr. on 24th June 1956, in Uxbridge, London, UK under the star sign of Cancer, so is now 63 years old. His father was American Joseph Edward Penny Sr., and his mother, Anne Teresa Rita Cox was Italian.
#JoePenny was an #80s heartthrob on RIPTIDE.

See him on WALKER, TEXAS RANGER — 6p ET on @getTV #WalkerongetTV

What else do you recognize him from?https://t.co/0wd1OReTfW pic.twitter.com/F0sfonf4EC

— getTV (@gettv) March 5, 2019
Joe spent his childhood in Marietta, Georgia, USA, and when his parents divorced, Joe and his six sisters and brother moved to Huntington Beach, California with their mother. Joe's mother remarried and divorced a couple of times, so Joe has three half-siblings. He recalls one of the hardest things in his life was being separated from his father from a young age, and even though his father stayed in touch, Joe didn't see him; it was only 13 years later that they reconnected.
Joe was never very academically minded, but enjoyed playing football and basketball at Marina High School in Huntington Beach. He left home at the age of 15, which he maintains made him tougher.
Leaving school, he didn't have any great ambitions as what to do with his life, and when he was 18 years old he would just hang out on Sunset Boulevard. One day Joe was waiting for a friend who was busy in an acting class, and watching the class at work, he became quite intrigued by the whole thing. The teacher invited him to try his hand at acting, and after giving it some thought, he joined a week later. That was a turning point in his life, and set him off on the path to stardom.
Is Joe Penny married?
At a height of 6ft (1.83m), with his dark hair, blue/green eyes, good build and known as the 'handsome, hunky, tough guy actor', Joe was often harassed by women. It's therefore understandable that he chose to keep his private life entirely out of the spotlight.
There were rumors that he dated his co-star, Melissa Gilbert, in 1987 while on set for the crime movie "Blood Vows: The Story of a Mafia Wife". Joe's beautiful leading ladies of that era, including Loni Anderson, Lynda Carter and Morgan Fairchild, saw him as one of the sexiest, most handsome actors. Again, there were stories circulating that he had dated a string of other co-stars, such as Kim Zimmer, Jenny Robertson etc., but there are no real facts to be found anywhere. It is reported that he married Cindy M. Penny in 2004 after they had been dating a while, and that they are still together.
How Joe Penny's acting career evolved
Joe studied acting under Lee Strasberg at the Actors Studio, which influenced several generations of actors.
Through those early years when he took on minor acting jobs in LA theaters, he supported himself by working as a truck driver, a dishwasher and maintenance crew foreman.
Joe's first minor roles were in 1977, in the TV series "Forever Fernwood" and the TV film, "Delta County, USA". Soon after he acted in "The Hardy Boys/Nancy Drew Mysteries" series, which ran from January 1977 to January 1979, meantime featuring in the drama film, "Our Winning Season", and making single episode/guest appearances in several TV films and series, such as "CHiPs", "Deathmoon", "Mother, Juggs & Speed", "The Girls in the Office" "Samurai" and "Lou Grant".
The early 1980s saw Joe performing in several more TV series and sitcoms, but most notable was his star portrayal of the notorious American gangster, Benjamin "Bugsy" Siegel in the mini series "The Gangster Chronicles" in 1981.
Leading up to 1983, he starred in the movie, "Lifepod" and TV series, "The Gossip Columnist", "Vega$", "Archie Bunker's Place", "Matt Houston" and "T J Hooker", amongst several others,
What was the turning point in Joe Penny's career?
It was around that time that Joe had also read the script for the upcoming series "Riptide", and had been asked to come in for a second audition. He was hesitant as he really wanted to be a movie actor and he had auditioned for, and was hoping to get a part in the film, "Purple Hearts" with Cheryl Ladd (best known as one of the Charlie's Angels). The producer of "Riptide", Stephen Cannell, actually called Joe direct saying that he really wanted him to play the character, Nick Ryder, and convinced him that a TV series would be of greater benefit, and would ultimately give Joe a lot more exposure.
Stephen said he would deposit $50,000 into Joe's bank account and if Joe got the part, Joe could pay him back weekly from his salary. If not, he could keep the money anyway. Well Joe went for it and the rest is history!!
"Riptide" ran through 56 episodes on NBC from January 1984 to August 1986. Joe Penny, as Nick Ryder, starred alongside Perry King as Cody Allen, together opening a detective agency and conducting their business out of Cody's boat, the "Riptide", which was moored at King Harbor Marina, LA. They enlisted Thom Bray (Murray "Boz" Bozinsky), a techno-savvy scientist and computer geek to help them with their investigations. The series was highly popular, and was later released as a DVD package. In Germany the series ran from 1985 entitled 'Trio mit vier Fausten". Ironically, apparently Joe suffered seasickness during the filming of the series.
https://www.instagram.com/p/BzR0ZQNl96o/
Joe Penny's career takes off after "Riptide"
Joe had made a name for himself as an accomplished actor, had hit the big time and was in high demand. From 1986 to 1987 Joe acted in the TV films "Perry Mason: The Case of the Shooting Star" and "Blood Vows: The Story of a Mafia Wife", also in the TV series:' "Matlock", "The Twilight Zone" and "Roses are for the Rich".
In September 1987 "Jake and the Fatman" launched on CBS, with Joe in the role of Jake Styles, an easygoing special investigator who has ongoing clashes with J.L. "Fatman" McCabe, (William Conrad), a tough Los Angeles district attorney, ex-Hawaiian police officer. Initially the series was set in LA, then from the second season onwards to midway through the fourth season, in Honolulu, Hawaii. At that stage, Joe had a health crisis and lost a lot of weight.
Many rumors did the rounds about the suspected cause of his condition, but actually he had a gastrointestinal virus and struggled to put on weight. For the completion of the fourth season and the remainder of the show it once again returned to LA, eventually running for 103 episodes over five seasons. The TV series, "Diagnosis: Murder" and three connected TV movies developed as an offshoot of the series.
Concurrently, Joe also starred in three other TV films, and from the '90s onwards through to 2010, featured in many productions such as the films, "BitterSweet", "The Prophet's Game" and "Jack of Hearts". Amongst many others, some notable TV movies and series were "Walker, Texas Ranger", "Family of Cops", "The Sopranos", "Days of our Lives", "Double Jeopardy", and "CSI: Miami".
From 2005 to 2008 Joe starred as Frank Darnell in "Jane Doe", alongside Lea Thompson.
This was a series of nine Hallmark Channel mystery TV films, which replayed several times after the original run. In 2008 he played a recurring role as Martino Vitali in six episodes of "Days of Our Lives", followed by three episodes in "Cold Case" between 2009 and 2010, and then another TV film, "Betrayed at 17" in 2011. The last movie Joe appeared in was "The Last Night Inn" in 2016.
What else do we know about Joe Penny and where is he now?
Throughout his career, Joe worked long hours – often 15 hours per day nonstop – so when he had time out, he would sleep as much as possible. In between when he could grab some time, he would enjoy camping, traveling, bodybuilding, fishing, hunting and spending time with his family – he was never much of a partygoer. Joe considers himself quite a good cook, and enjoys making a good spaghetti sauce.
It is reported that he studied Nichiren Shōshū, a form of Buddhism. He is a lover of music, having grown up with The Beatles, and spent his teenage years in the dawning era of great rock bands.
Joe was inspired to create a blues/rock band called "Stray Dogs". Their CD, "This Year's Blonde" was released in 1994, and gained more popularity in Europe than the US. Joe wasn't entirely satisfied with the CD, nor his musical ability, and opted not to continue as a musician.
Joe has mostly withdrawn from the public eye, and can't be found on any social media platforms at all. His home is tucked away in the San Fernando Valley, California. He is known to have a big heart, and has done a lot of charity stuff over the years, and making occasional appearances at charity events.
Otherwise he is only seen occasionally, sometimes with his wife, Cindy at red carpet events. Perry King, Joe's co-star in "Riptide", launched his own movie recently called "The Divide" and he and Joe were reunited at the LA premier in February 2019, after not seeing each other for many years.
Joe Penny has declared, 'The mark of a good actor is to take a difficult role and make it look easy'.
As Joe has managed to keep his life a secret for over four decades, whilst riding the tide of success, it is difficult to pinpoint what his financial status is, but according to valid sources, Joe Penny's net worth is about $500,000 – apparently he's preferred to play roles he's interested in, rather than chasing 'the big bucks'.
General Info
| | |
| --- | --- |
| Full Name | Joe Penny |
| Date Of Birth | June 24, 1956 |
| Height | 1.83 m |
| Profession | Actor |
| Education | Marina High School |
Accomplishments
| | |
| --- | --- |
| Movies | Blood Vows: The Story of a Mafia Wife, Bloody Birthday, Breach of Faith: A Family of Cops 2, Whisper Kill, Family of Cops 3, Reign of the Gargoyles, Our Winning Season, Betrayed at 17, The Red Phone: Manhunt, The Little Unicorn, Perry Mason: The Case of the Shooting Star, Terror in the Night, Gangst... |
| TV Shows | Jane Doe, Jake and the Fatman, Riptide, The Gangster Chronicles, Forever Fernwood |
Social profile links
Facts
| # | Fact |
| --- | --- |
| 1 | Suffered from seasickness while filming the Riptide (1984) TV series. |
| 2 | First job was a small part in the pilot of The Hardy Boys/Nancy Drew Mysteries (1977) TV series. |
| 3 | Dark, hunky 'tough guy' actor who studied under Lee Strasberg and went on to play heroes and mobsters in mini-movies in the 80s. Best known for his series work with William Conrad in Jake and the Fatman (1987). |
| 4 | Played football during high school in Huntington Beach, California. Odd jobs before acting including washing postal trucks, crew foreman, and dishwasher. |
| 5 | Born in England to an American father and an Italian mother, lived in Georgia as a baby but later moved to California, where he has lived since. |
| 6 | While Joe is a graduate of Marina High School in Huntington Beach, California, Class of 1974, he was never a high-profile student. No extra-curricular activities (drama productions, etc), and he ducked every student picture day after his freshman year. You'll find him listed as "missing in action" in every MHS yearbook published after 1971. |
Pictures
Movies
Actor
| Title | Year | Status | Character |
| --- | --- | --- | --- |
| The Last Night Inn | 2016 | | Sam |
| Betrayed at 17 | 2011 | TV Movie | John Taylor |
| Cold Case | 2009-2010 | TV Series | Hank Butler |
| CSI: Miami | 2008 | TV Series | Travis Drake |
| Days of Our Lives | 2008 | TV Series | Martino Vitali |
| Jane Doe: Eye of the Beholder | 2008 | TV Movie | Frank Darnell |
| CSI: Crime Scene Investigation | 2007 | TV Series | Jack Oakley |
| Jane Doe: How to Fire Your Boss | 2007 | Video | Frank Darnell |
| Reign of the Gargoyles | 2007 | TV Movie | Gus |
| Jane Doe: Ties That Bind | 2007 | TV Movie | Frank Darnell |
| Jane Doe: The Harder They Fall | 2006 | TV Movie | Frank Darnell |
| Jane Doe: Yes, I Remember It Well | 2006 | TV Movie | Frank Darnell |
| Threshold | 2005 | TV Series | Robert Sprague |
| Jane Doe: The Wrong Face | 2005 | TV Movie | Frank Darnell |
| Jane Doe: Til Death Do Us Part | 2005 | TV Movie | Frank Darnell |
| Jane Doe: Now You See It, Now You Don't | 2005 | TV Movie | Frank Darnell |
| Jane Doe: Vanishing Act | 2005 | TV Movie | Frank Darnell |
| 7th Heaven | 2003 | TV Series | Nick |
| Red Phone 2 | 2003 | TV Movie | Darrow |
| The Little Unicorn | 2002 | | Tiny |
| The Red Phone: Manhunt | 2002 | TV Movie | Jack Darrow |
| Boomtown | 2002 | TV Series | Les Van Buren |
| Two Against Time | 2002 | TV Movie | George Tomich |
| Scope | 2001 | TV Series | Host |
| Jack of Hearts | 2000 | | Arden Cook |
| The Prophet's Game | 2000 | | Walter Motter |
| Chicken Soup for the Soul | 2000 | TV Series | David |
| The Sopranos | 2000 | TV Series | Victor Musto |
| Walker, Texas Ranger | 1999 | TV Series | Sonny Tantero |
| Twice in a Lifetime | 1999 | TV Series | Flash Jericho / David Lazarus |
| BitterSweet | 1999 | Video | Carl Peckato |
| Family of Cops III: Under Suspicion | 1999 | TV Movie | Ben Fein |
| Diagnosis Murder | 1998 | TV Series | Det. Reggie Ackroyd |
| Stranger in My Home | 1997 | TV Movie | Ned Covington |
| Breach of Faith: A Family of Cops II | 1997 | TV Movie | Ben Fein |
| She Woke Up Pregnant | 1996 | TV Movie | Dr. Roger Nolton |
| Double Jeopardy | 1996 | TV Movie | John Dubroski |
| Touched by an Angel | 1995 | TV Series | Zack Bennett |
| Young at Heart | 1995 | TV Movie | Mike |
| The Disappearance of Vonnie | 1994 | TV Movie | Ron Rickman |
| Terror in the Night | 1994 | TV Movie | Lonnie |
| The Danger of Love: The Carolyn Warmus Story | 1992 | TV Movie | Michael Carlin |
| Jake and the Fatman | 1987-1992 | TV Series | Jake Styles |
| Matlock | 1986-1990 | TV Series | Paul Baron |
| The Operation | 1990 | TV Movie | Dr. Ed Betters |
| A Whisper Kills | 1988 | TV Movie | Dan Walker |
| Roses Are for the Rich | 1987 | TV Movie | Lloyd Murphy |
| Blood Vows: The Story of a Mafia Wife | 1987 | TV Movie | Edward Moran |
| The Twilight Zone | 1986 | TV Series | Ricky Frost |
| Perry Mason: The Case of the Shooting Star | 1986 | TV Movie | Robert McCay |
| Riptide | 1984-1986 | TV Series | Nick Ryder |
| T.J. Hooker | 1983 | TV Series | Miles Dickson |
| Matt Houston | 1983 | TV Series | Eric Jason |
| Lottery! | 1983 | TV Series | |
| Savage in the Orient | 1983 | TV Movie | Peter Savage |
| Archie Bunker's Place | 1983 | TV Series | Rick Baxter |
| Tucker's Witch | 1983 | TV Series | Justin St. Peter |
| Lifepod | 1981 | | Simmons |
| Gangster Wars | 1981 | | Benjamin "Bugsy" Siegel |
| S.O.B. | 1981 | | Officer Phil Buchwald |
| Bloody Birthday | 1981 | | Mr. Harding |
| Vega$ | 1981 | TV Series | Nickie Andreas |
| Flamingo Road | 1981 | TV Series | Nick Walker |
| The Gangster Chronicles | 1981 | TV Mini-Series | Benjamin 'Bugsy' Siegel |
| The Gossip Columnist | 1980 | TV Movie | Paul Cameron |
| Paris | 1980 | TV Series | Mike Fitz |
| Lou Grant | 1979 | TV Series | Dave Tynan |
| Samurai | 1979 | TV Movie | Lee Cantrell |
| The Girls in the Office | 1979 | TV Movie | Beau Galloway |
| Mother, Juggs & Speed | 1978 | TV Short | Speed |
| Deathmoon | 1978 | TV Movie | Rick Bladen |
| Our Winning Season | 1978 | | Dean Berger |
| CHiPs | 1978 | TV Series | Officer Brent Delaney |
| Forever Fernwood | 1977 | TV Series | Sal DiVito |
| Delta County, U.S.A. | 1977 | TV Movie | Joe Ed |
| The Hardy Boys/Nancy Drew Mysteries | 1977 | TV Series | Brandon |
Soundtrack
| Title | Year | Status | Character |
| --- | --- | --- | --- |
| Riptide | 1984 | TV Series performer - 2 episodes | |
Self
| Title | Year | Status | Character |
| --- | --- | --- | --- |
| Whatever Happened To? | 2010 | TV Series | Himself |
| Intimate Portrait | 1999-2001 | TV Series documentary | Himself / Narrator |
| Vicki! | 1992 | TV Series | Himself |
| What About Me? I'm Only 3! | 1992 | TV Movie | Himself |
| One on One with John Tesh | 1991 | TV Series | Himself |
| The Chuck Woolery Show | 1991 | TV Series | Himself |
| Ford Super Model of the World 1991 | 1991 | TV Movie | Himself - Host |
| The Arsenio Hall Show | 1990 | TV Series | Himself |
| The Tonight Show Starring Johnny Carson | 1989 | TV Series | Himself |
| The Pat Sajak Show | 1989 | TV Series | Himself |
| CBS All-American Thanksgiving Day Parade | 1987 | TV Special | Himself |
| Star's Table | 1986 | TV Series | Himself |
| The Richard Lewis 'I'm in Pain' Concert | 1985 | TV Movie documentary | Himself - Witness |
| The NBC All Star Hour | 1985 | TV Movie | Himself |
| Our Time | 1985 | TV Series | Himself |
| Today | 1985 | TV Series | Himself |
| Hour Magazine | 1985 | TV Series | Himself |
Awards
Won Awards
| Year | Award | Ceremony | Nomination | Movie |
| --- | --- | --- | --- | --- |
| 1993 | TV Prize | Aftonbladet TV Prize, Sweden | Best Foreign TV Personality - Male (Bästa utländska man) | |
Source:
IMDb
,
Wikipedia