• Donald Richard Gibb was born on 4 August 1954 in New York City, USA and raised in Sherman Oaks, California
• Attended University of New Mexico and University of San Diego; played basketball and football
• Played Frederick Aloysius "Ogre" Palowaski in "Revenge of the Nerds", Ripper in "Jocks", Ray Jackson in "Bloodsport", and Leslie Dr. Death Krunchner in "1st & Ten"
• Voiced characters in video games "What's My Story", "Zork: Grand Inquisitor", "Alter Echo", "Mafia II", and "Rage"
• Co-owns Trader Todd's in Chicago and has an estimated net worth of $4 million

Known for movies
Short Info
| | |
| --- | --- |
| Date Of Birth | August 4, 1954 |
| Spouse | Jacqueline Bauer |
| Mark | Ogre from Revenge of the Nerds (1984) |
| Fact | Shaved his scraggly beard for the character Ogre in Revenge of the Nerds (1984). The casting directors thought that made him too old to be a college student. |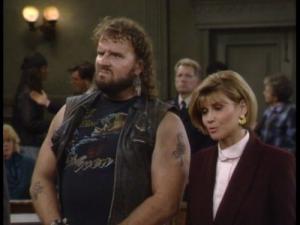 Early life, family, educational background
American actor Donald Richard Gibb was born on 4 August 1954 in New York City, USA. He was raised in Sherman Oaks, California, where he attended Notre Dame High School.
After matriculating from high school, he received a basketball scholarship and attended the University of New Mexico, where he became a member of the Phi Delta Theta fraternity. He transferred to the University of San Diego, where he played on the basketball and football teams. For a short period of time he played for the San Diego Chargers, but suffered a severe injury in a car accident, following which he was no longer able to play sports, so he turned to acting.
Career
Film
Donald played Frederick Aloysius "Ogre" Palowaski in 1984's "Revenge of the Nerds", and reprised his role in "Revenge of the Nerds II: Nerds in Paradise" in 1987, and in "Revenge of the Nerds IV: Nerds in Love," which was made in 1994 for television. His character is known for bullying nerds by throwing them off fraternity buildings, entering into belching contests, and chugging beer out of a trophy. The comedy was directed by Jeff Kanew and starred Anthony Edwards and Robert Carradine, and follows a group of nerds attending the fictional Adams College. The group tries to end the abuse they receive from the Alpha Betas – the jock fraternity – and Pi Delta Pi – Alpha Beta's sister sorority.
Donald joined Andrew Cassese (another cast member) and Robert Carradine in an interview at the 2018 Niagara Falls Comic-Con.
In 1986 he played Ripper, a Wildman tennis player in "Jocks," and the following year appeared as Graceless Pirate in "Amazon Women on the Moon."
He portrayed Ray Jackson in "Bloodsport" in 1988, starring alongside Jean-Claude Van Damme as a loud martial arts fighter, also starring Leah Ayres and Bolo Yeung and directed by Newt Arnold. The movie is loosely based on accusations by Frank Dux, a martial artist, and did well at the box office – grossing $50 million from a $2 million budget.
The film was one of Jean-Claude Van Damme's first lead roles, and he had the opportunity to showcase his athletic skills. Donald reprised his role in the 1996 sequel "Bloodsport II: The Next Kumite" – Jean-Claude Van Damme chose not to return.
In 2008 he played a minor role in "Hancock" as a convict, which starred Will Smith, and is the last film Donald has appeared in to date.
Television
From 1984 to 1991, he played a linebacker Leslie Dr. Death Krunchner in "1st & Ten." The sitcom aired on HBO from December 1984 to January 1991, and regularly featured Reid Shelton and Delta Burke.
It was one of the first series as a sitcom to take advantage of occasionally including scenes containing nudity and cursing. The series follows the California Bulls, a fictional football team, both on and off-field. Throughout the series, the team changed owners somewhat regularly. Donald was in 80 episodes, meaning he was one of few cast members who appeared throughout the seven-years the series aired.
In 1992 he portrayed an illiterate biker named Scab in "Stand By Your Man". The series co-starred Rosie O'Donnell and Melissa Gilbert on Fox, with Donald only appearing in seven episodes.
The show was created by Neil Thompson and Nancy Steen, who also wrote a couple of episodes. It was Melissa Gilbert's first time on television in nine years following the completion of "Little House on the Prairie", and the first project in which Rosie O'Donnell was cast as a lead character. The series was adapted from "Birds of a Feather," a popular British sitcom, and included narration by Joe Cipriano, the chief announcer at Fox network, in a deadpan comical style.The story was about two sisters, Lorraine Popowski (Rosie O'Donnell) and Rochelle Dunphy (Melissa Gilbert) – Lorraine is insensitive and loud, and Rochelle is earthy.
They moved in together to offer one another support – both emotional and moral – after their husbands were arrested and imprisoned for robbery.
Over the years, Donald has appeared in several series – he played Deke Billings in "The A-Team" in 1983, Herman the German in "MacGyver" in 1991, Hog Adams Cletus in "Renegade" in 1992-1993, Worm in "The Young and the Restless", and more.
Video Games
In 1995 Donald voiced a Giant in "What's My Story", and in 1997 Floyd the Bounder, a minor character in "Zork: Grand Inquisitor."
He voiced Gherran in "Alter Echo" in 2003, an angry prisoner in "Mafia II" in 2010, and a character in the 2011 video game, "Rage."
Other
Donald co-owns Trader Todd's, a karaoke bar in Chicago, for which he is also the spokesperson. At the bar he markets Ogre beer, named after his character in "Revenge of the Nerds."
Personal life
On 20 June 1981 he married Jacqueline Bauer, and together they have one child. He lives in Chicago, Illinois, with his wife.
Hobbies, favorite things, and interesting facts
Donald is usually credited as 'Don Gibb.' He often plays rough guys who act as comic relief in stories.
Appearance
He has brown eyes and naturally brown hair, which is now white. Donald is 6ft 4ins (1.93m) tall and weighs 270lbs (123kgs); he is built bulky and brawny. Donald has a scraggly mustache and beard, and a distinctive growly voice, which typically typecasts him as overly macho athletes, loutish rednecks, and scruffy bikers.
Net worth and salary
Donald's net worth is estimated at $4 million, as of mid-2020.
General Info
| | |
| --- | --- |
| Full Name | Donald Gibb |
| Date Of Birth | August 4, 1954 |
| Height | 1.93 m |
| Profession | Actor |
| Education | University of New Mexico, University of San Diego |
| Nationality | American |
Family
Accomplishments
| | |
| --- | --- |
| Movies | Bloodsport, Revenge of the Nerds, Bloodsport II: The Next Kumite, Revenge of the Nerds II: Nerds in Paradise, Hancock, Revenge of the Nerds IV: Nerds in Love, Magic Kid 2, Transylvania 6-5000, Meatballs Part II, American Tigers, Breakfast of Aliens, Lightning Bug, 8 of Diamonds |
| TV Shows | Stand By Your Man |
Social profile links
Marks
| # | Marks / Signs |
| --- | --- |
| 1 | Ogre from Revenge of the Nerds (1984) |
| 2 | Deep gravelly yet growling voice |
| 3 | Scraggly beard and mustache |
| 4 | Towering height and muscular physique |
| 5 | Known for playing tough guys who are often used as comic relief in films and television |
Facts
| # | Fact |
| --- | --- |
| 1 | Attended the University of New Mexico and the University of San Diego. |
| 2 | Attended and graduated Notre Dame High School in Sherman Oaks, California. |
| 3 | Best remembered as the outrageous fraternity brother Ogre in Revenge of the Nerds (1984). |
| 4 | Shaved his scraggly beard for the character Ogre in Revenge of the Nerds (1984). The casting directors thought that made him too old to be a college student. |
| 5 | Got into the brewing business, as co-owner of "Trader Todd's Adventure Beer". He appeared as their spokesman and was on the label of "Ogre Beer Lyte" (an oxymoron). |
| 6 | Is a Brother in the New Mexico Alpha chapter of Phi Delta Theta at the University of New Mexico. |
Pictures
Movies
Actor
| Title | Year | Status | Character |
| --- | --- | --- | --- |
| Weird Science | 1994-1996 | TV Series | Biker Dude / Singing Guy / Rolph |
| Bloodsport 2 | 1996 | | Ray 'Tiny' Jackson |
| Unhappily Ever After | 1996 | TV Series | Spike |
| Broken Bars | 1995 | | Jake |
| Kirk | 1995 | TV Series | Biker |
| Misery Loves Company | 1995 | TV Series | Prussian Helmet Biker |
| Seinfeld | 1995 | TV Series | Letter S in Devils Body Painter |
| Savate | 1995 | Video | Cody Johnson (as Don Gibb) |
| Magic Kid II | 1994 | | Luther (as Don Gibb) |
| Muddling Through | 1994 | TV Series | Bud |
| Revenge of the Nerds IV: Nerds in Love | 1994 | TV Movie | Ogre (as Don Gibb) |
| Midnight Runaround | 1994 | TV Movie | Clyde (as Don Gibb) |
| Boy Meets World | 1994 | TV Series | Tony |
| Empty Nest | 1993-1994 | TV Series | Jake / Biker #1 |
| Breakfast of Aliens | 1993 | | Darrell |
| Hearts Afire | 1993 | TV Series | Ray |
| Daddy Dearest | 1993 | TV Series | Inmate #2 |
| The X-Files | 1993 | TV Series | Kip |
| Renegade | 1992-1993 | TV Series | Hog Adams / Cletus Hog Adams |
| Harry and the Hendersons | 1993 | TV Series | Valentine |
| Cheers | 1992 | TV Series | Tiny |
| Stand by Your Man | 1992 | TV Series | Scab |
| Quantum Leap | 1992 | TV Series | Man with Glasses |
| True Colors | 1991 | TV Series | Officer Johnson |
| MacGyver | 1991 | TV Series | Herman the German |
| Amen | 1991 | TV Series | Cashmere |
| Sons and Daughters | 1991 | TV Series | Slasher Martin |
| 1st & Ten: The Championship | 1985-1991 | TV Series | Leslie Dr. Death Crunchner |
| Missing Pieces | 1991 | | Hurrudnik |
| Doctor Doctor | 1990 | TV Series | Sam |
| They Came from Outer Space | 1990 | TV Series | Mr. Geek |
| Night Court | 1990 | TV Series | Terry Benoon |
| Dear John | 1990 | TV Series | Frenchie |
| My Two Dads | 1989-1990 | TV Series | Chuck / Officer Eugene |
| Hunter | 1990 | TV Series | Stryber |
| 227 | 1989 | TV Series | Skullcrusher |
| Bloodsport | 1988 | | Ray Jackson |
| The Facts of Life | 1987 | TV Series | Wendell |
| Amazon Women on the Moon | 1987 | | Graceless Pirate (segment "Video Pirates") |
| Revenge of the Nerds II: Nerds in Paradise | 1987 | | Ogre |
| They Still Call Me Bruce | 1987 | | The Executioner |
| U.S. Marshals: Waco & Rhinehart | 1987 | TV Movie | Varela Leader |
| Jocks | 1986 | | Ripper (as Don Gibb) |
| Streets of Justice | 1985 | TV Movie | Road Rodent (as Don Gibb) |
| Transylvania 6-5000 | 1985 | | Wolfman |
| Lost in America | 1985 | | Ex-Convict |
| Otherworld | 1985 | TV Mini-Series | Motoface |
| Knight Rider | 1984 | TV Series | Gibbs |
| Meatballs Part II | 1984 | | Mad Dog |
| Revenge of the Nerds | 1984 | | Ogre |
| Magnum, P.I. | 1982-1983 | TV Series | Condley Willard / Harms |
| Just Our Luck | 1983 | TV Series | |
| The A-Team | 1983 | TV Series | Deke Billings |
| Hardcastle and McCormick | 1983 | TV Series | Johnson |
| Simon & Simon | 1983 | TV Series | Lebow's #2 Henchman |
| Nick Danger in The Case of the Missing Yolk | 1983 | Video | Bo |
| Alice | 1983 | TV Series | Moose |
| Conan the Barbarian | 1982 | | Osric's Guard (uncredited) |
| Stripes | 1981 | | Bouncer in Mud Wrestling Bar (uncredited) |
| Any Which Way You Can | 1980 | | Henchmen (uncredited) |
| Secret Mountain Fort Awesome | 2011 | TV Series | Additional Voices |
| Rage | 2011 | Video Game voice | |
| Mafia II | 2010 | Video Game | Angry Prisoner (voice) |
| Hancock | 2008 | | Convict (as Don Gibb) |
| The Fantastic Two | 2007 | TV Mini-Series | Psycho |
| 8 of Diamonds | 2006 | | Big Mike (as Don Gibb) |
| Window Theory | 2005 | | Judson |
| Lightning Bug | 2004 | | Uncle Marvin (as Don Gibb) |
| The Young and the Restless | 2003 | TV Series | Worm |
| Alter Echo | 2003 | Video Game | Gherran (voice, as Don Gibb) |
| Grind | 2003 | | Scabby Security Guy (as Don Gibb) |
| The Biggest Fan | 2002 | | Band Manager |
| She Spies | 2002 | TV Series | Scarface |
| Philly | 2001 | TV Series | Mickey Horvath |
| Black Scorpion | 2001 | TV Series | Smash Clone #1 |
| Veronica's Closet | 2000 | TV Series | Spaz |
| Early Edition | 2000 | TV Series | Odessa 'Stumpy' McNeil |
| Secret Agent Man | 2000 | TV Series | Buff Bobby Barnett |
| The Steve Harvey Show | 2000 | TV Series | Tiny |
| Durango Kids | 1999 | | Mountain Man Morris (as Don Gibb) |
| Arli$$ | 1999 | TV Series | Jake's Father |
| Beyond Belief: Fact or Fiction | 1998 | TV Series | Gunnar / Kind Trucker |
| U.S. Marshals | 1998 | | Mike Conroy (as Don Gibb) |
| Step by Step | 1993-1998 | TV Series | Slasher Moose |
| High Voltage | 1997 | | Bartender (uncredited) |
| Zork: Grand Inquisitor | 1997 | Video Game | Floyd the Bouncer (as Don Gibb) |
| Sparks | 1997 | TV Series | Fitch |
| American Tigers | 1996 | | Dan Storm |
| Pacific Blue | 1996 | TV Series | Barger |
| Homeboys in Outer Space | 1996 | TV Series | Galdor |
Thanks
| Title | Year | Status | Character |
| --- | --- | --- | --- |
| Captain Kyle's Cosplay Spotlight | 2016 | TV Series special thanks - 1 episode | |
Archive Footage
| Title | Year | Status | Character |
| --- | --- | --- | --- |
| Renegade | 1992-1995 | TV Series | Cletus 'Hog' Adams / Cletus Hog Adams |
Source:
IMDb
,
Wikipedia