• Tom Mison is an English actor, born in 1982 in Woking, Surrey.
• He attended the Webber-Douglas Academy and the American Conservatory Theatre.
• Mison has had a successful career in theatre, film, and TV, most notably in Sleepy Hollow and Watchmen.
• He is married to actress Charlotte Coy and has an estimated net worth of $4 million.
• He stands at 6ft 1in (1.85m) and has light blue eyes.

Known for movies
Short Info
| | |
| --- | --- |
| Date Of Birth | July 23, 1982 |
| Spouse | Charlotte Coy |
| Fact | Graduated from the Webber-Douglas Academy. |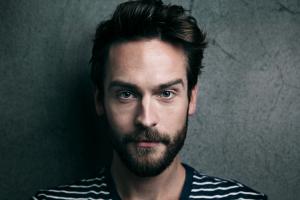 Introduction
If you are a fan of crime and fantasy series, you have probably watched "Sleepy Hollow" or "Watchmen", in which case you are familiar with the blue-eyed actor Tom Mison. How much do you really know about this actor, who is considered to be one of the hottest English actors by many? Who is the woman who won him over?
Early life and Education
Thomas James Mison was born on 23 July 1982 in Woking, Surrey, England, where he was raised. He went to Hurtwood House, an independent boarding school and sixth form located in Dorking, Surrey, which specializes in music and drama.
After matriculating from it in 2001, he went to one of the leading drama schools in Britain, the Webber-Douglas Academy, from which he graduated in 2004. While there, he was rewarded with the Sir John Gielgud Trust Award for excellence in studies. His best friend there was actor and writer Rupert Friend. After being encouraged by one of his professors to work on period pieces, in 2001 Mison was a part of the Young Conservatory program held by the American Conservatory Theatre, portraying a British soldier in Timothy Mason's "Time on Fire", which was performed at San Francisco's Magic Theatre and London's National Theatre.
Theatre Career
Mison started acting in theatre as soon as he graduated, and one of his first performances was in Trevor Nunn's production of Shakespeare's "Hamlet", in which he portrayed Fortinbras. Two years later, he portrayed Frederick in the "Les Enfants du Paradis", which was performed at the Arcola Theatre – his performance was called 'memorable' by The Evening Standard and 'glowing' by The Guardian.
In 2008, he was in the simple8's production of "The Living Unknown Soldier", and he portrayed the main character George Tesman in "Hedda", performed at the Gate Theatre. The following year he was part of Andrew Bovell's play "When the Rain Stops", which ran at the Almeida Theatre.
In 2010 he appeared as Jason Leighton-Masters in Laura Wade's "Posh" at the Royal Court Theatre, a performance awarded four stars by The Daily Telegraph's critic, Charles Spenser. The play was revived in 2012, when it was performed at the Duke of York's Theatre located in the City of Westminster, London, England. In 2011, Mison portrayed Prince Hal in plays "Henry IV, Part 1" and "Henry IV, Part 2", both of which ran at the Theatre Royal, Bath.
Mison took a few years-long break from theatre acting in 2012 and didn't come back on stage until February 2018, when he was cast as Fainall in William Cogreve's Restoration comedy entitled "The Way of the World", played in the Donmar Warehouse in London.
Apart from acting, Mison is also a writer, and has written several monologues played in the UK theatres. Some of the titles include "Bounded", "The Life Man of Portland Mews" and "Wood".
Film and TV Career
Mison's debut on TV was in 2005, when he had small roles in movies "Mysterious Island" and "A Waste of Shame: The Mystery of Shakespeare and His Sonnets". The following year he was in the French film "L'entente cordiale", and in the comedy film "Venus". He also portrayed the supporting role of Ben Sixsmith in TV series "The Amazing Mrs. Pritchard", and then James Corden in the comedy film "Heroes and Villains".
In 2007 he made a guest appearance in the TV series "Secret Diary of a Call Girl", and the following year was in an episode of the crime TV series inspired by Agatha Christie's novel, "Poirot", starring David Suchet and Hugh Fraser. He was also cast as Mr. Bingley in the short fantasy adaptation of "Pride and Prejudice", called "Lost in Austen".
Mison portrayed Barath in the short film "The Continuing and Lamentable Saga of the Suicide Brothers" that aired in 2009, which was created by him and Rupert Friend and co-stars Keira Knightley. In 2010, he had a small role in an episode of the TV series "New Tricks", and appeared in the short film "Steve".
The following year, he was in several movie titles, including "One Day" and "Salmon Fishing in the Yemen", in which he acted alongside Emily Blunt and Ewan Mc Gregor.
In 2012, Mison was cast alongside Benedict Cumberbatch in a short TV series about a love triangle between a socialite's wife, an English aristocrat and a young suffragette, called "Parade's End". In 2013, he was cast in feature films "Jadoo" and "Dead Cat".
Mison landed the starring role of Ichabod Crane in the famous Fox TV crime series "Sleepy Hollow"; his portrayal of a resurrected time traveler brought him worldwide fame and a huge fan base, as he appeared in every episode of the show until it ended in 2017.
ICYMI — Watchmen: Heart Showbiz Hub with Ashley Roberts Podcast #TomMison #HeartShowbizHubPodcast
Tom stopped by (virtually, of course) the podcast to chat with @charlie_girling – who just happens to be his London neighbor! https://t.co/ClHAfcqWHC pic.twitter.com/2V3NOzElGb

— Tom Mison Fans (@TomMisonFans) June 20, 2020
During this time, he made a short appearance in the film "The Riot Club", and portrayed Ichabod Crane in another TV crime series, "Bones".
Mison portrayed Quentin in three episodes of the TV Series "Four Weddings and a Funeral" in 2019. He was then cast as Mr. Phillips, also known as Game Warden, in "Watchmen", a TV series adaptation of the graphic novel of the same name. He was the part of the first season's main cast, together with big names such as Jeremy Irons and Regina King. Mison even had a full nudity scene, but insisted that what is seen in the show is not his body part and that he had a body double for that act.
Personal Life
Mison is a married man, having tied the knot with actress Charlotte Coy in 2014. Coy acted in a few feature films, including "Hell's Pavement", "Punny Earthlings" and "Bus Stop". She also did some dialog writing for the short film "Canbury". As of June 2020 the couple doesn't have any kids.
Mison's great aunt was in the circus with the famous actor Charles Chaplin, as well as the owner of the old pub in London that had a vaudeville theatre right above it.
While being flat mate with Rupert Friend, the duo moved every six months so they could explore as many London neighborhoods as possible.
Mison doesn't have an official profile on any of the social media platforms, despite there being a lot of his fan pages.
Net Worth
Tom Mison has acted in several high-grossing TV series and films, as well as having a fruitful career in theatre. All of this has earned him an estimated net worth of $4 million, as of mid-2020.
Physical characteristics
Mison stands at a height of 6ft 1in (1.85m) and weighs around 165lbs (75kgs). He has brown hair, and is easily recognized by his light blue eyes.
General Info
| | |
| --- | --- |
| Full Name | Tom Mison |
| Date Of Birth | July 23, 1982 |
| Height | 1.85 m |
| Profession | Screenwriter, Voice Actor |
| Education | Webber Douglas Academy of Dramatic Art |
| Nationality | British |
Family
Accomplishments
| | |
| --- | --- |
| Nominations | Teen Choice Award for Choice TV: Breakout Star Male |
| Movies | Dead Cat, Jadoo, Salmon Fishing in the Yemen, One Day, Steve, The Continuing and Lamentable Saga of the Suicide Brothers, Venus |
| TV Shows | Parade's End, Lost in Austen, Sleepy Hollow |
Social profile links
Quotes
| # | Quote |
| --- | --- |
| 1 | I've always been a history buff. It was one of the few subjects at school that really, really caught me. I think you'll find a lot of actors will be interested in history because it sparks your imagination so much. When you enter a period of history, your imagination just goes wild in creating the world, which is really what acting is. |
| 2 | I've never felt a strong urge to rush into Hollywood, so I bided my time and waited till I had a decent body of work to show people, the icing on the cake being 'Salmon Fishing' and 'Parade's End.' |
| 3 | If there are actors that are brilliant, people often wonder whether it's intimidating working alongside them, but it really isn't. It just makes you up your game and want to be better. Rather than cowering in their shadows, it's very encouraging to see someone who's incredible; it makes me want to be a bit more like them. |
| 4 | The really good thing about 'Sleepy Hollow' is you have no idea who's going to die when... But then equally, we showed in the pilot several people can come back to life, so you have no idea who's going to come back. Death means very little in our Sleepy Hollow, so expect more surprise deaths and more surprise resurrections. |
| 5 | You do sometimes watch performances and just think, 'I may as well give up. I won't reach that. I may as well give up.' But then there are other actors you watch and just think, 'Oh my God, yes, I want to try and do that. Try and be like that'. And Bryan Cranston is someone who I'd like to try and be like. |
| 6 | Actors always lie about horse-riding, and it ends terribly. I can horse-ride... ish. |
| 7 | I can't be described as a sex symbol; I think it's ridiculous. |
| 8 | I think I must be one of the only actors I know who has never even auditioned for a small part in 'Eastenders.' |
| 9 | I always like to have faith that an audience will suspend their disbelief, if you present it to them in the right way. I find it peculiar when people scoff at one bold idea, and yet they'll then turn over and watch a man travel through time in a police phone box. I think it's just how you present the idea. |
| 10 | I'm sorry to bang on about it because I know everyone is, but Bryan Cranston in 'Breaking Bad' is remarkable. To see him switch from 'Malcolm in the Middle' to suddenly become Walter White is incredible. It's a) nice to see an actor given that chance, and b) great to see him really take full advantage of it. |
Facts
| # | Fact |
| --- | --- |
| 1 | His great great aunt ran a pub in London with a vaudeville theatre above it. She was in the circus with Charlie Chaplin. |
| 2 | He played Mr. Darcy during his studies in the Webber Douglas Academy of Dramatic Art, and Mr. Bingley in TV mini-series "Lost in Austen". |
| 3 | Graduated from the Webber-Douglas Academy. |
Pictures
Movies
Actor
| Title | Year | Status | Character |
| --- | --- | --- | --- |
| Sleepy Hollow | 2013-2017 | TV Series | Ichabod Crane |
| Bones | 2015 | TV Series | Ichabod Crane |
| Dead Cat | 2014 | | Tim |
| Jadoo | 2013 | | Mark |
| Zeros | 2012 | Video short | Bubble Man |
| Parade's End | 2012 | TV Mini-Series | Potty Perowne |
| Salmon Fishing in the Yemen | 2011 | | Capt. Robert Mayers |
| One Day | 2011 | | Callum |
| The Creep | 2011 | Short | Creep |
| Steve | 2010 | Short | Man |
| New Tricks | 2010 | TV Series | Tim Mortimer |
| Slingers | 2009 | Video short | Frank |
| The Continuing and Lamentable Saga of the Suicide Brothers | 2009 | Short | Barath |
| Inspector Lewis | 2009 | TV Series | Dorian Crane |
| Lost in Austen | 2008 | TV Mini-Series | Mr. Bingley |
| Agatha Christie's Poirot | 2008 | TV Series | David Baker |
| Out There | 2008/I | Short | Jean-Luc |
| Secret Diary of a Call Girl | 2007 | TV Series | Daniel |
| Heroes and Villains | 2006 | | Nathan |
| The Amazing Mrs Pritchard | 2006 | TV Series | Ben Sixsmith |
| Venus | 2006/I | | Period Film Lover |
| L'entente cordiale | 2006 | | Niels |
| A Waste of Shame: The Mystery of Shakespeare and His Sonnets | 2005 | TV Movie | Young Blood |
| Mysterious Island | 2005 | TV Movie | Blake |
Writer
| Title | Year | Status | Character |
| --- | --- | --- | --- |
| The Continuing and Lamentable Saga of the Suicide Brothers | 2009 | Short screenplay | |
Soundtrack
| Title | Year | Status | Character |
| --- | --- | --- | --- |
| Sleepy Hollow | 2015 | TV Series performer - 1 episode | |
Self
| Title | Year | Status | Character |
| --- | --- | --- | --- |
| Today | 2014 | TV Series | Himself |
| Late Show with David Letterman | 2014 | TV Series | Himself |
| Live with Kelly and Michael | 2014 | TV Series | Himself |
| Fox Fall Preview | 2013 | TV Special | Himself |
| Lost in Austen: Behind the Scenes | 2008 | TV Movie documentary | Himself |
Archive Footage
| Title | Year | Status | Character |
| --- | --- | --- | --- |
| Entertainment Tonight | 2014 | TV Series | Himself - Sleepy Hollow |
| Stars in Shorts | 2012 | | Man |
Awards
Nominated Awards
| Year | Award | Ceremony | Nomination | Movie |
| --- | --- | --- | --- | --- |
| 2014 | Teen Choice Award | Teen Choice Awards | Choice TV Breakout Star: Male | Sleepy Hollow (2013) |
| 2014 | TV Guide Award | TV Guide Awards | Favorite Actor | Sleepy Hollow (2013) |
| 2014 | TV Guide Award | TV Guide Awards | Favorite Duo | Sleepy Hollow (2013) |
Source:
IMDb
,
Wikipedia