• Burt Young is a veteran Italian-American actor, best known for his role in "Rocky" as Paulie Pennino
• Born as Richard Morea in Queens, New York City in 1940
• Received acting training at the Actor's Studio
• Career spans more than five decades, including roles in "Rocky", "The Killer Elite", "The Gambler", "Miami Vice", and "Law and Order"
• Net worth of $2 million in 2020

Known for movies
Short Info
| | |
| --- | --- |
| Date Of Birth | April 30, 1940 |
| Spouse | Gloria DeLouise |
| Fact | Used to be a boxer. |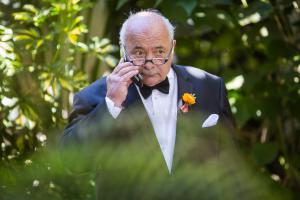 Burt Young is a veteran Italian-American actor, who was nominated as the best supporting actor for his iconic role in "Rocky" as 'Balboa's' brother-in-law Paulie Pennino. Burt has starred in all the "Rocky" films, as well as numerous other roles. The actor is still alive, having celebrated his 80th birthday quite recently, and his latest role was in the 2019 film "Vault". He also has a recurring role in the series "Russian Doll". Despite being one of Hollywood's most iconic actors, there are plenty of mysteries that are not widely known about Burt.
Read on to find out everything there is to know about him.
Early life and family
Burt was born in Queens, New York City, USA, on 30 April in 1940. When he began acting he adopted the stage name Burt Young, but was born as Richard Morea to his parents Micheal and Josephine Morea.
His father was a teacher who taught Industrial Arts and is of Italian descent. At the age of 15, Burt dropped out of high school to join the US Marine Corps, serving from 1955 to 1957.
Educational background
Although Burt did not finish his educational career, he did at a later point in his life receive training as an actor at the Actor's Studio, studying dramatic arts under the iconic acting coach Lee Strasberg.
It started as an initiative to impress a young girl that Burt liked, but after Lee agreed to coach him, Burt's career in acting took shape.
Career
Burt is a veteran actor who started his career in 1969, and has kept going now for more than five decades, making him a true veteran of the arts. Other than acting, Burt is also a painter and author, with several published works.
Burt's first role was a small part as a bartender in the soap opera series "The Doctors". Following this in his continued pursuit of the art, Burt landed a role in the 1970 film "Carnival of Blood". The roles did not stream in after this, but Burt continued to gain publicity as the years moved on, and had numerous roles throughout the '70s and '80s.
Some of his most iconic work during his early career includes of course the "Rocky" series of films.
He also played in memorable films that include among many "The Killer Elite", "The Gambler", and "A Summer to Remember".
His television credits include appearances in shows such as "Miami Vice" and "Airwolf". His later appearances in television shows of the '90s and the twenty-first century include "Law and Order", "Walker Texas Ranger", "The Sopranos", "The Handler" and many more.
Burt's film credits in most recent years are a long list, but some of the more iconic titles include "The Adventures of Pluto Nash", "Win, Win", and "The Neighborhood".
His most recent film features include "Road to Lemon Grove", "The Brawler" and "Vault".
Burt has showcased more than 800 paintings in galleries across the globe. His Port Washington home is decorated with several paintings of his own, all depicting memories and moments of his life. He also exhibits some of his work on a website dedicated to himself.
He is also a published author and screenplay writer; some of his work include "Uncle Joe Shannon", in which he starred in the titular role, and the script for the film "Daddy, I Don't Like This", in which he also appeared a himself.
Burt has also starred in a few stage plays, including one alongside Robert De Niro entitled "Cuba and His Teddy Bear". Others include "A Letter To Alicia".
At one point he owned a restaurant in The Bronx, New York City, but when and what are unknown.
Hobbies, favourite things and interesting facts
Before making it as an actor, Burt had been a professional boxer, having 14 fights and winning all of them – why he retired isn't known, but maybe acting called! He also worked as a carpet cleaner, salesman and installer.
Sylvester Stallone gave him a Cartier watch made of gold as a gift for his participation in the "Rocky" films, which Burt still wears to this day. Burt is also a philanthropist, who raised money for charity in boxing 'fights' with the legendary Muhammad Ali.
Relationships
Burt married Gloria DeLouise in 1961, but his wife of 13 years sadly passed away in 1974. He has one child with Gloria, Anne Morea, and it's not known if he remarried. Burt is the grand-father to Anne's only child, but his/her identity hasn't been disclosed.
Physical characteristics
Date of Birth: 30 April 1940
Hair colour: Dark Brown/ Grey and Balding
Eye colour: Brown
Height:  5ft 8ins (1.76m)
Weight: 180lbs (82 kgs)
Shoe Size: Unknown
Star Sign: Taurus
Nationality: Italian-American
Ethnicity: Italian
Net worth
Burt Young's net worth accumulated over all the years of his long career amounts to an estimated total of $2 million as of 2020.
General Info
| | |
| --- | --- |
| Full Name | Burt Young |
| Date Of Birth | April 30, 1940 |
| Height | 1.73 m |
| Profession | Screenwriter, Author, Actor, Painter |
Family
| | |
| --- | --- |
| Spouse | Gloria DeLouise |
| Children | Anne Morea |
| Parents | Michael DeLouise, Josephine DeLouise |
Accomplishments
| | |
| --- | --- |
| Nominations | Academy Award for Best Actor in a Supporting Role |
| Movies | Rocky, Rocky Balboa, Rocky IV, Rocky III, Rocky II, Rocky V, Once Upon a Time in America, Amityville II: The Possession, Convoy, The Pope of Greenwich Village, Back to School, Mickey Blue Eyes, The Killer Elite, Last Exit to Brooklyn, Chinatown, Win Win, The Adventures of Pluto Nash, Rob the Mob, Th... |
| TV Shows | L'onore e il rispetto, Crocodile Shoes |
Social profile links
Quotes
| # | Quote |
| --- | --- |
| 1 | "I enjoyed playing around with that guy, and it was a pleasure every three, four years, coming back seeing how the wardrobe is. Is he heavy? Is he thin? I had fun." - BY, on playing Paulie in the Rocky films. |
| 2 | It was people standing up, not even winning, just standing up, and it became a delicate love story with two pretty weak people making one whole person, meaning Sylvester and Talia (Shire)." BY, reassessing the success of "Rocky |
Facts
| # | Fact |
| --- | --- |
| 1 | In 2017 he will return to the stage as an aging mob boss in "The Last Vig," a new play that is scheduled to run from January 14 - February 19, 2017, at The Zephyr Theatre in Los Angeles. |
| 2 | Is the only actor to have been recognized by the Stinkers Bad Movie Awards in both their first year (1978) and last year (2006). |
| 3 | Did 4 movies in 4 consecutive years with James Caan. Cinderella Liberty(1973), The Gambler (1974), The Killer Elite (1975) and Harry and Walter Go To New York (1976). These were some of Burt Young's first roles, before famously playing Pauly in Rocky (1976). They would eventually work together again 20 years later in The North Star (1996). |
| 4 | The film Tom in America (2014) marks the first time Young has played a gay man in his career. |
| 5 | Along with Sylvester Stallone and Tony Burton, he is the only other actor to have appeared in all six 'Rocky' movies. |
| 6 | Used to be a boxer. |
| 7 | Jobs worked during his salad days were as a carpet cleaner, salesman and installer. |
| 8 | Served in U.S. Marines from 1957 to 1959. |
| 9 | Sylvester Stallone gave Young an inscribed gold Cartier watch in the 1990s, which he still wears. |
| 10 | Is Italian/American |
| 11 | In 1980 he guest-starred in a TV movie called Murder Can Hurt You! (1980), a spoof on popular detective shows, in which he played "Lt. Palumbo"; ironically, 14 years later he appeared in a serious role in Columbo: Undercover (1994). |
Pictures
Movies
Actor
| Title | Year | Status | Character |
| --- | --- | --- | --- |
| The Rockford Files | 1976 | TV Series | Stuart Gaily |
| Baretta | 1975-1976 | TV Series | Johnny Checco / Solomon / Willy |
| Woman of the Year | 1976 | TV Movie | Ralph Rodino |
| Harry and Walter Go to New York | 1976 | | Warden Durgom |
| Serpico | 1976 | TV Series | Alec Rosen |
| The Killer Elite | 1975 | | Mac |
| Murph the Surf | 1975 | | Sgt. Bernasconi |
| Hustling | 1975 | TV Movie | Gustavino |
| The Gambler | 1974 | | Carmine |
| The Great Niagara | 1974 | TV Movie | Ace Tully |
| Chinatown | 1974 | | Curly |
| Cinderella Liberty | 1973 | | Master at Arms |
| M*A*S*H | 1973 | TV Series | Lt. Willis |
| The Connection | 1973 | TV Movie | Ernie |
| Across 110th Street | 1972 | | Lapides |
| The Gang That Couldn't Shoot Straight | 1971 | | Willie Quarequlo |
| Born to Win | 1971 | | First Hood |
| Carnival of Blood | 1970 | | Gimpy (as John Harris) |
| The Doctors | 1969 | TV Series | Bartender |
| King Rat | 2017 | post-production | Art Stillman |
| Sarah Q | 2017 | pre-production | Grandpa |
| Tapestry | 2017 | post-production | Ian |
| Smothered by Mothers | 2017 | completed | Ivan |
| Six Children and One Grandfather | 2016 | completed | |
| The Lemon Grove | 2016 | post-production | Zio Vincenzo |
| All In | | pre-production | Ben Marino |
| Asleep at the Wheel | | announced | Judge |
| Horace and Pete | 2016 | TV Mini-Series | Horace Sr. |
| The Dicks | 2016 | Short | Ed |
| Fall 4 You | 2015 | Short | Dominick |
| Irene & Marie | 2015 | Short | John |
| Lostland | 2015 | Short | |
| Tom in America | 2014 | Short | Michael |
| Zarra's Law | 2014 | | Paul Canto |
| Turning Point with Frank MacKay | 2014 | TV Series | Burt Young |
| Rob the Mob | 2014 | | Joey D |
| The Elevator: Three Minutes Can Change Your Life | 2013 | | George |
| Baciamo le mani: Palermo-New York 1958 | 2013 | TV Series | Don Gillo Draghi |
| Ci vediamo domani | 2013 | | Palagonia |
| Abigail Harm | 2012 | | Mr. Warren |
| The Shoemaker | 2012 | Short | Nicky the Greek |
| Win Win | 2011 | | Leo Poplar |
| Medium Rare | 2010 | TV Series | Harry Costas |
| Kingshighway | 2010 | | Mario Capriolini |
| Law & Order: Special Victims Unit | 2009 | TV Series | Eddy Mack |
| New York, I Love You | 2008 | | Landlord (segment "Fatih Akin") |
| Carnera: The Walking Mountain | 2008 | | Lou Soresi |
| Oliviero Rising | 2007 | | Santino |
| Il nascondiglio | 2007 | | Muller |
| Hack! | 2007 | | J.T. Bates |
| Go Go Tales | 2007 | | Murray |
| Blue Lake Butcher | 2007 | | Pops |
| Rocky Balboa | 2006 | | Paulie |
| Nicky's Game | 2005 | Short | Leo Singer |
| Carlito's Way: Rise to Power | 2005 | Video | Artie Bottolota Sr. |
| Transamerica | 2005 | | Murray |
| Downtown: A Street Tale | 2004 | | Gus |
| Land of Plenty | 2004 | | Sherman |
| The Wager | 2004 | | Jack Stockman |
| Shut Up and Kiss Me! | 2004 | | Vincent Bublioni |
| Crooked Lines | 2003 | | Mike Ameche |
| The Handler | 2003 | TV Series | Dino Mantoni |
| Alternate Realities | 2002 | TV Series | Frank |
| And She Was | 2002 | | Lou |
| Kiss the Bride | 2002 | | Santo Sposato |
| The Adventures of Pluto Nash | 2002 | | Gino |
| Checkout | 2002 | | Uncle Louie |
| Cugini | 2001 | | Pasquale 'pop' Cugini |
| Plan B | 2001/I | | Sal Palermo |
| The Sopranos | 2001 | TV Series | Bobby 'Bacala' Sr. |
| The Boys of Sunset Ridge | 2001 | | Hank Bartlowski |
| Never Look Back | 2000 | | |
| Table One | 2000 | | Frankie Chips |
| The Boys Behind the Desk | 2000 | | |
| The Day the Ponies Come Back | 2000 | | John Stoller |
| Gioco di specchi | 2000 | TV Movie | |
| Very Mean Men | 2000 | | Dominic Piazza |
| L'uomo della fortuna | 2000 | | Don Ettore Visone |
| Blue Moon | 2000 | | Bobby |
| Loser Love | 1999 | | Sydney Delacroix |
| Terra bruciata | 1999 | | Joe |
| Mickey Blue Eyes | 1999 | | Vito Graziosi |
| The Florentine | 1999 | | Joe Mc Collough |
| Thinking About Africa | 1999 | TV Series | Oland |
| One Deadly Road | 1998 | | |
| Cuori in campo | 1998 | TV Movie | Gallagher |
| Heaven Before I Die | 1997 | | Pollof |
| The Last Don | 1997 | TV Mini-Series | Virginio Ballazzo |
| Walker, Texas Ranger | 1996-1997 | TV Series | Jack 'Soldier' Belmont |
| Firehouse | 1997 | TV Movie | Chief Frank Shea |
| Before Women Had Wings | 1997 | TV Movie | Louis Ippolito |
| The Deli | 1997 | | JC |
| The Undertaker's Wedding | 1997 | | Alberto |
| She's So Lovely | 1997 | | Lorenzo |
| Kicked in the Head | 1997 | | Jack |
| Law & Order | 1997 | TV Series | Lewis Darnell |
| The Outer Limits | 1997 | TV Series | Captain Parker |
| Opposite Corners | 1997 | | |
| Red-Blooded American Girl II | 1997 | | Roy |
| North Star | 1996 | | Reno |
| Bless This House | 1995 | TV Series | Mr. Riveto |
| Crocodile Shoes | 1994 | TV Mini-Series | Lou Benedette / Lou Benedetti |
| Columbo | 1994 | TV Series | Mo Weinberg |
| The Maharaja's Daughter | 1994 | TV Mini-Series | Milai |
| Vendetta II: The New Mafia | 1993 | TV Movie | Vincent Domenici |
| Berlin '39 | 1993 | | Werner |
| Double Deception | 1993 | TV Movie | Zimmer |
| Excessive Force | 1993 | | Sal DiMarco |
| Cattive ragazze | 1992 | | Leo |
| Due vite, un destino | 1992 | TV Movie | |
| Alibi perfetto | 1992 | | Mancini |
| Tales from the Crypt | 1992 | TV Series | Gambler |
| Americano rosso | 1991 | | George Maniago |
| Rocky V | 1990 | | Paulie |
| Bright Angel | 1990 | | Art |
| Diving In | 1990 | | Coach Mack |
| Backstreet Dreams | 1990 | | Luca |
| Club Fed | 1990 | | Warden Boyle |
| Betsy's Wedding | 1990 | | Georgie |
| Vendetta: Secrets of a Mafia Bride | 1990 | TV Mini-Series | Vincente Dominici |
| Wait Until Spring, Bandini | 1989 | | Rocco |
| Beverly Hills Brats | 1989 | | Clive |
| Blood Red | 1989 | | Andrews |
| Last Exit to Brooklyn | 1989 | | Big Joe |
| Going Overboard | 1989 | | General Noriega |
| Medium Rare | 1987 | | Harry Costas |
| Roomies | 1987 | TV Series | Nick Chase |
| Back to School | 1986 | | Lou |
| Alfred Hitchcock Presents | 1986 | TV Series | Ed Fratus. the Salesman |
| Rocky IV | 1985 | | Paulie |
| The Equalizer | 1985 | TV Series | Louie Ganucci |
| A Summer to Remember | 1985 | TV Movie | Fidel Fargo |
| Miami Vice | 1984 | TV Series | Lupo Ramirez |
| The Pope of Greenwich Village | 1984 | | Bed Bug Eddie |
| Once Upon a Time in America | 1984 | | Joe |
| Over the Brooklyn Bridge | 1984 | | Phil |
| You and Me Kid | 1983 | TV Series | |
| Lookin' to Get Out | 1982 | | Jerry Feldman |
| Amityville II: The Possession | 1982 | | Anthony Montelli |
| Rocky III | 1982 | | Paulie |
| ...All the Marbles | 1981 | | Eddie Cisco |
| Blood Beach | 1980 | | Sergeant Royko |
| Murder Can Hurt You! | 1980 | TV Movie | Lt. Palumbo |
| Rocky II | 1979 | | Paulie |
| Uncle Joe Shannon | 1978 | | Joe Shannon |
| Daddy, I Don't Like It Like This | 1978 | TV Movie | Rocco Agnelli |
| Convoy | 1978 | | Bobby 'Love Machine' 'Pig Pen' |
| The Choirboys | 1977 | | Scuzzi |
| Twilight's Last Gleaming | 1977 | | Augie Garvas |
| Rocky | 1976 | | Paulie |
Writer
| Title | Year | Status | Character |
| --- | --- | --- | --- |
| Uncle Joe Shannon | 1978 | writer | |
| Daddy, I Don't Like It Like This | 1978 | TV Movie | |
| Baretta | 1975 | TV Series story - 1 episode | |
Soundtrack
| Title | Year | Status | Character |
| --- | --- | --- | --- |
| Roomies | 1987 | TV Series performer - 1 episode | |
| Rocky | 1976 | "The First Noel", uncredited | |
Self
| Title | Year | Status | Character |
| --- | --- | --- | --- |
| John G. Avildsen: King of the Underdogs | 2017 | Documentary post-production | Himself |
| Tom's Arrival in New York | 2015 | Documentary short | Himself |
| The Jack and Triumph Show | 2015 | TV Series | Himself |
| Casting By | 2012 | Documentary | Himself |
| Biography | 2005-2011 | TV Series documentary | Himself |
| The Rocky Saga: Going the Distance | 2011 | TV Movie documentary | Himself |
| Char·ac·ter: The Interviews | 2010 | Documentary | Himself |
| Cinemania | 2008 | TV Series | Himself |
| Skill vs. Will: The Making of 'Rocky Balboa' | 2007 | Video documentary short | Himself |
| The 21st Annual Genesis Awards | 2007 | Video | Himself |
| In the Ring | 2006 | Video documentary | Himself |
| Revoloution | 2006 | | Himself |
| Tribute to Burgess Meredith | 2006 | Video documentary short | Himself (voice) |
| The Contender | 2005 | TV Series | Himself |
| I'm with Her | 2004 | TV Series | Himself |
| 2 Birds with 1 Stallone | 2002 | | Himself |
| The Howard Stern Radio Show | 2000 | TV Series | Himself |
| The Making of a Mobster: 'Mickey Blue Eyes' | 1999 | TV Short documentary | Himself |
| The Mouse | 1996 | | Himself |
| Playboy Mid Summer Night's Dream Party 1985 | 1985 | TV Movie | Himself |
| The 6th People's Choice Awards | 1980 | TV Special | Himself - Accepting Favourite Motion Picture Award |
| The 36th Annual Golden Globes Awards | 1979 | TV Special | Himself - Presenter |
| The 49th Annual Academy Awards | 1977 | TV Special | Himself - Nominee: Best Actor in a Supporting Role |
| Good Morning America | 1977 | TV Series | Himself - Guest |
Archive Footage
| Title | Year | Status | Character |
| --- | --- | --- | --- |
| 40 Years of Rocky: The Birth of a Classic | 2017 | Documentary pre-production | |
| Coffee Time me ta Asteria tou Leo | 2016 | TV Mini-Series documentary | Paulie |
| La noche desesperada | 2007 | TV Movie | Murray |
| Hubert Selby Jr: It/ll Be Better Tomorrow | 2005 | Documentary | |
Awards
Won Awards
| Year | Award | Ceremony | Nomination | Movie |
| --- | --- | --- | --- | --- |
| 2015 | Festival Prize | Atlantic City Cinefest | Best Actor, Short Drama | Tom in America (2014) |
| 2014 | Lifetime Achievement Award | Hoboken International Film Festival | | |
| 1978 | Stinker Award | The Stinkers Bad Movie Awards | Worst Supporting Actor | Convoy (1978) |
| 1978 | Stinker Award | The Stinkers Bad Movie Awards | Worst Fake Accent: Male | Convoy (1978) |
Nominated Awards
| Year | Award | Ceremony | Nomination | Movie |
| --- | --- | --- | --- | --- |
| 2016 | Jury Award | Queens World Film Festival | Best Actor in a Short | Tom in America (2014) |
| 2015 | Maverick Movie Award | Maverick Movie Awards | Best Actor: Short | Tom in America (2014) |
| 2006 | Stinker Award | The Stinkers Bad Movie Awards | Worst Supporting Actor | Rocky Balboa (2006) |
| 1991 | Razzie Award | Razzie Awards | Worst Supporting Actor | Rocky V (1990) |
| 1986 | Razzie Award | Razzie Awards | Worst Supporting Actor | Rocky IV (1985) |
| 1977 | Oscar | Academy Awards, USA | Best Actor in a Supporting Role | Rocky (1976) |
Source:
IMDb
,
Wikipedia