• Gertrude Elizabeth "Luna" Vachon was an American-Canadian wrestler and WWF star
• Luna died in 2010 after overdosing on benzodiazepine and oxycodone
• Luna's family was heavily involved with wrestling, and she decided to continue the legacy
• Luna was baptized by Nikita Koloff and her ex-husband David, and was a born-again Christian
• Luna died at age 48, with a net worth of over $1 million

Known for movies
Short Info
| | |
| --- | --- |
| Died | August 27, 2010, Pasco County, Florida, United States |
| Spouse | Gangrel, Dan Hurd, Tom Nash |
| Mark | Trademark move: Luna Bomb |
| Fact | Wrestlers she has managed: Bam Bam Bigelow, Bull Nakano, Goldust, Tommy Dreamer, The Oddities, Gangrel, Shawn Michaels. |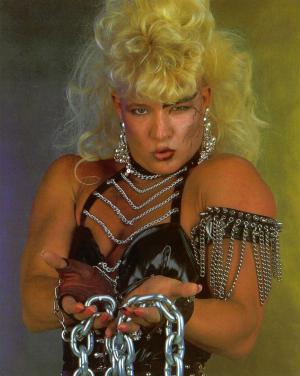 Who was Luna Vachon, a WWF star?
Gertrude Elizabeth 'Luna' Vachon was born in Atlanta, Georgia USA, on 12 January 1962 – her zodiac sign was Capricorn and she held both Canadian and American nationality. She is still known today for her career as a wrestler and for having competed in the World Wrestling Federation (WWF) known today as the World Wrestling Entertainment (WWE).
How did she die?
Luna was addicted to medications, but in June 2009 she completed her rehabilitation program which was paid for by WWE – later that year, her house burned to the ground and some people believe that Luna might have accidentally caused the fire.
She went to live with her mother in Pasco County, Florida, where she was found dead on 27 August 2010 after having overdosed with benzodiazepine and oxycodone.
Luna was cremated, and her remains were scattered around her friend Andre the Giant's ranch in Ellerbe, North Carolina.
Early life and education
Luna spent only the first four years of her life with her father Charles Henry Wilkerson and her mother Rebecca 'Van' Pierce, as her parents divorced in 1996, and she was then adopted by her mother's new husband Butcher Vachon – Luna didn't' have any siblings, but grew up being very close to Andre the Giant who was a French professional wrestler and an actor.
As most of Luna's family and relatives were into wrestling, she decided while still a young girl that she would continue their legacy and would become a wrestler, however, her parents disagreed and tried talking her out of it – even her best friend Andre tried to dissuade her, but Luna nevertheless began training for wrestling when she was 16.
Career as a wrestler
In 1985, Luna entered Florida Championship Wrestling, and two years later joined the Continental Wrestling Association – the following years saw her wrestle in Japan and Puerto Rico while being managed by her stepfather.
Before entering WWF, Luna competed in David McLane's Powerful Women of Wrestling and the American Wrestling Association.
Luna debuted in WWF in April 1993 at WrestleManix IX, and then in the following year became the first woman to be featured in the WWF video game "WWF Raw". She left WWF after only a year, and then competed in Extreme Championship Wrestling for the following two years, before she started working with World Wrestling Council, American Wrestling Federation and IWA Mid-South in the late 1996.
In 1997, Luna returned to WWF and stayed there for three years before leaving and going independent again, touring around the world and entering wrestling championships by herself – she competed at IWA Puerto Rico in 2000, and at Australian World Wrestling All-Stars in 2001. The year 2003 saw her enter the German EWP, while she also entered British ASW in 2006, and Women Superstars United in 2007.
Luna became the Great Lakes Championship Wrestling Ladies Champion on 9 June 2007 after beating Traci Brooks, but later that year on 5 December she announced that she was retiring from wrestling – she fought her final fight on 7 December.
Luna also did some modelling and was featured in both "Hustler" and "Playboy" magazines.
Love life and husband
Luna met her first husband Dan Hurd in 1978 when they were introduced by a mutual friend at a party, and two years later they married in a private ceremony attended by their closest friends and family – three months after the wedding, Luna gave birth to their son Joshua, while their second son Van followed in 1982. Both Luna's sons are avid cooks, and have competed in the cooking program "Hell's Kitchen".
In 1985 Luna and Dan divorced, and she went on to date Richard Van Slater, the late American professional wrestler, who physically abused her which eventually led to their split.
In 1987, Luna married Tom Nash, her childhood friend, but they divorced in 1993 for unknown reasons. On 31 October 1994, Luna married Tom's best friend David Heath, but they divorced in 2006 although remaining close friends until Luna's death.
Health, hobbies and other interests
Luna suffered from bipolar disorder, also known as manic depression and she found comfort in religion after becoming a born again Christian in 2004 – she was baptized by Nikita Koloff, a retired professional wrestler, and her ex-husband David.
Luna liked to travel, and her wrestling career had made it possible for her to visit countries on every continent including England and France in Europe, and China and India in Asia.
She was a lover of animals, and had a pet dog and two pet cats while her favorite animals were monkeys and donkeys.
Luna had a way with children and at one point in her life wanted to become a teacher.
She liked to watch romantic comedy movies in her spare time, and her favorite actor and actress were Will Smith and Amanda Seyfried, while some of her favorite movies were "I Am Legend", "I, Robot" and "Letters to Juliette".
Age and height
Luna died at the age of 48, so would've been 58 today. She had long blonde hair and blue eyes, her height was 5ft 6ins (1.68m) and she weighed around 140lbs (64kgs).
Luna's net worth at the time of her death was estimated at over $1 million.
General Info
| | |
| --- | --- |
| Full Name | Luna Vachon |
| Died | August 27, 2010, Pasco County, Florida, United States |
| Height | 1.68 m |
| Weight | 63.5 kg |
| Profession | Professional Wrestler |
Family
| | |
| --- | --- |
| Spouse | Gangrel, Dan Hurd, Tom Nash |
| Children | Joshua Hurd, Van Hurd |
| Parents | Paul Vachon, Rebecca Pierce, Charles Henry Wilkerson |
Accomplishments
| | |
| --- | --- |
| TV Shows | WCW Monday Nitro, WXW Rage TV, AWF Warriors of Wrestling |
Social profile links
Marks
| # | Marks / Signs |
| --- | --- |
| 1 | Trademark move: Luna Bomb |
| 2 | Trademark move: Flowing DDT |
| 3 | Finishing move: Luna Eclipse Diving Splash |
Facts
| # | Fact |
| --- | --- |
| 1 | She is currently working as a tow truck operator in Port Richey, Florida. [March 2009] |
| 2 | Had two sons with her first husband Dan Hurd - Joshua Hurd (b.1980) and Van Hurd (b.1982). |
| 3 | Wrestlers she has managed: Bam Bam Bigelow, Bull Nakano, Goldust, Tommy Dreamer, The Oddities, Gangrel, Shawn Michaels. |
| 4 | Luna went to Japan with her step dad (Butcher Vachon) as her manager. |
| 5 | Trained by Paul Vachon, Vivian Vachon and the Fabulous Moolah. |
| 6 | Notable Titles Won Include: USWA Women's title; Florida Women's Federation title; Caribbean Women's title; Women's Wrestling Tag Team title (2); POWW Tag Team titles (2) |
| 7 | Wife of Pro Wrestler "The Vampire Warrior" aka "Gangrel" of the WWF. Member of the Famous "Vachon" Family of Pro Wrestling. Step-daughter of Paul "Butcher" Vachon, Neice of the Late "Wrestling Queen" Vivian Vachon and "Mad Dog" Vachon. |
Movies
Actress
| Title | Year | Status | Character |
| --- | --- | --- | --- |
| WCW Slamboree | 1997 | TV Movie | Luna Vachon |
| WCW Monday Nitro | 1997 | TV Series | Luna Vachon |
| WXW Rage TV | 1996 | TV Series | Luna Vachon |
| ECW Barbed Wire, Hoodies & Chokeslams | 1995 | Video | Luna Vachon |
| ECW Enter Sandman | 1995 | Video | Luna Vachon |
| ECW Hardcore Heaven 1995 | 1995 | Video | Luna Vachon |
| WWF Challenge | 1993 | TV Series | Luna Vachon |
| Summerslam | 1993 | Video | Luna Vachon |
| WWF Superstars | 1993 | TV Series | Luna Vachon |
| WrestleMania IX | 1993 | Video | Luna Vachon |
| UWF Fury Hour | 1990 | TV Series 1990 | |
| POWW: Powerful Women of Wrestling | 1987 | TV Series | Luna |
| AWA: WrestleRock | 1986 | Video | Luna Vachon |
| NWA/Pro Wrestling Revolution: Future Legends | 2008 | Video | Luna Vachon |
| Legends Never Die | 2006 | Video | Luna Vachon |
| WWA: The Inception | 2001 | Video | Luna Vachon |
| WWE Jakked | 1999 | TV Series | Luna Vachon |
| WWE Metal | 1998 | TV Series | Luna Vachon (1998-2000) |
| WWF Mayhem in Manchester | 1998 | Video | Luna Vachon |
| No Way Out | 1998 | TV Movie | Luna |
Self
| Title | Year | Status | Character |
| --- | --- | --- | --- |
| WWE Smackdown! | 1999-2000 | TV Series | Luna Vachon |
| WWE Raw | 1993-2000 | TV Series | Luna Vachon Princess Luna Luna ... |
| Royal Rumble | 2000 | TV Special | Luna Vachon |
| Survivor Series | 1999 | TV Special | Luna Vachon |
| WWE Sunday Night Heat | 1998-1999 | TV Series | Luna Vachon |
| Beyond the Mat | 1999 | Documentary | Luna Vachon (uncredited) |
| WWF Rebellion | 1999 | TV Special | Luna |
| WWF Unforgiven | 1999 | TV Special | Luna |
| Summerslam | 1999 | TV Special | Luna Vachon |
| WWF Royal Rumble: No Chance in Hell | 1999 | TV Special | Luna Vachon |
| WWF Rock Bottom: In Your House | 1998 | TV Special | Luna |
| Summerslam | 1998 | TV Special | Luna Vachon- The Oddities |
| WWF Unforgiven | 1998 | TV Special | Luna Vachon |
| WrestleMania XIV | 1998 | TV Special | Luna Vachon |
| Royal Rumble | 1998 | TV Special | Luna Vachon |
| King of the Ring | 1994 | TV Special | Luna Vachon |
| WrestleMania X | 1994 | TV Special | Luna Vachon |
| Royal Rumble | 1994 | TV Special | Luna Vachon |
| Survivor Series | 1993 | TV Special | Luna Vachon |
| UWF Beach Brawl | 1991 | TV Special | Luna Vachon |
| AWA Superclash III | 1988 | TV Special | Luna Vachon |
Archive Footage
| Title | Year | Status | Character |
| --- | --- | --- | --- |
| WWE 'History of the Hardcore Championship:24/7 | 2016 | Video | Luna Vachon |
| WWE Hall of Fame | 2015 | TV Special | Luna Vachon |
| Shawn Michaels: Mr Wrestlemania | 2014 | Video documentary | Luna Vachon |
| Attitude Era | 2012 | Video | Luna Vachon |
| Raw: The Beginning - The Best of Seasons 1 & 2 | 2010 | Video | Luna Vachon |
| Psychopathic: The Videos | 2007 | Video | Luna (segment "Real underground baby") (uncredited) |
| The Most Powerful Families in Wrestling | 2007 | Video | Luna Vachon |
| The Spectacular Legacy of the AWA | 2006 | Video documentary | Luna Vachon |
| The World's Greatest Wrestling Managers | 2006 | Video | Luna Vachon |
| WWE WrestleMania: The Complete Anthology, Vol. 2 | 2005 | Video | Luna Vachon |
| WWE WrestleMania: The Complete Anthology, Vol. 3 | 2005 | Video | Luna Vachon |
| The Rock - The People's Champ | 2000 | Video | Luna Vachon |
| WWF Sable Unleashed | 1998 | Video documentary | Luna Vachon |
Source:
IMDb
,
Wikipedia