• Parker Schnabel is an American miner and reality TV star known for Discovery's "Gold Rush: Alaska" and its spin-off series "Gold Rush: Parker's Trail".
• He became a fan-favorite from the first season of the show and is now the main star.
• He found 1,029 ounces of gold in his first season on his own, worth approximately $1,4 million.
• He has a net worth of $8 million, and mined an estimated of $20 million during his time as gold miner.
• His only publicly known relationship was with veterinary nurse Ashley Youle, who he met in 2016.

Known for movies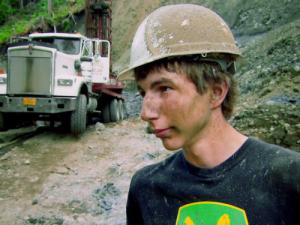 Parker Schnabel is an American miner and reality TV personality born on 22 July 1994, in Haines, Alaska USA. He's known for being the main star of Discovery's show "Gold Rush: Alaska".
Early Life
Parker was born youngest son of Roger and Nancy Schnabel. He along his brother Payson grew up in Porcupine Creek, surrounded by their grandfather John Schnabel's mining operations. Although there's no information about Parker's early education, it's known one of his childhood hobbies was hunting with his family: 'about five years our family hardly had to buy any meat. I was pretty proud of that'.
However, Parker's interests changed when he became a teen, says Money Week: 'It was something more mysterious and compelling'. Parker's attention was in gold mining, joining his grandfather's Big Nugget Mine as assistant.
Career
Mining
By the young age of 16 Parker was in charge of his grandfather's mine, and after his high school matriculation he decided to forego university, using his college funds to set up a mining operation in Klondike.
Risking his education was worth it though, as Parker found 1,029 ounces of gold in his first season on his own, which was worth approximately $1,4 million, proving not only his mining skills but also his ability as natural leader.
Gold Rush: Alaska
Parker Schnabel first appearance in "Gold Rush: Alaska" was during its first season, when he was 15 years old and his grandfather was still in charge of Big Nugget Mine. However, despite not being the main star of the show yet, he became a fan-favorite: 'Once they'd started filming him, they didn't want to stop. He was naturally telegenic a teenager who had discovered gold in the way that most teenagers discover booze and parties.'
The show which changed its name to "Gold Rush" in its second season, featured Parker as he slowly became a mining boss, successfully running the family business with the guidance of his grandfather and then his own gold mining operation.
Despite being very young at the time, Parker's didn't face much difficulty in his beginnings, he told The Malestrom: 'it wasn't too difficult because I did really enjoy it and in the early years I had a lot of fun doing the show and learning how to mine. It was a struggle, but it was also fun.'
Although Parker's natural talent as miner made explorations easy, he confessed challenges are always present: 'I think it's very hard to balance the business with everything being on camera, it's all your mistakes being in the spotlight like that.'
Christo Doyle, executive producer of the show, talked about his first impression of Parker: 'I don't think I would have ever been able to predict that Parker would be as incredibly successful as a gold miner.
He's proved to be the biggest part of the show, so far, right now.'
"Gold Rush" spin-off series entitled "Gold Rush: Parker's Trail" premiered in 2017. The show centers on Parker's crew as they explored Klondike Trail in Canada, expanding their operations then to a variety of mines in Papua New Guinea and Australia in the following seasons. In 2020 Australian miner Tyler Mahoney joined the series as part of Parker's crew.
Is Gold Rush Staged?
Despite showing real gold mining operations and its stars being legitimate miners, "Gold Rush" has faced criticism by viewers regarding whether or not some of the events of the show are staged.
Jimmy Dorsey, former miner who used to be part of the show, confessed in an interview to Oregon Gold many parts of the show are planned beforehand to appeal to audiences: 'It is scripted from the beginning. They knew exactly what they wanted to see out of the program. Even me leaving was scripted, but in the way in which it happened was not. The plans were made, but the footsteps were ours. They actually direct you into these situations. It became very real.'
Personal Life
Romantic Life
Parker's only publicly known relationship to the date was with veterinary nurse Ashley Youle, who he met in Australia in 2016 and joined his crew soon after. Although the relationship lasted for more than a year, the pair broke up in 2018.
In episode "Win Big or Die Trying", Schnabel revealed break up's true reason: 'I just never really made the relationship a priority, didn't make her a priority, and she deserves a lot better than that. At the end of the day, I do think she is doing what's best for her and that's the hardest part of it… it's a real shame.'
Currently, Parker is rumored to be dating his show co-partner Tyler Mahoney, though neither of them has confirmed said rumors.
Family – Grandfather
Despite the generational gap between them, Parker's closest family member was John Schnabel, his grandfather.
The younger Schnabel remembers his grandfather with gratitude, as it can be seen on a photo in commemoration of his death posted by Parker on Instagram in 2019.
The caption reads: 'His mine and cabin was always a very special place for him. It's taken me a long time to understand how much peace you can find in an old rocking chair next to a creek. He died 3 years ago today. Gone but never forgotten.'
Net Worth
Parker Schnabel's success as gold miner has led him to become a millionaire at an early age. Currently, his estimated net worth is of $8 Million.
Physical Appearance
Parker Schnabel is a man of white ethnicity, with brown hair and eyes. His stature and weight are unknown, though he has a noticeably slender build. Despite his age and fortune, Parker's wardrobe is simple and does not wear expensive clothes.
Interesting Facts
Parker Schnabel owns a bike, which he only rides when he needs to 'let some steam off' due to his stressful job.
He describes his job as gratifying: 'Gold mining like most things in life, you get out of it what you put in. And if you put in a lot of hard work and dedication, you usually get rewarded'.
Parker and his brother Payson were the only grandsons of John Schnabel. Although Parker doesn't have a secret formula to success, he thinks what has led him to be an accomplished miner is not being complacent: 'we always try to find the next thing or the next person that's going to improve the business and make things run better and smarter, to find the next season's ground, or whatever it is.'
In 2014 John Schnabel described his grandson Parker as a kid 'very loveable and pleasant to be around' in an interview with Starscasm. He also added what was his hope for Parker: 'That he will be able to achieve what his goals are and that he will share his success with others around him'.
Instead of buying luxuries with his fortune, Parker is more interested on life's simple things: 'I don't own a boat, or any fancy cars or a fancy house. I have a big expensive sandbox instead.' He said, in reference to his gold mining operation.
Parker has mined an estimated of $20 Million during his time as gold miner. However, part of this quantity has been spent on machinery, operational costs and salaries to his crew.
10th season of "Gold Rush" has been the most economically rewarding for Parker, who mined an estimated of $10 million in gold.
General Info
| | |
| --- | --- |
| Full Name | Parker Schnabel |
| Profession | TV Personality, Miner |
| Nationality | American |
Family
| | |
| --- | --- |
| Parents | Nancy Schnabel, Roger Schnabel |
| Siblings | Payson Schnabel |
Accomplishments
| | |
| --- | --- |
| TV Shows | Gold Rush, Gold Rush: The Dirt |
Social profile links
Movies
Self
| Title | Year | Status | Character |
| --- | --- | --- | --- |
| Gold Rush: Alaska | 2011-2017 | TV Series | Himself |
| Gold Rush: Parker's Trail | 2017 | TV Mini-Series | Himself - Klondike Miner / Himself |
| Gold Rush: The Dirt | 2012-2016 | TV Series | Himself |
| The Gavin McInnes Show | 2015 | TV Series | Himself |
| Gold Rush: Parker's Take | 2014 | TV Movie | Himself |
| Gold Rush: South America | 2013 | TV Series | Himself |
| Larry King Now | 2013 | TV Series | Himself - Guest |
| The Long Road | 2012 | TV Movie documentary | Himself |
Archive Footage
| Title | Year | Status | Character |
| --- | --- | --- | --- |
| Gold Rush: Alaska | 2016 | TV Series | Himself |
Source:
IMDb
,
Wikipedia