• Jake Anderson was born in Forks, Washington State USA in 1980 and is known for appearing in the documentary-reality TV series "Deadliest Catch" as Captain of fishing vessel Saga.
• Jake was originally a skateboarder, but suffered an injury which led to him consuming alcohol and drugs and taking up fishing.
• Jake has an autobiography entitled "Relapse" which was published in 2014 and became a best seller.
• Jake's father Keith disappeared in 2010 and his remains were found in 201•
• Jake has a net worth of $1.8 million, and is married to Jenna Paterson with whom he has three sons.

Known for movies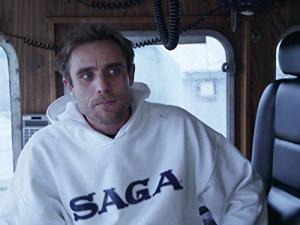 Jake Anderson is an American fisherman, skateboarder and TV personality, born on 16 September 1980 in Forks, Washington State USA. He's known for appearing in the documentary-reality TV series "Deadliest Catch" as Captain of fishing vessel Saga.
Early Life
Jacob Van Martin Anderson was born one of five children of Keith and Jennifer Anderson. At 13 years old, Jake started practicing skateboarding in Los Angeles. By the time he was 19 years old, his popularity had increased to the point where he was sponsored by several skate shops and brands: 'It was just my friend and myself. I had this wild dream that we were going to become professional skateboarders, and all we had were videos and magazines.'
In 1999, Jake's friend Casey continued his way to become a professional skateboarder, but Jake's sport career ended abruptly when he suffered a serious accident, breaking his ankle in the process. Due to this, he started consuming alcohol and drugs.
Career
First Fishing Experience
Desperately needing a job as his income had stopped, Jake found a way to provide for himself by fishing: 'I couldn't skate anymore and couldn't pay my bills. It was my plan b.'
It was then Jake moved to Anacortes, a fishing town in which he learned the basics of commercial fishing, thanks to his uncle Brian Mavar. At 20 years old and now with just enough experience, he moved to Alaska and started fishing at Bristol Bay.
Five years later at 25, he joined the fishing vessel Northwestern as greenhorn. He maintained said position for six years until he was promoted by Captain Sig Hansen to deckhand in 2011, and then to relief deck boss.
In his time with Northwestern, Jake earned a USCG (United States Coast Guard) Mate license in ton fishing. He also set the path to become a vessel Captain when he obtained a Master license of 100-tons.
Exit From Northwestern
In 2013 Jake Anderson left his position on Northwestern to become Kiska Sea's co-Captain. However, he faced several problems working with his new crew, and soon left the fishing boat to return to Northwestern: 'It was pretty humbling to ask for my job back.
I've had several other offers to go on other boats, and at first I was real reluctant to ask to come back. But, at the end of the day I talked to Sig and I talked to Edgar (Hansen), and they kind of figured that I was going to ask to come back because I knew the boat.'
Two years later in 2015, Jake achieved his goal of becoming a Captain when he was offered the said position on fishing vessel Saga. Since then, his popularity has increased considerably, as his leadership has resulted in his crew accomplishing hugely successful crab fishing seasons in Alaska's waters.
In 2019 Anderson announced his intentions of buying Saga. However, he's facing complications with its purchase: 'It's a tough time to buy into the boat, especially because you're not gonna make a ton of money if you don't do it right. We didn't even know how much money was to be made… it was really high stakes.'
Deadliest Catch
Jake Anderson first appearance in Discovery Channel's series "Deadliest Catch" was in 2008, when he was still working on Northwestern as a greenhorn. He continued appearing in the show for its subsequent seasons.
Fans of the series have watched Jake's fishing career grow, evolving from being a young deckhand to become Captain of his own vessel.
"Deadliest Catch" premiered in 2008, and follows the life on board of crew members of various Alaska-based fishing vessels. The show has been on air for more than ten years, has received consistently positive reviews and is hugely popular.
Personal Projects
In 2011 Anderson collaborated with DVS Shoes, designing Torey Mid model to fit professional skateboarder Torey Pudwill.
Besides his career as fisherman, Jake Anderson is also an accomplished author. His autobiography "Relapse" was published in 2014, becoming a best seller in a short time.
Personal Life
Addiction
Jake has faced many challenges in life, including an addiction to alcohol and drugs he developed at 19 years old, when he suffered the injury that ended his promising skate career.
Although Jake stopped consuming illegal drugs, he became addicted to painkillers. He decided to change his life when his sister Chelsea Dawn died at 39 years old, in her natal Washington on 13 February 2009, after suffering complications with pneumonia.
Jake's efforts to overcome his addictions were rewarded, as his work on board of Northwestern improved and earned him various promotions, along with the respect of other crew members.
Father's Death
Jake's father Keith Anderson disappeared on 6 January 2010. Anderson's family declared Keith was travelling to meet an acquaintance in Arlington, Virginia, though his belongings such as cell phone and medication were left at home. Keith's abandoned car was found on a deserted road in Darrington, Washington. Jake received the unfortunate news while on board of Northwestern, kilometers away from his family while filming "Deadliest Catch". Amidst the pain caused by his father's disappearance, Jake resolved to become the best fisherman he could be as a promise.
In 2012, the remains of a human body were found in Skagit County by a hiker. After a thorough examination, it was determined that it was Keith Anderson.
Marriage
Jake Anderson married Jenna Paterson on 13 May 2012. Although there's not much information about the couple, it's known that they have welcomed three sons together, named Aiden, Candence and Luca. Anderson usually shares photos of his family on his Instagram account.
Net Worth
Jake Anderson's net worth is estimated at $1.8 million, the result of his work as a fisherman, earnings from his collaboration with DVS Shoes, and for appearing in all seasons of the successful TV series "Deadliest Catch".
Physical Appearance
Jake Anderson is apparently a handsome man of white ethnicity; his eyes are blue and hair blond His weight and height are unknown, though it's clear that he's a strongly built as a result of his work as a fisherman.
Interesting Facts
In an interview with Yahoo in 2014, Jake talked about his love for fishing: 'I'm just very passionate about it and it's all I know how to do now. I could go and do things like skateboarding and possibly rep for a company. But there's just something that keeps me coming back.'
In the same interview, Jake confessed holding in high regard his position in Northwestern: 'I just love it there, it's my home, I can do whatever I want. I just show up because it's like an extension of my house'.
He bought a car for his mom on 2014's Christmas Eve. He and his wife Jenna recorded the event and posted the video on his Facebook Official Page.
Jake has a slight rivalry with his former Captain Sig Hansen, as he often disagreed with his decisions. However, differences between the two Captains have always been solved with respect, and they're on good, friendly terms.
Jake admitted doubting his ability to become a fisherman at the start of his career. Anderson admitted to be 'devastated' after leaving Northwestern to join Kiska Sea, as he encountered many challenges that discouraged him.
Fellow "Deadliest Catch" stars Jake and Josh Harris lost their father Phil in 2010, while recording the show. Anderson confessed to be jealous of the Harris brothers, as they could spend their father's last moments with him and were present at his burial, a privilege Anderson didn't have with his father Keith.
Jake's only publicly known sister was Chelsea Dawn. However, he had another three sisters, names unknown.
General Info
| | |
| --- | --- |
| Full Name | Jake Anderson |
| Date Of Birth | September 16, 1980 |
| Profession | TV Personality, Author, Skateboarder |
| Nationality | American |
Family
| | |
| --- | --- |
| Spouse | Jenna Anderson |
| Parents | Keith Anderson |
| Siblings | Chelsea Dawn Anderson |
Accomplishments
Social profile links
Facts
Movies
Self
| Title | Year | Status | Character |
| --- | --- | --- | --- |
| Deadliest Catch | 2007-2017 | TV Series documentary | Himself - Deckhand: Northwestern / Himself - Captain: Saga / Himself - Greenhorn: Northwestern / ... |
| Deadliest Catch: Evolution of Danger | 2017 | TV Movie | Himself - Captain: Saga (as Jake) |
| Deadliest Catch: Legends Born & Broken | 2017 | TV Movie | Himself - Captain: Saga |
| Deadliest Catch: The Bait | 2013-2016 | TV Series | Himself / Himself - Co-Host / Himself - Deckhand / ... |
| Deadliest Catch: Sig Hansen Legacy | 2016 | TV Movie documentary | Himself - Captain: Saga |
| Deadliest Catch: A Season in Hell | 2016 | TV Movie | Himself - Captain: Saga |
| Steve Harvey | 2015 | TV Series | Himself |
| Good Morning America | 2015 | TV Series | Himself |
| Deadliest Catch: Captain's Choice 10: Sig Hansen and Jake Anderson | 2015 | TV Movie documentary | Himself |
| Deadliest Catch: Captain's Choice 9: Josh and Jake Harris | 2015 | TV Movie documentary | Himself |
| Deadliest Catch: Season 10 Revealed | 2015 | TV Movie | Himself - Deckhand & Engineer: Northwestern |
| TakePart Live | 2014 | TV Series | Himself - Guest |
| The Playboy Morning Show | 2014 | TV Series | Himself |
| Deadliest Catch: Legend of the Northwestern | 2014 | TV Movie documentary | Himself - Deckhand: Northwestern (uncredited) |
| Deadliest Catch: Season 9 Revealed | 2014 | TV Movie documentary | Himself - Deckhand: Northwestern & Deckhand: Kiska Sea |
| Deadliest Catch: An Epic Season | 2013 | TV Special | Himself - Deckhand: Northwestern |
| Deadliest Catch: Best of Season 8 | 2013 | TV Special | Himself |
| Deadliest Catch: Revelations | 2012 | TV Movie documentary | Himself - Deckhand: Northwestern |
| After the Catch | 2008-2012 | TV Series documentary | Himself |
| Deadliest Catch: Inside the Catch | 2012 | TV Series documentary | Himself - Deckhand: Northwestern |
| Deadliest Catch: Best of Season 7 | 2012 | TV Special | Himself - Deckhand: Northwestern |
| Deadliest Catch: Greenhorns | 2011 | TV Movie | Himself - Greenhorn: Northwestern |
| Deadliest Catch: Best of Season 5 | 2010 | TV Movie | Himself |
Source:
IMDb
,
Wikipedia