• Parker Schnabel was plucked from obscurity after making his debut in Discovery Channel's "Gold Rush" series.
• He learned his mining skills from his father and grandfather, and left school at the age of 16 to focus on the mining business.
• He went on to become one of the most successful miners in the Klondike area, and has starred in multiple spin-offs of the show, including "Gold Rush: Parker's Trail".
• He has unearthed more than $30 million worth of gold, and has an estimated net worth of $10 million.
• He is 5ft 9ins (1.72m) and weighs 165lbs (75kg).

Known for movies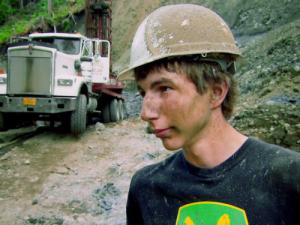 One would expect the lucrative nature of the gold mining industry to be reason enough for one to achieve fame. However, most gold miners and owners live out their lives in relative obscurity. Sure, they achieve some level of renown within the industry, but it is seldom that they catch the eye of the public. This is what makes the fame of gold miner Parker Schnabel so unique. Parker was plucked from a life of anonymity when he made his debut in Discovery Channel's "Gold Rush" series. A hard worker who is dedicated to his craft, Parker Schnabel soon became a favorite amongst the viewers of the show.
Early Life and Family
Parker Russell Schnabel was born to Roger and Nancy Schnabel on 22 July 1994, in Haines, Alaska, USA, and has a brother named Payson Schnabel.  In line with a long family tradition of gold mining, much of his youth was dominated by this industry. Living nearby the gold mine, The Big Nugget, that his grandfather, John Schnabel had founded, Parker remembers being taught how to wrangle heavy machinery from a young age. He does not view these memories with any regret, but appreciates them for helping him build the career he has today.
He also enjoyed hunting as a child, and often boasted that for years the family never had to buy any meat, subsiding solely of his catches.
Education
Schnabel only has a basic education, as he left school at 16 to fully invest his time in the mining business. Although he was set to attend college, he used his entire college fund to set up his first mining expedition. All his knowledge of mining has been passed down to him from his father, grandfather and the other miners who he had encountered first in his youth, and later during his career.
Career
Early Mining
Parker did not mess around working odd jobs, trying to find his calling; he already held the mantle of his grandfather's mining company in 2010, at the tender age of sixteen. Although he initially experienced some pushback from the other miners – an experience he describes as "a bunch of old guys who didn't want to be told what to do" –  he soon proved himself leading the mining crew to success after success. At 19 he moved to Klondike to pursue projects of even greater magnitude.
"Gold Rush"
The Discovery Chanel had been scouting Parker since he was 15, already recognizing that he was someone to keep an eye on.
"Gold Rush" follows the exploits of family gold mining companies, exploring the ups and downs of the industry, and Parker Schnabel was part of the show from season one, which premiered on 3 December 2010 and still runs to the present day. While Schnabel was largely outshone by his competition in the early seasons, but had his first big break in season 4, when Parker and his team extracted a stunning 1,029 ounces of gold, and from there his success only grew, contining to outpace his competition by significant amounts. By the time season nine rolled around, he was mining millions of dollars worth of gold each season, dishing out 7,427.25 ounces that season.
Parker's success has led to him being recognized as one of the most successful miners in the Klondike area, not to mention a huge star due to the popularity of the show. Schnabel has gone on to star in multiple spin-offs from the show, including one entitled "Gold Rush: Parker's Trail", which has been running steadily since 2017.
Personal Life
Relationships and Social Life
Parker Schnabel has a surprisingly uneventful personal life. He has dedicated so much of his time to the mining business and the TV industry, that it has left him with time for little else. For a while, Schnabel had the support of his long-term girlfriend, Ashley Young – at one stage the couple even announced that they were going to have a baby.
However, the public was devastated when he announced that they had broken up during the eighth season of the show. His current relationship with her and the child are unknown. However, about maturity, Parker took responsibility for the whole affair, recognizing that he had let his work consume him to the point that he no longer prioritized, and worked on their relationship.
Still wanting the best for him, rumors began to circulate that he was dating Sheena Cowell, an assistant producer of the show, so it seemed logical that the two had spent ample time together and developed affections for one another.
The public was rudely disillusioned from this fantasy when it was revealed, via an Instagram post, that Cowell had married in Serbia, to an undisclosed man.
Despite building a substantial fortune for himself, Parker does not lead a lavish lifestyle. He stated that 'I don't own a boat or any fancy cars or a fancy house. I have a big expensive sandbox instead.'. Much of his funds go straight back into mining in a sort of endless cycle that sees him dedicating his life to his craft. He doesn't socialize much either. Having entered the mining industry so young, it was easy to fall out of contact with friends and schoolmates. He says that it's 'A bummer, but I'm doing what I love, so that's what you give up I guess.'
Appearance
Parker Schnabel has dark brown hair and eyes and a boyish attitude that complements his youthful features. The nature of his work contributes to his muscular and healthy physique, yet he still appears as a leaner figure. He is 5ft 9ins (1.72m) and weighs 165lbs (75kg).
Net Worth and Salary
During his time on the show, Peter Schnabel has unearthed more than $30 million worth of gold. He also receives a hefty salary from his appearance on the show, reported to be $25,000 per episode. Parker Schnabel does not flaunt his wealth or spend his money on cars and property, instead he prefers to keep a lower profile. This being said, as of 2020 Schnabel has an estimated net worth of $10 million.
General Info
| | |
| --- | --- |
| Full Name | Parker Schnabel |
| Profession | TV Personality, Miner |
| Nationality | American |
Family
| | |
| --- | --- |
| Parents | Nancy Schnabel, Roger Schnabel |
| Siblings | Payson Schnabel |
Accomplishments
| | |
| --- | --- |
| TV Shows | Gold Rush, Gold Rush: The Dirt |
Social profile links
Movies
Self
| Title | Year | Status | Character |
| --- | --- | --- | --- |
| Gold Rush: Alaska | 2011-2017 | TV Series | Himself |
| Gold Rush: Parker's Trail | 2017 | TV Mini-Series | Himself - Klondike Miner / Himself |
| Gold Rush: The Dirt | 2012-2016 | TV Series | Himself |
| The Gavin McInnes Show | 2015 | TV Series | Himself |
| Gold Rush: Parker's Take | 2014 | TV Movie | Himself |
| Gold Rush: South America | 2013 | TV Series | Himself |
| Larry King Now | 2013 | TV Series | Himself - Guest |
| The Long Road | 2012 | TV Movie documentary | Himself |
Archive Footage
| Title | Year | Status | Character |
| --- | --- | --- | --- |
| Gold Rush: Alaska | 2016 | TV Series | Himself |
Source:
IMDb
,
Wikipedia