• Robin Shou is a Chinese-American actor born in Hong Kong in 1960.
• He studied martial arts in China and graduated with a Bachelor's Degree in civil engineering.
• He is best known for his roles in "Mortal Kombat", "DOA: Dead or Alive", "Death Race", "Street Fighter: The Legend of Chun Li", and "Mortal Enemies".
• He has won multiple Wu Shu competitions and has a net worth of $8 million.
• He is married and is 6ft tall with dark eyes and long black hair.

Known for movies
Short Info
| | |
| --- | --- |
| Spouse | Anne Shou |
| Fact | Makes frequent appearances at the annual Los Angeles Chinatown Firecracker 5k/10k Run/Walk. |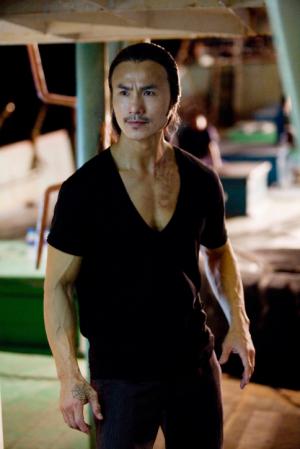 Introduction
If you are a fan of combat video games, you must've heard of titles such as "Mortal Combat", "Dead or Alive" and "Street Fighter". Do you know the name of the man who acted in film adaptations of these popular games? How much money has Chinese-American actor Robin Shou earned from his acting endeavors?
Early life and Education
Shou Wan Por was born on 17 July 1960, in Hong Kong (at the time known as British Hong Kong), the People's Republic of China.
He is the fourth child of a homemaker and a tailor. When he was 11 years old in 1971, his family moved to Los Angeles, California US, and lived in a two-bedroom apartment in the area that is today known as Koreatown. Little is known about his early education, but it's disclosed that he didn't start practicing martial arts until he was 19, which was considered pretty late for the standards. He enrolled at the California State University, while also taking Kenpo (Karate) classes. However, he wasn't satisfied with Karate so he quickly quit it, then a year later he stumbled across a group of Wu Shu practitioners who had came to Los Angeles from Beijing.
He immediately thought that this was what a 'real Chinese' should train in, so he took a break from University just before starting his senior year in 1981, sold his car, and spend the earnings on a flight to China, where he could study Wu Shu for several months. He didn't even tell his parents where he was going – his aunt had to mail a letter to his mother to let her know Shou was safe in Nanjing, China.
When he was done with Wu Shu classes, he returned to California and graduated with a Bachelor's Degree in civil engineering.
He worked in the field for a year and a half when he realized he needed a change of career, as he was bored by electronics and computers. He went back to Hong Kong, hoping to spend some time learning more about martial arts, when he was offered a position of a stuntman in a film. He accepted, and in the end his short vacation turned into two years, during which he was a stuntman in several films. When he returned to the US, he adopted Robin Shou his stage name, as he thought it was more appropriate for the Western audience.
Career
During the last several years of the 1980s, Shou made small appearances in several movies, such as "The Big Brother", "The Big Heat", "In the Line of Duty III" and "Long Arm of the Law".
However, his roles usually portrayed a bodyguard or an assassin, who would get only a few minutes of the screen time.
His real feature film debut happened in 1990, when he co-starred with Melissa Gilbert in the TV drama film "Forbidden Nights", about a woman who came to China to become a school teacher but who fell in love with one of her students. People immediately noticed Shou, but he decided to return to Hong Kong and work as an actor there.
He appeared in several films, such as "Tiger Cage II", "Fury in Red", "Forbidden Arsenal" and "Honor and Glory", however, in 1994 he returned to the US to pursue a career in Hollywood, his agent calling him to a casting call for the movie "Mortal Combat", inspired by the famous video game of the same name. Soon after, Robin Shou was cast as the lead character, Liu Kang – the movie premiered in 1995.
In 1997, Shou portrayed Gobei in "Beverly Hills Ninja, and that same year reprised his Liu Kang role in "Mortal Kombat: Annihilation". In 1998, he made an appearance in the TV series "The Outer Limits", in which he portrayed Major Ronald Neguchi.
Moving along, in 2006 Shou appeared in "DOA: Dead or Alive", the action movie directed by Corey Yuen. Two years later starred next to Jason Statham, Joan Allen and Tyrese Gibson in the sci-fi film "Death Race", and reprised that role in the film's sequels that aired in 2010 and 2014. In 2009, he acted in another video game adaptation, "Street Fighter: The Legend of Chun Li", in which he portrayed Gen, then the same year appeared in an episode of the TV series "Cold Case".
Shou starred as Sunny in the action film "Mortal Enemies" in 2011, before in 2012 making his voice acting debut, voicing Conroy and Roland Ho in the video game "Sleeping Dogs".
He also appeared in the short film "Black Tiger: Hunter Hunted" that aired in 2014.
Shou is announced to portray a character called simply 'Boss' in the Lou Pizzaro's TV film "Way of the Empty Hand" that, as of May 2020, still doesn't have a release date.
Personal Life
He was the International Forms Champion and a member of the National Wu Shu Team in the 1982-83 season. He won several gold and silver medals in Wu Shu at various competitions held in China, and also won a gold medal in weapons. He won the Traditional Form Grand Championship held in California four times.
Shou trained fellow actress Mila Jovovich for her role in the "Resident Evil" saga.
When he's not working on films, he loves taking ceramic classes, painting, welding, and even does woodworking!
On 19th September 2009, he married his mysterious, long-term girlfriend known simply as 'Anne'. It isn't disclosed whether or not the couple has any children.
According to the Chinese zodiac, he was born in the year of the Rat.
Shou keeps his life private and he isn't active on any social media platforms.
Net Worth
Robin Shou has earned a lot of money from his successful acting career, as well as from Wu Shu competitions and classes he held. His net worth is estimated at around $8 million, as of mid-2020.
Physical characteristics
Shou has a height of 6ft (1.83m), and weighs around 165lbs (75kg); he has dark eyes. He takes good care of his long, black hair which is even jokingly said to have some mystical powers and to be able to defy gravity.
General Info
| | |
| --- | --- |
| Full Name | Robin Shou |
| Height | 1.83 m |
| Profession | Actor, Martial Artist |
| Education | California State University, Los Angeles |
Family
Accomplishments
| | |
| --- | --- |
| Movies | Mortal Kombat, Mortal Kombat: Annihilation, Death Race, Street Fighter: The Legend of Chun-Li, Beverly Hills Ninja, Death Race 2, Death Race 3: Inferno, Tiger Cage 2, Red Trousers – The Life of the Hong Kong Stuntmen, Death Cage, Forbidden Nights, DOA: Dead or Alive, Pirate Brothers, 18 Fingers of... |
Social profile links
Facts
| # | Fact |
| --- | --- |
| 1 | Has starred in three movies with the word "Mortal" in the title. |
| 2 | Has stared in 4 video game adaptations meaning he ties with Zach Ward for the actor who's stared in most video game adaptations. He's had roles in Mortal Kombat, Mortal Kombat: Annihilation, DOA: Dead or Alive and Street Fighter: The Legend of Chun-Li. |
| 3 | Performs most of his own stunts. |
| 4 | Makes frequent appearances at the annual Los Angeles Chinatown Firecracker 5k/10k Run/Walk. |
| 5 | The role of Liu Kang in Mortal Kombat (1995) was very unique for Robin. It was rare to find Asians starring as heroes in Hollywood films at that time. That kind of movie was also uncommon at that time because the hero and the villain were both Asian. |
| 6 | Some of his martial arts stats: 1982-1983 International Forms Champion, Member of the National WuShu Team, Gold and Silver Medal at Competitions in China, Gold Medal in Weapons, 4-Time Traditional Forms Grand Champion in California. |
| 7 | Education: Civil Engineering Degree at California State University |
Pictures
Movies
Actor
| Title | Year | Status | Character |
| --- | --- | --- | --- |
| Way of the Empty Hand | | TV Movie post-production | Boss |
| Black Tiger: Hunter Hunted | 2014 | Short | Pacific 'Pac' Fong / Black Tiger |
| Death Race: Inferno | 2013 | Video | 14K |
| Sleeping Dogs | 2012 | Video Game | Conroy / Roland Ho (voice) |
| Mortal Enemies | 2011 | | Sunny |
| Death Race 2 | 2010 | Video | 14K |
| Cold Case | 2009 | TV Series | Bo-Lin Chen '83 |
| Street Fighter: The Legend of Chun-Li | 2009 | | Gen |
| Death Race | 2008 | | 14K |
| DOA: Dead or Alive | 2006 | | Pirate Leader |
| 18 Fingers of Death! | 2006 | Video | Jackie Chong |
| Lost Time: The Movie | 2003 | Short | Evan |
| The Outer Limits | 1998 | TV Series | Major Ronald Neguchi |
| Mortal Kombat: Annihilation | 1997 | | Liu Kang |
| Beverly Hills Ninja | 1997 | | Gobei |
| Mortal Kombat | 1995 | | Liu Kang |
| Long hu xin feng yun: Zhi tou hao tong ji fan | 1994 | | Gang Leader |
| Long kua si hai zhi zhi ming qing ren | 1993 | | Joi Gam-Seui / Chin Shui |
| Angel the Kickboxer | 1993 | | |
| Honor and Glory | 1993 | | Dragon Lee |
| Kakambal ko sa tapang | 1993 | | Allan (as Robin Shaw) |
| Zhi fa wei long | 1992 | | Allan Lung / Inspector Dragon |
| Zhi zun te jing | 1992 | | Co Chi Pang |
| Soldier Soldier | 1992 | TV Series | Journalist Feng |
| Hei mao zhi ci sha Ye Li Qin | 1992 | | Robin |
| Di xia bing gong chang | 1991 | | Paul |
| Eastern Heroes | 1991 | | Night Monster |
| Hong tian long | 1991 | | Night-Monster |
| Magdaleno Orbos: Sa kuko ng mga lawin | 1991 | | Robin |
| Dong fang lao hu | 1990 | | Tomoriki Jiono |
| Sai hak chin | 1990 | | Waise Chow |
| Forbidden Nights | 1990 | TV Movie | Liang Hong |
| Yellowthread Street | 1990 | TV Series | Tony Siu |
| Chi se da feng bao | 1990 | | Wai Loong |
| Triads: The Inside Story | 1989 | | Coffin Rope's Man |
| Zhi zun wu shang | 1989 | | Hitman |
| Long zhi zheng ba | 1989 | | Iron Club |
| Saang gong kei bing 3 | 1989 | | 966 |
| Zhan long | 1988 | | Lan Si Han (as Robin Chou) |
| City War | 1988 | | Killer |
| Huang jia shi jie zhi III: Ci xiong da dao | 1988 | | Bodyguard (uncredited) |
| Seng fat dak ging | 1988 | | Hospital Assassin |
| Yat goh | 1987 | | Robin |
| Dead Mule Suitcase | | | Jack Lam |
Director
| Title | Year | Status | Character |
| --- | --- | --- | --- |
| Red Trousers: The Life of the Hong Kong Stuntmen | 2003 | Documentary | |
| Lost Time: The Movie | 2003 | Short | |
| Dead Mule Suitcase | | | |
Writer
| Title | Year | Status | Character |
| --- | --- | --- | --- |
| Red Trousers: The Life of the Hong Kong Stuntmen | 2003 | Documentary screenplay | |
| Hei mao zhi ci sha Ye Li Qin | 1992 | english dialogue | |
Miscellaneous
| Title | Year | Status | Character |
| --- | --- | --- | --- |
| Resident Evil | 2002 | trainer: Milla Jovovich - uncredited | |
| Mortal Kombat: Annihilation | 1997 | fight choreographer | |
| Mortal Kombat | 1995 | fight choreographer: additional action sequences, additional crew | |
Producer
| Title | Year | Status | Character |
| --- | --- | --- | --- |
| Red Trousers: The Life of the Hong Kong Stuntmen | 2003 | Documentary producer | |
Stunts
| Title | Year | Status | Character |
| --- | --- | --- | --- |
| Mortal Kombat: Annihilation | 1997 | fight choreographer | |
| Mortal Kombat | 1995 | fight choreographer: additional fight sequences | |
Thanks
| Title | Year | Status | Character |
| --- | --- | --- | --- |
| Mortal Kombat: Deadly Alliance | 2002 | Video Game special thanks: artistic contribution | |
Self
| Title | Year | Status | Character |
| --- | --- | --- | --- |
| Man of a Thousand Faces | 2008 | Documentary | Himself |
| Red Trousers: The Life of the Hong Kong Stuntmen | 2003 | Documentary | Evan / Narrator / Himself |
| Mortal Kombat: Behind the Dragon | 1995 | TV Movie documentary | Himself |
| Mortal Kombat: Behind the Scenes | 1995 | Video short | Himself |
Source:
IMDb
,
Wikipedia