• Richard T. Jones is an American actor
• He achieved fame for his roles in the TV series "Judging Amy" (1999-2005) and films "Why Did I Get Married? (2007) and "Why Did I Get Married Too?" (2010)
• He was born in Kobe, Japan to Clarence Jones, a professional baseball player and Lorene, a computer analyst
• His net worth is estimated at $4 million as of 2020
• He is married to Nancy Robinson with three children and is a registered preacher/minister

Known for movies
Short Info
| | |
| --- | --- |
| Spouse | Nancy Jones |
| Fact | Son of Clarence Jones, former major league first baseman-outfielder and hitting coach. |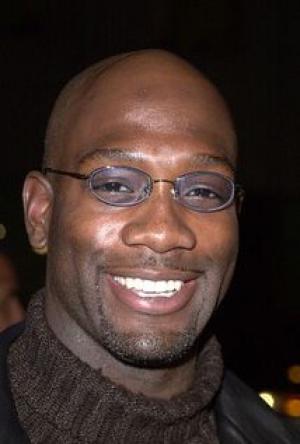 Who is Richard T. Jones?
Richard T. Jones is an American actor, who achieved fame as Bruce Van Exel in the TV series "Judging Amy" (1999-2005), and then as Mike in the films "Why Did I Get Married? (2007), and its sequel "Why Did I Get Married Too?" (2010), among numerous other roles, he's secured so far in his career.
Richard T. Jones Wiki- Age, Childhood, and Education
Born Richard Timothy Jones on the 16th January 1972, in Kobe, Japan, the son of African-American parents, Clarence Jones, a professional baseball player and hitting instructor for the Cleveland Indians, and Lorene, a computer analyst. He grew up in Carson, California USA, the younger child of the family as he has an older brother who is a football coach, Clarence Jones, Jr.
His parents are now divorced, but there's no reliable information when they separated. Richard went to Bishop Montgomery High School in Torrance, California, and after matriculation, enrolled at Tuskegee University. While at university he started attending acting classes for fun, and one of his professors recognized his talent and suggested that Richard start auditioning for plays. He even threatened him with lower grades, though jokingly, if he didn't pursue stage roles. Richard took the advice, and after his first role, was hooked on acting.
Career Beginnings
Richard's career started in the early '90s, making his debut in the TV series "Renegade" (1992).
Although it was a minor role, it was just enough to get him his first film role, portraying Ike Turner Jr. in the film "What's Love Got to Do with It" in 1993, nominated for several Academy Awards, and starring Angela Bassett, Laurence Fishburne and RaeVen Kelly. He spent the '90s building a name for himself in the films and TV series, such as "Renaissance Man" (1994), with Danny DeVito in the lead role, supporting Gregory Hines and James Remar, then "The Trigger Effect" (1996), while in 1997 he had a role in the cult sci-fi classic film "Event Horizon", in which Laurence Fishburne had the lead role. The same year he joined Morgan Freeman, Ashley Judd and Cary Elwes, in the crime mystery film "Kiss the Girls".
Rise to Prominence
On the verge of the decade, Richard was selected for the co-starring role in the TV drama series "Judging Amy", next to Amy Brenneman, Tyne Daly and Karle Warren, featuring in all 138 episodes of the Golden Globe Award-nominated series, which launched him to prominence. In the early 2000s, Richard was very actively pursuing other roles, making appearances and starring in a few films, including "Phone Booth" (2002) starring Colin Farrell, Kiefer Sutherland and Forest Whitaker, then in 2004 in the Academy Award-nominated crime film "Collateral", with Tom Cruise as its main star.
Richard continued successfully into the second half of the 2000s and following the end of the "Judging Amy" series.
In 2005 he co-starred in the television drama film "Riding the Bus with My Sister", co-starring with Rosie O'Donnell and Andie MacDowell. Two years later, he starred in Tyler Perry's comedy-drama film "Why Did I Get Married?", which was yet another successful role, and in 2008 starred in the sci-fi action series "Terminator: The Sarah Connor Chronicles" through 2009, in 2010 reprising the role in the sequel "Why Did I Get Married Too?", but the film wasn't as successful as the first installment. Nevertheless, it didn't affect his career, as in 2011 he appeared in the award-winning sci-fi mystery-thriller film "Super 8".
Continual Success
Richard used the momentum from the 2010s to continue further with great success; he guest-starred in the TV series "Hawaii Five-0" from 2011 to 2013, and concurrently appeared in the comedy film "Note to Self", co-starring with Christian Keye and, LeToya Luckett-Walker. He appeared in the drama film "Life of a King" (2013), and in 2014 had a minor role in the sci-fi action-adventure film "Godzilla", starring AaronTaylor-Johnson, Elizabeth Olsen and Bryan Cranston, while in 2015 he had a supporting role in the action crime-comedy film "Hot Pursuit". The same year Richard appeared in the biopic about Dr. Bennet Omalu and his discovery of brain damage in football players who suffer repeated concussions, entitled "Concussion" (2015), starring Will Smith, Alec Baldwin and Albert Brooks.
The same year he joined the fourth season of the "American Horror Story" as Detective Andy Hahn, and also from 2015 to 2016 he had a recurring role in the TV series "Narcos". In 2017 he secured other detective roles, this time as Detective Jones in the film "Secrets of Deception", and from 2017 to 2018 he was Detective Tommy Cavanaugh in the TV series "Wisdom of the Crowd".
Most Recent Projects
In 2018 Richard secured the role of Sergeant Wade Grey in the TV comedy-crime drama series "The Rookie", in which he stars with Nathan Fillion and Alyssa Diaz, and later that year had a minor role in the drama film "The Public", as well as appearing in the drama film "Sanitatum". In 2019 he had a minor role in the family sports film "Round of Your Life", and as of mid-2020 he's working on the crime drama film "Steele Justice", co-starring with Eric Roberts and Robert LaSardo; the film is currently in post-production.
Richard T. Jones Net Worth, Height, Weight, and Appearance
Richard has appeared in more than 100 films and TV series, and all of these projects have certainly contributed to his wealth. According to sources, Jones' net worth has been estimated at $4 million, as of early 2020.
Richard is known for his height as he stands at 6ft 2ins (1.88m) tall, while he weighs approximately 178lbs ~ 81kgs. He shaves his head, while his eyes are dark brown.
Richard T. Jones Personal Life, Marriage, Wife, Children
Richard has never hidden the love for his wife; he has been married since 1996 to Nancy Robinson, and the couple can be seen together at numerous high profile events, such as film premieres and award ceremonies, in addition to vacations and simple strolls through the city.
The couple has three children together, Aubrey, Elijah, and Sydney.
Richard T. Jones News, Facts, Influence
Richard is also a producer and has worked on several films, including the television movie "Cursed Angel" (2016), and "Round of Your Life" (2019). His brother and father were into baseball, but he wasn't the fan of the game and instead chose football. He played in high school regularly but didn't pursue it later as acting became his main focus.
Richard has also become famous on social media platforms, particularly Instagram, which he uses for promoting his newest career accomplishments. He has around 20,000 followers on his official Instagram page.  He is a devout Christian, and a registered preacher/minister.
General Info
| | |
| --- | --- |
| Full Name | Richard T. Jones |
| Height | 1.88 m |
| Profession | Actor, Film producer |
| Education | Bishop Montgomery High School, Tuskegee University |
| Nationality | American |
Family
| | |
| --- | --- |
| Spouse | Nancy Jones |
| Children | Aubrey Jones, Elijah Jones, Sydney Jones |
| Parents | Lorene Jones, Clarence Jones |
| Siblings | Clarence Jones Jr. |
Accomplishments
| | |
| --- | --- |
| Nominations | NAACP Image Award for Outstanding Supporting Actor in a Drama Series |
| Movies | Godzilla, Event Horizon, Hot Pursuit, The Wood, Vantage Point, Kiss the Girls, Why Did I Get Married Too?, Concussion, Renaissance Man, Collateral, Why Did I Get Married?, Phone Booth, Lockdown, What's Love Got to Do with It, Super 8, Traci Townsend, Moonlight Mile, Auggie Rose, Full-Court Miracle, ... |
| TV Shows | Terminator: The Sarah Connor Chronicles, Judging Amy, Brooklyn South, Santa Clarita Diet |
Social profile links
Facts
| # | Fact |
| --- | --- |
| 1 | Has two daughters, Aubrey and Sydney, and a son, Elijah. |
| 2 | Son of Clarence Jones, former major league first baseman-outfielder and hitting coach. |
Pictures
Movies
Actor
| Title | Year | Status | Character |
| --- | --- | --- | --- |
| A Question of Faith | 2017 | post-production | David Newman |
| Round of Your Life | 2017 | post-production | Coach Wilson |
| CHiPs | 2017 | completed | Parish |
| Secrets of Deception | 2017 | completed | Detective Jones |
| Santa Clarita Diet | 2017 | TV Series pre-production | Rick |
| Steele Justice | 2017 | post-production | Rob |
| Another You | 2016 | post-production | Professor Thompson |
| Narcos | 2015-2016 | TV Series | Agent DEA |
| Restored Me | 2016 | | Coach Maurice Durrell |
| Lucifer | 2016 | TV Series | Joe Hanson |
| American Horror Story | 2015 | TV Series | Detective Andy Hahn |
| Concussion | 2015 | | Andre Waters |
| Extant | 2015 | TV Series | JD's Friend |
| Hot Pursuit | 2015 | | Detective Jackson |
| NCIS: New Orleans | 2015 | TV Series | Security Team Leader Ryan Anson |
| Forgiveness | 2015/II | | Pastor Joseph Jenkins |
| Work in Progress | 2014 | TV Series | RJ Nicholson |
| Lyfe's Journey | 2014 | TV Movie | Pastor Taylor |
| Law & Order: Special Victims Unit | 2014 | TV Series | Judge Oscar Briggs |
| Satisfaction | 2014 | TV Series | Carl |
| Cru | 2014 | | Richard 'Rich' Hughes |
| Hear No Evil | 2014 | | Samuel |
| Godzilla | 2014 | | Captain Russell Hampton |
| Hawaii Five-0 | 2011-2013 | TV Series | Governor Sam Denning / Lieutenant Governor Denning |
| Revolution | 2013 | TV Series | Ken Dawson |
| The Last Letter | 2013 | | Mr. Tines |
| Life of a King | 2013 | | Perry |
| Nikita | 2012-2013 | TV Series | Commander Evan Danforth |
| Belle's | 2013 | TV Series | Jack |
| 200 Years | 2013 | Video short | Willie |
| The List | 2013 | TV Movie | Elston Rayburn |
| Atlas Shrugged II: The Strike | 2012 | | Eddie Willers |
| The Great Divide | 2012 | | Jeff |
| Note to Self | 2012/I | | Curtis Sr. |
| Super 8 | 2011 | | Overmyer |
| The Council of Dads | 2011 | TV Movie | Bill Hillard |
| Boston's Finest | 2010 | TV Movie | Lt. Gerald Jaglom |
| Caught in the Crossfire | 2010 | | Captain Emmett |
| Grey's Anatomy | 2010 | TV Series | Colonel Dan Mooney |
| Why Did I Get Married Too? | 2010 | | Mike |
| Bones | 2010 | TV Series | Mr. White |
| Terminator: The Sarah Connor Chronicles | 2008-2009 | TV Series | James Ellison |
| 15 Minutes of Fame | 2008 | | Bradley Wainwright |
| Numb3rs | 2008 | TV Series | Blanchard |
| Vantage Point | 2008 | | Holden |
| Girlfriends | 2006-2007 | TV Series | Aaron Waters |
| Why Did I Get Married? | 2007 | | Mike |
| Traci Townsend | 2007 | | Travis |
| Game of Life | 2007/II | | Mark |
| Dirt | 2007 | TV Series | Bulldog |
| Las Vegas | 2007 | TV Series | Keith Mannix |
| Cutting Room | 2006 | | Steve |
| Time Bomb | 2006 | TV Movie | Douglas Campbell |
| CSI: Miami | 2006 | TV Series | Chris Kaiser |
| The Package | 2006 | Short | Vance aka Bruce |
| Sex, Love & Secrets | 2005 | TV Series | Dr. Barnaby Walker |
| Judging Amy | 1999-2005 | TV Series | Bruce Van Exel |
| Riding the Bus with My Sister | 2005 | TV Movie | Jesse |
| Talk Show Diaries | 2005 | TV Movie | Jerry |
| Guess Who | 2005 | | Man on Cellphone |
| Finding Neo | 2004 | Short | Morphin'Us |
| Collateral | 2004 | | Traffic Cop #1 |
| Breach | 2004 | Short | Alan McCabe |
| Soul Plane | 2004 | | False Denzel (uncredited) |
| Twisted | 2004/I | | Wilson Jefferson |
| Paradise | 2004/I | TV Movie | Senator Michael Linney |
| Full-Court Miracle | 2003 | TV Movie | Lamont Carr |
| Second String | 2002 | TV Movie | Gerry Fullerton |
| Phone Booth | 2002 | | Sergeant Cole |
| Moonlight Mile | 2002 | | Ty |
| G | 2002 | | Summer G |
| Book of Love: The Definitive Reason Why Men Are Dogs | 2002 | | Ben Strong |
| Lockdown | 2000 | | Avery Montgomery |
| Auggie Rose | 2000 | | Officer Decker |
| Dirty Down Under... Up Here | 1999 | | |
| Incognito | 1999 | TV Movie | Jake Hunter |
| The Wood | 1999 | | Slim |
| Ally McBeal | 1998 | TV Series | Matt Griffin |
| Goodbye Lover | 1998 | | Detective One |
| Brooklyn South | 1997-1998 | TV Series | Off. Clement Johnson |
| Kiss the Girls | 1997 | | Seth Samuel |
| Event Horizon | 1997 | | Cooper |
| Hollywood Confidential | 1997 | TV Movie | Dexter (as Richard Timothy Jones) |
| Johns | 1996 | | Mr. Popper (as Richard Timothy Jones) |
| Dangerous Minds | 1996 | TV Series | Kimboley |
| The Trigger Effect | 1996 | | Raymond |
| Black Rose of Harlem | 1996 | | Cateye |
| Courthouse | 1995 | TV Series | Quentin 'Q' Thomas |
| Sweet Justice | 1995 | TV Series | Tyrin |
| Jury Duty | 1995 | | Nathan |
| In the Heat of the Night | 1994 | TV Series | Donald 'Donnie' Muir |
| Helicopter | 1994 | Short | Malik |
| Renaissance Man | 1994 | | Pvt. Jackson Leroy |
| NYPD Blue | 1994 | TV Series | Willy |
| M.A.N.T.I.S. | 1994 | TV Movie | Gangbanger #2 (as Richard Jones) |
| California Dreams | 1993 | TV Series | 'Big Bad' Bo |
| What's Love Got to Do with It | 1993 | | Ike Turner Jr. |
| Renegade | 1992 | TV Series | Slick |
Producer
| Title | Year | Status | Character |
| --- | --- | --- | --- |
| Round of Your Life | 2017 | associate producer post-production | |
| A Day in the Life of Kelli Hughes | 2006 | Short producer | |
| Finding Neo | 2004 | Short co-producer | |
| Breach | 2004 | Short co-producer | |
Thanks
| Title | Year | Status | Character |
| --- | --- | --- | --- |
| King of the Underground | 2011 | special thanks | |
Self
| Title | Year | Status | Character |
| --- | --- | --- | --- |
| King of the Underground | 2011 | | Himself |
| Motivations | 2009 | Video short | Himself |
| Creating the Chronicles | 2008 | Video documentary short | Himself |
| Boulevard of Broken Dreams | 2007 | TV Series documentary | Himself |
| University Challenge | 2005 | TV Series | Graduation Speaker who tried to wing speech |
| The Late Late Show with Craig Kilborn | 2001 | TV Series | Himself |
| Hollywood Squares | 2001 | TV Series | Himself |
| CBS Cares | 2001 | TV Series | Himself |
| Voices of Glory | 1999 | Video documentary short | George E. Stephens |
| The 24th Annual People's Choice Awards | 1998 | TV Special | Himself - Accepting Award for Favourite New Television Dramatic Series |
Archive Footage
| Title | Year | Status | Character |
| --- | --- | --- | --- |
| Hawaii Five-0 | 2014 | TV Series | Lieutenant Governor Denning |
Awards
Won Awards
| Year | Award | Ceremony | Nomination | Movie |
| --- | --- | --- | --- | --- |
| 2016 | Festival Prize | San Diego Black Film Festival | Best Actor | Forgiveness (2015) |
Nominated Awards
| Year | Award | Ceremony | Nomination | Movie |
| --- | --- | --- | --- | --- |
| 2015 | Black Reel | Black Reel Awards | Outstanding Supporting Actor, TV Movie or Mini-Series | Lyfe's Journey (2014) |
| 2000 | Image Award | Image Awards | Outstanding Supporting Actor in a Drama Series | Judging Amy (1999) |
Source:
IMDb
,
Wikipedia