• Loni Anderson is an American actress best known for her role in the sitcom "WKRP in Cincinnati"
• She was born in Saint Paul, Minnesota USA and grew up in Roseville, Minnesota
• She has starred in several movies, TV series, and voiced Flo in the classic animated film "All Dogs Go to Heaven"
• Her net worth is estimated at over $12 million
• She has been married four times and has a daughter and an adopted son

Known for movies
Short Info
| | |
| --- | --- |
| Net Worth | $12 Million |
| Date Of Birth | August 5, 1945 |
| Spouse | Bob Flick, Burt Reynolds, Ross Bickell, Bruce Hasselberg |
| Mark | Deep sultry voice |
| Fact | Has English and Swedish ancestry and was raised Lutheran. |
| Payments | Earned $20,000 per 1/2 hour episode from WKRP in Cincinnati (1978) |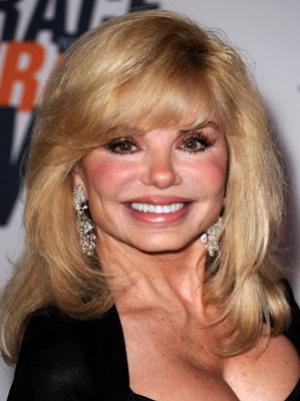 Who Is Loni Anderson?
Loni Andreson is an American actress, who you probably still remember from the sitcom on CBS, "WKRP in Cincinnati" (1978–1982), in which she played the receptionist, Jennifer Marlowe. For this role, she won three Golden Globe and two Emmy Award nominations. She was also Casey MacAfee in the TV series "Nurses", among other projects on which she's worked.
Loni Anderson Age, Early Life, Bio
Loni Kaye Andreson was born on the 5th August 1945, in Saint Paul, Minnesota USA; she is the daughter of Klaydon Carl "Andy" Anderson, an environmental chemist and Maxine Hazel, a model.
In her autobiography, she revealed to us that her father first wanted to give her the name "Leiloni," but he soon realized that it might be twisted into "Lay Loni," hence the shortened version. Loni grew up in suburban Roseville, Minnesota, where she attended Alexander Ramsey Senior High School. In 1963, she was voted Valentine Queen at the Valentine's Day Winter Formal, and was a Miss Minnesota runner-up in 1964.
Loni Anderson Career
Loni attended the University of Minnesota to study art, but soon left, and appeared in several local commercials, before making her film debut in a small role in the 1966 film "Nevada Smith," starring Steve McQueen.
For nearly a decade after that, she went virtually unemployed as an actress, until being cast in guest roles in various television series in the mid-1970s, in two episodes of "S.W.A.T.," then in the sitcom "Phyllis," and as a waitress in "Police Woman" and "Police Story." In 1976 Loni starred in the TV series "Barnaby Jones", and "The McLean Stevenson Show" as Mrs. Swenson, and her guest-starring role as Susan Walters in a season two episode of the popular sitcom "Three's Company," brought her to the attention of the ABC network.
The role that made her famous came in 1978, in the sitcom "WKRP in Cincinnati," in which she played the sultry receptionist Jennifer Marlowe – the creator of the sitcom, Hugh Wilson, admitted that Loni got the role because her body looked like Jayne Mansfield, and because she possessed the innocent sexuality of Marilyn Monroe.
Rise to Stardom
The series aired for four years, and it was popular mainly among teenagers, young adults, and disc jockeys. As she was the "main attraction" of the series, Loni demanded more money per episode, and during negotiations she actually starred as Jayne Mansfield in the CBS made-for-television film "The Jayne Mansfield Story" in 1980.
During the eighties, Loni was one of the most significant sex symbols in Hollywood – in 1983 she starred in the comedy film "Stroker Ace," but which was a critical and box office failure, then played a significant role in the movie drama "My Mother's Secret Life" in 1984, and appeared as herself in the romantic comedy "The Lonely Guy," and played Sydney Kovak in the TV series "Partners in Crime." Roles that are also worth mentioning are L.K. McGuire, in "Easy Street" (1986-1987), Madeleine Stevenson in "Sorry, Wrong Number" (1989), and Thelma Todd in "White Hot: The Mysterious Murder of Thelma Todd" (1991). In the classic animated film "All Dogs Go to Heaven" (1989), she voiced Flo, a dog collie.
Career Decline
Loni's acting career gradually declined in the late 1980s. She wanted to co-star with her then husband Burt Reynolds in his CBS sitcom "Evening Shade" in the early 1990s, but the producers did not like the idea, and they replaced Anderson with Marilu Henner. Loni was added to the third season of the NBC sitcom "Nurses" in 1993, playing hospital administrator Casey MacAfee. Although everyone expected her appearance to add to the popularity of the series, it was canceled shortly thereafter. During the late 1990s, Loni appeared in popular TV series "Sabrina the Teenage Witch" (1997), "Clueless" (1996–1999), and "V.I.P." (1999), and in the early 2000s in series "The Mullets" (2004) as Mandi Mullet-Heidecker in 11 episodes, and in "So Notorious" (2006) as Kiki Spelling, in eight episodes.
Where is She Now?
After this, we didn't see her on TV for the next 10 years. She returned to the small screens with the not so popular series "My Sister Is So Gay" in 2016, in 12 episodes of the series though 2018, but since then she hasn't made any new appearances. Nevertheless, she did feature in the TV series "Baby Daddy" also in 2016, and in the TV short "Love You More" in 2017.
Loni Anderson Net Worth and Appearance
Her divorce from Bert Reynolds increased her bank account by $2 million, but her primary source of income has been her earnings from her acting career, in several movies but numerous television series. The estimated net worth of Loni Anderson is over $12 million, as of early 2020.
Loni Anderson stands at 5ft 6ins (1.68m) tall, while she weighs approximately 125lbs ~ 57kgs, and her vital statistics are 37-25-35 – her bra size is 34C. She has blonde hair and brown eyes.
Loni Anderson Personal Life
Before Loni even reached the age of 21, she was married and divorced. Her first of four marriages was to her fellow Minnesotan, Bruce Hassellberg when she was 18 years old, from 1964 to 1966, and the couple welcomed a daughter, Diedra, shortly after their vows. After divorce, it was a difficult time for Anderson, and Loni had to take a teaching job to support herself and her baby while completing her college education.
In 1973, Loni married another aspiring actor, Ross Bickell. Desiring more and better opportunities in the film industry, the couple decided to leave Minnesota and move to Los Angeles in 1975. However, all the glory that afflicted them had a negative effect on their marriage – Loni's instant fame led to the dissolution of her second marriage, and in 1981 the couple divorced. A few years later, she met Burt Reynolds, and Loni said YES for the third time in 1988. They decided to adopt a child, a son Quentin, but this romance didn't last forever – they went through a nasty divorce, and Bert once even stated before his death that marrying Loni was one of his worse moves.
#HappyBirthday to #LoniAnderson, best known for her portrayal of receptionist Jennifer Marlowe on the CBS sitcom #WKRPinCincinnati, btd 1946. pic.twitter.com/O3OzagFYsn

— Silver Age Television 📺 (@SilverAgeTV) August 5, 2018
For 15 years, Loni was alone, but married for the fourth time in 2008 to the musician Bob Flick, and they are still together.
Loni is active in humanitarian work; she spreads awareness about the chronic obstructive pulmonary disease (COPD), a lung disease. In 1997 she published her autobiography, "My Life in High Heels," in which she stated she was physically abused during her third marriage, ie Bert Reynolds.
General Info
| | |
| --- | --- |
| Full Name | Loni Anderson |
| Net Worth | $12 Million |
| Date Of Birth | August 5, 1945 |
| Height | 1.68 m |
| Profession | Voice Actor |
| Education | University of Minnesota |
| Nationality | American |
Family
| | |
| --- | --- |
| Spouse | Bob Flick, Burt Reynolds, Ross Bickell, Bruce Hasselberg |
| Children | Quinton Anderson Reynolds, Deidra Hoffman |
| Parents | Maxine Hazel Kallin, Klaydon Carl "Andy" Anderson |
Accomplishments
| | |
| --- | --- |
| Nominations | Primetime Emmy Award for Outstanding Supporting Actress in a Comedy Series, Golden Globe Award for Best Performance by an Actress in a Television Series - Musical or Comedy, Golden Globe Award for Best Supporting Actress in a Series, Miniseries, or Motion Picture Made for Television |
| Movies | Stroker Ace, 3 Ninjas: High Noon at Mega Mountain, A Night at the Roxbury, The Jayne Mansfield Story, All Dogs Go to Heaven, White Hot: The Mysterious Murder of Thelma Todd, Munchie, Coins in the Fountain, Too Good to Be True, Whisper Kill, Deadly Family Secrets, The Gambler V: Playing for Keeps, Th... |
| TV Shows | So Notorious, The Mullets, Nurses, Easy Street, Amazing Stories, Partners in Crime, WKRP in Cincinnati |
Social profile links
Marks
| # | Marks / Signs |
| --- | --- |
| 1 | Deep sultry voice |
| 2 | Voluptuous figure |
| 3 | Large brown eyes |
| 4 | Platinum blonde hair |
Salary
Quotes
| # | Quote |
| --- | --- |
| 1 | Look up the definition of rejection in the dictionary, get really comfortable with it, and then maybe you can go into acting. |
| 2 | I'm a real woman with a real heart and I have to live with a beautiful body and a pretty face which is not nearly as easy as it sounds. |
| 3 | [on the paparazzi] They almost ran me off the road several times. There are so many chances that they take to get the right photo. |
| 4 | [on how smoking used to be depicted in films] In the movies, Bette Davis lights two cigarettes and hands the second one to James Cagney. It was so glamorous and romantic. |
Facts
| # | Fact |
| --- | --- |
| 1 | Has English and Swedish ancestry and was raised Lutheran. |
| 2 | Grandmother of McKenzie Hoffman and Megan Hoffman. |
| 3 | Mother of Deidre Hoffman with her first husband, Bruce Hasselberg. |
| 4 | Attended and graduated from the University of Minnesota in St. Paul, Minnesota. |
| 5 | Attended and graduated from Alexander Ramsey High School in Roseville, Minnesota (1963). |
| 6 | Worked as a schoolteacher to support herself and her daughter, while completing her college education. |
| 7 | Has appeared in two remakes of Jeanne Crain's films, Leave Her to Heaven (1945) and A Letter to Three Wives (1949), although she did not play Crain's character in either film. |
| 8 | Growing up with parents who smoked and were affected with chronic obstructive pulmonary disease, she became the spokesperson for the National Lung Health Education Program's campaign and COPDTogether to increase awareness about COPD and caregiver support. |
| 9 | On January 16, 2008, she was engaged to her former flame, Bob Flick. They first met at a movie premiere when she was 17 years old and a model. They dated for six months before they later married on May 17, 2008. |
| 10 | Possesses a massive collection of Snow White miniatures and other Disney memorabilia, animation art, dolls, music boxes, plates and dachshund figures (which she inherited from her mother) that occupies a sizable room in her home. |
| 11 | Described her early development and subsequent decision to have breast reduction surgery as follows, "When I was 14 my measurements were 37D-20-32. Now I feel more in proportion at 36-24-36 instead of outrageous.". |
| 12 | Won a bushel of local beauty contests as a teenager including her hometown Miss Roseville pageant in 1963 which allowed her to compete (and become a finalist) in the Miss Minnesota competition. Among her other, less prestigious, titles were; Miss Thermo-Jac Clothing, Miss Thom McCann Shoes, Miss County Style Ford, Miss No Frost Eskimo and Queen of the Hole-In-One. |
| 13 | As a high school senior, she was voted Valentine Queen of her school's winter formal. |
| 14 | Has an adopted son, Quinton A. Reynolds (aka Quinton Anderson Reynolds) (born on August 31, 1988), with former husband, Burt Reynolds. |
| 15 | Auditioned for the role of Chrissy Snow on the situation comedy Three's Company (1976), which went to Suzanne Somers. |
| 16 | When she was a teenager, her mother was very struck by an attractive actor on television and told Loni that was the kind of guy she ought to marry. The actor's name was Burt Reynolds, who she eventually did marry. |
Pictures
Movies
Actress
| Title | Year | Status | Character |
| --- | --- | --- | --- |
| Stranded | 1986 | TV Movie | Stacy Tweed |
| A Letter to Three Wives | 1985 | TV Movie | Lora Mae Holloway |
| Amazing Stories | 1985 | TV Series | Love |
| Partners in Crime | 1984 | TV Series | Sydney Kovak |
| My Mother's Secret Life | 1984 | TV Movie | Ellen Blake |
| Stroker Ace | 1983 | | Pembrook Feeney |
| Country Gold | 1982 | TV Movie | Mollie Dean Purcell |
| WKRP in Cincinnati | 1978-1982 | TV Series | Jennifer Marlowe |
| Sizzle | 1981 | TV Movie | Julie Davis |
| Fantasy Island | 1980 | TV Series | Kim Holland |
| The Love Boat | 1977-1980 | TV Series | Kitty Scofield / Kim Holland / Barbie |
| The Jayne Mansfield Story | 1980 | TV Movie | Jayne Mansfield |
| Three's Company | 1978 | TV Series | Susan Walters |
| The Incredible Hulk | 1978 | TV Series | Sheila Cantrell |
| Three on a Date | 1978 | TV Movie | Angela Ross |
| The Bob Newhart Show | 1977 | TV Series | Leslie Greely |
| The Magnificent Magical Magnet of Santa Mesa | 1977 | TV Movie | Mrs. Daroon |
| The McLean Stevenson Show | 1976 | TV Series | Mrs. Swenson |
| Barnaby Jones | 1976 | TV Series | Joanna Morgan / Dee Dee Danvers |
| Vigilante Force | 1976 | | Peaches (uncredited) |
| Police Story | 1976 | TV Series | Waitress |
| Police Woman | 1975 | TV Series | Waitress |
| Phyllis | 1975 | TV Series | Rita |
| Harry O | 1975 | TV Series | Linzy |
| The Invisible Man | 1975 | TV Series | Andrea Hanover |
| S.W.A.T. | 1975 | TV Series | Art Teacher / Miss Texas |
| Nevada Smith | 1966 | | Brunette Saloon Girl (uncredited) |
| Baby Daddy | 2016 | TV Series | Nana Lyle |
| My Sister Is So Gay | 2016 | TV Series | Frances |
| The Tonight Show with Jay Leno | 2010 | TV Series | Jay's Mom (segment "Cop 'n Kitty") |
| So Notorious | 2006 | TV Series | Kiki Spelling |
| The Mullets | 2003-2004 | TV Series | Mandi Mullet-Heidecker |
| Three Sisters | 2001 | TV Series | Janet |
| V.I.P. | 1999 | TV Series | Carol Irons |
| Movie Stars | 1999 | TV Series | Audrey Wyatt |
| A Night at the Roxbury | 1998 | | Barbara Butabi |
| 3 Ninjas: High Noon at Mega Mountain | 1998 | | Medusa |
| Fast Track | 1998 | TV Series | |
| Clueless | 1998 | TV Series | Barbara Collier |
| Sabrina, the Teenage Witch | 1997 | TV Series | Racine |
| Melrose Place | 1996 | TV Series | Teri Carson |
| Deadly Family Secrets | 1995 | TV Movie | Martha |
| Women of the House | 1995 | TV Series | Loni Anderson |
| Burke's Law | 1995 | TV Series | Claudia Loring |
| Without Warning | 1994 | TV Movie | Actress in Opening Movie Segment (uncredited) |
| Gambler V: Playing for Keeps | 1994 | TV Movie | Fanny Porter |
| Nurses | 1993-1994 | TV Series | Casey MacAfee |
| Empty Nest | 1993 | TV Series | Casey MacAfee |
| Munchie | 1992 | | Cathy |
| The Price She Paid | 1992 | TV Movie | Lacey |
| The New WKRP in Cincinnati | 1991-1992 | TV Series | Jennifer Marlowe |
| White Hot: The Mysterious Murder of Thelma Todd | 1991 | TV Movie | Thelma Todd |
| Blown Away | 1990 | TV Movie | Lauren |
| Coins in the Fountain | 1990 | TV Movie | Leah |
| B.L. Stryker | 1990 | TV Series | Dawn St. Claire |
| All Dogs Go to Heaven | 1989 | | Flo (voice) |
| Blondie & Dagwood: Second Wedding Workout | 1989 | TV Movie | Blondie Bumstead (voice) |
| Sorry, Wrong Number | 1989 | TV Movie | Madeleine Stevenson |
| Too Good to Be True | 1988 | TV Movie | Ellen Berent |
| Whisper Kill | 1988 | TV Movie | Liz Bartlett |
| Necessity | 1988 | TV Movie | Lauren LaSalle |
| Blondie & Dagwood | 1987 | TV Movie | Blondie Bumstead (voice) |
| Easy Street | 1986-1987 | TV Series | L.K. McGuire |
Soundtrack
| Title | Year | Status | Character |
| --- | --- | --- | --- |
| Nurses | 1993 | TV Series performer - 1 episode | |
| The Jayne Mansfield Story | 1980 | TV Movie performer: "Put Your Arms Around Me Honey" | |
| WKRP in Cincinnati | 1980 | TV Series performer - 1 episode | |
Self
| Title | Year | Status | Character |
| --- | --- | --- | --- |
| Unsung Hollywood | 2016 | TV Series documentary | Herself |
| Entertainment Tonight | 2007-2014 | TV Series | Herself / Herself - The Love Boat |
| The Doctors | 2014 | TV Series | Herself |
| Carol Channing: Larger Than Life | 2012 | Documentary | Herself |
| Unscripted | 2011 | TV Series | Herself |
| Annul Victory | 2009 | Documentary | Herself |
| Forever Plaid | 2008 | | Herself |
| Back to the Grind | 2007 | TV Series | Herself |
| Whatever Happened To? | 2007 | TV Series | Herself |
| TV Land's Top Ten | 2005-2006 | TV Series documentary | Herself |
| I Love the '70s: Volume 2 | 2006 | TV Series | Herself |
| Kathy Griffin: My Life on the D-List | 2006 | TV Series | Herself |
| SoapTalk | 2006 | TV Series | Herself |
| Duck Dodgers | 2005 | TV Series | Herself |
| The 3rd Annual TV Land Awards | 2005 | TV Special | Herself |
| CBS at 75 | 2003 | TV Special documentary | Herself |
| The Sharon Osbourne Show | 2003 | TV Series | Herself |
| I Love the '70s | 2003 | TV Series documentary | Herself |
| Good Day Live | 2003 | TV Series | Herself |
| Hollywood Squares | 2003 | TV Series | Herself - Panelist |
| E! True Hollywood Story | 2002 | TV Series documentary | Herself |
| Intimate Portrait | 1999-2001 | TV Series documentary | Herself / Herself - Friend |
| AFI Life Achievement Award: A Tribute to Harrison Ford | 2000 | TV Movie | Herself - Audience Member (uncredited) |
| AFI Life Achievement Award: A Tribute to Robert Wise | 1998 | TV Special documentary | Herself |
| Vibe | 1998 | TV Series | Herself |
| The Daily Show | 1998 | TV Series | Herself |
| The 31st Annual Academy of Country Music Awards | 1996 | TV Special | Herself |
| Late Night with Conan O'Brien | 1995-1996 | TV Series | Herself |
| The 1994 Annual Diversity Awards | 1994 | TV Special | Herself |
| The 8th Annual American Comedy Awards | 1994 | TV Special | Herself - Presenter |
| Bob Hope's Bag Full of Christmas Memories | 1993 | TV Special | Christmas Guest |
| Vicki! | 1993 | TV Series | Herself |
| Circus of the Stars and Sideshow | 1992 | TV Special documentary | Herself - Ringmaster |
| The 44th Annual Primetime Emmy Awards | 1992 | TV Special | Herself - Audience Member |
| What About Me? I'm Only 3! | 1992 | TV Movie | Herself |
| A Party for Richard Pryor | 1991 | TV Special documentary | Herself |
| The 5th Annual Sterling Awards | 1991 | TV Special | Herself |
| The Annual National Convention of Christians and Jews | 1991 | TV Movie | Herself |
| The 43rd Annual Primetime Emmy Awards | 1991 | TV Special | Herself - Presenter |
| The Tonight Show Starring Johnny Carson | 1980-1991 | TV Series | Herself / Herself - Guest |
| The 8th Annual American Cinema Awards | 1991 | TV Special | Herself |
| The 17th Annual People's Choice Awards | 1991 | TV Special | Herself - Presenter |
| Bob Hope's 1990 Christmas Show from Bermuda | 1990 | TV Special | Herself |
| Live with Kelly and Ryan | 1990 | TV Series | Herself |
| 3rd Degree! | 1989 | TV Series | Herself |
| Connie Francis: A Legend in Concert | 1989 | TV Movie | Herself |
| Win, Lose or Draw | 1987-1989 | TV Series | Herself |
| The 1988 Annual Women in Film Awards | 1988 | TV Special | Herself |
| The Annual Friars Club Tribute Present a Salute to Liza Minnelli | 1987 | TV Movie | Herself |
| Hour Magazine | 1984-1987 | TV Series | Herself |
| The New Hollywood Squares | 1986 | TV Series | Herself - Panelist |
| All-Star Party for 'Dutch' Reagan | 1985 | TV Special | Herself |
| Doris Day's Best Friends | 1985 | TV Series | Herself |
| All-Star Party for Burt Reynolds | 1984 | TV Movie | Herself |
| Bob Hope's Wicky-Wacky Special in Waikiki | 1984 | TV Movie | Herself |
| The Lonely Guy | 1984 | | Herself (uncredited) |
| Candid Camera's 35th Birthday | 1983 | TV Movie | Herself |
| Dom DeLuise and Friends | 1983 | TV Series | Herself |
| The Merriest of the Merry: Bob Hope's Christmas Show, A Bagful of Comedy | 1982 | TV Movie | Herself |
| Night of 100 Stars | 1982 | TV Special | Herself |
| Women I Love: Beautiful But Funny | 1982 | TV Movie | Herself |
| Magic with the Stars | 1982 | TV Movie | Herself - Host |
| The Bob Hope Christmas Special | 1981 | TV Special | Herself |
| Bob Hope's All-Star Comedy Look at the Fall Season: It's Still Free and Worth It! | 1981 | TV Special | |
| The 33rd Annual Primetime Emmy Awards | 1981 | TV Special | Herself - Nominee & Presenter |
| Bob Hope's Spring Fling | 1981 | TV Movie | Herself |
| The 38th Annual Golden Globe Awards | 1981 | TV Special | Herself |
| The Bob Hope Christmas Show and All-Star Comedy Special | 1980 | TV Movie | Herself |
| Bob Hope's All-Star Look at TV's Prime Time Wars | 1980 | | Herself |
| Bob Hope's All-Star Comedy Birthday Party at the Air Force Academy: A USO Salute | 1980 | TV Special | Herself |
| The Fantastic Funnies | 1980 | TV Movie documentary | Herself - Host |
| The Big Show | 1980 | TV Series | Herself |
| The Alan Hamel Show | 1979-1980 | TV Series | Herself |
| Siegfried and Roy | 1980 | TV Special | Herself |
| Circus of the Stars #4 | 1979 | TV Special documentary | Herself - Performer |
| Merry Christmas from the Grand Ole Opry | 1979 | TV Movie | Herself - Host |
| The Mike Douglas Show | 1979 | TV Series | Herself - Co-Host / Herself - Actress |
| The Magic of David Copperfield II | 1979 | TV Movie | Herself - Guest / Woman in the Ballroom |
| The 31st Annual Primetime Emmy Awards | 1979 | TV Special | Herself - Presenter |
| The Hollywood Squares | 1978-1979 | TV Series | Herself - Panelist |
| The Muppets Go Hollywood | 1979 | TV Special | Herself (uncredited) |
| Dinah! | 1979 | TV Series | Herself |
| The 5th Annual People's Choice Awards | 1979 | TV Special | Herself - Presenter: Favourite Television Comedy Series |
| All-Star Family Feud Special | 1979 | TV Series | Herself - Celebrity Contestant |
| Family Feud | 1979 | TV Series | Herself / Herself - Contestant |
| Match Game 73 | 1978 | TV Series | Herself - Panelist |
Archive Footage
| Title | Year | Status | Character |
| --- | --- | --- | --- |
| Entertainment Tonight | 2014-2015 | TV Series | Herself / Herself - The Love Boat |
| Inside Edition | 2014 | TV Series documentary | Herself |
| American Masters | 2012 | TV Series documentary | Herself |
| E! True Hollywood Story | 2000 | TV Series documentary | Herself |
| Magico David | 1992 | TV Series | Herself |
| The Tonight Show Starring Johnny Carson | 1992 | TV Series | Herself |
| Bob Hope's Unrehearsed Antics of the Stars | 1984 | Documentary | Herself |
| Johnny Carson's 18th Anniversary Special | 1980 | TV Special | Herself |
Awards
Won Awards
| Year | Award | Ceremony | Nomination | Movie |
| --- | --- | --- | --- | --- |
| 2007 | Lifetime Achievement Award | California Independent Film Festival | | |
Nominated Awards
| Year | Award | Ceremony | Nomination | Movie |
| --- | --- | --- | --- | --- |
| 2016 | Outstanding Achievement Award | LA Web Fest | Supporting Actor: Comedy | My Sister Is So Gay (2016) |
| 1984 | Razzie Award | Razzie Awards | Worst Actress | Stroker Ace (1983) |
| 1984 | Razzie Award | Razzie Awards | Worst New Star | Stroker Ace (1983) |
| 1982 | Golden Globe | Golden Globes, USA | Best Performance by an Actress in a Television Series - Comedy or Musical | WKRP in Cincinnati (1978) |
| 1981 | Golden Globe | Golden Globes, USA | Best Performance by an Actress in a Television Series - Comedy or Musical | WKRP in Cincinnati (1978) |
| 1981 | Primetime Emmy | Primetime Emmy Awards | Outstanding Supporting Actress in a Comedy or Variety or Music Series | WKRP in Cincinnati (1978) |
| 1980 | Golden Globe | Golden Globes, USA | Best Actress in a Supporting Role - Television Series | WKRP in Cincinnati (1978) |
| 1980 | Primetime Emmy | Primetime Emmy Awards | Outstanding Supporting Actress in a Comedy or Variety or Music Series | WKRP in Cincinnati (1978) |
Source:
IMDb
,
Wikipedia