• Bree Turner is an American actress and professional dancer born in 1977
• Attended University of California, Los Angeles (UCLA) and King's College in London
• Gained fame from roles in "Grimm", "Bring It On Again", "My Best Friend's Wedding" and "The Big Lebowski"
• Married orthopedic surgeon Justin Saliman in 2008, divorced in 2018
• Has an estimated net worth of over $3 million as of 2020

Known for movies
Short Info
| | |
| --- | --- |
| Date Of Birth | March 10, 1977 |
| Spouse | Justin Saliman |
| Fact | Attended Monte Vista High School in Danville, CA. |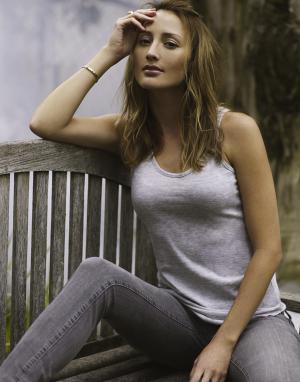 Bree Turner is an American actress and professional dancer born on 10 March 1977, in Palo Alto, California USA. She's best known for her in roles in "Grimm" and "Bring It On Again".
Early Life and Education
Bree Nicole Turner was born the first of four children of Diane and Kevin Turner. She has three younger brothers who still live in Danville. Due to her father's job – he is a former linebacker in various National Football League  (NFL) teams – she traveled a lot during her childhood. She moved to Danville, California when she was very young and attended Stone Valley Middle School and matriculated from Monte Vista High in 1995. During her childhood she became a competitive roller skater.
After matriculation she moved to Los Angeles, where she attended University of California, Los Angeles (UCLA).
However, she soon discovered her true passion in dancing and left her studies there, moving to London to attend King's College, enrolling in dancing and acting lessons.
Career
Dancer
She was discovered by a dancing agent while attending UCLA, and thanks to that, she was cast as a back-up dancer in various films such as "My Best Friend's Wedding" and "The Big Lebowski". She appeared in several more TV shows, and in commercials spots for Hyundai, Dr. Pepper and others.
Actress
After attaining moderate success as dancer, Bree auditioned for acting roles in various successful films. Her acting debut came with "Deuce Bigalow: Male Gigolo" as Allison the Fish Girl, and then as Tiffany in "Sorority Boys".
In 2004 she was cast in the successful "Bring It On Again" as head cheerleader Tina Hammersmith, one of her most famous characters to date and her first starring role.
Turner's career as actress includes roles in various early 2000's TV shows: as Marjorie in "Good Girls Don't…" for eight episodes of the series, then in teen sitcom "USA High", MTV's "Undressed", "Moesha", "Spin City" and "Sex, Love & Secrets".
In addition, she acted in various TV films such as "1/4life" and "Flirt", and appeared in several independent projects: in the award-winner film "The Quest for Length", as Kristy James in the video "Backyard Dogs", and as Maya Taylor in "True Vinyl from 2004.
Some other unforgettable films she's played a role in are "Jewtopia" and "Smashed", both in 2012.
Recent Roles
In 2013 Bree was cast in the fantasy drama series "Grimm". Her role as Rosalee Calvert, a human but also fox-like creature, was a recurring character for the series' six seasons. The show was named ABC's #1 new drama for its high ratings, and continued gathering large audiences for years until its end on 31 March 2017. When asked about the series, she said: 'I love this show. Its creators are these beautiful fantasy geeks who are constantly creating and living in this new world'.
Not only was Rosalee's character the one that brought Turner more recognition than any other she played before, it's also a role she has come to love: 'I am in love with Rosalee. I'm so proud of her and her journey and her growth from season one to season six, just as a woman, as a person, professionally … and her courage and compassion is just one of my favorite parts about her.'
After "Grimm" ended, Bree was cast in two short films: "Punching Bag" in 2018, and "I'm F%$#ing Fine" in 2019. Furthermore, she briefly appeared in various series: as Sarah in a single episode of "9-1-1", and as Granya Marcil in two episodes of "Law & Order SVU".
Currently, Turner's projects are the TV film "Glass Houses" and short film "Me Too Nice".
Personal Life
Marriage: 2008
Bree married orthopedic surgeon Justin Saliman in 2008. The Jewish wedding ceremony was celebrated at Casa Del Mar in California, and the couple chose the wedding theme as serendipity, because in Bree's words, it described her relationship with her husband: 'it was fate that our paths crossed in life'.
Bree initially wanted a dress in the style of Carolyn Bessette-Kennedy. However, her attention was attracted by "Swan Lake", a dress created by designer Monique Lhuillier, which had 14 layers of tulle and tight bodice. After she tried it, she knew it was right for her: 'I just felt so beautiful and fun and girly and bridal when I put that dress on – I immediately started spinning and dancing and I thought, 'This has to be the one'.' She combined her dress with a bouquet made of roses, sweet peas and freesias.
The wedding cake created by Nancy Kay's shop, was prepared with chocolate and fruits by the couple's petition, and its blush color matched the wedding's décor.
Children
Bree and her husband Justin welcomed their first child in 2010, when their daughter Stella Jean was born on 29 June. Two years later, a boy they named Dean was born on 12 September.
However, the couple's marriage ended in 2018 when Turner filed for divorce after nearly a decade of marriage. The documents listed 'irreconcilable differences' as the reason for the separation. Turner asked and obtained their children's custody, along with spousal support from her ex-husband.
Hobbies
Besides her love for dance and skating, Turner is also a gamer. She has listed "Mario Bros" and "Track & Field" as the video games she grew up with: 'I was very good.
I don't mean to age myself, but I came home every day, went straight to my Nintendo and rocked it'. Besides that, she also likes PlayStation.
Net Worth
Bree Turner has an estimated net worth of over $3 million as of 2020, which is a result of her successful work as a dancer and Hollywood actress.
Appearance
Bree Turner is a woman of white ethnicity, who has brown hair and eyes. Her weight is unknown, but she's 5ft 8ins (1,73m) tall. Thanks to her longtime job as a professional dancer, she has maintained a slender, fit and elegant build.
Interesting Facts
She appeared on the cover of the first edition of "Play 360 DVD Magazine" in 2003.
In her wedding, she let her bridesmaids chose their dresses. She also gifted them unique necklaces with the word 'love' and the wedding's date engraved.
Her ex-husband's cousin Elana read a Pablo Neruda poem at Bree's wedding reception.
Turner has acted alongside big Hollywood names such as Jennifer Lopez and Gerard Butler.
During the filming of "Grimm", Turner shared some thoughts about the hardness of being a mother and professional actress at the same time: 'I'm the only one in the cast who has children, and sometimes I'm holding it all together with the skin of my teeth. It's tough, but it's getting a little easier every day. I love being a mom, and so far, I've been fortunate and have been able to do both'.
She read the original Brothers Grimm's fairy tales – from which "Grimm" is inspired – when she was very young: 'When I was seven, my grandmother gave me an old set of the Grimm stories, and I couldn't get enough of them because of that sadistic dark underbelly. When you're a kid, it just feels wrong and intriguing. They're made to get into your self-conscious.'
General Info
| | |
| --- | --- |
| Full Name | Bree Turner |
| Date Of Birth | March 10, 1977 |
| Height | 1.73 m |
| Profession | Actor, Dancer |
| Education | King's College London, University of California, Los Angeles, Monte Vista High School |
| Nationality | American |
Family
| | |
| --- | --- |
| Spouse | Justin Saliman |
| Children | Dean Saliman, Stella Jean Saliman |
| Parents | Kevin Turner |
Accomplishments
| | |
| --- | --- |
| Movies | The Ugly Truth, Just My Luck, Bring It On Again, Deuce Bigalow: Male Gigolo, Firehouse Dog, My Best Friend's Wedding, Sorority Boys, The Wedding Planner, Austin Powers: The Spy Who Shagged Me, American Pie 2, Incident On and Off a Mountain Road, Joe Dirt, Backyard Dogs, Smashed, Jewtopia, Dunston Ch... |
| TV Shows | Grimm, Masters of Horror, Good Girls Don't |
Social profile links
Facts
| # | Fact |
| --- | --- |
| 1 | Gave birth to her 2nd child at age 35, a son Dean Turner Saliman on September 12, 2012. Child's father is her husband, Justin Saliman. |
| 2 | Gave birth to her 1st child at age 33, a daughter Stella Jean Saliman on June 29, 2010. Child's father is her husband, Justin Saliman. |
| 3 | Is Play 360 DVD Magazine's premiere cover girl in 2003. "The Modern Day Player's DVD Magazine.". |
| 4 | Competitive roller skater. |
| 5 | Her father is a former pro-football player for the Washington Redskins. |
| 6 | Attended UCLA. |
| 7 | Professional dancer. |
| 8 | Attended Monte Vista High School in Danville, CA. |
Pictures
Movies
Actress
| Title | Year | Status | Character |
| --- | --- | --- | --- |
| Grimm | 2012-2017 | TV Series | Rosalee Calvert |
| Peter's Ashes | 2014 | Short | Ruth |
| Grimm: Love Is in the Air | 2014 | TV Series short | Rosalee Calvert |
| Grimm: Bad Hair Day | 2013 | TV Series | Rosalee Calvert |
| Wedding Band | 2012 | TV Series | Sara |
| Life's a Beach | 2012 | | Aimee |
| Jewtopia | 2012 | | Helen O'Connell |
| Smashed | 2012 | | Freda |
| The Mentalist | 2012 | TV Series | Iris Porchetto |
| Wakey Wakey | 2012/I | | Disco Dancer |
| Grace | 2011 | TV Movie | Kirsten |
| Raising Hope | 2011 | TV Series | Susan |
| Take Me Home | 2011 | | Eve |
| Identity | 2011 | TV Movie | Tessa |
| Rules of Engagement | 2010 | TV Series | Heather |
| Dancing Ninja | 2010 | | Crystal |
| Celebrities Anonymous | 2009 | TV Series | Amanda Stiles |
| The Ugly Truth | 2009 | | Joy |
| Held Up | 2008 | TV Movie | Larry |
| Ghost Whisperer | 2008 | TV Series | Elizabeth |
| Animated American | 2008 | Short | Trixie |
| Green Flash | 2008 | Video | Charla |
| Quarterlife | 2008 | TV Series | Carly |
| The Year of Getting to Know Us | 2008 | | Sandi |
| Standoff | 2007 | TV Series | Natalie |
| Traveler | 2007 | TV Series | Nell Graham |
| Firehouse Dog | 2007 | | Liz Knowles |
| Flirt | 2006 | TV Movie | Diana Crane |
| Just My Luck | 2006 | | Dana |
| Jekyll + Hyde | 2006 | Video | Martha Utterson |
| Love Monkey | 2006 | TV Series | Annette |
| The TV Set | 2006 | | Carla |
| Masters of Horror | 2005 | TV Series | Ellen |
| Sex, Love & Secrets | 2005 | TV Series | Sam |
| Las Vegas | 2005 | TV Series | Jenny |
| 1/4life | 2005 | TV Movie | Brittany |
| True Vinyl | 2004 | | Maya Taylor |
| Good Girls Don't... | 2004 | TV Series | Marjorie |
| Century City | 2004 | TV Series | Eva |
| Perfect Opposites | 2004 | | Starr |
| Bring It on Again | 2004 | Video | Tina |
| Special Breakfast Eggroll: 99¢ | 2003 | | Jessie |
| Cold Case | 2003 | TV Series | Ellen Curtis |
| Andy Richter Controls the Universe | 2003 | TV Series | Teena |
| Spin City | 2002 | TV Series | Tracy Crandall |
| Sorority Boys | 2002 | | Tri Pi - Tiffany |
| Whacked! | 2002 | | Amanda |
| The Quest for Length | 2002 | Short | Roger's Girlfriend |
| The Myersons | 2001 | | Jenny |
| American Pie 2 | 2001 | | Amy's Friend |
| Moesha | 2000-2001 | TV Series | Brenda |
| Joe Dirt | 2001 | | Sorority Girl |
| The Wedding Planner | 2001 | | Tracy - Bride |
| North Hollywood | 2001 | TV Movie | Casting Assistant |
| Backyard Dogs | 2000 | Video | Kristy James |
| Tweeker | 1999 | | Heather |
| Deuce Bigalow: Male Gigolo | 1999 | | Allison |
| Undressed | 1999 | TV Series | Tina |
| Austin Powers: The Spy Who Shagged Me | 1999 | | Dancer #1 |
| Duel on Planet Z | 1999 | | Nurse Yummhumm |
| She's All That | 1999 | | Dancer |
| Night Train | 1998/II | Short | Girl |
| Hang Time | 1998 | TV Series | Gail |
| USA High | 1997 | TV Series | Tina |
| My Best Friend's Wedding | 1997 | | Title Sequence Performer |
| Dunston Checks In | 1996 | | French Girl |
Miscellaneous
| Title | Year | Status | Character |
| --- | --- | --- | --- |
| The Big Lebowski | 1998 | dancer | |
Self
| Title | Year | Status | Character |
| --- | --- | --- | --- |
| Dinner at Tiffani's | 2015-2017 | TV Series | Herself |
| Stand Up to Cancer | 2016 | TV Special | Herself |
| Hollywood Game Night | 2016 | TV Series | Herself - Celebrity Player |
| Hell's Kitchen | 2015 | TV Series | Herself - Restaurant Patron |
| Stand Up to Cancer | 2014 | TV Special | Herself |
| Home & Family | 2014 | TV Series | Herself - Guest |
| Good Day L.A. | 2013 | TV Series | Herself |
| Fashion News Live | 2010 | TV Series | Herself |
| Free Radio | 2009 | TV Series | Herself |
| Entertainment Tonight | 2008 | TV Series | Herself |
| Working with a Master: Don Coscarelli | 2006 | Video documentary short | |
| You're on the Set of 'Bring It on Again' DVD | 2004 | Video documentary short | Herself |
| Electric Playground | 2000 | TV Series documentary | |
| Happy Hour | 1999 | TV Series | Bombshell |
Source:
IMDb
,
Wikipedia