• Haley Michelle Ramm was born in 1991 in Collin County, Texas, and moved to Los Angeles at age 11 to pursue her acting career.
• She has appeared in films such as "X-Men: The Last Stand", "Yours, Mine and Ours", and "Into the Wild".
• She has guest-starred in shows such as "Grey's Anatomy", "Eleventh Hour", and "The Good Doctor".
• She is an ambassador of the American Auto-immune Related Diseases Association and is engaged to Pete Williams.
• Her net worth is estimated at $3 million.

Known for movies
Short Info
| | |
| --- | --- |
| Date Of Birth | March 26, 1992 |
| Fact | Best friends with Miranda Cosgrove. |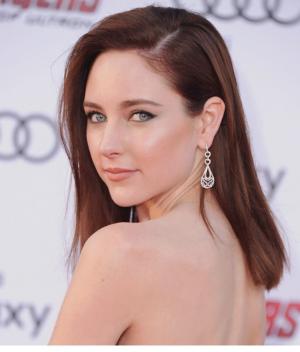 Early life, family, educational background
American actress Haley Michelle Ramm was born on 26 March 1991, in Collin County, Texas, USA, to Brian Ramm and Barbara Wilson Ramm; she has a brother, Max.
She began dancing at a local studio when she was three, and then chose to attend acting classes, and upon a teacher's recommendation, her parents found her an agent. She began booking roles for shorts and indies when she was nine, and also appeared in national commercials for Dell Computers and Hasbro. In 2002 she appeared in American Girl's May and June issues.
Haley, her family, and her Dallas agent spoke about moving to Los Angeles for her career.
When she was 11, she and her mother moved there, while her father and brother remained in Texas for a couple of years. She soon began booking roles, and guest-starring in films.
When she and her brother were in school, they played hockey. When she was not working, she would watch her brother's games at the stadium.
Career
After she moved to Los Angeles and finding a manager there, she began booking prominent roles, including in the "CSI: Crime Scene Investigation" episode "Turn of the Screws" in 2004 as Emily. That year she also played Georgia in "Yes, Dear" in the episode entitled "Couples Therapy", and the following year played Brittany Loud in the film "Flightplan.".
Television
From 2007 to 2008, Haley portrayed Jen Long in the police procedural series "Without a Trace." In 2007 she appeared in the television film "Ben 10: Race Against Time" as Gwen Tennyson, and in 2009 guest-starred in an episode of "iCarly," entitled "iReunite with Missy" as Missy Robinson – in real life, Haley is best friends with Miranda Cosgrove, who plays Carly in the show.
In 2011 she played Heather Spencer in the MTV television film "Worst. Prom. Ever", and from 2014 to 2015, she portrayed Brenna Carver in "Chasing Life," the younger sister of the main character played by Italia Ricci. The series premiered on 10 June 2014 on ABC Family and ran until 28 September 2015. It was adapted from "Terminales," a Televisa Spanish-Mexican series, and was originally only meant to be 13 episodes, but seven more episodes were ordered.
The network then ordered a Christmas special, and the series was renewed for a second season, then the series was canceled. The show followed aspiring journalist, April, a 24-year-old woman working at Boston newspaper and trying to advance her career by impressing her stubborn editor. When her job does not follow the path she wants, she turns her attention to her family, trying to balance her professional ambitions with family – her rebellious younger sister, Brenna, their widowed mother, Sara, and their kind grandmother. When her professional, personal and love life starts to come together, an estranged uncle tells her she has leukemia.
Haley's character, Brenna, became rebellious after their father's passing. She struggles to deal with her sister's new diagnosis, but she starts dating Greer (portrayed by Gracie Dzienny), her popular classmate. However, Greer's parents disapprove of Brenna and forbid the girls from seeing each other. They date again before Greer moves, and they are forced to break-up. Brenna came out to her family as bisexual in the Christmas special.
In 2005 she played Ariane, a witch in "The Originals", appearing in two episodes of the series. From 2018 to the present, Haley has been portraying the lead role of Violet Simmons in "Light as a Feather", the Hulu series is a supernatural thriller.
Let's speak about this beauty! #HaleyRamm 😍 pic.twitter.com/GRzz6uRaEr

— 𝚂𝚊𝚗𝚍𝚛𝚊 𝙼𝚊𝚒𝚊 ℠ (@smaia89) September 19, 2015
She has guest-starred in numerous shows throughout her career, including "Grey's Anatomy" as Shannon in 2006, "Eleventh Hour" as Emily Stanner in 2008, "The Mentalist" as Liesl Braddock in 2012, "Nikita" as Helen Collins in 2013 and "The Good Doctor" as Tara in 2019.
Film
Haley played the younger version of Jennifer Aniston's character in 2005's "Rumor Has It…" Although her scenes were cut from the final version of the film, photographs of her can be seen throughout. Ted Griffin wrote the screenplay about a woman who finds out that her grandmother and mother may have inspired "The Graduate," a 1963 novel by Charles Webb. The film was a box office flop, and received negative reviews from critics, but grossed $88.9 million on a $70 million budget.
That year, she also played Kelly Beardsley in "Yours, Mine and Ours." Her character was the daughter of Dennis Quaid's character, Frank Beardsley. The comedy followed a widowed handbag designer and widowed Coast Guard Admiral who fall in love and marry against the wishes of his eight and her 10 children. Dennis Quaid starred alongside Rene Russo in the Raja Gosnell-directed film, a remake of the 1968 movie of the same name.
Haley portrayed young Jean Grey in the superhero film "X-Men: The Last Stand" in 2006, the sequel to "X2" from 2003, the third movie in the X-Men film series based on the Marvel Comics, written by Zak Penn and Simon Kinberg and directed by Brett Ratner, and loosely based on two X-Men comic books "Gifted" by artist John Cassaday and writer Joss Whedon, and "The Dark Phoenix Saga" by artist John Byrne and writer Chris Claremont.
The plot focuses on Jean Grey's resurrection and the 'mutant cure' which causes serious harm to both humans and mutants.  The film has an impressive cast, including Hugh Jackman, Patrick Stewart, Ian McKellen, Halle Berry, and Aaron Stanford, on a $210 million budget – making it the most expensive film at the time. Released on 26 May 2006, and it grossed over $459 million worldwide – making it the seventh highest-grossing film of the year. It was the highest-grossing film in the series at the time of releases, and it is currently the fourth highest in the series. Upon release, the film received mixed reviews – the style and lack of dynamics, screenplay, and overuse of characters were criticized, whereas the action scenes, musical score, and acting were praised.
She appeared in three films in 2007, as Jessica Green in "Mr. Blue Sky," Samantha Jensen in "Walking Tall: Lone Justice" and young Carine McCandless in "Into the Wild."
In 2010 she was Fiona in the French horror "Rubber," the English-language French independent satirical written and directed by Quentin Dupieux and produced by Realitism Films. The film received positive reviews from critics at the 2010 Cannes Film Festival.
She appeared in 2012's "Disconnect" as Abby Boyd, the daughter of Rich Boyd (portrayed by Jason Bateman), written by Andrew Stern and directed by Henry Alex Rubin. Jason Bateman starred alongside Frank Grillo, Hope Davis, Colin Ford, Alexander Skarsgård, and Andrea Riseborough.
The film follows three interconnecting stories and explores the adverse effects of modern communication technology.
Haley played Dakota Rose in 2014's "Cowgirls 'n Angels: Dakota's Summer." In 2018, she starred opposite Keke Palmer as Nikki in "Pimp."
Other
She voiced Jessica Hamilton in the 2011 video game "L.A. Noire."
She began working as a celebrity ambassador with AARDA (American Auto-immune Related Diseases Association) in 2015 – her mother suffers from several autoimmune diseases. Together, they launched "Linking Together For A Cure," an AARDA walk campaign, which raises awareness of and money for research for autoimmune diseases.
Personal life
In 2007 she dated singer, and actor Graham Phillips, then from 2008 to 2009 she dated Tyler Patrick Jones.
She is now engaged to Pete Williams; they have been together since 2013, and often post photos together on Haley's Instagram.
Haley currently lives in Los Angeles with her fiancé and dog, Badgalkeke.
Appearance
Haley has blue eyes and natural light brown hair, which she often dyes blonde, dark brown, or red. She is 5ft 4ins (1.61m) tall, weighs 1201lbs (55kg), and her vital statistics are 32-30-32.
Net worth and salary
Her net worth is estimated at $3 million, as of mid-2020.
General Info
| | |
| --- | --- |
| Full Name | Haley Ramm |
| Date Of Birth | March 26, 1992 |
| Height | 1.61 m |
| Profession | Actor |
| Nationality | American |
Family
| | |
| --- | --- |
| Parents | Barbara Wilson Ramm, Brian Ramm |
| Siblings | Max Ramm |
Accomplishments
| | |
| --- | --- |
| Movies | Yours, Mine & Ours, X-Men: The Last Stand, Ben 10: Race Against Time, Dakota's Summer, Skateland, Flightplan, Into the Wild, Rubber, Walking Tall: Lone Justice, Bond of Silence, Walking Tall: The Payback, The Wheeler Boys, Red State, Mr. Blue Sky, Just Peck, Seventy-8, Disconnect, TheCavKid, Bratz K... |
| TV Shows | Chasing Life |
Social profile links
Facts
| # | Fact |
| --- | --- |
| 1 | Best friends with Miranda Cosgrove. |
| 2 | Haley was cast as a young Jennifer Aniston in Rumor Has It... (2005), and while her scenes did not make the final cut, she can be seen in various photos throughout the film. |
Pictures
Movies
Actress
| Title | Year | Status | Character |
| --- | --- | --- | --- |
| Pimp | 2016 | post-production | Nikki |
| Notorious | 2016 | TV Series | Maya Hartman |
| Good Girls Revolt | 2016 | TV Series | Marybeth |
| Mistresses | 2016 | TV Series | Stacey North / Stacey Martin |
| The Originals | 2016 | TV Series | Ariane |
| Three Days | 2015 | Short | Young Rachel |
| ImagiGARY | 2015 | | Sarah |
| Victor | 2015/II | | Sherry |
| Chasing Life | 2014-2015 | TV Series | Brenna Carver |
| TheCavKid | 2015 | Short | Brandy |
| Dakota's Summer | 2014 | | Dakota Rose |
| Complicity | 2013 | | Lacy |
| Nikita | 2013 | TV Series | Helen Collins |
| Disconnect | 2012/I | | Abby Boyd |
| The Mentalist | 2012 | TV Series | Liesl Braddock |
| The Protector | 2011 | TV Series | Madison |
| L.A. Noire | 2011 | Video Game | Jessica Hamilton (voice) |
| Worst. Prom. Ever. | 2011 | TV Movie | Heather Spencer |
| Red State | 2011 | | Maggie |
| NCIS: Los Angeles | 2010 | TV Series | Amanda |
| Lie to Me | 2010 | TV Series | Amy |
| Bond of Silence | 2010 | TV Movie | Jordan |
| Almost Kings | 2010 | | Kallea |
| Rubber | 2010 | | Teenager Fiona |
| Skateland | 2010 | | Mary Wheeler |
| The Odds | 2010 | TV Movie | Molly Cooper |
| Three Rivers | 2009 | TV Series | Megan O'Leary |
| Hawthorne | 2009 | TV Series | Devon Deegan |
| iCarly | 2009 | TV Series | Missy |
| Just Peck | 2009 | | Michelle |
| The Unit | 2009 | TV Series | Amber |
| The New 20's | 2009 | TV Short | Kayla |
| Eleventh Hour | 2008 | TV Series | Emily Stanner |
| Without a Trace | 2007-2008 | TV Series | Jen Long |
| Ben 10: Race Against Time | 2007 | TV Movie | Gwen Tennyson |
| Mr. Blue Sky | 2007 | | Jessica Green |
| Walking Tall: Lone Justice | 2007 | Video | Samantha Jensen |
| Into the Wild | 2007 | | Carine McCandless - age 11 |
| ER | 2007 | TV Series | Tasha |
| Walking Tall: The Payback | 2007 | Video | Samantha Jensen |
| Grey's Anatomy | 2006 | TV Series | Shannon |
| Brotherhood | 2006 | TV Series | Additional Voices |
| X-Men: The Last Stand | 2006 | | Young Jean Grey |
| A Four Course Meal | 2006 | | Orphan |
| CSI: Miami | 2005-2006 | TV Series | Young Jennifer Wilson / Jennifer Wilson - Age 9 |
| Yours, Mine & Ours | 2005 | | Kelly Beardsley |
| Flightplan | 2005 | | Brittany Loud |
| Catscratch | 2005 | TV Series | Caitlin #1 / Caitlyn #1 |
| Seventy-8 | 2004 | | April Rowlands |
| Yes, Dear | 2004 | TV Series | Georgia |
| CSI: Crime Scene Investigation | 2004 | TV Series | Emily, Family Daughter |
| Slap Her, She's French! | 2002 | | Little Starla Grady (uncredited) |
Self
| Title | Year | Status | Character |
| --- | --- | --- | --- |
| Home & Family | 2015 | TV Series | Herself |
| Behind the Scenes of Dakota's Summer | 2014 | Video documentary short | Herself |
Archive Footage
| Title | Year | Status | Character |
| --- | --- | --- | --- |
| iCarly | 2010 | TV Series | Missy |
| Without a Trace | 2008 | TV Series | Jen Long |
Awards
Nominated Awards
| Year | Award | Ceremony | Nomination | Movie |
| --- | --- | --- | --- | --- |
| 2016 | The Golden Coyote Paws | Idyllwild International Festival of Cinema | Best Actress | Three Days (2015) |
| 2009 | Young Artist Award | Young Artist Awards | Best Performance in a TV Series - Recurring Young Actress | Without a Trace (2002) |
| 2008 | Young Artist Award | Young Artist Awards | Best Performance in a TV Movie, Miniseries or Special - Supporting Young Actress | Ben 10: Race Against Time (2007) |
| 2006 | Young Artist Award | Young Artist Awards | Best Performance in a Feature Film - Young Ensemble Cast | Yours, Mine & Ours (2005) |
Source:
IMDb
,
Wikipedia