• Orla Brady is an actress, known for her work in a variety of platforms, with a net worth estimated to be over $1 million.
• She grew up in Bray, Wicklow, Ireland, and studied theatre in L'Ecole Philippe Gaulier in Paris and the Baloonatics Theatre Company.
• She moved to London and gained professional opportunities in theatre, television, and film.
• She moved to Los Angeles and worked on television series and films such as "Family Law", "Shark", "Fringe", "Into the Badlands" and "American Horror Story: 1984".
• She married photographer Nick Brandt and now resides in Southern California.

Known for movies
Short Info
| | |
| --- | --- |
| Spouse | Nick Brandt |
| Fact | Lived in Bray, County Wicklow, Ireland, from birth until the age of seven. |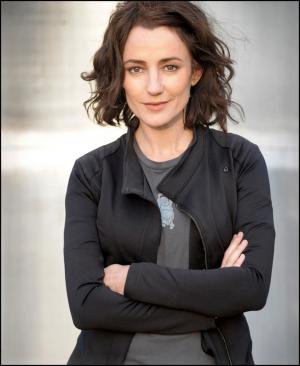 Who is Orla Brady?
Orla Brady was born on 28 March 1961, in Dublin, Ireland, and is an actress, known for her work in a variety of platforms. She's appeared in numerous UK and US television shows, as well as films. Some of her most notable projects include "Doctor Who", "The Foreigner", "Fringe", and "Into the Badlands".
The Net Worth of Orla Brady
As of mid-2020, Orla Brady's net worth is estimated to be over $1 million, earned through a successful career in the acting profession since 2001 including theatrical work, and has also done some modeling.
Early Life, Education, and Career Beginnings
While Orla was born in Dublin, her family later settled in Bray, Wicklow, Ireland, where she grew up alongside three siblings. During her time there, she studied at the Loreto Convent, an educational system created by the Roman Catholic group, the Loreto Sisters. She also took lessons at Dublin's Ursuline Convent, a system of schools that traces its origin back to Italy during the 1500s.
Growing up, she developed an interest in acting though she didn't pursue it at a young age.
It was only when she was 25 years old that she realized she wanted to turn professional, and she moved to Paris where she developed her skills while studying at the L'Ecole Philippe Gaulier, known to be one of the prestigious theatre schools in the country. There she also studied under Marcel Marceau, who is known for his achievements in acting as well as in mime artistry. Following the completion of her education, she joined the Baloonatics Theatre Company, which led her to work on a few stage productions, including "Finnegans Wake" and "Hamlet".
Path to On-Camera Work
Following a few projects in France, Brady returned to Ireland where she also became involved in the local theatre scene. She was in the production of "House of Bernarda Alba", and later in "Three Sisters" in which she played the role of Natasha; the play originated in 1901 and is considered one of the best plays created by playwright Anton Chekhov. Looking for more opportunities, she moved to London and became a part of a production of "Philadelphia, Here I Come!", which opened the door for one of her earliest professional stage roles in "Blinded by the Sun".
It wasn't long before she also started taking professional opportunities on television and film., frequenting both London and Dublin for projects. She appeared in "A Love Divided" as the character Sheila Cloney, with her performance leading her to a Golden Nymph Best Actress Award. She also worked on the series "Mistresses", a British show about the complex lives of several women. In 1994, she made her debut in film, appearing in "Words Upon a Window Pane" which starred her alongside Geraldine Chaplin and Ian Richardson. Soon, more film work came her way such as "The Luhzin Defense".
Hollywood Career
In 2001 Orla moved to Los Angeles where she gained more opportunities and larger contracts. She worked on the television series "Family Law" during its final season – the show follows a divorced lawyer who aims to establish a law practice after her husband left her. Following her work there, Orla then gained a guest appearance in "Nip/Tuck" before being cast as a recurring character in the series "Shark", playing the role of the ex-wife of James Woods' character. The legal drama show aired for two seasons on CBS.
She still did work in the UK, mainly returning to do projects with the BBC.
She appeared in an episode of "Wallander", before also working on the series "Hustle". In 2009, she was cast in the television series "Fringe", playing the role of Peter Bishop's mother, Elizabeth. The series was created by JJ Abrams, and is inspired by various science fiction shows, including "The X-Files" and "Lost". The show became very popular during its run and developed a cult following, with Orla part of the show for three seasons. She then pursued other projects such as in  "Agatha Christie's Poirot", and a special episode of "Doctor Who".
Recent Projects – Rise to Prominence
In 2015, Orla was cast in one of the main roles in the television series "Into the Badlands", alongside Daniel Wu, Sarah Bolger and Aramis Knight.
The show aired on AMC and tells the story of a warrior who is joined by a young boy as they travel across a post-apocalypse world set 500 years after a catastrophe that destroyed most of civilization. This new world relies more on crossbows and melee weapons, with guns being shunned. She stayed with the show for three seasons before its cancellation.
Afterwards, she was cast as a recurring character in "American Horror Story: 1984" the ninth season of the anthology series. this iteration of the show is inspired by slasher films such as "Halloween" and "Friday the 13th".
One of her most recent projects is "Star Trek: Picard" which was released in 2020. The web series continues the story of retired Captain Picard played by Patrick Stewart, as it explores his life 20 years after the events of "Star Trek: Nemesis". The show was purposefully designed to be slower and focused more on the characters. The show was met with positive reviews, though it has also received criticism for its slow pace.
Personal Life
After moving to the US, Orla met photographer Nick Brandt in 2001 – he is also from the UK and is best known for his work on the natural world before it is destroyed by the works of men. They dated for a year before deciding to marry, holding their ceremony in the Chyulu Hills of Kenya. It is not known if the couple has any children; they now reside in Southern California.
General Info
| | |
| --- | --- |
| Full Name | Orla Brady |
| Height | 1.68 m |
| Profession | Actor |
| Nationality | Irish |
Family
| | |
| --- | --- |
| Spouse | Nick Brandt |
| Parents | Patrick Brady, Catherine Brady |
Accomplishments
| | |
| --- | --- |
| Movies | The Price Of Desire, Wayland's Song, The Debt, How About You, 32A, Jesse Stone: Death in Paradise, The Luzhin Defence, The Magical Legend of the Leprechauns, A Love Divided, Wuthering Heights, Fogbound, 60 Minute Man |
| TV Shows | Into the Badlands, Strike Back, Eternal Law, The Deep, Proof, Family Law, Servants, Empire, Noah's Ark, Mistresses, Jo, Sinbad, Out of the Blue, Out of the Blue (UK), Lawless |
Social profile links
Facts
| # | Fact |
| --- | --- |
| 1 | Is the second of four children born to Patrick and his wife Catherine. |
| 2 | Educated at a Loreto Convent in Wicklow and an Ursuline Convent in Dublin. |
| 3 | When she was 25, moved to Paris where she studied at the L'École Philippe Gaulier, securing a place at Marcel Marceau's École Internationale de Mimodrame de Paris. |
| 4 | Lived in Bray, County Wicklow, Ireland, from birth until the age of seven. |
| 5 | In 2001 moved to Los Angeles where she met English photographer, Nick Brandt, whom she married in December 2002 in the Chyulu Hills of Kenya. |
Pictures
Movies
Actress
| Title | Year | Status | Character |
| --- | --- | --- | --- |
| Into the Badlands | 2015-2017 | TV Series | Lydia |
| American Odyssey | 2015 | TV Series | Sofia Tsaldari / Sophia Tsaldari |
| Banished | 2015 | TV Series | Anne Meredith |
| The Price of Desire | 2015 | | Eileen Gray |
| Doctor Who | 2013 | TV Series | Tasha Lem |
| Agatha Christie's Poirot | 2013 | TV Series | Countess Rossakoff |
| Wayland's Song | 2013 | | Grace |
| Jo | 2013 | TV Series | Dormont |
| Eternal Law | 2012 | TV Series | Mrs. Sheringham |
| Fringe | 2010-2012 | TV Series | Alternate Elizabeth Bishop Elizabeth Bishop |
| Sinbad | 2012 | TV Series | Taryn |
| The Deep | 2010 | TV Mini-Series | Catherine / Catherine Donnelly |
| Mistresses | 2008-2010 | TV Series | Siobhan Dhillon Siobhan Dillon Siobhan |
| Strike Back | 2010 | TV Series | Katie Dartmouth |
| Indiana Jones and the Staff of Kings | 2009 | Video Game | Maggie O'Malley (voice) |
| Wallander | 2008 | TV Series | Ella Lindfeldt |
| Shark | 2007-2008 | TV Series | Claire Stark |
| Protect and Serve | 2007 | TV Movie | Dr. Lorna Herrera |
| How About You... | 2007 | | Kate Harris |
| 32A | 2007 | | Jean Brennan |
| Last Night | 2006/II | Short | Lucy |
| Jesse Stone: Death in Paradise | 2006 | TV Movie | Lilly Summers |
| Sixty Minute Man | 2006 | TV Movie | Kate Henderson |
| World of Trouble | 2005 | TV Movie | Joan Denny |
| Empire | 2005 | TV Mini-Series | Atia |
| Revelations | 2005 | TV Mini-Series | Nora Webber |
| Proof | 2004-2005 | TV Series | Maureen Boland |
| Lawless | 2004 | TV Movie | Liz Bird |
| Nip/Tuck | 2004 | TV Series | Dr. Monica Jordan |
| Hustle | 2004 | TV Series | Meredith Gates |
| The Debt | 2003 | TV Movie | Angela Jahnsen |
| Servants | 2003 | TV Mini-Series | Flora Ryan |
| Fogbound | 2002 | | Ann |
| Family Law | 2000-2002 | TV Series | Naoise O'Neill |
| Silent Grace | 2001 | | Eileen |
| The Luzhin Defence | 2000 | | Aunt Anna |
| Pure Wickedness | 1999 | TV Series | Jenny Meadows |
| A Love Divided | 1999 | | Sheila Kelly Cloney |
| Salvage | 1999 | Short | |
| The Magical Legend of the Leprechauns | 1999 | TV Mini-Series | Kathleen Fitzpatrick |
| Wuthering Heights | 1998 | TV Movie | Cathy |
| Noah's Ark | 1997-1998 | TV Series | Clare Somers |
| The Heart Surgeon | 1997 | TV Movie | Marcella Duggan |
| The Vicar of Dibley | 1996 | TV Series | Aoife |
| Pie in the Sky | 1996 | TV Series | Kit Kelly de Goris |
| Casualty | 1995 | TV Series | Wendy |
| New Voices | 1995 | TV Series | Ruby |
| Dangerfield | 1995 | TV Series | Diane Foster |
| Words Upon the Window Pane | 1994 | | Vanessa |
| The Rector's Wife | 1994 | TV Mini-Series | Sister Josephine |
| Absolutely Fabulous | 1994 | TV Series | Nurse Mary |
| The Bill | 1994 | TV Series | Amy |
| Minder | 1993 | TV Series | Bank Teller |
| So You Think You've Got Troubles | 1991 | TV Series | |
Self
| Title | Year | Status | Character |
| --- | --- | --- | --- |
| 4th Irish Film and Television Awards | 2007 | TV Special | Herself - Presenter |
| 3rd Irish Film and Television Awards | 2005 | TV Movie documentary | Herself - Presenter |
| The 7th Annual Irish Film and Television Awards | 2010 | TV Special | Herself - Award Presenter |
| The 6th Annual Irish Film and Television Awards | 2009 | TV Special | Herself - Award Nominee |
| Friday Night with Jonathan Ross | 2008 | TV Series | Herself |
Awards
Nominated Awards
| Year | Award | Ceremony | Nomination | Movie |
| --- | --- | --- | --- | --- |
| 2016 | IFTA Award | Irish Film and Television Awards | Best Actress in a Lead Role - Film | The Price of Desire (2015) |
| 2013 | IFTA Award | Irish Film and Television Awards | Best Actress TV | Sinbad (2012) |
| 2012 | Saturn Award | Academy of Science Fiction, Fantasy & Horror Films, USA | Best Guest Starring Role on Television | Fringe (2008) |
| 2011 | IFTA Award | Irish Film and Television Awards | Best Actress in a Lead Role in Film/Television | Mistresses (2008) |
| 2009 | IFTA Award | Irish Film and Television Awards | Best Actress in a Supporting Role in Television | Mistresses (2008) |
| 2004 | IFTA Award | Irish Film and Television Awards | Best Actress in a TV Drama | Proof (2004) |
| 2004 | IFTA Award | Irish Film and Television Awards | Best Actress in a TV Drama | Servants (2003) |
| 1999 | IFTA Award | Irish Film and Television Awards | Best Actor in a Female Role | A Love Divided (1999) |
Source:
IMDb
,
Wikipedia