• Julie Brown is a radio personality, television personality, and actress.
• She has an estimated net worth of over $5 million.
• She competed in the World Disco Dancing Championship in 1979 and joined the music chart show "Top of the Pops" as a dancer.
• She has worked for the radio station SiriusXM and MTV.
• She is married to Martin Schuemann, former CEO of Intermedia, and they have a child together.

Known for movies
Short Info
| | |
| --- | --- |
| Net Worth | $5 million |
| Date Of Birth | August 27, 1963 |
| Spouse | Martin Schuemann |
| Fact | Her father was in the Royal Air Force and she grew up as an air force brat at bases all around the world including Singapore, India, Cyprus and Wales. |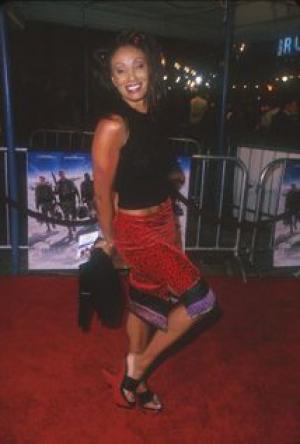 Who is Downtown Julie Brown?
Julie Dorne Brown was born on 27 August 1963, in Bedfordshire, England, of Jamaican descent from her father's side, and British through her mother. She is a radio personality, television personality, and actress, best known for working as a video jockey (VJ) and disc jockey (DJ) under the name Downtown Julie Brown. She has worked for the radio station SiriusXM and also had a long stint in MTV.
The Net Worth of Downtown Julie Brown
As of early-2020, Downtown Julie Brown's net worth is estimated to be over $5 million, earned through a successful career in the entertainment industry, working on television and radio programs since the early 1980s.
Hey Indy, this is former MTV VJ, "Downtown Julie Brown". It is my way of reminding you that I will be at Crackers Comedy Clubs new downtown location this Thursday, Friday and Saturday. Hope to see you there.

Posted by Greg Warren on Tuesday, October 18, 2016
She's made guest appearances in several popular television and reality programs during her career.
Early Life and Career Beginnings
While Julie was born in Bedfordshire, she and her family didn't stay there long due to her father's work with the Royal Air Force (RAF), not only in the UK but in various locations around the world too, such as Singapore and the island country of Cyprus in the Mediterranean. Eventually, the family returned to the UK and settled in Bridgend, Wales.
At a young age, Julie developed a love for dancing, and was skilled to the point that she competed in several competitions.
Her biggest competition was the World Disco Dancing Championship in 1979, for which she qualified after winning the UK Championship. After that, her fame elevated to the point that she was offered work on television, so she started her career working as a presenter for children's programs. One of her earliest projects was the show "Crackerjack", staying with the program during the latter part of the show's run in the 1980s.
Dance and Music
Meantime Brown also continued her dance career, becoming a member of the troupe Zoo, who appeared consistently in the program "Top of the Pops", which is a music chart program in the UK featuring the highest-selling songs each week.
This would be in some way, her introduction into hosting music shows, as after her run in "Crackerjack" ended, she was then hired by the channel Music Box as a presenter. The show is considered the pioneer of music television in the UK, and was the equivalent of the MTV of the British.
After Music Box folded, she moved to the US seeking better opportunities, and her experience led her to be hired as a VJ for MTV. She began by hosting the program "Club MTV", which ran during the late 1980s up to the early 1990s. The show featured mainly dance music, and was an effort by MTV to introduce new VJs to the network, transitioning from their original five.
As she developed her name in the UK, a lot of people confused her with comedian Julie Brown, which actually led to MTV taking advantage of the situation, casting them in programs and live events together for an added bit of humor.
During her time with MTV, she developed a catchphrase called "Wubba Wubba Wubba" which she blurted on air by accident as it was the shirt that was being worn by the guy holding her cue cards. The catchphrase stuck and her time as a VJ for MTV was always identified with it.
Life After MTV
Following the end of her contract with MTV, Julie was then hired by Entertainment and Sports Programming Network (ESPN), which featured a shift from her usual work in music to doing more sports-oriented work, with one of the most recognized sports programming networks around the world. With ESPN, she mainly did off-field interviews with athletes in American Football, then after some time, she moved to Los Angeles, returning to the entertainment industry to become a part of a gossip show for "E Entertainment".
While working with E, she also ventured into radio work, becoming the host of the show "American Dance Traxx" for a year. The show was at one point one of the most well-known dance music radio programs in Los Angeles, featuring the most popular songs as well as some up-and-coming tracks. The program was discontinued, though its international editions still ran for some time.
Acting Work, Reality Television, and Recent Projects
While working on these projects, Julie also took a few acting projects, appearing mostly in minor or cameo roles. One of her earliest professional acting projects was the film "Spy Hard", which starred Leslie Nielsen and is a parody of various popular spy films of the era, mostly from the "James Bond" series.
She also made appearances in "Spring Break '83" and "The Weird Al Show". In the late 1990s, she had a support role in the comedy film "Ride", and then made a guest appearance in "Walker, Texas Ranger", starred Chuck Norris and following his character's life as a member of the said force. Other projects she worked on over the next few years included "The Dog Whisperer", "Hey Arnold!", and "The Eric Andre Show".
At the same time, she also accepted an invitation to pose nude for a 1998 edition of "Playboy", and was featured on the cover.
In recent years she's returned to radio, working for the satellite radio network SiriusXM, hosting the shows "'90s on 9" and "The Back in the Day Replay Countdown", which focus on hits from the 1990s and from decades passed, respectively. She also made an appearance in the program "Wife Swap" in its celebrity version, exchanging with Lisa Leslie for the episode.
Personal Life
Julie met businessman and film producer Martin Schuemann in the late 1990s, and they married in 2001. He is known for being the former Chief Executive Officer (CEO) of the company Intermedia. The couple has a child together, and the family resides in Marina del Rey, California.
General Info
| | |
| --- | --- |
| Full Name | Downtown Julie Brown |
| Net Worth | $5 million |
| Date Of Birth | August 27, 1963 |
| Profession | TV Personality, VJ, Actor, Radio personality |
| Nationality | British |
Family
| | |
| --- | --- |
| Spouse | Martin Schuemann |
| Children | Gianna Schuermann |
| Parents | Doreen Brown, Valentine Brown |
| Siblings | Shirley Brown, Paul Brown, Carol Brown, Mark Brown, Sharon Brown, Terry Brown |
Accomplishments
| | |
| --- | --- |
| Movies | Sharknado 2: The Second One, Bug Buster, Ride, Spy Hard, The Homeboy |
| TV Shows | Club MTV, I'm a Celebrity...Get Me Out of Here!, 1987 MTV Video Music Awards, 1986 MTV Video Music Awards |
Social profile links
Quotes
| # | Quote |
| --- | --- |
| 1 | Wubba wubba wubba! |
Facts
| # | Fact |
| --- | --- |
| 1 | Has one daughter, Gianna. |
| 2 | Father is Jamaican by birth, her mother is English. |
| 3 | Her father was in the Royal Air Force and she grew up as an air force brat at bases all around the world including Singapore, India, Cyprus and Wales. |
| 4 | Former host of "Club MTV" |
| 5 | Former MTV vee-jay. |
Pictures
Movies
Actress
| Title | Year | Status | Character |
| --- | --- | --- | --- |
| Days of Our Lives | 2015 | TV Series | Fashion Reporter |
| Sharknado 2: The Second One | 2014 | TV Movie | Nurse Fletcher |
| Gimme the Mike | 2004/II | TV Series | Host |
| The Homeboy | 2001 | | Tallulah Jones |
| Cousin Skeeter | 2000 | TV Series | |
| Diagnosis Murder | 2000 | TV Series | Julie Brown |
| Shadow Hours | 2000 | | Speaker |
| Sabrina, the Animated Series | 1999 | TV Series | |
| Martial Law | 1999 | TV Series | Celine Vashon |
| Hey Arnold! | 1999 | TV Series | Reporter |
| When | 1999 | | Mrs. Stephany |
| Battle Dome | 1999 | TV Series | |
| Bug Buster | 1998 | | Katie Cunning |
| Walker, Texas Ranger | 1998 | TV Series | Cassandra |
| Ride | 1998 | | Bleau |
| B*A*P*S | 1997 | | Downtown Julie Brown |
| Lois & Clark: The New Adventures of Superman | 1997 | TV Series | Samantha |
| On Seventh Avenue | 1996 | TV Movie | Francesca (as Julie D. Brown) |
| Spy Hard | 1996 | | Cigarette Girl |
| The Crew | 1995 | TV Series | Anita |
| Burke's Law | 1995 | TV Series | Paige Sinclair |
| Fist of the North Star | 1995 | | Charlie |
| Jungle Book Reunion | 1990 | TV Movie | Hostess |
| Wacaday | 1985 | TV Series | Genie of the Kettle |
Producer
| Title | Year | Status | Character |
| --- | --- | --- | --- |
| The Music Insider | 2011 | TV Series executive producer | |
Thanks
| Title | Year | Status | Character |
| --- | --- | --- | --- |
| Playboy: The Best of Jenny McCarthy | 1998 | Video documentary special thanks - as Julie Brown | |
Self
| Title | Year | Status | Character |
| --- | --- | --- | --- |
| Spring Break '83 | | completed | Herself |
| The Eighties | 2016 | TV Mini-Series documentary | Herself - Fmr MTV VJ |
| Lord of the Freaks | 2015 | Documentary | Herself |
| Fashion News Live | 2008-2015 | TV Series | Herself |
| Oprah: Where Are They Now? | 2014 | TV Series | Herself |
| Entertainment Tonight | 2014 | TV Series | Herself |
| Celebrity Ghost Stories | 2014 | TV Series documentary | Herself |
| Unsung | 2013 | TV Series documentary | Herself |
| The Eric Andre Show | 2013 | TV Series | Herself |
| Celebrity Wife Swap | 2013 | TV Series | Herself |
| RuPaul's Drag Race | 2013 | TV Series | Herself - Guest Judge / Herself |
| RuPaul's Drag Race: Untucked! | 2013 | TV Series | Herself - Guest Judge |
| The Music Insider | 2011 | TV Series | Herself - Host |
| RuPaul's Drag U | 2011 | TV Series | Herself - Contestant |
| The Tragic Side of Fame | 2011 | TV Movie | Herself |
| Black to the Future | 2009 | TV Series | Herself |
| Most Shocking Celebrity Moments of the 90s | 2007 | TV Movie documentary | Herself (as 'Downtown' Julie Brown) |
| Watch This! | 2006 | TV Series | Herself |
| Retrosexual: The 80's | 2004 | TV Mini-Series documentary | Herself |
| I'm a Celebrity, Get Me Out of Here! | 2003 | TV Series | Herself (6th Celebrity to Leave) |
| Playboy: Inside the Playboy Mansion | 2002 | TV Movie documentary | Herself |
| MTV 20: Live & Almost Legal | 2001 | TV Movie documentary | Herself |
| Playboy Video Centerfold: Playmate 2000 Bernaola Twins | 2000 | Video documentary | Herself |
| Kenan & Kel | 1999 | TV Series | Herself |
| The Howard Stern Radio Show | 1999 | TV Series | Herself |
| V.I.P. | 1999 | TV Series | Herself |
| Junket Whore | 1998 | Documentary | Herself |
| I Was an MTV VJ | 1998 | TV Movie documentary | Herself |
| Playboy: The Best of Jenny McCarthy | 1998 | Video documentary | Herself (as Julie Brown) |
| A Magical Walt Disney World Christmas | 1997 | TV Special | Herself - |
| The Parent 'Hood | 1997 | TV Series | Herself |
| The Weird Al Show | 1997 | TV Series | Herself |
| World's Coolest Bachelors | 1997 | TV Movie | Herself - Host |
| Behind the Music | 1997 | TV Series documentary | Herself |
| Match Game | 1997 | TV Series | Herself |
| The 1996 Fox Rock 'N Roll Skating Championships | 1996 | TV Special | Herself - Judge |
| Deadly Games | 1995 | TV Series | Herself |
| Howard Stern | 1995 | TV Series | Herself |
| Dream On | 1995 | TV Series | Herself |
| The 1995 Fox Rock 'N Roll Skating Championships | 1995 | TV Movie | Herself |
| Vicki! | 1993 | TV Series | Herself |
| The Arsenio Hall Show | 1993 | TV Series | Herself |
| Circus of the Stars and Sideshow | 1992 | TV Special documentary | Herself - Co-Host |
| Square One Television | 1990-1992 | TV Series | Herself |
| The 6th Annual Soul Train Music Awards | 1992 | TV Special | Herself |
| 120 Minutes | 1991 | TV Series | Host (1987) |
| MTV Video Music Awards 1991 | 1991 | TV Special | Herself - Co-Host |
| The Chuck Woolery Show | 1991 | TV Series | Herself |
| Voices that Care | 1991 | TV Movie documentary | Herself - Choir Member |
| The 17th Annual People's Choice Awards | 1991 | TV Special | Herself - Co-Presenter: Favourite Female Musical Performer |
| The 42nd Annual Primetime Emmy Awards | 1990 | TV Special | Herself - Presenter: Outstanding Choreography |
| MTV Video Music Awards 1990 | 1990 | TV Special | Herself |
| America's Dance Honors | 1990 | TV Special | Herself |
| Live with Kelly and Michael | 1990 | TV Series | Herself |
| The Earth Day Special | 1990 | TV Special | Herself |
| Club MTV | 1990 | TV Series | Herself - Host |
| Robert Wuhl's World Tour | 1990 | TV Movie | Herself |
| Bobby Brown His Prerogative | 1989 | Video documentary | |
| Ebony/Jet Showcase | 1989 | TV Series | Herself |
| The 1989 Annual MTV Video Music Awards | 1989 | TV Special | Herself |
| The New Hollywood Squares | 1989 | TV Series | Guest Appearance |
| 21st NAACP Image Awards | 1989 | TV Special | Herself - Presenter |
| Negligee and Underpants Party | 1988 | TV Movie | Herself |
| MTV Video Music Awards 1986 | 1986 | TV Special | Herself - Host |
| Crackerjack! | 1982-1983 | TV Series | Herself - Regular |
| Rub-a-Dub-Tub | 1983 | TV Series documentary | Herself |
| Top of the Pops | 1981 | TV Series | Herself - Guest |
Archive Footage
| Title | Year | Status | Character |
| --- | --- | --- | --- |
| Candid Camera: 5 Decades of Smiles | 2005 | Video | Herself |
| Celebrities Uncensored | 2004 | TV Series | Herself |
| RuPaul's Drag Race | 2013 | TV Series | Herself |
Source:
IMDb
,
Wikipedia