• Don Swayze is an American actor, best known for his recurring roles in "Carnivàle", "True Blood" and "The Young and the Restless"
• He is the brother of three-time Golden Globe nominated actor Patrick Swayze
• Don studied acting at the Beverly Hills Playhouse in Los Angeles, California and began his career in 1984
• He is an avid lover of extreme sports such as skydiving and mountain bike cross racing
• Don Swayze has a net worth of $5 million, earned through his successful on-camera acting career

Known for movies
Short Info
| | |
| --- | --- |
| Net Worth | $5 million |
| Date Of Birth | August 10, 1958 |
| Spouse | Charlene Lindstrom, Marcia Swayze |
| Fact | Son of choreographer Patsy Swayze. |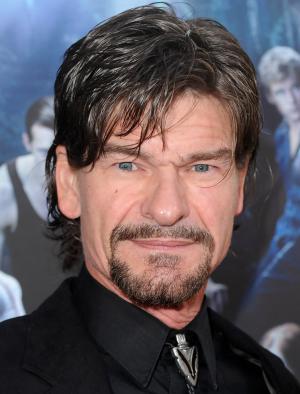 Who is Don Swayze?
Don Swayze is an American actor, who is probably best known for starring in the recurring roles of Tattooed Man in the TV series " Carnivàle", Gus in "True Blood" and Shaw Roberts in "The Young and the Restless". More recently, he is recognized for portraying the character of Angie D. in the TV series "Sons of Thunder".
Early Life, Family and Siblings
Donald Carl 'Don' Swayze was born under the zodiac sign of Leo on the 10th August 1958, in Houston, Texas, themiddle of five children to a choreographer and dance instructor Patsy Swayze, and engineering draftsman Jesse Wayne Swayze.
He is of American nationality and white ethnicity, and has some English descent through his father's ancestors. Don's older siblings are sister Vickie Lynn and the three-time Golden Globe-nominated American actor Patrick Swayze, while his younger siblings are brother Sean Kyle and sister Bora Song 'Bambi' Swayze.
Don studied acting at the Beverly Hills Playhouse in Los Angeles, California.
Brother Patrick Swayze
Patrick Wayne Swayze was born on the 18th August 1952, in Houston, Texas. After completing his elementary education at Oak Forest Elementary School and secondary education at Waltrip High School, he went to San Jacinto College Central.
In 1972 he enrolled at The Harkness Ballet Company in New York City, then began his career as a dancer with the Disney Theatrical Group, before diving into the world of acting in 1979. To greater prominence Patrick came in 1983 when he appeared in the TV series "Renegades", however, his real breakthrough came in 1987 when he starred as Johnny Castle in the Oscar-winning movie "Dirty Dancing", a performance which earned him a nomination for a prestigious Golden Globe award.
In 1990 he starred in the two-time Oscar winning movie "Ghost", which brought him another Golden Globe nomination, and by the end of the 1990s, Patrick had appeared in a variety of major roles in movies such as "Point Break", "The Player" and "To Wong Foo Thanks for Everything, Julie Newmar" for which he was honored with another Golden Globe nomination.
He also starred in films "Donnie Darko", "One Last Dance" and "11:14", before appearing in the TV series "The Beast" in 2009.
In 1996 he was 'immortalized' with a star on Hollywood's Walk of Fame. Patrick Swayze passed away at the age of 57 on the 14th September 2009, due to pancreatic cancer.
Acting Career
Don began his career in 1984, with a brief appearance in the TV movie "I Married a Centerfold". In the course of the next couple of years, he honed his skills through a streak of supporting roles, primarily in TV series and TV movies, including "Prince of Bel Air", "Tall Tales & Legends", "The Fall Guy" and "L.A. Law".
His debut big screen appearance occurred in 1987 with the movie "Shy People", then in 1989 he starred in the Sci-Fi action movie "Driving Force", which was followed by movies "Trapper County War", "Edge of Honor" and "Payback". Between 1991 and 1993 Don appeared in a couple of episodes of the "Murder, She Wrote" TV series, while in 1994 he appeared in the movie "Pontiac Moon". In 1996 Swayze was cast for one of the leading roles in the action film "Squanderers", before appearing in an episode of "The Magnificent Seven" TV series. In 1998 he was engaged as a stuntman for his brother Patrick in the mystery crime film "Letters from a Killer", then in the next two years he starred as himself in The WB's sitcom series "Movie Stars", after which he appeared in the 2000 crime thriller movie "The Prophet's Game".
He then went on to appear in a streak of supporting roles in television series such as "V.I.P", "The X-Files", "NCIS" as well as "CSI: Miami" and "Without a Trace". To greater prominence, Don came in 2003 when he was cast for the recurring role of Tattooed Man in the five-time Primetime Emmy Award-winning fantasy mystery series "Carnivàle".
After appearing in the horror film "The Visitation" in 2006, Swayze guest starred as a serial killer in the TV crime drama series "Criminal Minds". Alongside Forest Whitaker, Eddie Radmayne and Jessica Biel, he appeared in the critically praised 2009 movie "Powder Blue", then the real breakthrough in Don's career occurred in 2010, when he landed the recurring role of Gus in the Golden Globe-winning TV fantasy series "True Blood".
Later that year he was cast in the recurring role of Shaw Roberts in CBS TV's critically acclaimed soap opera "The Young and the Restless".
In 2012, Swayze appeared in leading roles of two western movies – "Heathens and Thieves", and "Ambush at Dark Canyon". In 2013 he starred as Tampa Tim in the television crime mystery series "The Bridge" before appearing in the 2014 horror movie "The Appearing", and in an episode of the TV series "Sons of Anarchy". These were followed by the horror movie "The Night Crew" in 2015, as well as the TV series' "General Hospital", "Trucker's War" and "Deckers".
In 2017 he voice acted as his brother Patrick Swayze in an episode of the nine-time Primetime Emmy Award-winning TV animated series "Family Guy", then in 2019 appeared in the thriller film "Beneath the Leaves", while his most recent acting engagement is starring in the recurring role of Angie D. in CBS TV's series "Sons of Thunder".
Apart from all these on-camera acting credits already mentioned above, Don has added several theatrical appearances to his professional portfolio. In 2001, he starred as Pedro in the musical stage play "Man of La Mancha". Additionally, he starred in the comedy "Lone Star", while in 2011 he portrayed the US Army Vietnam war veteran in the stageplay "Jane Fonda: In the Court of Public Opinion".
Personal Life
Don has married twice – between 1985 and 1993 he was married to retired American model and actress Marcia Rose Goebel, with whom he has a daughter born in 1988, and named Danielle. Since July 2014, he has been married to Charlene.
Swayze sports a toned body, and is standing 6ft (1.84m) tall.
Apart from acting, he is known as an avid lover of extreme sports such as skydiving and mountain bike cross racing.
Net Worth
It's estimated by authoritative sources that the total of Don Swayze's net worth, as of mid-2020, revolves around an impressive sum of $5 million. It has all been earned through his prosperous on-camera acting career, that has been active since mid-1980s, and during which he's appeared in more than 100 motion pictures.
General Info
| | |
| --- | --- |
| Full Name | Don Swayze |
| Net Worth | $5 million |
| Date Of Birth | August 10, 1958 |
| Height | 1.84 m |
| Profession | Stunt Performer |
| Education | Beverly Hills Playhouse Acting School |
| Nationality | American |
Family
| | |
| --- | --- |
| Spouse | Charlene Lindstrom, Marcia Swayze |
| Children | Danielle Swayze |
| Parents | Jesse Wayne Swayze, Patsy Yvonne Helen Swayze |
| Siblings | Patrick Swayze, Sean Kyle Swayze, Bambi Swayze, Vickie Lynn Swayze |
Accomplishments
| | |
| --- | --- |
| Movies | The Appearing, Heathens and Thieves, Death Ring, Driving Force, Digital Man, Powder Blue, High Lonesome, Eye of the Stranger, Edge of Honor, Forced to Kill, Squanderers, Pontiac Moon, Ambush at Dark Canyon, Alamo: The Price of Freedom, The Tracker, Evasive Action, Prince of Bel Air, Lady Jayne: Kill... |
| TV Shows | Movie Stars |
Social profile links
Facts
| # | Fact |
| --- | --- |
| 1 | Together with his sister-in-law Lisa Niemi, he looked after his ailing brother Patrick Swayze and was at his bedside when he took his last breath after a long battle with cancer. |
| 2 | Has a daughter named Danielle (b. April 8th 1988). |
| 3 | Son of choreographer Patsy Swayze. |
| 4 | Studies acting with Milton Katselas at The Beverly Hills Playhouse. |
| 5 | Younger brother of Patrick Swayze, and brother-in-law of actress Lisa Niemi. |
Movies
Actor
| Title | Year | Status | Character |
| --- | --- | --- | --- |
| Beneath the Leaves | | post-production | Whitley Senior |
| Fragments from Olympus: The Vision of Nikola Tesla | | announced | |
| Holy Masquerade | | announced | Mark |
| Tucker's War | 2017 | TV Series | Charlie Caleb Carson |
| General Hospital | 2017 | TV Series | Buzz |
| Longmire | 2016 | TV Series | Jim Mackey |
| The Night Crew | 2015 | | Big Willy |
| Nellie | 2014/II | Short | Mr. Townsend |
| Sons of Anarchy | 2014 | TV Series | Carl Egan |
| Blood Type | 2014 | TV Mini-Series | James Ryder |
| The Appearing | 2014 | | Sheriff Hendricks |
| Iniquitous | 2014 | Short | John Duncan |
| The Bridge | 2013 | TV Series | Tampa Tim |
| Hawaii Five-0 | 2013 | TV Series | Lloyd Grimes |
| Southland | 2013 | TV Series | Gus Jameson |
| Ambush at Dark Canyon | 2012 | | Chale Lord |
| Heathens and Thieves | 2012 | | Sherman |
| Lizzie | 2012 | | Daniel Allen |
| Wilfred | 2012 | TV Series | Shady Guy |
| Miss Feet | 2011 | Short | Jesus |
| Days of Our Lives | 1983-2011 | TV Series | Pawn Broker / Rip |
| Passenger | 2010 | TV Series | Kylek |
| It's Always Sunny in Philadelphia | 2010 | TV Series | Ray |
| The Young and the Restless | 2010 | TV Series | Shaw Roberts |
| True Blood | 2010 | TV Series | Gus |
| Quit | 2010 | | Ward |
| Powder Blue | 2009 | | Bouncer |
| CSI: Crime Scene Investigation | 2008 | TV Series | Dave Bohr |
| Prairie Fever | 2008 | Video | James |
| The Colony | 2007/II | Short | State Dept. Official #1 |
| Cold Case | 2007 | TV Series | Grant Hall - 2007 |
| Criminal Minds | 2007 | TV Series | Charles Hankel |
| Mystery Woman: In the Shadows | 2007 | TV Movie | Bishop |
| Shark | 2006 | TV Series | Beau Dawkins |
| My Name Is Earl | 2006 | TV Series | Bail Bonds Man |
| Love, Inc. | 2006 | TV Series | Troy |
| The Visitation | 2006 | | Abe |
| The Cutting Edge: Going for the Gold | 2006 | Video | Obnoxious Guy |
| Without a Trace | 2005 | TV Series | Randy Stone |
| Charmed | 2005 | TV Series | Lucius |
| Carniv | 2003-2005 | TV Series | Tattooed Man |
| Waterborne | 2005 | | Otis |
| CSI: Miami | 2005 | TV Series | Norm Buford |
| NCIS | 2004 | TV Series | Logan Clay |
| Knuckle Sandwich | 2004 | | Larry |
| Karen Sisco | 2004 | TV Series | Jackie |
| The Division | 2001-2004 | TV Series | Gary Gold / Elvin 'Tupelo' Seaforth |
| Tremors | 2003 | TV Series | Orville James |
| Betrayal | 2003 | | Fred |
| V.I.P. | 2000-2002 | TV Series | Merrick |
| The X-Files | 2002 | TV Series | Terry Pruit |
| Beyond Belief: Fact or Fiction | 2000 | TV Series | William Pope |
| Movie Stars | 1999-2000 | TV Series | Don Swayze |
| The Prophet's Game | 2000 | | Joseph Highsmith |
| Evasive Action | 1998 | | Ian Kellen |
| Profiler | 1998 | TV Series | Gelb |
| The Magnificent Seven | 1998 | TV Series | Gage Lawless |
| Squanderers | 1996 | | Scott |
| Land's End | 1995 | TV Series | Thomas Dwayne Boller |
| Walker, Texas Ranger | 1995 | TV Series | Harry Peterson |
| Digital Man | 1995 | | Billy |
| Lois & Clark: The New Adventures of Superman | 1995 | TV Series | Jesse James |
| NYPD Blue | 1995 | TV Series | Alex |
| A Father for Charlie | 1995 | TV Movie | Reuben Cantwell |
| Pontiac Moon | 1994 | | Local |
| The Other Man | 1994 | | Curran |
| Forced to Kill | 1994 | | Dwayne |
| Broken Trust | 1993 | | Sgt. Barnes |
| Beach Babes from Beyond | 1993 | | Gork |
| Beyond Suspicion | 1993 | TV Movie | Duke |
| Murder, She Wrote | 1991-1993 | TV Series | Gus Tardio / Edge Potter |
| Renegade | 1993 | TV Series | John Poe / T-Bone |
| Eye of the Stranger | 1993 | | Rudy |
| Body of Influence | 1993 | Video | Biker |
| Death Ring | 1992 | Video | John Blackwell |
| Columbo | 1992 | TV Series | Albert Wagner |
| The New Adam-12 | 1991 | TV Series | Don |
| Payback | 1991 | | Jeremy |
| Edge of Honor | 1991 | | Ritchie |
| Dragnet | 1991 | TV Series | Pete Brown |
| The World According to Straw | 1990 | TV Movie | Abalone |
| Trapper County War | 1989 | | Walt Luddigger |
| Hunter | 1989 | TV Series | Lyle |
| Driving Force | 1989 | | Nelson |
| Matlock | 1989 | TV Series | Tommy Jenks |
| Guns of Paradise | 1989 | TV Series | Langston |
| Alamo: The Price of Freedom | 1988 | Short | James Bonham |
| The Tracker | 1988 | TV Movie | Brewer |
| Death Blow: A Cry for Justice | 1987 | | Andy |
| Shy People | 1987 | | Mark |
| L.A. Law | 1986 | TV Series | William Dollar |
| 1st & Ten: The Championship | 1986 | TV Series | Clay Daniels |
| The Fall Guy | 1986 | TV Series | Stretch |
| Tall Tales & Legends | 1986 | TV Series | Groom |
| Prince of Bel Air | 1986 | TV Movie | Darryl |
| J.O.E. and the Colonel | 1985 | TV Movie | Max Carney |
| Street Hawk | 1985 | TV Series | Pug |
| I Married a Centerfold | 1984 | TV Movie | Actor #2 |
Stunts
| Title | Year | Status | Character |
| --- | --- | --- | --- |
| Letters from a Killer | 1998 | stunt player | |
| Most Wanted | 1997 | stunts | |
| Drop Zone | 1994 | skydiving stunt performer | |
Thanks
| Title | Year | Status | Character |
| --- | --- | --- | --- |
| Miss Feet | 2011 | Short special thanks | |
| Hans, Lee & Papa Schultz | 2011 | Short special thanks | |
Self
| Title | Year | Status | Character |
| --- | --- | --- | --- |
| The Howard Stern Radio Show | 1999 | TV Series | Himself |
Archive Footage
| Title | Year | Status | Character |
| --- | --- | --- | --- |
| Joe Bob's Drive-In Theater | 1994 | TV Series | Biker |
| Matlock | 1991 | TV Series | Tommy Jenks |
Source:
IMDb
,
Wikipedia