Danny Pintauro:
• American actor born on 6 January 1976 in Milltown, New Jersey
• Best known for his role in the 1984 TV series "Who's The Boss?" and the 1982 film "Cujo"
• Graduated from Stanford University in 1998 with a Major in Drama and Theater
• Came out as homosexual in 1997
• Diagnosed as HIV positive in 2003, and has since become an activist for HIV awareness

Known for movies
Short Info
| | |
| --- | --- |
| Date Of Birth | January 6, 1976 |
| Spouse | Wil Tabares |
| Fact | Played Trumpet in Leland Stanford University Marching Band (LSJUMB) |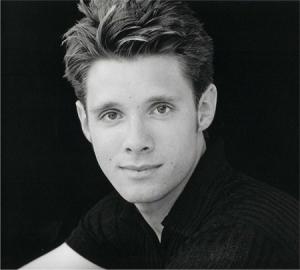 Danny Pintauro is an American actor born on 6 January 1976, in Milltown, New Jersey USA. He's best known for this role in the 1984 TV series "Who's The Boss", and in the film "Cujo" from 1982.
Early Life
Daniel John Pintauro was born the son of John J. Pintauro, a manager of Italian and Polish origins, and Margaret L. Pintauro, who worked as an agent. There's not much information about Danny's early life, childhood and education, however, it's known that in 1994 he took time away from his acting career to study in Middlesex County College in New Jersey, and then in Stanford University, from where he graduated with a Major in Drama and Theater in 1998. He also played in Leland Stanford University Marching Band, with the trumpet as his instrument.
Career
Debut: 1982 – 1983
Danny started his career at the very young age of seven years old, when in 1982 he made his acting debut in the series "As the World Turns", replacing actor Canaan Crouch in the role of Paul Ryan. He started this role on January 1983, and was eventually replaced by Elden Ratliff in February 1984.
His next role was Tad Trenton in the 1982 film "Cujo", directed by Lewis Teague, an adaptation of the screenplay by Don Carlos Dunaway and Lauren Currier based on the novel by Stephen King of the same name.
"Cujo" is the story of a St. Bernard dog named Cujo. The dog struggles with the rabies disease caused by the bite of a bat, which provokes several changes in its behavior.
After its owners get out of town to visit some relatives, Cujo becomes a blood-thirsty beast that kills everyone who comes close to the house. On the other side, Donna and her son Ted, who happened to arrive to Cujo's owners' house for a brief visit, are stuck in their car as they wait for an opportunity to escape Cujo.
The movie was released on 12 August 1983, and received poor reviews by critics, who described "Cujo" as 'cliché' and 'a mess'. However, nowadays the movie is regarded as a horror movie classic, and has gathered appreciation from fans of Stephen King's novel.
Who's the Boss and Other Projects: 1984 – 1992
In 1984 Danny Pintauro started his most memorable role in the series "Who's the Boss?" His role as Jonathan Bower would steal hearts around the US for the eight years the sitcom was on air on ABC, which lasted 196 episodes.
The show centers on the story of a former major league baseball player, Tony Micelli, and lawyer Angela Bower. Tony moves out to Connecticut along his daughter, Samantha to work as Angela's housekeeper, who has a son named Jonathan. The show breaks gender stereotypes about domesticity, and portrays intellectual and sensitive characters.
When the show was aired for the first time in September 1984 Danny Pintauro was only eight years old, and when it finished after eight seasons in April 1992 he was 16 years old.
During that time Danny worked in several other productions, such as the film "The Beniker Gang" in 1984 and in the TV-Movie "Timestalkers" from 1987.
The same year he was cast to appear in two episodes of the series "Highway to Hell" as Alex, then appeared as Kevin Worth in the TV-Movie "Jury Duty: The Comedy" in 1990. He also appeared in TV commercials for Liptons, Quacker Corn Brain and Lots-A-Noodles Cup-A-Soup. His constant work as an actor made him a present and memorable child-star in the 1980s and '90s.
Smaller Projects: 1992 – Present
After the end of "Who's the Boss?" Danny didn't receive many job offers as an actor, so he only participated in stage plays such as "The Velocity of Gary" and "Mommie Queerest". In 1994 he took a break from acting to focus on his studies, and it wasn't until 2001 that he made his TV comeback.
He appeared in the child-star edition of the TV-Show "The Weakest Link", but was voted off it in the fourth round.
Five years later in 2006, he appeared in the film "The Still Life" directed by Joel Miller, a story about Julian Lamont, an artist who struggles to put his life together. Danny had the role of Stefan in this film.
In 2010, Danny participated in two TV series: "The Secret Life of the American Teenager", and as Milton in "Laugh Track Mash-ups". In 2017, Danny was cast in the role of Gary in the TV series "Unsure/Positive", which tells the story of Kieran McCullay, who is diagnosed as HIV positive and tries to find the courage to tell his family and friends about it. Although the show started filming in 2017, it hasn't been to air yet. In 2020 Danny appeared in "The Quarantine Bunch", in which various former child-stars encourage people to stay home during the COVID-19 spread, by streaming various situations through Zoom.
Other Jobs
As of 2020, Danny works in Las Vegas at Austin Pets Alive, an organization aiming to preserve animal life.
Personal Life
Sexuality
Danny Pintauro came out as homosexual in 1997, after the tabloid "National Enquirer" threatened to reveal it for him. He said: 'I couldn't deny it anymore. It was just the right time (post-Ellen) to come out… I'm proud to be gay'. Years later, Danny also said that he wanted to be a 'beacon of light' for the LGBT community.
Health
In an interview with Oprah Winfrey in 2015, Danny reveled that he was diagnosed in March 2003 as HIV Positive. 'I'm HIV positive' he said to Winfrey. 'And I have been for 12 years.' 'I went in for a regular checkup.
You know, as a responsible gay man, you're getting an HIV test done every six months …. And you sort of waited two weeks on pins and needles, or at least I did, because I was just terrified of the idea of getting HIV.'
However, his diagnosis was relieving for Pintauro: 'You've spent so much time terrified that you're going to get it, and then you have it. You don't have to be terrified anymore'.
Addiction
Danny also revealed to Oprah that at the time he got HIV, he was struggling with his addiction to Crystal meth. He revealed to People magazine that he started using drugs to explore his sexuality more deeply: 'crystal meth takes away your inhibitions – you have no limits'. He continued 'On crystal meth, you have no boundaries, you feel invincible. You feel incredibly heightened when it comes to your sexuality, and everything sounds and feels exciting to you'.
He also revealed how his addiction was consuming his life: 'It would make me so angry with myself that I had done it, and that I was now suffering through this three-day period of nonsense that I couldn't even go to work or find a job or make something happen or even make myself some food. For me, that was so deeply upsetting, and it made me so angry that that was enough'.
Danny hasn't consumed any drugs since quitting in 2005.
Marriage
Danny Pintauro married his boyfriend Wil Tabares on 3 April 2014, one year after their engagement, in a small and intimate beach ceremony. Pintauro told US Magazine: 'The wedding was terrific and everyone was so happy to be there. We had fun!'.
Net Worth
Danny Pintauro has an estimated net worth of $600,000 as of early 2020, which is a result of his work as an actor, and as an Austin Pets Alive's employee.
Appearance
Danny is a man of white ethnicity, with green eyes and blond hair. He's 5ft 9ins (1.75m) tall.
Interesting Facts
Danny Considers actress Judith Light as his 'TV mom', as she acted that role in the TV series "Who's the Boss?".
In 1997 after the National Enquirer threatened to reveal his sexuality, Danny asked Judith for advice on what he should do in such a situation. She encouraged him to say the truth: 'as long as you give really responsible and mature answers, it can't be a bad article'.
After Danny reveled himself as HIV positive, he has become an activist for HIV awareness.
General Info
| | |
| --- | --- |
| Full Name | Danny Pintauro |
| Date Of Birth | January 6, 1976 |
| Height | 1.7 m |
| Profession | Actor |
| Education | Stanford University |
| Nationality | American |
Family
| | |
| --- | --- |
| Spouse | Wil Tabares |
| Parents | John J. Pintauro, Margaret L. Pintauro |
Accomplishments
| | |
| --- | --- |
| Movies | The Still Life, The Great American Sex Scandal, The Beniker Gang, Cujo |
| TV Shows | As the World Turns, Who's the Boss?, 100 Greatest Kid Stars |
Social profile links
Quotes
| # | Quote |
| --- | --- |
| 1 | "Judith and Tony are still like parents to me" says Pintauro, of his former co-stars of Who's the Boss? (1984). |
| 2 | It turned into a positive thing. I had nothing to hide. I was not at all secretive about it. There was nobody in my life who didn't know. -Dan Pintauro, on why he spoke publicly about being gay |
Facts
| # | Fact |
| --- | --- |
| 1 | Revealed that he has been HIV positive since 2003. |
| 2 | His father's ancestry is Italian and Polish. |
| 3 | Appearing as Puck in a production of "A Midsummer Night's Dream" at a small theater in Ithaca, NY [August 2001] |
| 4 | Married partner Wil Tabares on April 3, 2014 after a year-long engagement. |
| 5 | Is an only child. |
| 6 | He donated many items to Rocky Stone to be given to less fortunate kids as part of the Toy Mountain Campaign. |
| 7 | Enjoys watching old reruns of Who's the Boss? (1984). For him, he says, it's like looking through an old yearbook. |
| 8 | Came out as gay in July 1997 (interview with National Enquirer) |
| 9 | Played Trumpet in Leland Stanford University Marching Band (LSJUMB) |
| 10 | Graduated Stanford University [June 1998] |
| 11 | A man charged with writing harassing letters to Danny, committed suicide in 1990. |
| 12 | Is an Eagle Scout |
| 13 | Majored in drama at Stanford University |
Pictures
Movies
Actor
| Title | Year | Status | Character |
| --- | --- | --- | --- |
| Laugh Track Mash-ups | 2010 | TV Series | Milton |
| The Secret Life of the American Teenager | 2010 | TV Series | |
| The Still Life | 2006 | | Stefan |
| Who's the Boss? | 1984-1992 | TV Series | Jonathan Bower |
| The Great American Sex Scandal | 1990 | TV Movie | Kevin Worth |
| Highway to Heaven | 1987 | TV Series | Alex |
| Timestalkers | 1987 | TV Movie | Billy McKenzie |
| The Beniker Gang | 1985 | | Ben Beniker |
| Cujo | 1983 | | Tad Trenton |
| As the World Turns | 1956 | TV Series | Paul Ryan #1 (1982-1985) |
Thanks
| Title | Year | Status | Character |
| --- | --- | --- | --- |
| Dog Days: The Making of 'Cujo' | 2007 | Video documentary short special thanks - as Dan Pintauro | |
Self
| Title | Year | Status | Character |
| --- | --- | --- | --- |
| One on One with Jasper Cole | 2015 | TV Series | Himself - Guest |
| The View | 2015 | TV Series | Himself |
| Entertainment Tonight | 2010-2015 | TV Series | Himself |
| Oprah: Where Are They Now? | 2015 | TV Series | Himself |
| Dog Days: The Making of 'Cujo' | 2007 | Video documentary short | Himself |
| Child Star Confidential | 2006 | TV Series documentary | Himself |
| E! True Hollywood Story | 2005 | TV Series documentary | Himself |
| The Tony Danza Show | 2005 | TV Series | Himself / Jonathan Bower |
| The Greatest | 2005 | TV Series documentary | Himself |
| The 100 Scariest Movie Moments | 2004 | TV Mini-Series documentary | Himself |
| TV Tales | 2002 | TV Series | Himself |
| Weakest Link | 2001 | TV Series | Himself |
| The Chuck Woolery Show | 1991 | TV Series | Himself |
| The Horror Hall of Fame | 1990 | TV Movie documentary | Himself - Presenter |
| Fox's Fun House | 1988-1990 | TV Series | Himself - Celebrity Contestant |
| The New Hollywood Squares | 1987 | TV Series | Guest Appearance |
| A.M. Los Angeles | 1987 | TV Series | Himself |
| The Tonight Show Starring Johnny Carson | 1986 | TV Series | Himself |
| Tonight | 1986 | TV Series | Himself |
| Star's Table | 1986 | TV Series | Himself |
Archive Footage
| Title | Year | Status | Character |
| --- | --- | --- | --- |
| Entertainment Tonight | 2014-2015 | TV Series | Himself / Himself - Who's the Boss |
| TV's Greatest Sidekicks | 2004 | TV Special | |
Awards
Won Awards
| Year | Award | Ceremony | Nomination | Movie |
| --- | --- | --- | --- | --- |
| 1987 | Young Artist Award | Young Artist Awards | Exceptional Performance by a Young Actor in a Long Running Series Comedy or Drama | Who's the Boss? (1984) |
Nominated Awards
| Year | Award | Ceremony | Nomination | Movie |
| --- | --- | --- | --- | --- |
| 1990 | Young Artist Award | Young Artist Awards | Best Young Actor Starring in a Television Series | Who's the Boss? (1984) |
| 1989 | Young Artist Award | Young Artist Awards | Best Young Actor - Starring in a Television Comedy Series | Who's the Boss? (1984) |
| 1988 | Young Artist Award | Young Artist Awards | Exceptional Performance by a Young Actor in a Television Comedy Series | Who's the Boss? (1984) |
| 1986 | Young Artist Award | Young Artist Awards | Best Young Supporting Actor in a Television Series | Who's the Boss? (1984) |
| 1984 | Young Artist Award | Young Artist Awards | Best Young Supporting Actor in a Motion Picture | Cujo (1983) |
Source:
IMDb
,
Wikipedia