• Bonnie Somerville is a model, singer and actress from Brooklyn, New York City, USA.
• She was raised by her Catholic mother and was always drawn to singing and acting.
• Somerville attended The Boston College and was discovered by a modelling scout at age 2•
• She has appeared in various Hollywood films and TV series, such as "FRIENDS" and "The O.C.".
• As of 2020, Bonnie's net worth is estimated at $5 million with physical measurements of 35-24-36.

Known for movies
Short Info
| | |
| --- | --- |
| Date Of Birth | February 24, 1974 |
| Fact | When Bonnie is not busy working, she enjoys singing in local clubs, playing volleyball and skiing. |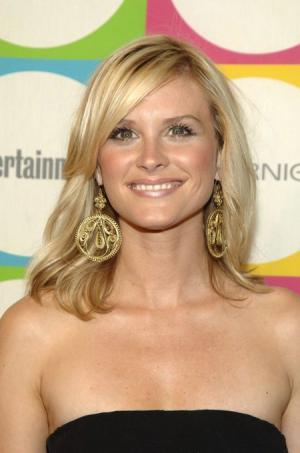 Introduction
Blonde bombshell Bonnie Somerville is known for more than just her looks. Somerville has made a name for herself as a model, singer and actress in Hollywood. Appearing in various big-name films along with some well-seasoned actors, she is definitely not to be underestimated.
Early Life
On the 24 February 1974 in Brooklyn, New York City USA, Bonnie Somerville was born. She was raised by her catholic mother; her relationship with her father has never been reported, but it is known that Bonnie comes from a very large family, as her mother is one of nine children.
Her mother has said that Bonnie was always drawn to singing and acting, constantly putting on little performances for her at home. Later in life when Somerville was asked what inspired her to be a performer, she said 'My mom took me to see Annie on Broadway when I was little, and I just wanted to be doing what those other girls were doing.'
Early Education
Somerville was sent to the Poly Preps Country Day School in Bay Ridge, Brooklyn, where she was a cheerleader, as well as taking part in as many community theatre productions and school plays as she possibly could.
After matriculating, Bonnie went on to major in Musical Theatre at The Boston College in Massachusetts, USA.
Career
At the age of 22 Bonnie was discovered by a modelling scout while at her job as a waitress. She pursued modelling for a short while, before quitting and moving to Los Angeles, California, to try her hand in music. It wasn't long before Somerville formed a band and found an agent to represent her. Her first claim to fame was appearing on Joshua Radins's first album as a back-up singer.
"Winding Road" one of Somerville's song was part of the soundtrack for the movie "The Garden State", which was a film directed and written by Zach Braff who Bonnie would later date.
Her first acting job was in 1996 as an extra in the movie "City Hall".  The first big role she was cast for was as the lead actress in the miniseries "Shake, Rattle and Roll: An American Love Story" which began in 1999 – she also sang for the soundtrack. The next year Bonnie starred in "Grosse Pointe" before going on to play as Rachel Hoffman, a colleague of Sandy Cohen in the first season of 'The O.C'.
Bonnie scored a recurring role in the eighth season of the hit series "FRIENDS" as the girlfriend of main character Ross Geller, appearing in seven episodes.  For the final season of "NYPD Blue", Somerville played a supporting role for fifteen episodes as Detective Laura Murphy. In 2005 Somerville starred alongside Hollywood actor Bradley Cooper in "Kitchen Confidential" – unfortunately the series was cancelled after just one season, but that wasn't the end for Bonnie. In 2008 she starred in "Cashmere Mafia" with Frances O'Connor, Lucy Liu, and Miranda Otto as well as being a guest star in "Gary Unmarried".
Sommerville went on appear in some big Hollywood movies, such as "Without a Paddle", "The Ugly Truth", "Spiderman 2" and "Labour Pains". In 2010 Somerville started alongside Neil Patrick Harris in "The Best and the Brightest", an independent comedy in which she played Sam, a character who moved to The Big Apple with her partner and child, where she tries to get her daughter into a very prestigious preschool.
Other relationships
Bonnie started dating actor/director Zach Braff in 2003.
Braff is possibly best known from appearing in the television series "Scrubs" in the lead role, and was nominated for Outstanding Lead Actor in a comedy series by Primetime Emmy Awards, and was also nominated for three Golden Globe Awards between 2005 and 2007. Zach and Bonnie's courtship was brief, lasting not even a year. Somerville wasn't reported with anyone else untill 2009 when she came out as dating Dave Salmoni, an entertainer, television producer and animal trainer based in South Africa, specializing in wildlife films.
On the 13th of August 2016 Bonnie posted a picture on Instagram with Irishman Nick Lee.
She is rumoured to be dating Lee since the August of 2015, and since the post Bonnie hasn't been shy to put her relationship with Nick on Social Media, on holiday together in Venice Beach as well as many posts of the two of them sharing some great times together. For her birthday in Febuary Bonnie posted a picture with a caption saying she had an amazing birthday weekend and she hints at how madly in love they are with each other. However amoungst all the pictures on Instagram there is no hint as to if or when they will tie the knot.
Net worth/ salary
Somerville's net worth as of early 2020 is estimated at close to  $5 million.
Physical characteristics
Bonnie's looks have aided her pursuit of fame, and people have taken notice. All her measurements and physical attributes are very well documented – she is 120lbs (54kgs), 5ft 8ins (1.73m) tall, and the vital statistics of her hourglass shape are 35-24-36. Her bra size is a 34C, shoe size is 10 US, and dress size is four.
General Info
| | |
| --- | --- |
| Full Name | Bonnie Somerville |
| Date Of Birth | February 24, 1974 |
| Height | 1.73 m |
| Profession | Actor, Singer |
| Education | Boston College, Poly Prep Country Day School, Lee Strasberg Theatre and Film Institute |
| Nationality | American |
Accomplishments
| | |
| --- | --- |
| Movies | The Ugly Truth, Holiday Engagement, Without a Paddle, Mom's Day Away, Fire with Fire, Labor Pains, The Search for Santa Paws, The Best and the Brightest, Bedazzled, Wedding Wars, Seven Below, Shake, Rattle and Roll: An American Love Story, Shades of Ray, Crime and Punishment in Suburbia, Sleep Easy,... |
| TV Shows | Golden Boy, Cashmere Mafia, Kitchen Confidential, NYPD Blue, In-Laws, Grosse Pointe, Code Black |
Social profile links
Quotes
| # | Quote |
| --- | --- |
| 1 | [on the pressure of working in the background, on Code Black (2015)] "You never know when the cameras will be on you," |
| 2 | [her view on Code Black (2015)] I've never seen anything like this on TV. You're seeing, what actually goes on. The accuracy and attention to detail...it's amazing. |
| 3 | My Mom took me to see Annie on Broadway when I was little and I just wanted to be doing what those girls were doing. I was that annoying little girl who sang the (Annie) soundtrack all the time. My Mom would be like, "please stop with the singing!". All I've ever wanted was to do a musical. |
| 4 | I'm always studying (acting) |
| 5 | It's always fun to play the bitch. |
Facts
| # | Fact |
| --- | --- |
| 1 | Was mugged in the early morning hours of October 18, 2008 after leaving a Hollywood launch party for a new T-Mobile cell phone by two men, one of whom shot and seriously wounded her boyfriend. |
| 2 | Irish-American. |
| 3 | Began a music career moving to Los Angeles at the age of 22, where she assembled a band and got an agent. |
| 4 | Is a regular guest on the Schmoes Know Movies podcast. |
| 5 | Sings female lead with "Band From TV", which also features Hugh Laurie, James Denton, Bob Guiney and Greg Grunberg. |
| 6 | Sang backup on Joshua Radin's very first record. |
| 7 | When Bonnie is not busy working, she enjoys singing in local clubs, playing volleyball and skiing. |
| 8 | She recorded the song "Winding Road" for the Grammy-winning soundtrack of her then boyfriend Zach Braff's movie Garden State (2004). He specifically requested a song from her for the soundtrack. |
| 9 | Her very first acting job was as an extra in the movie, City Hall (1996) |
| 10 | Was on the cover of Stuff magazine in May 2004, issue titled, "Girls of The O.C. (2003)" |
| 11 | Grew up in Flatbush, Brooklyn, went to Poly Prep High School in Bay Ridge, where she was a cheerleader. |
| 12 | Studied Musical Theatre at Boston College |
| 13 | Studied at the Lee Strasberg Theatre Institute. |
Pictures
Movies
Actress
| Title | Year | Status | Character |
| --- | --- | --- | --- |
| Love You Like Christmas | 2016 | TV Movie | Maddie Duncan |
| Pup Star | 2016 | Video | Emily Rose |
| Code Black | 2015-2016 | TV Series | Christa Lorenson |
| Pearly Gates | 2015 | | Sharon |
| Criminal Minds | 2015 | TV Series | Colleen Sullian |
| Motive | 2015 | TV Series | Erica Grey |
| The Prince | 2014/I | | Susan |
| Mom's Day Away | 2014 | TV Movie | Laura Miller |
| Golden Boy | 2013 | TV Series | Detective Deb McKenzie |
| Fire with Fire | 2012/II | | Karen Westlake |
| Santa Paws 2: The Santa Pups | 2012 | | Mrs. Paws (voice) |
| 7 Below | 2012 | | Brooklyn |
| The Mentalist | 2012 | TV Series | Eve Mulberry |
| Treasure Buddies | 2012 | Video | Mala (voice) |
| Other People's Kids | 2011 | TV Movie | Michelle |
| Holiday Engagement | 2011 | TV Movie | Hillary Burns |
| The Search for Santa Paws | 2010 | Video | Kate Huckle |
| The Best and the Brightest | 2010 | | Sam |
| Chasing Zero | 2010 | Short | Dr. Diane Rider |
| Royal Pains | 2010 | TV Series | Mindy |
| Off Duty | 2009 | TV Movie | Kim Roberts |
| Gary Unmarried | 2009 | TV Series | Leah |
| Nobody | 2009 | | Fiona |
| The Ugly Truth | 2009 | | Elizabeth |
| Labor Pains | 2009 | | Suzi Cavandish |
| Shades of Ray | 2008 | | Noel Wilson |
| Cashmere Mafia | 2008 | TV Series | Caitlin Dowd |
| Wedding Wars | 2006 | TV Movie | Maggie Welling |
| Jump | 2006 | TV Movie | Sam Boyd |
| The Danny Comden Project | 2006 | TV Movie | SAM |
| Jake in Progress | 2006 | TV Series | Laura Wiles |
| Kitchen Confidential | 2005-2006 | TV Series | Mimi |
| NYPD Blue | 2004-2005 | TV Series | Det. Laura Murphy |
| Without a Paddle | 2004 | | Denise |
| Spider-Man 2 | 2004 | | Screaming Woman (uncredited) |
| The O.C. | 2003 | TV Series | Rachel Hoffman |
| The Twilight Zone | 2003 | TV Series | Donna Saicheck |
| In-Laws | 2002-2003 | TV Series | Alex Pellet Landis / Alex Landis |
| Jack's House | 2003 | TV Movie | Wendy |
| Friends | 2001-2002 | TV Series | Mona |
| Count Me In | 2001 | TV Movie | Emmy |
| Grosse Pointe | 2000-2001 | TV Series | Courtney Scott |
| This Could Work | 2001 | TV Movie | |
| Tikiville | 2001 | TV Movie | |
| Sleep Easy, Hutch Rimes | 2000 | | Julie Proudfit |
| Bedazzled | 2000 | | Girl at Beer Garden |
| Crime + Punishment in Suburbia | 2000 | | Stuck Up Girl |
| Shake, Rattle and Roll: An American Love Story | 1999 | TV Movie | Lyne Danner |
| Beverly Hills, 90210 | 1999 | TV Series | Mary |
| Two Guys, a Girl and a Pizza Place | 1998 | TV Series | Cindy |
Soundtrack
| Title | Year | Status | Character |
| --- | --- | --- | --- |
| Mom's Day Away | 2014 | TV Movie performer: "Don't Stop" | |
| Holiday Engagement | 2011 | TV Movie performer: "Gloria in Excelecis Deo Angels We Have Heard on High" | |
| Hellcats | 2011 | TV Series writer - 1 episode | |
| Garden State | 2004 | performer: "Winding Road" / writer: "Winding Road" | |
| The Giving Tree | 2000 | performer: "Angel" / writer: "Angel" | |
Thanks
| Title | Year | Status | Character |
| --- | --- | --- | --- |
| Garden State | 2004 | special thanks | |
Self
| Title | Year | Status | Character |
| --- | --- | --- | --- |
| Entertainment Tonight | 2007-2015 | TV Series | Herself |
| The Talk | 2015 | TV Series | Herself - Guest |
| Home & Family | 2014 | TV Series | Herself - Guest |
| Band from TV: Hoggin' All the Covers | 2008 | Video | Herself |
| The Late Late Show with Craig Ferguson | 2008 | TV Series | Herself |
| Gays on Strike: The Truth Behind Wedding Wars | 2007 | Video documentary short | Herself |
| Chabad Telethon | 2006 | TV Movie | Herself |
| The Late Late Show with Craig Kilborn | 2004 | TV Series | Herself |
Archive Footage
| Title | Year | Status | Character |
| --- | --- | --- | --- |
| Entertainment Tonight | 2015 | TV Series | Herself |
Source:
IMDb
,
Wikipedia