• Barry Watson is an American actor who became famous for his role in the family drama series "7th Heaven"
• He matriculated from Richardson High in Texas and took acting classes at Linda Seto's Young Actors Studio for kids and teens
• He got his big break when he was part of the main cast of "7th Heaven" from seasons 1-6 and had a recurring role in seasons 7-9
• He was married to Laura Payne-Gabriel, Tracy Hutson, and Natasha Gregson Wagner and has three children
• He has a net worth of $1 million as of June 2020

Known for movies
Short Info
| | |
| --- | --- |
| Net Worth | $1 million |
| Date Of Birth | April 23, 1974 |
| Spouse | Natasha Gregson Wagner, Tracy Hutson, Laura Payne-Gabriel |
| Fact | On May 30, 2012, his girlfriend Natasha Gregson Wagner gave birth to their first child together, a daughter named Clover Clementyne. This is Barry's third child. |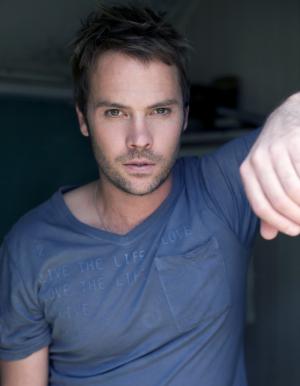 Barry Watson is an American actor, who became famous when he was cast as Matt Camden in the most watched family drama series on the WB, entitled "7th Heaven."
Early life and family
Michael Barrett Watson was born on 23 April 1974, in Traverse City, Michigan USA, to parents, Michael and Karen. His father is a lawyer, while his mother is a paralegal. He has three siblings, namely Scott, Christie, and Kip. His family relocated to Dallas, Texas when he was eight years old, but his parents divorced when he was 14.
Education background
He matriculated in 1992 from Richardson High in Texas.
Career
First steps
His career as a model started in Dallas, when he took acting classes at Linda Seto's Young Actors Studio for kids and teens. When he was 15, he moved to Burbank, California, and was cast in a minor role in NBC's daytime soap opera, "Days of Our Lives," that lasted for six months in 1990, after which he returned to Texas to finish high school. At age 19, he returned to Los Angeles and attended several auditions, but meantime he parked cars at the House of Blues nightclub to support himself.
Barry was cast for small roles in "The Nanny" (1994) and "Sister Sister' (1995), then the following year he had more luck as he worked in various series and TV movies, including "Baywatch," "Co-ed Call Girl" and "Nash Bridges."
He also appeared in a handful of episodes of Aaron Spelling's teen drama, "Malibu Shores."
Further success
Television
"7th Heaven"
His biggest break came when he landed a major role in the WB family drama, "7th Heaven," which revolved around the suburban middle-class Camden family in the fictional Glenoak town in California. He portrayed the role of Matthew "Matt" Camden, the eldest of seven children of Reverend Eric Camden played by Stephen Collins, and Annie Camden played by Catherine Hicks. It was produced by Aaron Spelling, and ran for 11 seasons from August 1996 to May 2007 with 243 episodes, Barry appearing in 155 of them, as he was part of the main cast from seasons one through six, had a recurring role on its 7th and 8th seasons, a series regular again in its 9th season, and a special guest in its 10th season.
Barry also wrote the "Peer Pressure" episode in 2002, and tried his hand at directing in "The Rat's Out of the Bag" and "Brotherly Love" episodes in 2005. The series was considered one of the most family-friendly shows, and was the most watched series on the WB at that time, but the ratings dropped when it was moved to the CW for the 11th and final season. It received good reviews, although some criticized it for having a predictable plot, and for showing a caricature of an American family that seemed unreal.
Being part of a successful series made him popular, so it wasn't surprising that he was cast for the lead role as Brian Davis in Bad Robot Productions and Touchstone Television's comedy drama "What About Brian?", that premiered on ABC in August 2006; it ended in March 2007 after two seasons with 25 episodes.
Another main role came his way when he was cast as Todd Deepler in the ABC sitcom "Samantha Who?", along with Christina Applegate and Jennifer Esposito that debuted on 15 October 2007; only 15 out of 22 episodes were produced because of the Writers Guild of America strike at that time. The studio ordered 20 episodes for its second season, but because of budget cuts it went on hiatus for a few months, then resumed airing in a different time slot, with ratings that continued to drop up to the last episode.
Most of the projects that followed were guest appearances for a single episode in various television series, but also recurring roles in season six of "Gossip Girl" (2012), season three of "Heart of Dixie" (2014), and season two of "Masters of Sex" (2014).
He was able to get a lead role again in the comedy drama "Date My Dad" (2017), but it lasted for only one season with 10 episodes. His most recent television projects include a recurring role as Lachlan Murdoch in the miniseries "The Loudest Voice" (2019), and a guest-starring role in the 10th episode of season two of the Hulu Original horror anthology series entitled "Into the Dark" in 2020.
Movie
He made his movie debut in the dark comedy thriller "Teaching Mrs. Tingle" (1999), starring Helen Mirren and Katie Holmes. It had an unsuccessful theatrical run and attracted mostly negative reviews from the critics.
Watson made a cameo as himself in the 2001 heist movie, "Ocean's Eleven," which had gross earnings of $450 million worldwide and received positive reviews from critics.
He was one of the actors whom Rusty, played by Brad Pitt, was teaching how to play poker.
In 2005, he was cast for the lead role in the supernatural horror movie, "Bogeyman," which had a worldwide gross of almost $70 million against a $20 million production budget. He stopped making movies for a while during the time he was busy doing soap operas, so his next movie wasn't until 2011 in the romantic drama, "The Chateau Meroux." His most recent film was "A Dog's Way Home" (2019), which was a box-office success with a worldwide gross of more than $80 million.
Personal life
Barry and Natasha Gregson Wagner were married on 21 December 2014, and they have a daughter named Clover Clementyne who was born on 30 May 2012.
The couple along with 8-year-old Clover, 15-year-old Oliver, and 12-year-old Felix live in a four-bedroom house in a 5,000-squar foot Venice property in California.
Who is Natasha Gregson Wagner?
American actress Natasha was born on 29 September 1970, in L.A. to Russian-American actress, Natalie Wood, and British producer Richard Gregson. Her mom filed for divorce two years into the marriage, when Natasha was just a 10-month-old baby.
Natalie married the actor Robert Wagner in 1957, divorced him in 1962, and then they remarried in 1972. Her mother drowned in 1981 at age 43 – she was aboard her family's yacht near Santa Catalina Island on a Thanksgiving weekend with her husband Robert, Christopher Walken and Dennis Davern, who was the boat captain; her body was said to be found floating in the water the following day.
Her death was ruled as an accidental drowning after a two-week investigation, however, her case was reopened in 2011 when the boat captain changed his statement, saying that he lied back then and that he believed Wagner had something to do with her death. He said they didn't look too hard, didn't open the search light, and didn't notify the authorities right away. Robert became a person of interest in 2018 in the ongoing investigation; he maintained his innocence and refused to be interviewed.
Natasha made her debut on the big screen in 1992 in "Fathers & Sons", and on television in 1993 in "Tainted Blood." She has been in over 60 films and TV programs in the 28 years she has been in the entertainment business.
Her most recent TV appearances have been in the "Moving On" episode in "Date My Dad" (2017), and in the HBO documentary, "Natalie Wood: What Remains Behind," in 2020 that she also produced. She was previously married to D.V. DeVincentis in 2003 and divorced in 2008.
Previous relationships
Barry is thrice married and twice divorced; he met his first wife, actress Laura Payne-Gabriel, through Tori Spelling whom he had worked before in the television movie, "Co-ed Call Girl," in 1996. Laura appeared as one of the Go-Go dancers in the movie, "Austin Powers: International Man of Mystery," in 1997.
The two were married on 27 November 1997, and divorced in 2002.
His second wife was Tracy Hutson, a style consultant on ABC's reality TV show "Extreme Makeover: Home Edition" from 2003 to 2012. She also pursued an acting career, and was cast as an adult film star and secretary in the 2000 TV movie "Rated X," with Charlie Sheen and Emilio Estevez in an episode of the TV series "The Huntress" in 2001. Barry and Tracy were classmates in high school, and even dated when they were in their twenties. They were married on 14 July 2006 and had two children, namely Oliver and Felix, before they divorced in 2011.
Thanks Lilah:) miss you girls❤️ https://t.co/Y4y5Ab3WZu

— Barry Watson (@realBarryWatson) April 24, 2020
Interesting facts and rumors
In May 2002, Barry was diagnosed with Hodgkin disease, and had to take a break from "7th Heaven" while he received treatment. He went into remission in April 2003, and returned to work.
He said he was bullied when he was in junior high, as he was the only one sporting a long hair, and had a pierced ear.
His kitchen is his favorite place in the house, as he considers cooking as his detox from working, so cooks for his children whenever he can. The cooking area is off-limits to the kids, as they have a pantry where they can get whatever they need.
Appearance
He is 6ft (1.84m) tall and weighs 174lbs (79 kg). He has dark brown hair and dark brown eyes.
Net worth
Barry Watson has a net worth estimated at $1 million as of June 2020, according to sources.
General Info
| | |
| --- | --- |
| Full Name | Barry Watson |
| Net Worth | $1 million |
| Date Of Birth | April 23, 1974 |
| Height | 1.82 m |
| Profession | Actor, Television Director |
| Education | Richardson High School |
| Nationality | American |
Family
| | |
| --- | --- |
| Spouse | Natasha Gregson Wagner, Tracy Hutson, Laura Payne-Gabriel |
| Children | Clover Clementyne Watson, Felix Watson, Oliver Watson |
| Parents | Michael Watson, Linda Watson |
| Siblings | Christie Watson, Scott Watson, Kip Watson |
Accomplishments
| | |
| --- | --- |
| Awards | Teen Choice Award for Choice TV Actor - Drama/Action Adventure |
| Nominations | MTV Movie Award for Best Kiss, Teen Choice Award for Choice Movie: Chemistry, Teen Choice Award for Choice TV Actor: Comedy, Teen Choice Award for Choice Movie Actor: Comedy, Teen Choice Award for TV - Choice Actor |
| Movies | Boogeyman, Sorority Boys, Teaching Mrs. Tingle, My Future Boyfriend, When Strangers Appear, The Chateau Meroux, Love on the Side, Far from Home, Kiss at Pine Lake, Co-ed Call Girl, Attack of the 50 Ft. Woman, Search Engines, Rip City |
| TV Shows | Samantha Who?, 7th Heaven, What About Brian |
Social profile links
Quotes
| # | Quote |
| --- | --- |
| 1 | It was tough trying to figure out how to put on all the women's clothes. |
| 2 | I want to try and do as much as I can as an actor. So far I think I've done pretty well with being a minister's son. And now I know I'm pretty darn good at playing a woman too. |
| 3 | I did. I did see Bigfoot when I was a kid and I still believe it to this day. I saw a big furry man outside my window. It's not funny! It was real. |
| 4 | I grew up in Dallas, with cowboys. I was the only guy in sixth grade with long hair and an earring. Let's just say I got a lot of, er, flak for being different. |
| 5 | In most horror films, you don't really get to understand why this character is the way he is. |
| 6 | Helen Mirren is like the sexiest woman on the planet to me. She is. Just the way she goes about everything. |
| 7 | I think most people, even if they say they hate horror movies, there's that feeling you get inside that you love. I mean, I love it. I love to have the hairs on the back of my neck stand up or get that chill up my spine. |
Facts
| # | Fact |
| --- | --- |
| 1 | Hodgkins is in remission and he is writing for 7th Heaven (1996). [October 2002] |
| 2 | Starred on "Drop Dead Diva" as accountant dressed as a clown because of death of wife. (2nd season; 11th show). "Good Grief" [August 2010] |
| 3 | On May 30, 2012, his girlfriend Natasha Gregson Wagner gave birth to their first child together, a daughter named Clover Clementyne. This is Barry's third child. |
| 4 | Is an avid basketball fan and often attends Los Angeles Clippers home games. |
| 5 | Got engaged to his second wife Tracy Hutson on August 3, 2004. They married in July 14, 2006. They have two sons named Oliver Watson (b. May 2, 2005) and Felix Watson (b. November 13, 2007). Tracy and Barry later divorced in 2011. |
| 6 | Studied acting at the Dallas Young Actors Studio. |
| 7 | April 2003 - Barry's cancer is reported in remission. He returned for the 150th episode of his TV series, 7th Heaven (1996). |
| 8 | Diagnosed with Hodgkin's disease, and began treatment for it, May 2002. |
Pictures
Movies
Actor
| Title | Year | Status | Character |
| --- | --- | --- | --- |
| An Hour Behind | 2017 | post-production | Parker |
| Murder in the First | 2016 | TV Series | Nick Rosenthal |
| Search Engines | 2016 | | David |
| Ominous | 2015 | TV Movie | Michael Young |
| Santa Con | 2014 | | Nick DeMarco |
| Masters of Sex | 2014 | TV Series | Shelley Decklin |
| Hart of Dixie | 2014 | TV Series | Davis Polk |
| Far from Home | 2014 | TV Movie | Nicholas Boyd |
| Wilfred | 2013 | TV Series | Michael McDerry |
| Wedding Band | 2012 | TV Series | Boboroff |
| Gossip Girl | 2012 | TV Series | Steven Spence |
| Kiss at Pine Lake | 2012 | TV Movie | Luke Garvey |
| Rip City | 2011 | TV Movie | Frank Madigan |
| The Chateau Meroux | 2011 | | Chris |
| My Future Boyfriend | 2011 | TV Movie | Pax |
| Drop Dead Diva | 2010 | TV Series | Evan Robbins |
| Samantha Who? | 2007-2009 | TV Series | Todd |
| What About Brian | 2006-2007 | TV Series | Brian Davis |
| 7th Heaven | 1996-2006 | TV Series | Matt Camden |
| Boogeyman | 2005 | | Tim |
| Love on the Side | 2004 | | Jeff Sweeney |
| Sorority Boys | 2002 | | Dave Daisy |
| When Strangers Appear | 2001 | | Jack Barrett |
| Teaching Mrs. Tingle | 1999 | | Luke Churner |
| Malibu Shores | 1996 | TV Series | Seth |
| Nash Bridges | 1996 | TV Series | Trent |
| Co-ed Call Girl | 1996 | TV Movie | Jack Collins |
| Baywatch | 1996 | TV Series | Thomas Edward 'Cowboy' O'Hara |
| Sister, Sister | 1995 | TV Series | Barney |
| The Nanny | 1994 | TV Series | Greg |
| Attack of the 50 Ft. Woman | 1993 | TV Movie | Teen Boy |
| Fatal Deception: Mrs. Lee Harvey Oswald | 1993 | TV Movie | Young Guy at TV Station |
| Days of Our Lives | 1965 | TV Series | Randy (1990) |
Miscellaneous
| Title | Year | Status | Character |
| --- | --- | --- | --- |
| 7th Heaven | 2002-2003 | TV Series story editor - 22 episodes | |
Director
| Title | Year | Status | Character |
| --- | --- | --- | --- |
| The Secret Life of the American Teenager | 2010 | TV Series 1 episode | |
| 7th Heaven | 2005 | TV Series 2 episodes | |
Writer
| Title | Year | Status | Character |
| --- | --- | --- | --- |
| 7th Heaven | 2002 | TV Series writer - 1 episode | |
Soundtrack
| Title | Year | Status | Character |
| --- | --- | --- | --- |
| 7th Heaven | 1999 | TV Series performer - 1 episode | |
Self
| Title | Year | Status | Character |
| --- | --- | --- | --- |
| All That | 1994 | TV Series | Himself |
| The Bonnie Hunt Show | 2009 | TV Series | Himself - Guest |
| Ellen: The Ellen DeGeneres Show | 2006-2009 | TV Series | Himself - Guest |
| Calling All Friends: The Story of 'What About Brian' | 2007 | Video documentary short | Himself - Actor |
| What About 3: The Season That Never Was | 2007 | Video documentary short | Himself - Actor |
| Last Call with Carson Daly | 2006 | TV Series | Himself - Guest |
| The Late Late Show with Craig Ferguson | 2005 | TV Series | Himself - Guest |
| The Rosie O'Donnell Show | 1999-2002 | TV Series | Himself - Guest |
| Ocean's Eleven | 2001 | | Himself (uncredited) |
| The Teen Choice Awards 2001 | 2001 | TV Special | Himself |
Archive Footage
| Title | Year | Status | Character |
| --- | --- | --- | --- |
| Entertainment Tonight | 2016 | TV Series | Himself |
| Gossip Girl: XO XO | 2012 | TV Movie documentary | Steven Spence |
| 7th Heaven | 2003-2006 | TV Series | Matt Camden |
| Baywatch | 1997 | TV Series | Thomas Edward 'Cowboy' O'Hara |
Awards
Won Awards
| Year | Award | Ceremony | Nomination | Movie |
| --- | --- | --- | --- | --- |
| 2002 | Teen Choice Award | Teen Choice Awards | TV - Choice Actor, Drama | 7th Heaven (1996) |
Nominated Awards
| Year | Award | Ceremony | Nomination | Movie |
| --- | --- | --- | --- | --- |
| 2008 | Teen Choice Award | Teen Choice Awards | Choice TV Actor: Comedy | Samantha Who? (2007) |
| 2002 | Teen Choice Award | Teen Choice Awards | Film - Choice Actor, Comedy | Sorority Boys (2002) |
| 2001 | Teen Choice Award | Teen Choice Awards | TV - Choice Actor | 7th Heaven (1996) |
| 2000 | MTV Movie Award | MTV Movie Awards | Best Kiss | Teaching Mrs. Tingle (1999) |
| 2000 | Teen Choice Award | Teen Choice Awards | Film - Choice Chemistry | Teaching Mrs. Tingle (1999) |
| 1999 | Teen Choice Award | Teen Choice Awards | TV - Choice Actor | 7th Heaven (1996) |
| 1999 | Young Artist Award | Young Artist Awards | Best Performance in a TV Series - Young Ensemble | 7th Heaven (1996) |
Source:
IMDb
,
Wikipedia