• Aimee Rachel Osbourne is an actress and musician, daughter of Ozzy and Sharon Osbourne.
• She started her career as a child in documentaries and MTV's "Wuthering Heights" and released music under the pseudonym ARO.
• She declined to appear in the family's MTV reality show, "The Osbournes".
• She is heavily influenced by Portishead, Kate Bush, Massive Attack, and PJ Harvey.
• Aimee has an estimated net worth of $5 million.

Known for movies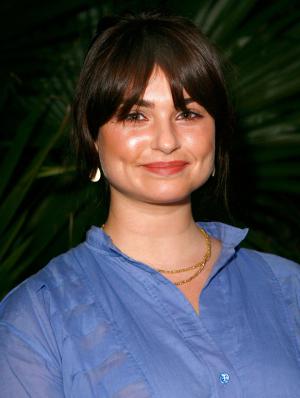 Aimee Rachel Osbourne is an actress and a musician who is more famous for her music, and for being the daughter of Ozzy Osbourne and Sharon Osbourne.
Early Life and Childhood
Aimee Osbourne was born on 2 September 1983, in London, England, to parents Ozzy Osbourne and Sharon Osbourne. She grew up with two siblings – Jack Osbourne who was born on 8 November 1985 and Kelly Osbourne who was born on 27 October 1984. She also has three step-siblings that her father sired with his ex-wife Thelma Riley, Elliot Kingsley, Jessica Osbourne and Louis Osborne. Her maternal grandfather Don Arden is also a popular name in the music industry, whose real name was Harry Levy and was a music manager. Aimee and her family had unresolved differences and that's why she left home when she was just 16.
Education
Where Aimee attended high school is not evident to us at the moment, however, she apparently quit studies when she left home.
Career
Films
Aimee started her career as young as eight years old when she appeared as a child in some documentaries related to her father's career. She also appeared in 1998 in "The Howard Stern Show". In 2002, she voiced the audiobook "Officially Osbourne: Opening the Doors to the Land of Oz". She gained mainstream success as an actor in 2003, when she was selected in MTV's adaptation of "Wuthering Heights" in which where she played alongside Katherine Heigl, Erika Christensen and Mike Vogel. In 2014, she worked as a voice actor for "Postman Pat: The Movie" and voiced the character of Amy Wrigglesworth.
Music
She took up the pseudonym ARO which are her initials and started recording music and releasing it as well. Her musical style has been characterized as synth-pop, which is a drastic contrast to her father's musical style that is described as heavy metal. In 2015, she released her debut music video entitled "Raining Gold". The single was a massive success and gained 2.5 million views on YouTube in just two months. She described her music as 'The rest of the album is still very much kind of cinematic, haunting, and atmospheric feel. Some of the songs are a little heavier; some of the songs are bit more sweet (sic), but still kind of spooky in a way.' She has performed in three live shows – Union Pool and Mercury Lounge both in New York in April 2015, and The Echo in Los Angeles on 9 February 2016.
She has expressed her nervousness in performing before an audience, and has learned to calm herself down saying 'I've learned to kind of accept that [if being nervous before a show is] what's going on inside of me, to just ignore it a little bit.' She released two more videos in 2016, entitled "I Can Change" and "Cocaine Style".
She then took a break, until in October 2018 announcing on her Instagram handle that she was currently working on an EP, and thanked her fans for all the patience. On 5 December she released a teaser of her new EP, with a snippet of her song entitled "Beats of My Heart". On 13 February 2020, Aimee posted an update on her EP's status saying 'Thank you all so much for your interest. Not long to go now'. She updated her fans on the debut album's progress, saying that it would now be released under the indie record label "Makerecords".
The MTV Reality Show "The Osbournes"
Aimee refused to film for the reality show "The Osbournes", since she is a private person and thought that by appearing on the show the audience would typecast her, affecting her musical career. Her siblings Jack and Kelly earned fans from their appearance on the show. Sharon Osbourne talked to CBS morning talk show called "The Talk" saying 'Aimee didn't want to grow up on camera. She hated the idea, it was appalling to her. And so she left at 16 and I regret every day that she did.'
Aimee talked through NYLON magazine about her decision not to be part of "The Osbournes", saying 'It was just not my aspiration. Everywhere you went people wanted to know everything, and that when you're growing up that can be kind of intimidating. The idea of kind of letting it all out there at that point, at around fifteen… Nobody at fifteen wants anybody to see how goofy their parents are.'
Even though Aimee hated the thought of being under the spotlight when she was younger, she eventually grew up to become a household name in the entertainment business, with her acting and singing career. Born John Michael Osbourne on 3 December 1948, he is a singer, songwriter, television personality and actor. He rose to fame as the lead vocalist of the band Black Sabbath, and nicknamed himself the 'Prince of Darkness' during the time. He was let go from the band due to problems with alcohol and drugs in 1979, however, kept working on his music and had a successful solo music career. He released 12 albums during his musical tenure, and seven of them were awarded multi-platinum certifications.
He reunited with Black Sabbath in 1979 and recorded the album "13".
He has earned himself an informal title due to his successful music career as the "Godfather of Heavy Metal". Ozzy became a television star through the MTV reality show "The Osbournes", in which he starred along with his wife Sharon who is also his manager, and his two children Kelly and Jack. He is currently still involved with the TV industry by starring in the series "Ozzy & Jack's World Detour" along with Kelly and Jack.
Awards
He earned his first Grammy in 1994 for the song "I don't want to change the world" for Best Metal Performance. In 2004, he was rewarded with Godlike Genius at the NME awards. The UK Music Hall of Fame inducted him in the year 2005 for a solo artist, as well as the lead vocalist of Black Sabbath. The Rock 'n' Roll Hall of Fame inducted him in 2006. He was honored at the VH1 Rock Honors in 2007, and a bronze star honoring him was placed on Broad Street in Birmingham, England the same year.
He was given the Living Legend award in the Classic Rock 'n' Roll Of Honour Awards, and in 2010 the "Literary Achievement" award for his memoir "I am Ozzy" at the Guys Choice Awards. In 2015, the British Academy of Songwriters, Composers and Authors bestowed the Ivor Novello Award for Lifetime Achievement.
Personal life
Ozzy first met his wife Thelma Riley at a nightclub called the Rum Runner. They married in the year 1971 and sired Jessica and Louis; Ozzy also adopted Thelma's son Elliot. However, he has been heard referring to his first marriage as being a 'terrible mistake'.  In the documentary "God Bless Ozzy Osbourne", Ozzy admitted to not even remembering when his two kids were born.
On 4 July 1982, he married his second wife Sharon Arden who was working as his manager at the time. Together they gave birth to three children.
Aimee's Hobbies, Favorite Things and Interesting Facts
She has been heavily influenced by Portishead and Kate Bush.
She also loves Massive Attack and PJ Harvey.
Aimee and Kelly were neighbors in the year 2014 after Kelly bought a home right next to her for $2 million. However, they both sold their homes after a year.
Aimee is not close to her siblings and said 'I wouldn't say there is an ease between us, but there is an acceptance. Do we socialize? No.'
She was recently seen shopping with her mother Sharon, suggesting to the media that the rocky relationship between her and her parents is finally smoothed out.
Her Instagram account is cryptic and doesn't feature any pictures of herself.
— Aimee Osbourne (@aimeeosbourne23) June 3, 2015
Her nature is mysterious, to say the least, and she said 'There was definitely a time where I really didn't want to be in the public eye, or have people know who I was and then they knew what my last name was, and you know, I've battled with that a little bit.
Net Worth
Aimee's net worth has been estimated at over $5 million as of early 2020. Her father Ozzy Osbourne, on the other hand, has a  reputed net worth of over $220 million, accumulated from his years of musical success, and his television career.
General Info
| | |
| --- | --- |
| Full Name | Aimee Osbourne |
| Net Worth | $5 million |
| Date Of Birth | September 2, 1983 |
| Height | 1.68 m |
| Profession | Columnist, Actor, Model, Singer, Raining Gold, Cocaine Style, Rideau |
Family
| | |
| --- | --- |
| Parents | Ozzy Osbourne, Sharon Osbourne, Raining Gold, Cocaine Style, Rideau |
| Siblings | Raining Gold, Cocaine Style, Rideau, Kelly Osbourne, Jack Osbourne, Jessica Starshine Osbourne, Louis John Osbourne, Elliot Kingsley |
Accomplishments
Social profile links
Quotes
| # | Quote |
| --- | --- |
| 1 | "I think he's incredibly unique, he's talented, and he's misunderstood. My dad wants everybody to be happy and to be doing what they love doing. But, I think he forgets that he should want that for himself too" -- on her father, Ozzy Osbourne. |
| 2 | We fought for two years for her to actually go and get a checkup and find out what the problem was. And I think when she found out, she said to me, 'Thank you.' That to me was worth every argument we had. -on her mother and her mother's cancer |
| 3 | "My mom has been his backbone for so many years that I don't think he even wants to know what life is like without her. ... And I don't think he would last more than a year without her." - on her dad. |
| 4 | I don't have huge intentions to be some big actress. I was casually asked. It was a great experience and I'm glad I did it." - on her role in "Wuthering Heights, California |
| 5 | "I wasn't 100 per cent comfortable with it. I was 17, I wasn't very confident, I was shy, it was just a huge risk for me to take as well as my family. That to me was really intimidating and scary" - on why she chose not to participate in the show, The Osbournes (2002). |
Facts
Pictures
Movies
Actress
| Title | Year | Status | Character |
| --- | --- | --- | --- |
| ARO: Raining Gold | 2015 | Short | |
| Postman Pat: The Movie | 2014 | | Amy Wrigglesworth (voice) |
| Wuthering Heights | 2003 | TV Movie | Raquelle |
Composer
| Title | Year | Status | Character |
| --- | --- | --- | --- |
| ARO: Cocaine Style | 2016 | Short | |
Soundtrack
| Title | Year | Status | Character |
| --- | --- | --- | --- |
| ARO: Raining Gold | 2015 | Short writer: "Raining Gold" | |
Self
| Title | Year | Status | Character |
| --- | --- | --- | --- |
| ARO: Cocaine Style | 2016 | Short | Herself |
| God Bless Ozzy Osbourne | 2011 | Documentary | Herself |
| Biography | 2007 | TV Series documentary | Herself |
| Intimate Portrait | 2002 | TV Series documentary | Herself |
| Howard Stern | 1998 | TV Series | Herself |
| Behind the Music | 1998 | TV Series documentary | Herself |
| Ozzy Osbourne: Don't Blame Me | 1991 | Video documentary | Herself |
| The Joan Rivers Show | 1991 | TV Series | Herself |
Source:
IMDb
,
Wikipedia