• Graduated from Yale University with a degree in Art History in 2001
• Made her debut as an actress in 1982
• Best known for her role in the series "Life Goes On"
• Appeared in the series "ER" in the role of Lucy Knight
• Starred in the saga "Hailey Dean Mystery" from 2016 to 2019

Known for movies
Short Info
| | |
| --- | --- |
| Date Of Birth | October 16, 1975 |
| Spouse | Keith Christian |
| Fact | Friend of Diane Baker ever since they made the movie About Sarah (1998) together. |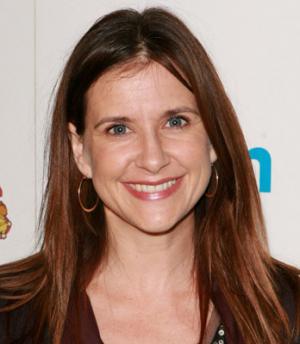 Kellie Martin is an American actress and entrepreneur, born on 16 October 1975, in Riverside, California USA. She's known for her roles in TV series such as "Life Goes On" and "ER".
Early Life
Kellie Noelle Martin was born the first of three daughters to Doug and Debbie Martin; her father was a retail executive and her mother a kindergarten teacher. Her younger sisters are named Heather who was born on 1978, and Clara born in 1990. Heather died in 1998 of Lupus. Marti's parents divorced in 1992.
There's not much information about Kellie's early education and childhood, however, she graduated from Yale University with a degree in Art History in 2001.
About her studies she said: 'Show business is such a roller-coaster life. I'd like to have my degree and a lot of options'.
Career
Debut as an Actress and Firsts Appearances: 1982 – 1989
Kellie made her debut as an actress in 1982, when at only seven years old she was cast as Flossie in the episode "Sweet Sixteen" of the TV series "Father Murphy". It's said that her aunt Rhonda worked as a nanny for Michael Landon, the writer of the series, and showed a photo of Kellie to him, who told her that Kellie should audition.
Two years after her debut, Kellie appeared as Lisa Ratchett in the TV series "Highway to Heaven", in the episode "Another Song for Christmas". The next year she appeared in the TV movie "The Canterville Ghost".
In 1986 she appeared in two episodes of the TV series "Disneyland" as Linda, in the episode entitled "Help Wanted", then as Veronica in the episode "The Richest Cat in the World". In the same year, she appeared as Brenda Crane in the episode "J.R. Rising" of the TV series "Dallas", and then made her film debut as Kristi Carlson in the film "Jumpin' Jack Flash", then as Missy Roberts in "Body Slam". She was also heard as a voice actor in the TV series "Potato Head Kids", before appeared in two episodes of the TV series "Life With Lucy" as Patty.
The next year, she acted in two series: as Rebecca in "My Two Dads" and as Tracy Nash in "Valerie".
1988 also brought Kellie the opportunity to work in several TV series, such as "Thirtysomething", "The Tracey Ullman Show", "ABC Weekend Specials" and "Superman". She also acted in two movies: "Secret Witness" and "Doin' Time on Planet Earth".
1989 also brought several other roles for Kellie: she appeared in the TV movie "Baywatch: Panic at Malibu Pier", and in the film "Troop Beverly Hills", as well as in TV series such as "Charles in Charge", "Mr. Belvedere" and "The Flamingo Kid", and well as giving her voice to "Fantastic Max" and "A Pup Named Scooby-Doo".
Life Goes On and Other Roles
Despite her participation in other productions, what made the year 1989 truly outstanding for Kellie's career was the fact that she was cast in the role of Becca Thatcher in the series "Life Goes On", the role that would make her being remembered for years to come. The series portrays the story of an American family and its member's life struggles. The series lasted four years until 1993, and Kellie's role saw her the winner of an American Television Award for Best Supporting Actress in a Dramatic Series, and a nomination for Outstanding Supporting Actress in a Drama Series at the Emmy Awards.
.@Kellie_Martin opens up about playing Angela in 1994's #DeathOfACheerleader & reveals why her role in the 2019 remake was a "full-circle" moment as Lifetime celebrates 30 years of the Lifetime Original Movie. Exclusive interview: https://t.co/d1WPurX9P1 @lifetimetvpr pic.twitter.com/EhOaLJL2El

— HollywoodLife (@HollywoodLife) May 29, 2020
Beside her role in "Life Goes On", she also made several appearances in other productions, such as "Taz-Mania" in 1991, the movie "Matinee" and the TV series' "Seaquest" and "ABC Afterschool Specials" in 1993. In 1994 she appeared in the TV movie "A Friend To Die For", and starred the TV movie and series "Christy". In 1995 she appeared in "If Someone Had Known", "The Face on the Milk Carton", "Her Hidden Truth", and gave her voice to "A Goofy Movie".
With the year 1996, she acted in the TV movies "Breaking Through", "Her Last Chance" and "Hidden in Silence", then in 1997 appeared in another TV-Series entitled "Crisis Center", and two TV movies: "On the Edge Of Innocence" and "About Sarah" in 1998.
ER: 1998
In 1998 Kellie was cast in the drama and hospital-centered series "ER" in the role of Lucy Knight, a third year medical student under Dr. John Carter's tutoring, who is also her love interest. She appeared in 36 episodes of the series from 1998 to 2000, leaving the series because she wanted to finish her degree at Yale University, though her role in "ER" would remain as one of the most memorable of her career.
Mystery Woman and Other Projects: 2001 – 2010
After graduating, she came back to her acting career and made appearances in several productions. In 2001 she appeared in the film "All You Need" and "Man in the Kitchen"; in 2002 she was Detective Fiona Fitzgerald in the TV movie "Fiona"; and in 2003 appeared as Melinda Granville in an episode of the series "Law & Order: Special Victims Unit", and in the movies "Malibu's Most Wanted" and "Open House" in 2004.
She also appeared in a starring role of 2003's TV movie "Mystery Woman" as Samantha Kinsey, an amateur detective. She continued starring in the saga for the next three years, appearing in all of its 10 sequels from "Mystery Woman: Mystery Weekend", to finally "Mystery Woman: In the Shadows" in 2007.
Other movies she appeared were "Live Once, Die Twice", "Lethal Obsession" and "The Jensen Project". She appeared in an episode of the 2007's series "The Batman" as Oracle, had the role of Cally O'Keefe in the 2009 series "Ghost Whisperer", and acted in "Grey's Anatomy" as Zulie Zelman in an episode. In 2009 she was Michelle Larsen in "Private Practice".
2010 – Present
Kellie has been present in the 2010s with her appearance in varying projects.
In 2010 she was cast to appear in an episode of the TV series "Drop Dead Diva", and in the same year she was Claire Thompson in the TV-Movie "The Jensen Project", followed by her role in 2011's TV movie "Smooch".
In 2012 she appeared in eight episodes of the series "Army Wives", as Army Captain Nicole Galassini, and as Jordan Grady in the TV movie "I Married Who?". In 2014 she acted as Katie Minor in the TV movie "Dear Viola". She was cast in several TV series that year too, such as "Math Bites", "Mad Men" and "Satisfaction".
In 2016 she was cast as Hailey Dean, the starring role of the TV movie saga "Hailey Dean Mystery", a total; of nine movies through 2019.
Concurrently Kellie appeared in other roles – from 2017 to 2018 she was Officer Kimberly Leahy in eight episodes of the series "The Guest Book", and in two TV movies "Death of a Cheerleader", and "Christmas in Montana".
Entrepreneur – Toys Shop
Besides her acting career, Kellie Martin has made an incursion into another business. When in the search for secure toys for her daughter, she became enamored by the toy shop Romp, which sells old-fashioned and eco-friendly toys. However, when in 2011 the owner advised her costumers about closing the shop, Kellie felt it on herself to prevent the shop from disappearing. She called her husband and told him that she wanted to buy the shop: 'I didn't even know if she wanted to sell, but I said to my husband 'You've got to call her!''.
About the business that Kellie now manages alongside her husband, he has said: 'We skipped the pure startup phase by purchasing a company that was operating profitably and had strong brand identification'. It seems that it was a good decision, and they have maintained its profitability.
Personal Life
Kellie is married to Keith Christian, who was a Columbia Law Student. Keith proposed to her at the Metropolitan Museum of Art, while the two were touring. Kellie described the moment: 'He pulled out this little box and I said 'yes' before he could ask the question.' The couple has remained married ever since their wedding on 15 May 1999, and has welcomed two daughters named Maggie on 4 November 2006, and their second Olivia James on 13 February 2016.
Net Worth
Kellie Martin's net worth is estimated at $3 million, which is a result of her work as a successful actress, and for being a toy shop CEO.
Appearance
Kellie is a woman of white ethnicity, who has a slender build and is 5ft 2ins (1.57 m) tall. Her eyes are green while her natural hair is brown, however, nowadays she stylizes her hair blonde with curls.
Interesting Facts
As her sister Heather died in 1998 of lupus, Kellie became the national spokesperson for said deceased.
Kellie loves ballet.
Kellie has said that her major interests are photography and art.
In 1999 she said that her dream job was to work at MET (Metropolitan Museum of Art).
Her husband Keith owns a ranch in Colorado.
General Info
| | |
| --- | --- |
| Full Name | Kellie Martin |
| Date Of Birth | October 16, 1975 |
| Height | 1.58 m |
| Profession | Film director, Actor, Businessperson |
| Education | Yale University |
| Nationality | American |
Family
| | |
| --- | --- |
| Spouse | Keith Christian |
| Children | Olivia James Christian, Margaret Heather Christian |
| Parents | Doug Martin, Debbie Martin |
| Siblings | Heather Martin |
Accomplishments
| | |
| --- | --- |
| Awards | Screen Actors Guild Award for Outstanding Performance by an Ensemble in a Drama Series, TV Land Icon Award |
| Nominations | Primetime Emmy Award for Outstanding Supporting Actress in a Drama Series |
| Movies | A Goofy Movie, I Married Who?, Smooch, Mystery Woman: Mystery Weekend, Hidden In Silence, A Friend to Die For, Troop Beverly Hills, Mystery Woman: Game Time, About Sarah, Matinee, Malibu's Most Wanted, Mystery Woman: Snapshot, Mystery Woman At First Sight, If Someone Had Known, The Jensen Project, D... |
| TV Shows | ER, Mystery Woman, ABC Weekend Special, Christy, Taz-Mania, Life Goes On, A Pup Named Scooby-Doo, Mr. Belvedere, The Tracey Ullman Show, Potato Head Kids, Life with Lucy, Father Murphy, Crisis Center |
Social profile links
Quotes
| # | Quote |
| --- | --- |
| 1 | "Angela has so many characteristics I don't have or wouldn't want to have. She is not that smart. If she was smart, then she would know that she doesn't have to be part of the popular crowd to be cool." - about her character in the TV movie A Friend to Die For (1994). |
| 2 | "I wouldn't want to be a superstar, like Julia Roberts or Madonna, and be on the cover of 'US' magazine when I'm twenty - that's how you know you're really hot. I'd rather have a long respected career". |
| 3 | I realize I don't know how to get drunk and have fun, how to hang out, party, be a teenager and chill out. But acting was my choice. -- Parade June 25, 1995 |
Facts
| # | Fact |
| --- | --- |
| 1 | Gave birth to her 2nd child at age 40, a daughter named Olivia James Christian on February 13, 2016, weighed in at 7 lbs., 15 oz. and measures 20 inches long. Child's father is her husband, Keith Christian. |
| 2 | Gave birth to her 1st child at age 31, a daughter named Margaret Heather Christian on November 4, 2006, at 12:21 p.m. She weighed 8 lbs and was 21 inches long. Child's father is her husband, Keith Christian. |
| 3 | Attended the Women in Photojournalism Conference held in San Diego. [September 2002] |
| 4 | Friend of Diane Baker ever since they made the movie About Sarah (1998) together. |
| 5 | Met her husband, Keith Christian, at Yale University where both were students. |
| 6 | Daughter of Doug Martin and Debbie Martin. They divorced in 1992. |
| 7 | Friend of Robin Shorr and Allyson Knapp. |
| 8 | Studied acting with Diane Hardin, Melora Hardin's mother. |
| 9 | Graduated from Yale with a degree in art history. |
| 10 | Was a contestant on the game show Card Sharks (1978), hosted by Bob Eubanks, during youth week when she was 11 years old. In her introduction of herself, she said she wanted "be a film director" when she grows up. She won $2,600 and almost won the trip to Hawaii but missed it by one card. |
| 11 | When she was cast in Life Goes On (1989), she developed an eating disorder. She was convinced by Tracey Gold, who had her own battles with anorexia, to seek help. |
| 12 | When she was a child actress, she would always be cast as the best friend instead of the lead. |
| 13 | Started work on ER (1994) shortly after her sister died suddenly of lupus. She eventually left the show, partly because it was too hard for her to be in a pretend hospital after what happened. |
| 14 | She is the national spokesperson for Lupus, since her sister died of the disease at age 19. |
| 15 | Announced she's leaving ER (1994) to finish her studies at Yale. [January 2000] |
| 16 | She got her start in acting when her aunt, a nanny for Michael Landon's children, showed Kellie's picture to Landon. He asked her to audition, she won a guest spot on Landon's Father Murphy (1981), and thus began her acting career. |
| 17 | Husband Keith Christian is attending law school. [1999] |
| 18 | Younger sister Heather died of lupus in 1998. |
| 19 | Loves Ballet and Photography, and is accomplished at both. |
| 20 | Kellie's Internet Fans at the Kellie Martin Listserv sent a $635.00 donation to one of Kellie's favorite charities, the Pediatric AIDS foundation, on October 1, 1996, as a birthday gift to Kellie on her 21st birthday on October 16th. |
Pictures
Movies
Actress
| Title | Year | Status | Character |
| --- | --- | --- | --- |
| Hailey Dean Mystery: Murder, with Love | 2016 | TV Movie | Hailey Dean |
| Hello, It's Me | 2015 | TV Movie | Annie |
| So You Said Yes | 2015 | TV Movie | Annabelle Blanche |
| Satisfaction | 2014 | TV Series | Jennifer |
| Mad Men | 2014 | TV Series | Carolyn Glaspie |
| Dear Viola | 2014 | TV Movie | Katie Minor |
| Math Bites | 2014 | TV Series | Snarky Woman |
| The Christmas Ornament | 2013 | TV Movie | Kathy Howard |
| I Married Who? | 2012 | TV Movie | Jordan Grady |
| Army Wives | 2012 | TV Series | Army Captain Nicole Galassin / Army Captain Nicole Galassini |
| Smooch | 2011 | TV Movie | Gwen Cole |
| The Jensen Project | 2010 | TV Movie | Claire Thompson |
| Drop Dead Diva | 2010 | TV Series | Joan Feiner |
| Private Practice | 2009 | TV Series | Michelle Larsen |
| Grey's Anatomy | 2009 | TV Series | Julie Zelman |
| Ghost Whisperer | 2009 | TV Series | Cally O'Keefe |
| No Brother of Mine | 2007 | TV Movie | Nina St. Clair |
| The Batman | 2007 | TV Series | Oracle |
| Mystery Woman: In the Shadows | 2007 | TV Movie | Samantha Kinsey |
| Mystery Woman: Redemption | 2006 | TV Movie | Samantha |
| Mystery Woman: Oh Baby | 2006 | TV Movie | Samantha Kinsey |
| Mystery Woman: Wild West Mystery | 2006 | TV Movie | Samantha |
| Live Once, Die Twice | 2006 | TV Movie | Nicole Lauker |
| Mystery Woman: At First Sight | 2006 | TV Movie | Samantha Kinsey |
| Thru the Moebius Strip | 2005 | | Allana (voice) |
| Mystery Woman: Game Time | 2005 | TV Movie | Samantha |
| Mystery Woman: Vision of a Murder | 2005 | TV Movie | Samantha |
| Mystery Woman: Sing Me a Murder | 2005 | TV Movie | Samantha |
| Mystery Woman: Snapshot | 2005 | TV Movie | Samantha Kinsey |
| Mystery Woman: Mystery Weekend | 2005 | TV Movie | Samantha |
| Mickey's Twice Upon a Christmas | 2004 | Video | Additional Voices (voice) |
| Open House | 2004 | | Debbie Delaney |
| Law & Order: Special Victims Unit | 2003 | TV Series | Melinda Granville |
| Mystery Woman | 2003 | TV Movie | Samantha Kinsey |
| Malibu's Most Wanted | 2003 | | Jen |
| Fiona | 2002 | TV Movie | Detective Fiona Fitzgerald |
| All You Need | 2001 | | Beth Sabistan Starnes |
| Man in the Kitchen | 2001 | TV Movie | |
| ER | 1998-2000 | TV Series | Lucy Knight |
| About Sarah | 1998 | TV Movie | Mary Beth McCaffrey |
| On the Edge of Innocence | 1997 | TV Movie | Zoe Tyler |
| Crisis Center | 1997 | TV Series | Kathy Goodman |
| Breaking Through | 1996 | TV Movie | Laura Keyes |
| Her Last Chance | 1996 | TV Movie | Alex Saxen |
| Hidden in Silence | 1996 | TV Movie | Fusia Podgorska |
| Her Hidden Truth | 1995 | TV Movie | Billie Calhoun |
| Christy | 1994-1995 | TV Series | Christy Huddleston |
| The Face on the Milk Carton | 1995 | TV Movie | Jennifer Sands Janie Jessmon |
| If Someone Had Known | 1995 | TV Movie | Katie Liner |
| A Goofy Movie | 1995 | | Roxanne (voice) |
| Taz-Mania | 1991-1995 | TV Series | Molly Tazmanian Devil |
| Aladdin | 1994 | TV Series | Sadira |
| A Friend to Die For | 1994 | TV Movie | Angela Delvecchio |
| Christy | 1994 | TV Movie | Christy Huddleston |
| ABC Afterschool Specials | 1993 | TV Series | Samantha Wheeler |
| SeaQuest 2032 | 1993 | TV Series | Cleo Walker |
| Life Goes On | 1989-1993 | TV Series | Becca Thatcher |
| Matinee | 1993 | | Sherry |
| A Pup Named Scooby-Doo | 1988-1991 | TV Series | Daphne |
| Fantastic Max | 1988-1989 | TV Series | Additional Voices |
| The Flamingo Kid | 1989 | TV Short | Lauren Brody |
| Panic at Malibu Pier | 1989 | TV Movie | Chelsea Carroll |
| Troop Beverly Hills | 1989 | | Emily Coleman |
| Mr. Belvedere | 1989 | TV Series | Miriam |
| Charles in Charge | 1989 | TV Series | Heather Curtis |
| Superman | 1988 | TV Series | Lana Lang |
| ABC Weekend Specials | 1988 | TV Series | Karen |
| Doin' Time on Planet Earth | 1988 | | Sheila |
| Secret Witness | 1988 | TV Movie | Jennie Thomas |
| The Tracey Ullman Show | 1988 | TV Series | Kari, Slumber Party Girl |
| Thirtysomething | 1988 | TV Series | Robin Kramer |
| Valerie's Family: The Hogans | 1987-1988 | TV Series | Tracy Nash |
| My Two Dads | 1987-1988 | TV Series | Rebecca |
| Potato Head Kids | 1986 | TV Series | Lolly (1986) (voice) |
| Body Slam | 1986 | | Missy Roberts |
| Jumpin' Jack Flash | 1986 | | Kristi Carlson |
| Dallas | 1986 | TV Series | Brenda Crane |
| Walt Disney's Wonderful World of Color | 1986 | TV Series | Veronica / Linda |
| Life with Lucy | 1986 | TV Series | Patty |
| The Canterville Ghost | 1985 | TV Movie | |
| Highway to Heaven | 1984 | TV Series | Lisa Ratchett |
| Father Murphy | 1982 | TV Series | Flossie |
Director
| Title | Year | Status | Character |
| --- | --- | --- | --- |
| Mystery Woman: At First Sight | 2006 | TV Movie | |
| Mystery Woman: Vision of a Murder | 2005 | TV Movie | |
| Frenching | 2004 | Short | |
Producer
| Title | Year | Status | Character |
| --- | --- | --- | --- |
| Dear Viola | 2014 | TV Movie executive producer | |
| On the Edge of Innocence | 1997 | TV Movie co-producer | |
| Her Last Chance | 1996 | TV Movie co-producer | |
Writer
| Title | Year | Status | Character |
| --- | --- | --- | --- |
| Christy | 1995 | TV Series story - 1 episode | |
Camera Department
| Title | Year | Status | Character |
| --- | --- | --- | --- |
| Open House | 2004 | camera operator: jacuzzi/bed camera | |
Soundtrack
| Title | Year | Status | Character |
| --- | --- | --- | --- |
| Open House | 2004 | performer: "Fantabulous", "Sexy Swiper", "Do You Love This House 1", "Do You Love This House 2", "Do You Love This House 3", "More Fantabulous", "Finale" | |
Self
| Title | Year | Status | Character |
| --- | --- | --- | --- |
| Home & Family | 2012-2016 | TV Series | Herself / Herself - Guest |
| 2014 Hero Dog Awards | 2014 | TV Special | Herself |
| CinemAbility | 2013 | Documentary | Herself |
| Good Day L.A. | 2013 | TV Series | Herself |
| The Ricki Lake Show | 2013 | TV Series | Herself |
| 2012 Hero Dog Awards | 2012 | TV Special | Herself - Presenter |
| Marie | 2012 | TV Series documentary | |
| The 7th Annual TV Land Awards | 2009 | TV Special | Herself |
| Chabad: To Life Telethon | 2008 | TV Movie | Herself |
| Child Star Confidential | 2006 | TV Series documentary | Herself |
| The View | 2005 | TV Series | Herself |
| I Love the '90s: Part Deux | 2005 | TV Series documentary | Herself |
| Speaking of Women's Health | 2004 | TV Series documentary | Herself |
| Intimate Portrait | 2002 | TV Series documentary | Herself |
| The 27th Annual American Music Awards | 2000 | TV Special | Herself - Presenter |
| The 26th Annual People's Choice Awards | 2000 | TV Special | Herself |
| The 51st Annual Primetime Emmy Awards | 1999 | TV Special | Herself - Audience Member |
| The Martin Short Show | 1999 | TV Series | Herself |
| The Daily Show | 1999 | TV Series | Herself |
| The Teen Choice Awards 1999 | 1999 | TV Special | Herself |
| The Teen Files | 1999 | TV Series | Herself |
| 5th Annual Screen Actors Guild Awards | 1999 | TV Special | Herself |
| The Rosie O'Donnell Show | 1997-1999 | TV Series | Herself |
| Late Night with Conan O'Brien | 1994-1999 | TV Series | Herself |
| The 25th Annual People's Choice Awards | 1999 | TV Special | Herself |
| Out to Lunch | 1999 | TV Series | Herself - Guest |
| The 50th Annual Primetime Emmy Awards | 1998 | TV Special | Herself - Audience Member |
| Politically Incorrect | 1997 | TV Series | Herself |
| The Tonight Show with Jay Leno | 1997 | TV Series | Herself |
| Loveline | 1996 | TV Series | Herself |
| Macy's Thanksgiving Day Parade | 1995 | TV Movie | Herself |
| The Arsenio Hall Show | 1994 | TV Series | Herself |
| The 45th Annual Primetime Emmy Awards | 1993 | TV Special | Herself - Nominee: Outstanding Supporting Actress in a Drama Series |
| One on One with John Tesh | 1992 | TV Series | Herself |
| America's Funniest Home Videos | 1989-1992 | TV Series | Herself / Herself - Host |
| Nickelodeon Kids' Choice Awards '92 | 1992 | TV Special | Herself |
| The Chuck Woolery Show | 1991 | TV Series | Herself |
| The Marsha Warfield Show | 1990 | TV Series | Herself |
Archive Footage
| Title | Year | Status | Character |
| --- | --- | --- | --- |
| Brilliant But Cancelled | 2002 | TV Movie documentary | |
| ER | 2000 | TV Series | Lucy Knight |
Awards
Won Awards
| Year | Award | Ceremony | Nomination | Movie |
| --- | --- | --- | --- | --- |
| 2009 | Icon Award | TV Land Awards | | ER (1994) |
| 1999 | Actor | Screen Actors Guild Awards | Outstanding Performance by an Ensemble in a Drama Series | ER (1994) |
| 1993 | American Television Award | American Television Awards | Best Supporting Actress in a Dramatic Series | Life Goes On (1989) |
| 1992 | Q Award | Viewers for Quality Television Awards | Best Supporting Actress in a Quality Drama Series | Life Goes On (1989) |
| 1992 | Young Artist Award | Young Artist Awards | Best Young Actress Starring in a Television Series | Life Goes On (1989) |
| 1991 | Young Artist Award | Young Artist Awards | Best Young Actress Starring in a Television Series | Life Goes On (1989) |
Nominated Awards
| Year | Award | Ceremony | Nomination | Movie |
| --- | --- | --- | --- | --- |
| 2001 | Actor | Screen Actors Guild Awards | Outstanding Performance by an Ensemble in a Drama Series | ER (1994) |
| 2000 | Actor | Screen Actors Guild Awards | Outstanding Performance by an Ensemble in a Drama Series | ER (1994) |
| 1993 | Primetime Emmy | Primetime Emmy Awards | Outstanding Supporting Actress in a Drama Series | Life Goes On (1989) |
| 1993 | Q Award | Viewers for Quality Television Awards | Best Supporting Actress in a Quality Drama Series | Life Goes On (1989) |
| 1993 | Young Artist Award | Young Artist Awards | Best Young Actress Starring in a Television Series | Life Goes On (1989) |
| 1990 | Young Artist Award | Young Artist Awards | Best Young Actress Supporting Role in a Television Series | Life Goes On (1989) |
| 1988 | Young Artist Award | Young Artist Awards | Best Animation Voice Over Group | Potato Head Kids (1986) |
Source:
IMDb
,
Wikipedia