• Gary Burghoff is a retired American actor known for portraying the character of Radar O'Reilly in CBS' sitcom "MASH"
• His parents were both in the theatre as a professional dancer and clock company worker respectively
• He was a drummer and painter and won the Hallmark Award in 1961
• He earned six Emmy Awards for his role in "M*A*S*H" and left the show to spend more time with his family
• After retiring he became an inventor and philatelist and has an estimated net worth of $6 million.

Known for movies
Short Info
| | |
| --- | --- |
| Date Of Birth | May 24, 1943 |
| Spouse | Elizabeth Bostrom, Janet Gayle |
| Mark | Known to millions as 'Radar' on the television series "M*A*S*H*" |
| Fact | In 1961 his painting "Men of Jazz" won him the Hallmark Award and represented Wisconsin in the Hallmark Student Art Exhibit in Washington, D.C. |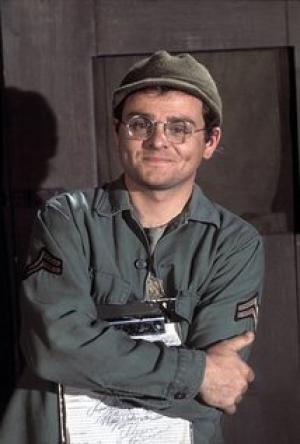 Gary Burghoff is a popular retired American actor who is mostly stil famous for portraying the character of Radar O'Reilly in CBS' sitcom "MASH". He left his work on TV to spend more quality time with his family.
Early life and family
Gary Rich Burghoff was born on 24 May 1943, in Bristol, Connecticut USA, so holds American nationality, and his zodiac sign is Gemini. Gary was born to Rodney and Ann Burghoff; his father worked for the local clock company, while his mother was in the theatre as a professional dancer; she also directed several local stage productions. Gary has an older brother, David Burghoff.
From an early age Gary was interested in nature, especially in animals. When he turned eight years old, his parents gifted him an angelfish which he took care of very responsibly.
Happy birthday to Gary Burghoff! Burghoff (who turns 73 today) is best known for his role as Walter "Radar" O'Reilly in the TV series M*A*S*H.

Posted by Mash Notes on Tuesday, May 24, 2016
When he was around 10, he felt pity for a flock of ducks who, as he thought, were too bored living at his neighbor's farm, so he freed them to the nearby lake. At the age of 14, Gary got his first job in a local pet shop. Later his father got a new job in Delavan, Wisconsin, so the whole family moved there when Gary was a high school student.
Educational background
Gary studied in local secondary school in Bristol, Connecticut, until he moved to Delavan, Wisconsin, where he matriculated from his local high school in 1961. While in school, he took dancing classes, as he enjoyed tap dance very much. He also became a drummer, even though he had a congenital defect of three shorter fingers on the left hand. When his mother found a new job as a choreographer in Wisconsin, he had a chance to try himself as an actor at the Belfry Theatre, landing the role of Bobby in "The Boy Friend" production.
Later Gary studied at HB Studio, located in New York City.
Alongside his music endeavors (Gary played the drums in Milwaukee clubs, performing with the Bud Wilber Orchestra), he was also very good at painting. His work "Men of Jazz" gained him the Hallmark Award in 1961; he also exhibite this work in the Hallmark Student Art Exhibition, held in Washington D.C, representing his state of Wisconsin.
Career
Acting career: first steps
While studying acting, Gary had to work as a sales assistant in the underwear store, located in Saks Fifth Avenue, as he needed to earn money for his courses and simply for living. His acting studio mates were James Tuttle, Sandy Meisner and Charles Nelson Reilly. He also formed a jazz trio – "The We Three" – and played at local night bars and clubs.
In 1967 Gary landed the role of Charlie Brown in the "You're a Good Man" original off-Broadway production, which was his first serious work on the stage. He still didn't want to quit his music career, so he also played drums in the band Relatives in 1968, performing mostly late at night at the Sahara Hotel and Casino lounge, located in Las Vegas. The band's singer was Lynda Carter, who also became a famous actress. Gary and Lynda later worked together in the cast of the popular series "The New Adventures of Wonder Woman", appearing in the episode "The Man Who Wouldn't Tell" in 1978.
Further success, joining the cast of "MASH"
In 1970 Robert Altman invited Gary to appear in his film "MASH", a black comedy about a group of medics who worked in Mobile Army Surgical Hospital (MASH) in the times of the Korean War.
Gary was to play the character of the chief clerk Corporal Walter Eugene "Radar" O'Reilly.
After the movie attracted high rates and positive reviews from critics, the creator decided to develop the plot, which was based on Richard Hooker's book "M*A*S*H: A Novel About Three Army Doctors", and released the television series. Gary was the only person who appeared both in the movie and in the series, playing the same character. However, Gary later admitted he made his character of the series think and behave very differently from the way he did in the movie: 'In the original feature film MASH, I created Radar as a lone, darker and somewhat sardonic character; kind of a shadowy figure <,,,> I began to mold Radar into a more innocent, naïve character as contrast to the other characters', Gary reflects on his role.
Gary's work in the series "M*A*S*H" (1972-1980) he got six Emmy Awards as Outstanding Supporting Actor in a Comedy Series. During his constant busyness in "M*A*S*H" Gary still had a chance to work in other series in movies, the list of them includes "Insight", "Sweepstakes" and "Ellery Queen".
Leaving "M*A*S*H"
At the end of 1979 Gary left the cast of "M*A*S*H", as he tired of the attention from the public, and complained he couldn't go out anywhere with his family to relax as he would be at once recognized by somebody: 'Family, to me, became the most important thing… I was not available as a father because of my work. That doesn't stop when the work stops', Gary explained his decision to leave the show. Later he again appeared in the special episode entitled "Goodbye, Radar".
In 1984 Gary appeared in two spin-off of the series, "W*A*L*T*E*R" and "AfterMASH". He also could be seen in an episode of the series "Burke's Law" in 1995, and in the movie "Behind the Waterfall" in the same year. In 2010, already supposedly being retired, Gary appeared in the film "Daniel's Lot", landing the role of Pastor Mahoney.
Retirement and inventions
Gary's life on retirement was not at all boring; he could finally spend as much time fishing as he wanted. He even became an inventor of a special fishing tackle "Chum Magic", which was supposed to attract the fish to the fisherman's boat. He also invented and got patents for a new fishing pole type, and a lifting handle of a toilet seat.
Gary could also spend his spare time painting the wild nature of California.
In 2018 Gary was invited by his fellow actress Alan Alda to join the podcast "Clear + Vivid", reuniting with all remaining cast members of "M*A*S*H": 'Loretta Swit and I will be talking from New York, Mike Farrell will be in a studio in L.A., Jamie Farr will be on the 'phone from his house in Bell Canyon, and Gary Burghoff will be on the phone from Northern California' Alda announced the podcast. He shared that the podcast was supposed to happen a bit earlier, but Jamie Farr almost lost his house in the wildfires covering California at that time, so they had to delay the reunion.
Personal life, ex-wives Janet Gale and Elisabeth Bostrom
Gary Burghoff married Janet Gale in 1971. In 1975 Janet gave birth to their daughter Gena, who then became an actress and even played with her father in the movie "Behind The Waterfall".
Gary divorced Janet in 1979, then in 1985 he married Elisabeth Bostrom, who gifted Gary two sons, Miles and Jordan. In two decades the couple divorced in 2005, citing different religious beliefs which ruined their union. Elisabeth, who is an experienced dental assistant, still lives in Connecticut with their two sons.
Hobbies, favorite things and interesting facts
In 2009 Gary released the book "To M*A*S*H and Back: My Life in Poems and Songs".
Gary is a philatelist; he collects coins and stamps, and in 1988 was invited to become a narrator of the film "The Video Guide to Stamp Collecting", which was supposed to teach novice collectors the principles of stamp collecting, and also displayed various kinds of stamps of different periods. In 1994 he judged the Federal Duck Stamp Competition.
Gary's another passion, which is painting, saved the life of his family during the hard times when Gary didn't appear in any movies or series. He started selling his paintings, and the money he earned helped him and his family to survive. When Gary lived in California, his neighbors called him "The Birdman of Malibu", as his garden was always full of birds of all kinds. Gary's favorite sport is baseball.
Appearance
Gary has short grey hair and blue eyes. He is 5ft 5ins (1.66 m) tall; his weight and vital statistics are not available.
Net worth and salary
As of 2020, Gary Burghoff's net worth is estimated to be around $6 million.
General Info
| | |
| --- | --- |
| Full Name | Gary Burghoff |
| Date Of Birth | May 24, 1943 |
| Height | 1.68 m |
| Profession | Musician, Actor, Drummer |
| Nationality | American |
Family
| | |
| --- | --- |
| Spouse | Elizabeth Bostrom, Janet Gayle |
| Children | Gena Gale Burghoff, Jordan Burghoff, Miles Burghoff |
| Parents | Rodney Burghoff, Ann Burghoff |
Accomplishments
| | |
| --- | --- |
| Awards | Primetime Emmy Award for Outstanding Supporting Actor in a Comedy Series |
| Nominations | Daytime Emmy Award for Outstanding Lifestyle/Culinary Host |
| Movies | Behind the Waterfall, The Man in the Santa Claus Suit, B.S. I Love You, MASH |
| TV Shows | W*A*L*T*E*R, M*A*S*H, America 2-Night, Pets: Part of the Family |
Social profile links
Marks
| # | Marks / Signs |
| --- | --- |
| 1 | Known to millions as 'Radar' on the television series "M*A*S*H*" |
Quotes
| # | Quote |
| --- | --- |
| 1 | I don't vote for the guy I trust. I vote for the guy who trusts me the most. |
| 2 | My son gave me the permission to accept my success. |
| 3 | I was just a kid, but I was a rotten kid. |
Facts
| # | Fact |
| --- | --- |
| 1 | Though Tom Skerritt was asked to return to be in the show, Gary was the only cast member of the movie to play his character regularly in the show MASH. |
| 2 | He studied drama at HB Studio in Greenwich Village in New York City. |
| 3 | Last appearance on M*A*S*H (1972) on Season 8 Episode 5, but still credited in opening credits up to Season 8 Episode 11. |
| 4 | He left M*A*S*H (1972) after Season 7 because of burnout and a desire to spend more time with his family, though he returned in Season 8 to film a special 2-part farewell episode, "Goodbye Radar". |
| 5 | Burghoff is a philatelist and was the star of a United States Postal Service video for beginning stamp collectors. |
| 6 | Gary was born to Rodney Burghoff, who worked for a clock company, and Ann Burghoff, who had been a professional dancer and directed local theater productions. He has an older brother, David. |
| 7 | In 1961 his painting "Men of Jazz" won him the Hallmark Award and represented Wisconsin in the Hallmark Student Art Exhibit in Washington, D.C. |
| 8 | After graduation, he headed to New York to study. He sold underwear at Saks Fifth Avenue to make money while studying and also played jazz at local night spots with "The We Three," a musical trio he formed. |
| 9 | The only actor in Twentieth Century Fox's hit film MASH (1970) who was asked to reprise his character for the extremely successful television series. G. Wood played General Hammond in both the movie and television series but he was not a regular character in the series although he was a regularly recurring character. |
| 10 | Burghoff attended the memorial service for McLean Stevenson when the actor passed away in 1996. |
| 11 | He wrote an introduction for Two-Character Plays for Student Actors, a collection of plays by Robert Mauro. |
| 12 | Besides recording a jazz album in the early 1980s, he wrote more than 100 songs and won the ASCAP Award for Excellence three times. |
| 13 | Gary's favorite sports are baseball and fishing. He has visited and fished in every state except Alaska, where he plans to visit one day. He is also an inventor and holds several patents for fishing tackle, including Chum Magic, a floating device that can be filled with chum to attract fish. Gary says it helps increase catches by about 300 percent. |
| 14 | The teddy bear that Burghoff carried as Radar O'Reilly in M*A*S*H (1972) is now at the Smithsonian Institution. However, when the entire set, along with props, was displayed in the Smithsonian immediately after the final episode was aired, there was a note added to the case displaying many props that they had been unable to locate the bear. |
| 15 | Played Walter "Radar" O'Reilly in four different "MASH" productions: the feature movie MASH (1970), the television series M*A*S*H (1972), guest-star appearance on After MASH (1983), and the television pilot W*A*L*T*E*R (1984). |
| 16 | Sesame Street (1969)'s Big Bird has a teddy bear, "Radar", which was named after Gary's a M*A*S*H (1972) character. Gary gave it to Big Bird as a gift after visiting the "Sesame Street" set in the 1970s. |
| 17 | Along with G. Wood, Timothy Brown and Corey Fischer, he is one of only four actors to appear in both the original film (MASH (1970)) and the subsequent TV series (M*A*S*H (1972)). |
| 18 | Has one daughter: Gena Gale Burghoff and two sons: Miles and Jordan. |
| 19 | Was the first MASH (1970) actor to be cast for the TV series (M*A*S*H (1972)). |
| 20 | Holds several patents on fishing lures. |
| 21 | Originated the role of Charlie Brown in the off-Broadway musical "You're a Good Man, Charlie Brown". |
| 22 | He attended the "Hollywood Collectors & Celebrities Show", at Beverly Garland's Holiday Inn, in North Hollywood, California. |
| 23 | Launched a chain of ice cream/frozen yogurt stores in Hawaii in the late 1970s, which had limited success. |
| 24 | Starting in 1997, Gary had to refuse a lot of his fan-mail due to his address being published on the internet, as he would state in a stamped message on fan's return envelopes. |
| 25 | Is a renowned painter of Wildlife Art. |
| 26 | Was licensed by the State of California to care for wounded animals. |
| 27 | His character "Radar" on M*A*S*H (1972), who showed a fondness for the care of animals, was actually inspired by Gary's true love for wildlife. He once worked for the Animal Rehabilitation Clinic in Southern California, where he nurtured and cared for many species of birds such as the brown pelican, and many other animals including opossums, gray squirrels, raccoons and abandoned creatures needing special attention. |
| 28 | Has a deformed left hand that he took great pains to hide during the run of M*A*S*H (1972), often by hiding it behind his clipboard. |
| 29 | Was a drummer who headed a jazz trio, The We Three, and was an award-winning songwriter. Studied acting with James Tuttle and musical comedy with Charles Nelson Reilly. |
Pictures
Movies
Actor
| Title | Year | Status | Character |
| --- | --- | --- | --- |
| Behind the Waterfall | 1995 | | Mr. Connors |
| Small Kill | 1992 | | Fleck / Lady Esmerelda |
| Doubles | 1991 | | Arnie |
| W*A*L*T*E*R | 1984 | TV Short | Walter 'Radar' O'Reilly |
| After MASH | 1984 | TV Series | Radar O'Reilly |
| Tales of the Unexpected | 1981 | TV Series | Harry Flock |
| The Love Boat | 1977-1981 | TV Series | Eddie Martin / Donald M. Flanders |
| Fantasy Island | 1978-1980 | TV Series | Gordon Hughes / Richard C. Delaney |
| Casino | 1980 | TV Movie | Bill Taylor |
| The Man in the Santa Claus Suit | 1979 | TV Movie | Bob Willis |
| M*A*S*H | 1972-1979 | TV Series | Cpl. Walter 'Radar' O'Reilly |
| $weepstake$ | 1979 | TV Series | Roscoe Fuller |
| Wonder Woman | 1978 | TV Series | Alan |
| Ellery Queen | 1976 | TV Series | Gerald Hacker |
| Twigs | 1975 | TV Movie | Clergyman |
| Insight | 1974-1975 | TV Series | Mombo / Milo |
| Love, American Style | 1973 | TV Series | Wilbur Wright (segment "Love and the Plane Fantasy") / Sydney Melvin Wimple (segment "Love and the Crisis Line") |
| B.S. I Love You | 1971 | | Ted |
| The Name of the Game | 1970 | TV Series | Watson |
| MASH | 1970 | | Cpl. 'Radar' O'Reilly |
| The Good Guys | 1969 | TV Series | Mike Butterworth |
| NET Playhouse | 1967 | TV Series | Boy |
| Daniel's Lot | 2010 | | Pastor Mahoney |
| Burke's Law | 1995 | TV Series | Patrick Noyes |
Soundtrack
| Title | Year | Status | Character |
| --- | --- | --- | --- |
| M*A*S*H | | TV Series 1 episode, 1975 performer - 10 episodes, 1972 - 1978 | |
Director
| Title | Year | Status | Character |
| --- | --- | --- | --- |
| Small Kill | 1992 | | |
Thanks
| Title | Year | Status | Character |
| --- | --- | --- | --- |
| Enlisted: The Story of 'M*A*S*H' | 2002 | Video documentary short special thanks | |
Self
| Title | Year | Status | Character |
| --- | --- | --- | --- |
| The Real M*A*S*H | 2010 | TV Movie | Himself |
| Gylne tider | 2006 | TV Series documentary | Himself |
| Biography | 2003 | TV Series documentary | Himself |
| 'M*A*S*H': 30th Anniversary Reunion | 2002 | TV Movie documentary | Himself / Corporal 'Radar' O'Reilly |
| Enlisted: The Story of 'M*A*S*H' | 2002 | Video documentary short | Himself |
| TV Guide's Truth Behind the Sitcom Scandals 3 | 2000 | TV Movie documentary | Himself |
| Hollywood Squares | 1999 | TV Series | Himself |
| Pets: Part of the Family | 1999 | TV Series | Himself - Host |
| M*A*S*H, Tootsie & God: A Tribute to Larry Gelbart | 1998 | TV Special documentary | Himself |
| Memories of M*A*S*H | 1991 | TV Movie documentary | Himself / Corporal 'Radar' O'Reilly |
| Super Password | 1985 | TV Series | Himself - Celebrity Contestant |
| Match Game/Hollywood Squares Hour | 1984 | TV Series | Himself - Panelist |
| Making 'M*A*S*H' | 1981 | TV Movie documentary | Himself |
| CHiPs | 1980 | TV Series | Himself |
| The 31st Annual Primetime Emmy Awards | 1979 | TV Special | Himself - Nominee: Outstanding Supporting Actor in a Comedy or Comedy-Variety or Music Series |
| The Hollywood Squares | 1976-1979 | TV Series | Himself - Panelist |
| The 30th Annual Primetime Emmy Awards | 1978 | TV Special | Himself - Nominated: Outstanding Continuing Performance by a Supporting Actor in a Comedy Series |
| America 2-Night | 1978 | TV Series | Himself |
| The $25,000 Pyramid | 1977 | TV Series | Himself |
| Donny and Marie | 1977 | TV Series | Himself |
| Battle of the Network Stars | 1976 | TV Special | Himself - CBS Team |
| Dinah! | 1975-1976 | TV Series | Himself - Guest |
| Match Game 73 | 1974-1976 | TV Series | Himself - Panelist |
| Showoffs | 1975 | TV Series | Himself |
| Match Game PM | 1975 | TV Series | Himself - Panelist |
| Tattletales | 1974-1975 | TV Series | Himself |
| The Mike Douglas Show | 1975 | TV Series | Himself - Actor |
| The Merv Griffin Show | 1975 | TV Series | Himself |
| The Dean Martin Show | 1973-1974 | TV Series | Himself |
| The Don Knotts Show | 1970 | TV Series | Himself |
Archive Footage
| Title | Year | Status | Character |
| --- | --- | --- | --- |
| M*A*S*H: TV Tales | 2002 | TV Special documentary | Himself |
| Hollywood Mavericks | 1990 | Documentary | Corporal 'Radar' O'Reilly (uncredited) |
Awards
Won Awards
| Year | Award | Ceremony | Nomination | Movie |
| --- | --- | --- | --- | --- |
| 1977 | Primetime Emmy | Primetime Emmy Awards | Outstanding Continuing Performance by a Supporting Actor in a Comedy Series | M*A*S*H (1972) |
Nominated Awards
| Year | Award | Ceremony | Nomination | Movie |
| --- | --- | --- | --- | --- |
| 2001 | Daytime Emmy | Daytime Emmy Awards | Outstanding Service Show Host | Pets: Part of the Family (1999) |
| 1979 | Primetime Emmy | Primetime Emmy Awards | Outstanding Supporting Actor in a Comedy or Comedy-Variety or Music Series | M*A*S*H (1972) |
| 1978 | Primetime Emmy | Primetime Emmy Awards | Outstanding Continuing Performance by a Supporting Actor in a Comedy Series | M*A*S*H (1972) |
| 1976 | Primetime Emmy | Primetime Emmy Awards | Outstanding Continuing Performance by a Supporting Actor in a Comedy Series | M*A*S*H (1972) |
| 1975 | Primetime Emmy | Primetime Emmy Awards | Outstanding Continuing Performance by a Supporting Actor in a Comedy Series | M*A*S*H (1972) |
| 1974 | Primetime Emmy | Primetime Emmy Awards | Best Supporting Actor in Comedy | M*A*S*H (1972) |
| 1973 | Primetime Emmy | Primetime Emmy Awards | Outstanding Performance by an Actor in a Supporting Role in Comedy | M*A*S*H (1972) |
Source:
IMDb
,
Wikipedia