• Born in Handan, Hebei, China in 1995
• Net worth estimated to be over $100,000
• Trained in Wushu and Sanda martial arts since the age of 4
• Gained recognition and success after appearing in the film "Karate Kid"
• Currently residing in Beijing and developing his career in acting and martial arts

Known for movies
Short Info
| | |
| --- | --- |
| Fact | At the age of 4, his father sent him to the Beijing Shenshahai/Beijing Shichahai Amateur Sports School. After training for three and a half years, his father sent him to the Haidian Gymnasium and he began learning the national wushu routines. |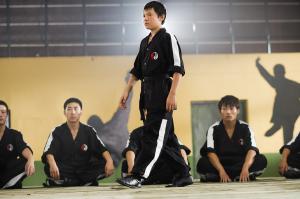 Who is Zhenwei Wang?
Zhenwei Wang was born on 20 October 1995, in Handan, Hebei, China, and is an actor, best known for his work in the Hollywood film "Karate Kid", the 2010 remake starring Will Smith's son, Jaden Smith. He was one of the antagonists in the film, a rival of the main character.
The Wealth of Zhenwei Wang
As of mid-2020, Zhenwei Wang's net worth is estimated to be over $100,000, earned through a successful career in acting, including working on several local productions in his country. He is also very active in the martial arts scene in China, competing in national competitions since childhood.
Early Life and Martial Arts Beginnings
Zhenwei grew up in the southernmost region of the eastern Chinese province of Hebei, in an industrial city which is one of the oldest in the country, and the home of the martial art Tai Chi, and amidst an ancient culture, though he didn't go out often as he was a sickly kid. Wanting him to grow stronger, his father sent him to train at the Shichahai Sports School when he was four years old; the school is known for being one of the main training facilities for children, with programs in martial arts and other sports. Numerous Wushu champions, table tennis and badminton champions started their training there.
He enrolled in a class of Wushu, a martial art that was created to help standardize the varied and numerous martial arts of the country. It involves techniques, acrobatic movements, and various basic combat movements from strikes to throws. There is also a full-contact version of the martial art known as Sanda, which has similarities to kickboxing.
Martial Arts Career
Wang showcased a lot of potential during his training, as he had the energy and was developing the stamina needed too. He practiced most of the week for many hours, so his father then sent him to Beijing to continue his training.
After a while, he gained the recommendation of many who trained alongside him, and when he was eight he began competing in national wushu routine competitions, with his first at the Haidian Gymnasium, one of the largest districts in Beijing.
While it was unusual to be separated from his family, Beijing offered a better education than his hometown. His life immersed in Wushu would pay off, as he began winning national competitions, including two gold medals in the Beijing Youth Wushu competition. Two years later, he was selected in the national wushu team, and competed as a member of the B-team in nationals.
Eventually, as he trained and competed, he had the opportunity to audition for the film "Karate Kid". In 2009, the movie was beginning shooting, and they were looking for a young teenager to be cast. Jackie Chan's assistant and other casting directors then visited numerous martial arts schools in China.
Getting Cast for The Karate Kid
An estimated 10,000 children auditioned for the role, wanting to get the opportunity at a big Hollywood film. The selection was extremely strict, with many being eliminated due to the lack of fluency in English – Mandarin and English were a must for the role.
They were also evaluated based on their appearance, facial expressions, wushu skills, and their ability to act even without speaking, such as the way they expressed with their eyes. The entire audition took three months, and Wang overcame all to be selected in the role of Cheng.
"The Karate Kid" is a revival or continuation of the 1980s film series of the same name, with Jackie Chan taking on the role of kung fu master and teacher Chan, who works as a maintenance man during his free time. The film was produced by Will Smith and Jada Pinkett Smith, with their son Jaden Smith naturally taking on the role of the protagonist.
It tells the story of a boy who moves to Beijing with his mother, and encounters the world of self-defense and martial arts.
The Success of The Karate Kid
Wang played the role of the neighborhood bully and martial arts student, akin to the antagonist in the original film. Unlike the original, however, this film was set in China and features Kung Fu more than the titular Karate, an aspect which has been criticized by some viewers. The film was a collaboration between China, the US and Hong Kong, and was very successful at the box office, but gained mixed reviews, with some saying that it was an inferior version to the original film, while others praised its update of the original.
The film was responsible for elevating the career of Jaden Smith, which then led to more acting projects for him, though after several failed movies, he took a long break from acting, only returning sometime in 2017. For Wang, he returned to China and didn't gain much attention abroad like many of the other Chinese cast members, with most of the credit going to Jackie Chan who was a big part of the film. Despite that, his return home established him as a movie star, and he began appearing in more martial arts films such as the series "Boss".
He has showcased a strong acting inclination, and looks to develop his career further as an actor as well as a martial artist.
Personal Life
Zhenwei is single and there isn't much information available about his romantic life or his current endeavors. There was a lot of trouble during filming "The Karate Kid", mostly involving minor injuries that occurred due to the intensity of some of the scenes. He received four stitches on his head after bumping it on an oil pail during a chase scene with Jaden Smith. He is now residing in Beijing.
General Info
| | |
| --- | --- |
| Full Name | Zhenwei Wang |
| Height | 1.66 m |
| Profession | Actor |
| Nationality | Chinese |
Family
Accomplishments
Social profile links
Facts
| # | Fact |
| --- | --- |
| 1 | At the age of 4, his father sent him to the Beijing Shenshahai/Beijing Shichahai Amateur Sports School. After training for three and a half years, his father sent him to the Haidian Gymnasium and he began learning the national wushu routines. |
| 2 | Zhenwei received many awards in national competitions at a young age. He was awarded two gold medals in the Beijing Youth Wushu Competition. |
| 3 | When Zhenwei was 10, he came in first out of 57 excellent competitors when the national wushu team was searching for new members, and he successfully entered the national wushu B-Mannschaft. |
| 4 | When filming The Karate Kid (2010), Zhenwei suffered a head injury requiring four stitches. He received it while chasing Jaden Smith (who played Dre Parker) after being splashed by the dirty water; Zhenwei hit his head on an oil pail. In addition, he received other minor injuries. |
Pictures
Movies
Actor
| Title | Year | Status | Character |
| --- | --- | --- | --- |
| Movie Martial Arts vs. Reality | 2012 | TV Series | Boss |
| The Karate Kid | 2010 | | Cheng |
Archive Footage
| Title | Year | Status | Character |
| --- | --- | --- | --- |
| Justin Bieber: Never Say Never | 2010 | Video short | Cheng |
Source:
IMDb
,
Wikipedia