• Steve Bacic is a Canadian actor best known for his portrayal of Telemachus Rhade and Ghaeris in the series "Andromeda."
• He was born in Croatia and immigrated to Canada when he was 3 years old.
• He has appeared in multiple TV series and movies, and was nominated for two Leo Awards for his performance in "The Guard."
• He is married to his wife Carolin Bacic and they have five children together.
• His net worth is estimated at over $2 million.

Known for movies
Short Info
| | |
| --- | --- |
| Date Of Birth | March 13, 1965 |
| Spouse | Carolin Bacic |
| Fact | Cast member in Andromeda Season 5 [2004] |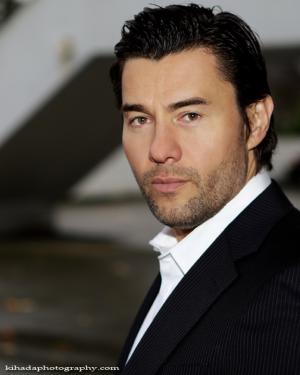 Who is Steve Bacic?
Steve Basic was born in in Lisicis, The Socialist Republic of Croatia, Yugoslavia on 13 March 1965 – his zodiac sign is Aquarius and he now holds Canadian nationality. He is an actor best known for his portrayal of both Telemachus Rhade and Ghaeris in the Canadian-American science fiction series "Andromeda", created by Gene Roddenberry, and which starred Kevin Sorbo, Lisa Ryder and Laura Bertram – the story follows Captain Dylant Hunt travelling on the spaceship Andromeda Ascendant with the goal of repairing Systems Commonwealth around 300 years after it fell. The series aired from 2000 to 2005, and won 17 awards while it was nominated for 24 others.
Early life, family and education
Steve's family migrated to Windsor in Ontario, Canada when he was three years old – he has no siblings and was raised by his Croatian father who was a truck driver, and his Croatian mother who worked at a local supermarket.
Steve grew up wanting to become an athlete, and was an avid football player – he also played various other sports, including baseball and basketball and often ran and went to the gym. Upon matriculation in 1983, he enrolled at a university from which he graduated with a Bachelor's degree in kinesiology, however, after going on a field trip with his friends, he decided to settle in Vancouver in British Columbia and try to launch his acting career.
Steve began taking acting lessons, and then met the famous American actor, writer and director Ethan Hawke, with whom he appeared in several movies – he also did several modelling jobs before making his way up in the film industry.
Roles in TV series
Steve made his debut TV series appearance in 1991, when he was cast to play Loco Louis Parades in the episode "Loyalties" of the American action crime series "Street Justice", and in the same year guest starred as Tommy Boylan in the episode "Wasted" of the American police procedural drama "21 Jump Street".
He went on to appear in three episodes of the critically acclaimed American science fiction drama "The X-Files", starring David Duchovny, Gillian Anderson and Mitch Pileggi, and which won 100 awards including five Golden Globes, while it was nominated for 217 others.
He guest starred in a single episode of the science fiction action adventure series "Highlander: The Series", and then portrayed Roy and Griff in two episodes of the Canadian-American science fiction mystery series "The Outer Limits".
The following years saw Steve appear in single episodes of many series, such as the American-Canadian science fiction "Earth: Final Conflict" in 2000, the Canadian-American military science fiction adventure "Stargate SG-1" in 2000 as well and the superhero series "Smallville" in 2001. The year 2002 saw him guest star in the episode "The Wealthy Show" of the American anthology series "Beyond Belief: Cast or Fiction" as well in the episode "Bride of the Sun" of the dramatized adventure series "Adventure Inc.".
He continued to appear in one episode of numerous series, before being invited to play Barin in the American-Canadian science fiction "Flash Gordon" in 2007. The show starred Eric Johnson, Gina Holden and Karen Cliché, and follows Flash as he travels to another dimension to find his father. After guest starring in the Canadian series "Blood Ties" and the American police procedural drama "CSI: Miami" in 2007, Steve began portraying one of the lead characters – Miro DaSilva – in the Canadian drama "The Guard", which also starred Jeremy Guilbaut and Zoie Palmer, while the story follows the lives of several professional Canadian Coast Guard workers. For his performance, Steve was nominated for a Leo Award for Best Lead Performance by a Male in a Dramatic Series, in both 2008 and 2009.
Steve then starred in the first season of the Canadian drama "Cra$h & Burn" in 2009, and the fourth season of the American drama "Big Love" in the same year. In 2014 he was invited to play the supporting role of Charles Spurlock in the critically acclaimed American drama "When Calls the Heart". Three of his most recent roles in TV series have been in the episode "Fever of the Bone" of the Canadian drama "Aftermath" in 2016, the episode "Second Chances" of the superhero series "Arrow" in 2017, and he portrayed the supporting character Trevor Wilson in the American musical comedy "Julie and the Phantoms" in 2020.
Roles in movies
Steve made his debut film appearance in 2000, when he was invited to portray Johnny Phoenix in the American science fiction action movie "The 6th Day", starring Arnold Schwarzenegger and Robert Duvall, with the story following a man from the future who becomes cloned by mistake.
In 2003, Steve made a cameo appearance in the superhero movie "X2", and a few of his following roles were in the Canadian-American film "Deception" in 2004, the American romantic comedy "Good Luck Chuck" in 2007 and the Canadian-American military science fiction movie "Stargate: Continuum". In 2010, Steve played one of the lead characters Tom Grady in the apocalyptic thriller movie "The Final Storm" and then went on to appear as The Officer in the Canadian action movie "Tactical Force". Steve gained recognition in 2013 after he portrayed the lead character Kevin in the American horror movie "A Haunting At Silver Falls", written by Cam Cannon, directed by Brett Donowho, and which also starred Tara Westwood and Alix Elizabeth.
The following years saw Steve appear in over 10 movies which failed to attract much attention, such as "Karen Kingsbury's The Bridge", "A Christmas to Remember" and "Seduced by a Strager".
Two of his most recent roles in movies have been in the 2017 American drama "Wonder", which starred Julia Roberts and Owen Wilson, and the Romanian drama "Lemonade" directed by Ioana Uricaru, and which was shown at the 68th Berlin International Film Festival.
Wife Carolin Bacic
Steve married his other half, Carolin Bacic, a non-celebrity woman who was also born in Croatia, sometime in his early 20s, and she gave birth to their three children. Steven and Carolin often attended Steve's red carpet events together, and could've been seen taking long walks and eating at local restaurants in Toronto, however, after over 10 years of marriage, they divorced for unknown reasons.
It didn't take long for Steve to realize that he was the one to blame for the divorce, and he went on to win Carolin's heart once again – they remarried in a private ceremony attended by only their closest friends and family, after which Carolin gave birth to two of their children.
Steve hasn't commented about any women he might have been with before meeting Carolin, or after he divorced her, and as of September 2020, he is married (second marriage with the same woman) and has five children.
Hobbies and other interests
Even today, Steve has several training sessions at the gym each week to stay fit for his roles, and he is also focused on his mental health which is why he often meditates with his daughter and does yoga.
His favorite season is summer, as he likes to relax at the beach, swim in the ocean and go snorkeling.
Steve is a huge fan of Halloween, and hasn't so far skipped a single chance to paint his face and go to a Halloween party. He is also a fan of soccer, and cheers for Croatia – he hasn't skipped a single game the national team has played.
Steve has his own favorite actors and actresses, some of whom are Keanu Reeves, Leonardo DiCaprio and Anne Hathaway, and some of his favorite movies are the trilogy "The Matrix", "Shutter Island" and "Les Miserables".
Net worth
Steve's age is 55. He has short brown hair and brown eyes, his height is 6ft 1ins (1.85m) and he weighs around 170lbs (78kgs).
As of September 2020, his net worth has been estimated at over $2 million.
General Info
| | |
| --- | --- |
| Full Name | Steve Bacic |
| Date Of Birth | March 13, 1965 |
| Height | 1.85 m |
| Profession | Actor |
Family
Accomplishments
| | |
| --- | --- |
| Movies | X2, Garage Sale Mystery: The Deadly Room, A Haunting at Silver Falls, The Final Storm, The 6th Day, Good Luck Chuck, Tactical Force, Stargate: Continuum, Afghan Knights, Ballistic: Ecks vs. Sever, The Colt, Odysseus: Voyage to the Underworld, Battlestar Galactica: Razor, John Tucker Must Die, Stolen... |
| TV Shows | The Guard, Andromeda, Cra$h & Burn, Out of Order |
Social profile links
Facts
| # | Fact |
| --- | --- |
| 1 | Cast member in Andromeda Season 5 [2004] |
| 2 | residing in North Vancouver, British Columbia, Canada [January 2008] |
| 3 | Original pronunciation of last name is "Baa cheech". |
| 4 | Last name is pronounced 'basic'. |
| 5 | Played an XO in two science fiction shows that are both killed by their commanding officer: In Andromeda (2000), Gaheris Rhade is killed by Captain Dylan Hunt and in Battlestar Galactica: Razor (2007), Colonel Jurgen Belzen is killed by Admiral Helena Cain. |
| 6 | Has appeared with Colin Cunningham in three different productions: Stargate SG-1 (1997), The 6th Day (2000) and Andromeda (2000). |
| 7 | Has appeared in two different productions which featured a character named Dr. Weir: The 6th Day (2000) and Stargate SG-1 (1997). |
| 8 | Children: one daughter, one son |
Pictures
Movies
Actor
| Title | Year | Status | Character |
| --- | --- | --- | --- |
| R.L. Stine's The Haunting Hour | 2014 | TV Series | Dad |
| The 100 | 2014 | TV Series | Grounder |
| Spooksville | 2013-2014 | TV Series | George Freeman |
| When Calls the Heart | 2014 | TV Series | Charles Spurlock |
| My Gal Sunday | 2014 | TV Movie | Claudus Jovanet |
| Republic of Doyle | 2013-2014 | TV Series | Inspector Craig Smallwood |
| The Virginian | 2014 | Video | Trampas |
| Once Upon a Time in Wonderland | 2013 | TV Series | The Grendel |
| Suddenly | 2013 | | Dan Carney |
| 5 Souls | 2013 | | Sam |
| A Haunting at Silver Falls | 2013 | | Kevin Sanders |
| Profile for Murder | 2013 | TV Movie | Sam |
| Fatal Performance | 2013 | TV Movie | Mark Thomas |
| The Marine 3: Homefront | 2013 | Video | Agent Wells |
| She Made Them Do It | 2013 | TV Movie | Sean |
| Nearlyweds | 2013 | TV Movie | Mark |
| Cracked | 2013 | TV Series | Miller Branson |
| Rita | 2013 | TV Movie | Tom |
| The Selection | 2012 | TV Movie | Mylan |
| Ghost Storm | 2012 | TV Movie | Carl |
| Flashpoint | 2012 | TV Series | Sergeant Robert Gray |
| XIII: The Series | 2012 | TV Series | Andrej Kalishkanov |
| True Justice | 2012 | TV Series | Eli Cohen |
| Arctic Air | 2012 | TV Series | Rafael Silva |
| To the Mat | 2011 | TV Movie | Scottie Durkan |
| Tactical Force | 2011 | | Blanco |
| The Listener | 2011 | TV Series | Luke Cassel |
| Endgame | 2011 | TV Series | Steven MacDonald / Steven Abramyk |
| Big Love | 2010-2011 | TV Series | Goran |
| NCIS: Los Angeles | 2010 | TV Series | Ruman Marinov |
| The Final Storm | 2010 | | Tom Grady |
| Cra$h & Burn | 2009-2010 | TV Series | Pavel Korkov |
| Smallville | 2001-2010 | TV Series | Garage Worker Vordigan Dark Archer |
| Supernatural | 2009 | TV Series | Dr. Sexy |
| The Guard | 2008-2009 | TV Series | Miro Da Silva |
| The Ambassador | 2008 | Short | Sascha Hex |
| Stargate: Continuum | 2008 | Video | Camulus |
| Odysseus: Voyage to the Underworld | 2008 | | Eurylochus |
| Battlestar Galactica: Razor | 2007 | TV Movie | Colonel Jurgen Belzen |
| Flash Gordon | 2007 | TV Series | Prince Barin |
| Blood Ties | 2007 | TV Series | Paul 'Dirty' Deeds |
| Afghan Knights | 2007 | | Pepper |
| Good Luck Chuck | 2007 | | Howard |
| CSI: Miami | 2007 | TV Series | Rod Vickers |
| ER | 2007 | TV Series | Derek Marshak |
| All She Wants for Christmas | 2006 | TV Movie | James Emerson |
| Three Moons Over Milford | 2006 | TV Series | Naked Man / Chet |
| The Tooth Fairy | 2006 | Video | Cole |
| Whistler | 2006 | TV Series | Adam Lawson |
| Psych | 2006 | TV Series | David Morrison Wilcroft |
| Blade: The Series | 2006 | TV Series | Frederick |
| John Tucker Must Die | 2006 | | Skip #1 |
| Romeo! | 2006 | TV Series | Mitch Sullivan |
| Safe Harbor | 2006 | TV Movie | Sam Wyatt |
| Masters of Horror | 2006 | TV Series | John Ralston |
| Deck the Halls | 2005 | TV Movie | Nickolas St. Clair |
| Andromeda | 2000-2005 | TV Series | Telemachus Rhade Gaheris Rhade |
| The Colt | 2005 | TV Movie | Sgt. Longacre |
| Stargate SG-1 | 2000-2004 | TV Series | Camulus Major Coburn |
| Deception | 2004 | TV Movie | Max |
| Out of Order | 2003 | TV Mini-Series | Phillip |
| Encrypt | 2003 | TV Movie | Lapierre |
| Firefight | 2003 | | Jonas |
| X2 | 2003 | | Dr. Hank McCoy |
| Black Sash | 2003 | TV Series | Hector |
| Threshold | 2003 | TV Movie | Frank Hansen |
| The Twilight Zone | 2003 | TV Series | Ted Saicheck |
| Mutant X | 2003 | TV Series | Nick Maddox |
| Just Cause | 2002 | TV Series | Al Sutherland |
| Adventure Inc. | 2002 | TV Series | Stefan George |
| Body & Soul | 2002 | TV Series | Dr. Leslie Thomas |
| Ballistic: Ecks vs. Sever | 2002 | | Agent Fleming |
| Beyond Belief: Fact or Fiction | 2002 | TV Series | Dirk Sidwell |
| Just Deal | 2001-2002 | TV Series | Coach |
| Jeremiah | 2002 | TV Series | Gregory |
| Mysterious Ways | 2002 | TV Series | Ralph |
| The Associates | 2002 | TV Series | Mark |
| The Shipment | 2001 | | Jimmy |
| L.A.P.D.: To Protect and to Serve | 2001 | | Richard Wade |
| Night Visions | 2001 | TV Series | Handyman |
| Los Luchadores | 2001 | TV Series | Rodney the Ranger |
| Dark Angel | 2001 | TV Series | Soldier 2 |
| BeastMaster | 2001 | TV Series | Kim |
| The 6th Day | 2000 | | Johnny Phoenix |
| Quarantine | 2000 | TV Movie | Joe Blake |
| Earth: Final Conflict | 2000 | TV Series | Scott Pierce |
| Call of the Wild | 2000 | TV Series | Oscar Deville |
| Cold Feet | 1999 | TV Series | Chipper Smith |
| Honey, I Shrunk the Kids: The TV Show | 1999 | TV Series | Freddie |
| Heaven's Fire | 1999 | TV Movie | Rudy |
| NightMan | 1999 | TV Series | Raul Marquez |
| First Wave | 1998 | TV Series | |
| The Net | 1998 | TV Series | Cam Waverly |
| Da Vinci's Inquest | 1998 | TV Series | Police Constable #3 |
| Voyage of Terror | 1998 | TV Movie | Alex Reid |
| The X-Files | 1995-1998 | TV Series | SWAT Commander Agent Collins Officer #2 |
| The Sentinel | 1998 | TV Series | Joe Brock |
| Profit | 1996-1997 | TV Series | Seth |
| Hardball | 1997 | Video | Carlos |
| Millennium | 1997 | TV Series | Deputy Kevin Reilly |
| The Outer Limits | 1996-1997 | TV Series | Griff / Roy |
| Highlander | 1996 | TV Series | Luke |
| Viper | 1996 | TV Series | Parker / Dirk Minyard |
| In the Lake of the Woods | 1996 | TV Movie | Lieutenant |
| Deadly Sins | 1995 | | Eric |
| She Stood Alone: The Tailhook Scandal | 1995 | TV Movie | Boomer |
| The Marshal | 1995 | TV Series | Peter |
| M.A.N.T.I.S. | 1994 | TV Series | Aquino |
| The Commish | 1994 | TV Series | Tito |
| Born to Run | 1993 | TV Movie | Groom |
| Another Stakeout | 1993 | | Neighbor Frank |
| Street Justice | 1991-1992 | TV Series | 'Loco' Luis Gomez |
| 21 Jump Street | 1991 | TV Series | Tommy Boylan Jr. |
| He Loves You Not | 2017 | TV Movie post-production | Martin Hale |
| Beyond the Call | | Short post-production | Carter |
| Undergrad Nightmare | 2016 | TV Movie | Prof. Justin Miller |
| Aftermath | 2016 | TV Series | Jeff Cottrell |
| Garage Sale Mystery: The Art of Murder | 2016 | TV Movie | Jason |
| Garage Sale Mystery: The Novel Murders | 2016 | TV Movie | Jason |
| Second Chance | 2016 | TV Series | Bennet |
| Get Out Alive | 2016 | TV Movie | James Raymond |
| Garage Sale Mystery: Guilty Until Proven Innocent | 2016 | TV Movie | Jason |
| Blackway | 2015 | | Fitzgerald |
| Garage Sale Mystery: The Wedding Dress | 2015 | TV Movie | Jason |
| Stolen Daughter | 2015 | TV Movie | Jack Tripping |
| Sugar Babies | 2015 | TV Movie | Leo Granger |
| The Whispers | 2015 | TV Series | Reid |
| Garage Sale Mystery: The Deadly Room | 2015 | TV Movie | Jason |
| Garage Sale Mystery: All That Glitters | 2014 | TV Movie | Jason |
Producer
| Title | Year | Status | Character |
| --- | --- | --- | --- |
| Beyond the Call | | Short executive producer post-production | |
| A Haunting at Silver Falls | 2013 | executive producer | |
| The Ambassador | 2008 | Short creative producer | |
Director
| Title | Year | Status | Character |
| --- | --- | --- | --- |
| My Baby Gone | 2017 | TV Movie pre-production | |
| Beyond the Call | | Short post-production | |
Miscellaneous
| Title | Year | Status | Character |
| --- | --- | --- | --- |
| Watch Dogs | 2014 | Video Game actor: motion capture | |
Self
| Title | Year | Status | Character |
| --- | --- | --- | --- |
| The 12th Annual Leo Awards | 2010 | TV Special | Himself - Presenter |
| The 10th Annual Leo Awards | 2008 | TV Special | Himself - Presenter, Nominee: Best Lead Performance by a Male in a Dramatic Series |
Archive Footage
| Title | Year | Status | Character |
| --- | --- | --- | --- |
| Flash Gordon | 2007 | TV Series | Prince Barin |
| Andromeda | 2002 | TV Series | Gaheris Rhade Telemachus Rhade |
| Secrets of the X Files, Part 2 | 1996 | TV Special documentary | Agent Collins (uncredited) |
Awards
Nominated Awards
| Year | Award | Ceremony | Nomination | Movie |
| --- | --- | --- | --- | --- |
| 2009 | Leo | Leo Awards | Best Lead Performance by a Male in a Dramatic Series | The Guard (2008) |
| 2008 | Leo | Leo Awards | Best Lead Performance by a Male in a Dramatic Series | The Guard (2008) |
Source:
IMDb
,
Wikipedia