• Rena 'Sable' Marlette Lesnar is the wife of famous professional wrestler Brock Lesnar.
• She is a model, actress, and former professional wrestler.
• She launched her modelling career in 1990 and her wrestling career in 1996.
• She returned to World Wrestling Entertainment in 2003 and has appeared in various video games.
• She has been married to Brock Lesnar since 2006 and they have two children together.

Known for movies
Short Info
| | |
| --- | --- |
| Net Worth | $1.5 million |
| Date Of Birth | August 8, 1967 |
| Spouse | Brock Lesnar, Marc Mero, Wayne Richardson, Brock Lesnar, Marc Mero, Wayne Richardson, Brock Lesnar, Marc Mero, Wayne Richardson |
| Mark | Finishing move: Sable Bomb (Powerbomb) |
| Fact | Former WWE Women's Champion. |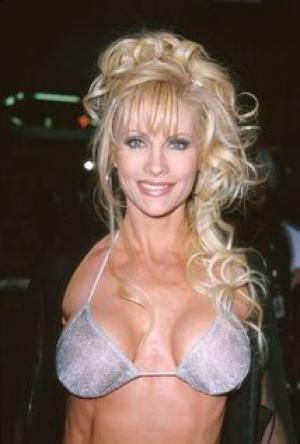 Who is Sable (wrestler), Brock Lesnar's wife?
Rena 'Sable' Marlette Lesnar was born in Jacksonville, Florida USA on 8 August 1967 – her zodiac sign is Leo and she holds American nationality. She is a model, actress and a former professional wrestler, who is today perhaps best known for being the wife of Brock Lesnar, who is a famous American professional wrestler.
Early life and education
Sable was raised an only child in Jacksonville by her father who was a factory worker, and her mother who was a housewife – Sabre became interested in modelling while attending elementary school, as she and her friends together began reading girly magazines.
She became physically active while still attending elementary school, as she played softball, rode horses and did gymnastics – at the age of 12, Sable entered her first beauty pageant, winning it and so continuing to compete in various pageants. She matriculated from high school in 1985, and then worked several jobs to financially support herself before launching her modelling career in 1990, and went on to pose for brands and companies such as Pepsi, Guess and L'Oreal.
Career as a wrestler
Her career as a wrestler was launched in March 1996, when she competed in the World Wrestling Federation (WWF) and fought against Hunter Hearst Helmsley alongside her then-husband Marc Mero – Sable served as Marc's manager before becoming a popular wrestler herself.
Sable launched her acting career in 1998, when she appeared in a single episode of the American crime series "Pacific Blue", but she decided to remain focused on her wrestling career, although in April 1999 she appeared on the cover page of an issue of "Playboy". She soon became the WWF Women's Champion, however, she decided to quit WWF in June 1999 when she sued the company for $110 million for alleged sexual harassment and 'unsafe working conditions' – the two sides came to an agreement out of court in August 1999.
In September, Sable appeared on the cover page of another issue of "Playboy", becoming the first woman to appear on two covers, and went on to guest star in programs such as "The Howard Stern Show" and "Late Night with Conan O'Brien". Sable was also cast to appear in two TV series "First Wave" and "Relic Hunter", as well as in the mafia comedy movie "Corky Romano". Sable is also a writer, as she published her autobiographical book "Undefeated" in August 2000, which was followed by her comic book "The 10th Muse".
On 3 April 2003, Sable came back to World Wrestling Entertainment (former WWF), then after three years moved to New Japan Pro Wrestling.
She can also be seen featured in a number of video games such as "WWE SmackDown! vs. Raw", "WWE SmackDown! Here Comes the Pain" and "WWF Attitude".
Love life and marriage with Brock
Sable met her future first husband, Wayne W. Richardson at a party in 1981, and they dated for three years before marrying in a private ceremony attended by only their closest friends and family in 1986 – not long after the wedding, Sable gave birth to their daughter Mariah. Wayne had problems with alcohol, and died in 1991 after crashing his car while under the influence.
In 1993, Sable met her future second husband Marc Mero, a retired professional wrestler and amateur boxer, and they married only a year later.
Before their divorce was finalized in 2004, Sable started seeing Brock Lesnar, and they became engaged in 2005, however, the engagement was cancelled, but they became engaged again in January 2006 and then married on 6 May 2006 in a private ceremony. On 3 June 2009, Sable gave birth to their son Turk, and their second son Duke followed on 21 July 2010.
There are no rumors nor controversies surrounding Sable and Brock's marriage, and they are leading a seemingly happy life together in Maryfield in the Canadian province of Saskatchewan.
Hobbies and other interests
Sable's favorite season is summer, as she enjoys showing off her sculpted body at the beach, while she also likes to sun tan and swim in the ocean.
She is a lover of animals with cats being her favorites, and has had many pets since her teenage years.
Sable's main hobby is travelling, and she's been all around the US for both work and pleasure, and has also vacationed in Europe on various occasions, staying in cities such as Barcelona in Spain, Venice in Italy and Paris in France.
Sable is keen on watching movies in her spare time, and some of her favorite actors and actresses are Robert De Niro, Leonardo DiCaprio and Angelina Jolie, while some of her favorite movies are "Taxi Driver", "Shutter Island" and "Lara Croft: Tomb Raider – The Cradle of Life".
Age and height
Sable's age is 53. She has long blonde hair and blue eyes, her height is 5ft 8ins (1.73m) and she weighs around 145lbs (65kgs).
As of September 2020, her net worth has been estimated at over $10 million, while her husband's net worth is reputedly over $28 million.
Who is Brock Lesnar?
Brock Edward Lesnar was born in Webster, South Dakota USA, on 12 July 1977 – his zodiac sign is Cancer and he holds American nationality. He is best known for having been a WWE Overall World Champion eight times.
Brock was raised alongside his two older brothers, Chad and Troy in Webster, by their parents Richard and Stephanie Lesnar who were the owners of a dairy farm. Brock studied at Webster High School at which he played football, and also began practicing wrestling. At the age of 17, Brock joined the Army National Guard but was discharged after failing a computer typing test – he went to work at construction sites, but soon enrolled at Bismarck State College.
During his sophomore year, Brock competed in the National Junior College Athletic Association (NJCAA) in wrestling, winning it and then moving to the University of Minnesota, from which he graduated with a Bachelor's degree in 2000.
He joined the WWF not long after graduation, and stayed there for two years before moving to WWE, however, after having several problems with people producing the show, Brock left WWE in late 2004, and joined IWGP Heavyweight Championship (Japan) winning it on 8 October 2005. He soon came back to WWE, and eventually in 2014 became the World Heavyweight Champion – it was announced on 31 August 2020 that Brock has retired from wrestling. Brock has been featured in nearly all WWE games ever released.
Brock also tried playing football when he was picked up by Minnesota Vikings on 11 June 2004, however, as he broke his jaw, his left hand and strained his groin when he crashed his motorbike, he was unable to show his true skills, and was let go from the Vikings.
Although not a model, Brock has appeared on cover pages of several magazines, such as "Muscle & Fitness", "Flex" and "City Pages". He is a writer, as published his autobiography "Death Clutch: My Story of Determination, Domination, and Survival" in 2011, while he is also a TV personality, having appeared in shows such as "Rome Is Burning", "Late Night with Jimmy Fallon" and "Mike and Mike in the Morning".
General Info
| | |
| --- | --- |
| Full Name | Sable |
| Net Worth | $1.5 million |
| Date Of Birth | August 8, 1967 |
| Place Of Birth | Jacksonville, Florida, United States |
| Height | 1.73 m, 1.73 m |
| Profession | Actor, Model, Professional Wrestler, Actor, Model, Professional Wrestler |
| Nationality | American, American |
Family
| | |
| --- | --- |
| Spouse | Brock Lesnar, Marc Mero, Wayne Richardson, Brock Lesnar, Marc Mero, Wayne Richardson, Brock Lesnar, Marc Mero, Wayne Richardson |
| Children | Mariah Richardson, Turk Lesnar, Duke Lesnar, Mariah Richardson, Duke Lesnar, Turk Lesnar, Mariah Richardson, Duke Lesnar, Turk Lesnar |
Accomplishments
| | |
| --- | --- |
| Movies | Slaves of the Realm, Jigarbaaz Hasinaa, Slaves of the Realm, Jigarbaaz Hasinaa, 7. Mob, 6. Watchdogs, 5. Copycat, Slaves of the Realm, Jigarbaaz Hasinaa |
Social profile links
Marks
| # | Marks / Signs |
| --- | --- |
| 1 | Trademark move: Slap |
| 2 | Trademark move: Kick to the head |
| 3 | Trademark move: Double Leg Takedown |
| 4 | Trademark move: Sable Grind |
| 5 | Trademark move: Sablecanrana (Hurracanrana) |
| 6 | Finishing move: TKO |
| 7 | Finishing move: Sable Bomb (Powerbomb) |
| 8 | Finishing move: The Sable Bomb |
Quotes
| # | Quote |
| --- | --- |
| 1 | All the men come to see me, and all the women want to be me. |
Facts
| # | Fact |
| --- | --- |
| 1 | Has a stepson and stepdaughter named Brock Jr. (b. June 12, 2001) and Mya Lynn Lesnar (b. April 10, 2002). |
| 2 | (May 6, 2006) Married for the 3rd time her on-off boyfriend of 2 years Brock Lesnar following a 4-month-long engagement. |
| 3 | Has a grandson (b.September 2012) via her daughter Mariah. |
| 4 | Has a step-daughter named Mya Lynn Lesnar (b.April 10, 2002). |
| 5 | Called off her engagement with Brock Lesnar. [August 2005] |
| 6 | Released from the WWE. [August 2004] |
| 7 | Gave birth to her 3rd child at age 42, a son Duke Lesnar on July 21, 2010. Child's father is her 3rd husband, Brock Lesnar. |
| 8 | Gave birth to her 2nd child at age 41, a son Turk Lesnar on June 3, 2009. Child's father is her 3rd husband, Brock Lesnar. |
| 9 | Gave birth to her 1st child, a daughter Mariah Richardson, with her now late 1st husband Wayne Richardson. [1988] |
| 10 | Former WWE Women's Champion. |
| 11 | Former wife of former WWE Superstar, "The Wildman" Marc Mero. |
| 12 | Worked for Jimmy Hart's Xtreme Wrestling Federation in the role of C.E.O. |
| 13 | She was a model for Guess Jeans before getting into wrestling. |
| 14 | Was on the winning end, with Torrie Wilson, over Stacy Keibler and Jackie Gayda (aka "Miss Jackie") in a Playboy evening gown match at WWE WrestleMania XX (2004). |
| 15 | After filing a $110 million breach of contract lawsuit against WWE (formerly WWF) in 1999, she has returned to the WWE. |
| 16 | Was a mother by age 19 in her first marriage. |
| 17 | Former WWF Women's Champion. |
Pictures
Movies
Actress
| Title | Year | Status | Character |
| --- | --- | --- | --- |
| WWE SmackDown! vs. RAW | 2004 | Video Game | Sable (voice) |
| Slaves of the Realm | 2003 | | Shira |
| The Final Victim | 2003 | | Julia Grant |
| Ariana's Quest | 2002 | TV Movie | Ariana |
| Corky Romano | 2001 | | Female Bouncer |
| Relic Hunter | 2000-2001 | TV Series | Elizabeth Rukeyser |
| First Wave | 1999 | TV Series | Lucas |
| WWF Attitude | 1999 | Video Game | Sable (voice) |
| Pacific Blue | 1998 | TV Series | Brenda Macy |
| WWF Mayhem in Manchester | 1998 | Video | Sable |
| Fully Loaded | 1998 | TV Movie | Sable |
| No Way Out | 1998 | TV Movie | Sable |
| WWF Friday Night's Main Event | 1997 | TV Series | Sable |
| WWF Slammy Awards 1997 | 1997 | Video | Sable |
| WWF Shotgun Saturday Night | 1997 | TV Series | Sable |
| WWF Superstars | 1996 | TV Series | Sable |
Self
| Title | Year | Status | Character |
| --- | --- | --- | --- |
| WWE Great American Bash | 2004 | TV Special | Sable |
| WWE Smackdown! | 1999-2004 | TV Series | Sable |
| John Cena: Word Life | 2004 | Video documentary | Sable |
| WWE Raw | 1996-2004 | TV Series | Sable |
| WrestleMania XX | 2004 | TV Special | Sable |
| 10 Things Every Guy Should Experience | 2004 | TV Series documentary | Herself |
| WWE No Way Out | 2004 | TV Special | Sable |
| WWE Divas: South of the Border | 2004 | Video documentary | Sable |
| WWE No Mercy | 2003 | TV Special | Sable |
| Summerslam | 2003 | TV Special | Sable |
| WWE Vengeance | 2003 | TV Special | Sable |
| WWE Judgment Day | 2003 | TV Special | Sable |
| WWE Backlash | 2003 | TV Special | Sable |
| WWE Velocity | 2002 | TV Series | Herself (2003-2004) (as Sable) |
| Beyond the Mat | 1999 | Documentary | Sable (uncredited) |
| Howard Stern | 1999 | TV Series | Herself |
| The Howard Stern Radio Show | 1999 | TV Series | Herself |
| The Late Late Show with Craig Kilborn | 1999 | TV Series | Herself |
| The Tonight Show with Jay Leno | 1999 | TV Series | Herself |
| Come Get Some: The Women of the WWF | 1999 | Video documentary | Sable |
| Late Night with Conan O'Brien | 1999 | TV Series | Herself |
| WrestleMania XV | 1999 | TV Special | Sable |
| Sin City Spectacular | 1999 | TV Series | Herself |
| WWE Sunday Night Heat | 1998-1999 | TV Series | Sable |
| WWF Royal Rumble: No Chance in Hell | 1999 | TV Special | Sable |
| WWF Capital Carnage | 1998 | TV Special | Sable |
| WWF Sable Unleashed | 1998 | Video documentary | Sable |
| Survivor Series | 1998 | TV Special | Sable |
| Summerslam | 1998 | TV Special | Sable |
| WWF Over the Edge | 1998 | TV Special | Sable |
| WWF Unforgiven | 1998 | TV Special | Sable |
| WrestleMania XIV | 1998 | TV Special | Sable |
| Royal Rumble | 1998 | TV Special | Sable |
| Survivor Series | 1997 | TV Special | Sable |
| WWF WrestleFest '97 | 1997 | TV Special | Sable |
| Survivor Series | 1996 | TV Special | Sable |
| WWF in Your House: Mind Games | 1996 | TV Special | Sable |
| King of the Ring | 1996 | TV Special | Sable |
| WrestleMania XII | 1996 | TV Special | Sable |
Archive Footage
| Title | Year | Status | Character |
| --- | --- | --- | --- |
| The Monday Night War: WWE vs. WCW | 2014 | TV Series documentary | Sable |
| Ultimate Warrior: The Ultimate Collection | 2014 | Video | Sable |
| Attitude Era | 2012 | Video | Sable |
| WWE: OMG! - The Top 50 Incidents in WWE History | 2011 | Video | Sable |
| WWE Summerslam: The Complete Anthology, Vol. 3 | 2009 | | Sable |
| WWE Summerslam: The Complete Anthology, Vol. 4 | 2008 | | Sable |
| WWE Royal Rumble: The Complete Anthology, Vol. 3 | 2008 | Video | Sable |
| WWE Royal Rumble: The Complete Anthology, Vol. 2 | 2007 | Video | Sable |
| WWE: John Cena - My Life | 2007 | Video | Sable |
| WWE: McMahon | 2006 | Video | Sable |
| WWE WrestleMania: The Complete Anthology, Vol. 3 | 2005 | Video | Sable |
| WWE WrestleMania: The Complete Anthology, Vol. 4 | 2005 | Video | Sable |
| WWE Armageddon | 2003 | TV Special | Sable |
| WWE: Raw Tenth Anniversary | 2003 | Video | Sable |
| WWE Divas: Undressed | 2002 | TV Special documentary | Sable |
| Biography | 1999 | TV Series documentary | Herself |
| Hitman Hart: Wrestling with Shadows | 1998 | TV Movie documentary | Sable (uncredited) |
| WWE Raw | 1998 | TV Series | Sable |
Source:
IMDb
,
Wikipedia