• Bebe Buell is an American former fashion model and singer popular in the 1970s
• She was a Playboy magazine Playmate of the Month
• She is the mother of actress and model Liv Tyler
• She had a successful solo music career and released albums
• Liv Tyler is a successful actress, model and singer with an estimated wealth of over $20 million

Known for movies
Short Info
| | |
| --- | --- |
| Spouse | Jim Wallerstein, Coyote Shivers |
| Fact | Previously was the lead singer in rock bands the Gargoyles and the B-Sides. |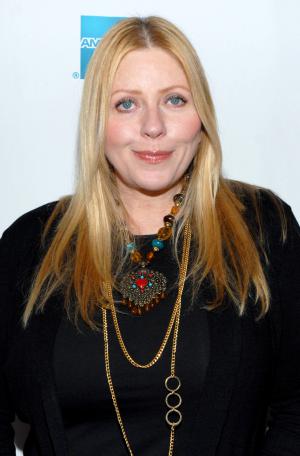 Who is Bebe Buell?
Beverle Lorence Buell is an American former fashion model and singer. She was popular in the 1970s because she dated with rock musicians, and was a Playboy magazine Playmate of the Month. Also, she is the mother of famous American actress and model Liv Tyler, whose father is rock star Steven Tyler the frontman of the famous band Aerosmith.
Bebe Buell Biography
Beverle Lorence "Bebe" Buell was born on 14th July 1953, in Portsmouth, Virginia USA, of part-German descent. Her father, Harold Lloyd Buell, was a WWII veteran and a US Navy officer. Her mother, Dorothea Brown Johnson, was one of the founders of the Protocol School of Washington. The moment she was born her father was absent, and her mother didn't know what to call her. At the maternity ward, all the nurses called her Baby, and so her nickname remained "Bebe."
Bebe Buell Career Beginnings
At age 17, after high school matriculation, Bebe was spotted by modeling agency executive Eileen Ford, and she moved to New York City at the age of 18 for more opportunities in modeling. For the November 1974 issue, Bebe was Playboy magazine's Playmate of the Month. Richard Fegley was her photographer for the centerfold. She continued her modeling career in Europe with the prestigious Wilhelmina Agency, appearing on the pages of British, French and Italian Vogue, Harper's Queen, and Cosmopolitan. She was hanging out with the jet-set at the time, and with people such as Jack Nicholson and Andy Warhol. Mick Jagger once stated that he would always take her for an escort for a high society dinner or a ball. Because of her incredible beauty, she was nicknamed "Friend To The Stars."
Even though she was very successful because of her beauty in the modeling world, Bebe always wanted to be a musician and singer. In the high school choir, she sang unique "alto." Her music career began in the early 1980s when she formed a band the B-Sides. Bebe recorded a four-song EP, "Cover Girl," on Rhino Records in 1981 with the band the Cars on two tracks; the producers were Rick Derringer and Ric Ocasek.
Success
When she dated John Taylor (Duran Duran), he gathered some other rock musician friends and formed the band Power Station in 1984. Bebe formed another band, the Gargoyles, and released a few singles, in 1985. This band attracted the attention and interest of some renowned record labels, but Bebe left them in the early 1990s because she wanted to devote more to her daughter's career. She was the manager of her daughter, actress and model Liv Tyler and actress Charis Michelsen's career.
In the late 1990s, she retired from that job, and returned to a sols music career. In 2000, she recorded a solo effort with producer Don Fleming, and performed in New York with her Bebe Buell Band, made up of ex-members of the group the Rudds and the Neighborhoods' drummer Johnny Lynch, plus her husband, James Wallerstein. After a 10-year break, she released a single "Air Kisses for the Masses" in May 2009, followed by a 12-track album that you can download from iTunes or Amazon MP3. Two years after in 2011, Bebe released "Hard Love", produced by Wallerstein and Stephen DeAcutis, a rock album influenced by glam rock and grunge.
Bebe's Personal Life
Bebe was only 15 when she was first with a famous boyfriend, Paul Cowsill of the Cowsills.
She also has dated Mick Jagger, Elvis Costello, David Bowie, Jimmy Page, Iggy Pop, Todd Rundgren and Steven Tyler, but she had never embraced the label "groupie."
During the seventies, she had on and off love affair with Todd Rundgren, who was a guitar player of the band Utopia. Completely unplanned, Bebe became pregnant with singer and frontman of the band Aerosmith, Steven Taylor, in 1976. Still, she remained in a relationship with Todd and hid the biological father's name from her daughter until curious Liv discovered it herself at the age of 10. Bebe did it because of Steven's lifestyle and problems with drug abuse, but when he was clean, Liv took his last name.
Bebe married for the first time to musician and actor Coyote Shivers in 1992, but they divorced after six years.
Bebe has been married to musician Jim Wallerstein since 2002. The film "Almost Famous," by Cameron Crowe, was based on some aspects of Bebe's life. In 2008 she bought a house in New York, but she relocated to Nashville, Tennessee, in 2013.
Bebe Buell Net Worth
The consensus of several sources in that Bebe's net worth is over $1 million, but all admit that this is a general estimate, and that it could be much higher. Modeling (centerfold in Playboy magazine) and her inconsistent career as a solo artist and with several bands, including successful performances across the US, plus her published autobiography, the New York Times Bestseller "Rebel Heart; An American Rock And Roll Journey" (St, Martin's Press) with Victor Bockris in 2001, have contributed to her wealth.
Bebe's daughter Liv Tyler
Liv Tyler (born Rundgren) is an American actress, former model, producer, and singer. She is best known for the role in the Peter Jackson Oscar-winning epic trilogy "Lord of the Rings," in which she played the character of Arwen Undómiel.
Liv Tyler Early Life
Liv Tyler was born on the 1st July, 1977, at Mount Sinai Hospital in East Harlem, New York City USA – she was named after Norwegian actress Liv Ullmann. Liv has three half-siblings: Mia Tyler (born 1978), Taj Monroe Tallarico (1991), and Chelsea Anna Tallarico born in 1989. Although her mother was not married to Todd Rundgren, he signed the birth certificate and paid for her education. When Liv was 10, she met Steven Taylor, and she immediately suspected that he was her birth father.
Her mother explained to her why she hid it from her, and how she wanted to protect her, but Liv took the surname Tyler, while keeping her middle name, Rundgren. Liv attended the Congressional Schools of Virginia, Waynflete School in Portland, Maine, and Breakwater School. She then went to Crossroads School for Arts & Sciences in Santa Monica, California.
Liv Tyler Career
She got her first modeling job at 14 in Interview magazine, and appeared in TV commercials. When she got bored with these jobs, she took private acting classes, and appeared in Aerosmith's video for the song "Crazy" in 1993. In 1994 she filmed her debut in "Silent Fall," but her breakthrough was in the film "Stealing Beauty," directed by Bernardo Bertolucci, in 1996. Later she appeared in the film "That Thing You Do!" written by Tom Hanks, which grossed more than $25 million worldwide.
Her mainstream exposure was in the film "Armageddon" (1998), starring Bruce Willis and Ben Affleck, a box office success earning over $550 million. In 1999, she was cast for the leading role in the drama "Onegin", co-starring with Ralph Fiennes. She also collaborated with director Robert Altman in two films, and received positive critiques. She also worked with Steve Buscemi in the film "Lonesome Jim," together with Casey Affleck, in 2005, which was nominated for the Grand Jury Prize at Sundance Film Festival. In 2008, she appeared in the films "The Incredible Hulk" and "The Strangers," both made huge money success, but their critics were not sympathetic.
Liv also became the spokesperson for French luxury clothing and accessories company "Givenchy," in 2003.
Liv's Persona Life and Net Worth
Liv dated colleague actor Joaquin Phoenix from 1995 to 1998 – while she was dating him, she was vegan, but when they broke-up, this belief stopped as well. After a three-year relationship with musician Royston Langdon, they became engaged in 2001, and married in Barbados in 2003. In 2004, she gave birth to their son, but the couple split in 2008. Liv met David Gardner, a sports and entertainment manager, in 2014; they have daughter and son born in 2015 and 2016 respectively. Liv is an active supporter of UNICEF, a Goodwill Ambassador for the US, and a fundraiser for, as well as donating to the Women's Cancer Research Fund.
Liv has been in the film industry for over 25 years and her wealth is estimated at over $20 million, as of early 2020.
General Info
| | |
| --- | --- |
| Full Name | Bebe Buell |
| Height | 1.75 m |
| Profession | Model, Singer |
| Nationality | American |
Family
| | |
| --- | --- |
| Spouse | Jim Wallerstein, Coyote Shivers |
| Children | Liv Tyler |
| Parents | Dorothea Johnson, Harold Lloyd Buell |
Social profile links
Quotes
| # | Quote |
| --- | --- |
| 1 | [about her daughter, Liv Tyler] "It's so beautiful to watch her 'cause she loves every second of performing and just glows. She's so brilliant." |
| 2 | [about her daughter, Liv Tyler] "She is my proudest life achievement: She and I have always been great friends, and I simply adore her. I'm her biggest fan, as she is mine." |
Facts
| # | Fact |
| --- | --- |
| 1 | Over the Weekend she became a grandmother again when daughter Liv gave birth to her daughter Lula Rose. |
| 2 | Has a second grandson named Sailor Gene Gardner born 6 1/2 weeks early on February 11th 2015. |
| 3 | Ex-mother-in-law of Royston Langdon. |
| 4 | Director Cameron Crowe has said he based some of his character "Penny Lane", from Almost Famous (2000), on elements of Bebe, whom he met in 1973. |
| 5 | Has a grandson named Milo William Langdon, born December 14, 2004 in New York. |
| 6 | Previously was the lead singer in rock bands the Gargoyles and the B-Sides. |
| 7 | Engaged to Jim Wallerstein. [2001] |
| 8 | Mother, with Steven Tyler, of Liv Tyler. |
| 9 | Playboy Playmate of the Month November 1974. |
| 10 | (1972-1978) Lived with Todd Rundgren. |
Pictures
Movies
Miscellaneous
| Title | Year | Status | Character |
| --- | --- | --- | --- |
| Heavy | 1995 | creative consultant | |
Self
| Title | Year | Status | Character |
| --- | --- | --- | --- |
| E! True Hollywood Story | 2003-2007 | TV Series documentary | Herself |
| Centerfold Babylon | 2003 | TV Movie documentary | Herself |
| The Making and Meaning of 'We Are Family' | 2002 | Documentary | Herself |
| Howard Stern | 2001 | TV Series | Herself |
| Unauthorized Biography: Milo, Death of a Supermodel | 1997 | TV Special short | |
Source:
IMDb
,
Wikipedia