• Zack Ward was born in 1970 in Toronto, Canada and his first role was in the family movie "A Christmas Story" at 1•
• His career skyrocketed after that and he went on to appear in over 100 movie titles, including "Transformers".
• He is married to Jennifer McMahan and is the co-founder of Grit Film Works.
• He is worth an estimated $5 million and stands at 5ft 10ins (1.78m) tall and weighs around 170lbs (77kgs).
• His first director was Bob Clark who helped him continue his acting career.

Known for movies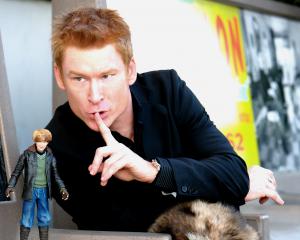 Introduction
If you are a horror film fan, you have probably noticed the red-haired actor Zack Ward, who has appeared in more than 100 movie titles. Did you know that his first role was in a notable family movie from the early '80s, and that he was loved by fans at the young age of 13? So what's the story of his life, and is he married?
Early life and Education
Zach Ward was born on 31 August 1970, in Toronto, Ontario Canada. His mother is Canadian actress Pam Hyatt, who is known for providing the voice of Kaede in the English dubbed version of animated series "InuYasha", as well as for playing Noble Heart Horse in "The Care Bears Movie II: A New Generation" from 1986.
When I was young and "pretty"? https://t.co/TwwPq8ya4h

— Zack Ward (@TotalZackWard) July 2, 2020
Ward also has an older brother named Carson T. Foster, whose father is John Foster – Ward's father's name has never been confirmed to the public, but his mother was married to John Foster from 1957 until his passing in 2012.
Even as a kid Ward expressed his fondness of acting, but his mother was against this, as she wanted her sons to have a 'normal' life, away from the spotlight. However, after Carson interceded, she changed her mind and allowed Ward to pursue acting.
"A Christmas Story"
Ward ended up being in a few commercials in the early '80s, before finally making his breakthrough in 1983 when he was cast to be a part of the family film "A Christmas Story".
He showed up at the audition for the sidekick kid, Grover, amongst 300 other kids – in the end, the choice was between him and another redheaded boy, but finally Ward won the role. However, when he arrived in Cleveland on the set, the director told him that he would portray local bully Scut Farcus instead.
The film was based upon a novel by Jean Shepherd, "In God We Trust, All Others Pay Cash", and received positive reviews from even the harshest movie critics. Although Peter Billingsley portrayed the main character, Ralphie, it was Ward's portrayal of Scut that received the most attention, and skyrocketed his career. In fact, this character was the inspiration for Scott Tenorman in the animated series "South Park".
Acting Career
By the end of the 1980s, Ward had appeared in several TV series, such as "Anne of Green Gables", "Anne of Avonlea" and "Friday the 13th: The Series". He also portrayed Seth Sandruff in the comedy film "Taking Care of Terrific" that aired in 1987.
In the early 1990s, he mostly appeared on TV, in films such as "Spenser: Ceremony" and "Harvest for the Heart", as well as in various series including "My Secret Identity", "Maniac Mansion", "Forever Knight" and "Neon Riders". He portrayed Kyle in Brenton Spenser's horror film "The Club", as well as a skinhead in the comedy film "The Size of Watermelons", about a local college loser who is trying to win the affection of his crush.
In 1997 he portrayed D.C. in the action film "Wild America", as well as A.J. in "Lancelot: Guardian of Time". The following year he had a minor role in "How to Make the Cruelest Month". None of these films gained recognition in Hollywood.
Not allowing this to discourage him, Ward continued acting, and in 2000 he was cast as Billy in the thriller "Civility", opposite Liam Waite, Tom Arnold and William Forsythe. That same year, he appeared alongside Kate Hudson and Billy Crudup in Cameron Crowe's adventure-comedy film "Almost Famous".
Wade was cast as Dave Scouvel in the TV comedy series "Titus", about the life of a mechanic who is trying to deal with his father, remaining in the show for three seasons until it ended in 2002.
In 2001 he co-starred in "Completely Totally Useless", a film about two college roommates, and two years later appeared in three TV films, "Ghost Dog: A Detective Tail", "Monte Walsh" and "Chasing Alice". Ward was in a few films that aired that same year, such as "April's Shower", "The Pink House" and in the movie "Freddy vs. Jason", which combined characters from two famous horror films, "A Nightmare on Elm Street" and "Friday 13th".
Wade continued his appearances in horror films when in 2004 he portrayed Nicholai Ginovaeff in the movie "Resident Evil: Apocalypse", starring Mila Jovovich. That same year he made a guest appearance in "Charmed", the famous series about sister witches, and was also a guest in several popular TV series, such as "Significant Others", "Lost" and "CSI: Crime Scene Investigation".
In 2007 he was in the crime thriller "Trade", and appeared alongside Shia LaBeouf, Megan Fox and Josh Duhamel in the first movie from the "Transformers" saga, in which he portrayed First Sergeant Donelly. That same year, he made a minor appearance in "Moving McAllister", a romantic comedy starring Benjamin Gourley and Mila Kunis, and starred in the comedy film "Postal".
In 2009, Wade portrayed Nickels in the action film "The Devil's Tomb", and was cast as Zone in the TV series "Dollhouse". In 2011 he portrayed Scott Dunbar in the TV romantic film "Accidentally in Love". That same year, he appeared as a guest in several shows, including "Drop Dead Diva", "The Mentalist", "Hawaii Five-0" and "Breakout Kings".
He co-starred in David Lisle Johnsson's drama film "In My Pocket", alongside Gregory Smith and Shantel VanSanten.
In the following few years, Wade appeared several more popular TV series, such as "CSI: Miami", "Save the Supers", "Chicago Fire" and "The Exes". He made his voice acting debut in 2013, when he provided the voice of Alpha in the video game "Army of Two: The Devil's Cartel". His other voice acting roles include various characters from "Murdered: Soul Suspect", Konstantin from "Rise of the Tomb Raider", and Thurston from "Izzie's Way Home".
Wade portrayed Nathan in 2016's horror adaptation of "Sleeping Beauty", called "The Curse of Sleeping Beauty".
That same year he co-starred as Harold Stone in Zack Ward's horror film "Restoration", and in 2017, he made a guest appearance as Roger in "American Horror Story".
In 2018 Wade was cast as Lt. Dante in six episodes of the fifth and final season of the series "Z Nation". The following year he appeared in "Second Chance for Christmas" and "Beyond the Law", and most recently in June 2020, his final film appearance is in the horror film "Piranha Blood Lake".
Personal Life
With James Cullen Bressack, Wade is a co-founder of Grit Film Works, a film production company whose output includes horror films "Bethany" and "Restoration".
He became the CEO of the Global Sports Financial Exchange in 2017.
Wade's brother, Carson T, works as a key grip in the filming industry, and is known for his work on films such as "X-Men", "The Incredible Hulk" and "Repo Men". He also appeared in a few films and series when he was young, including "Air Waves" and "Destiny to Order".
Ward married his long-term girlfriend, Jennifer McMahan, on 18th August 2018. The couple leads a private life so not much about their everyday endeavors is known.
In one interview, Ward stated that he is really grateful that the first director he worked with, Bob Clark, was a professional who helped him continue with his further acting career. 'Bob Clark was a profound man with a lot of patience and kindness, so it makes a big impact when you treat people with respect.' he said.
Net Worth
Zack Ward is a prominent Canadian actor – one of the films he was in, "Transformers", made over $710 million at the box office. He also earns a hefty amount from his private businesses and production company. As of June 2020, his net worth is estimated at around $5 million.
Physical characteristics
Ward is known for his pale skin, ginger hair and green eyes. He is 5ft 10ins (1.78m) tall and weighs around 170lbs (77kgs).
General Info
| | |
| --- | --- |
| Full Name | Zack Ward |
| Profession | Film director, Film producer, Voice Actor, Screenwriter, Television Director |
| Nationality | Canadian |
Family
| | |
| --- | --- |
| Parents | Pam Hyatt |
| Siblings | Carson T. Foster |
Accomplishments
| | |
| --- | --- |
| Movies | A Christmas Story, Resident Evil: Apocalypse, Transformers, Postal, The Curse of Sleeping Beauty, BloodRayne 2: Deliverance, Freddy vs. Jason, Don't Blink, Dark House, Trade, Almost Famous, Anne of Green Gables, Alone in the Dark II, The Devil's Tomb, Monster Mutt, Battle Planet, April's Shower, L.A... |
| TV Shows | Titus, Boogies Diner |
Social profile links
Marks
| # | Marks / Signs |
| --- | --- |
| 1 | Snarky, sarcastic comments, sharp wit and comedic timing. |
| 2 | Red hair and narrow eyes. |
Facts
| # | Fact |
| --- | --- |
| 1 | Los Angeles, California: Living and working as an actor. [January 2013] |
| 2 | Currently has a role on the UPN comedy All of Us (2003), starring Dwayne Martin, LisaRaye McCoy and Tony Rock. [November 2005] |
| 3 | Shared a house with Milla Jovovich whilst filming Resident Evil: Apocalypse (2004) in Toronto. |
| 4 | Is still close friends with Christopher Titus, with whom he starred in the show Titus (2000). |
| 5 | Has starred in four video game adaptations, which means that he has tied with Robin Shou for the actor who's stared in most video game adaptations. He has had roles in Resident Evil: Apocalypse (2004), Postal (2007), BloodRayne II: Deliverance (2007), and Alone in the Dark II (2008). |
| 6 | His character in A Christmas Story (1983), Scut Farcus, later became the inspiration for Scott Tenorman on South Park (1997). |
| 7 | Has a brother, Carson T. Foster. |
| 8 | Son of Pam Hyatt. |
Pictures
Movies
Actor
| Title | Year | Status | Character |
| --- | --- | --- | --- |
| Sharknado: Heart of Sharkness | 2015 | | Zack |
| Lab Coats: Life After the Zombie Apocalypse | 2015 | TV Short | Axel |
| Borgore & Sikdope: Unicorn Zombie Apocalypse | 2014 | Short | Scientist |
| Fallen Cards | 2014 | TV Series | The Drifter (2014) |
| Don't Blink | 2014 | | Alex |
| Murdered: Soul Suspect | 2014 | Video Game | Additional Voices (voice) |
| Blood Lake: Attack of the Killer Lampreys | 2014 | TV Movie | Will |
| Haunted | 2014/IV | | Chris McCulluch |
| Mike & Molly | 2013 | TV Series | Donny |
| Liv and Maddie | 2013 | TV Series | Officer Mike Clarkson |
| Sketchy | 2013 | TV Series | |
| The Exes | 2013 | TV Series | Bradley |
| In the Void | 2013 | | Mark |
| Army of Two: The Devil's Cartel | 2013 | Video Game | Alpha (voice) |
| Sick Building Syndrome | 2013 | Short | Amy's Boss |
| Chicago Fire | 2012 | TV Series | Ted Griffin |
| CSI: NY | 2012 | TV Series | Keith Milner |
| Save the Supers | 2012 | TV Series | Jokester |
| CSI: Miami | 2012 | TV Series | Clyde Novak |
| End of the Road | 2011/I | | Lt. Falco / Zack |
| In My Pocket | 2011 | | Rob |
| Hawaii Five-0 | 2011 | TV Series | Billy Murphy |
| The Mentalist | 2011 | TV Series | Whit Naylor |
| Drop Dead Diva | 2011 | TV Series | Keith Geary |
| Breakout Kings | 2011 | TV Series | Christian Beaumont |
| Accidentally in Love | 2011 | TV Movie | Scott Dunbar |
| Monster Mutt | 2011 | | Sirus Caldwell |
| Warehouse 13 | 2010 | TV Series | Leo |
| Repo | 2010 | | Red |
| I'm in the Band | 2010 | TV Series | Xander |
| Dollhouse | 2009-2010 | TV Series | Zone |
| The Devil's Tomb | 2009 | | Nickels |
| Cold Case | 2009 | TV Series | Ed Dubinski |
| Battle Planet | 2008 | | Jordan Strider |
| Alone in the Dark II | 2008 | Video | Xavier |
| Terminator: The Sarah Connor Chronicles | 2008 | TV Series | Wells |
| Dead and Gone | 2008 | | The Weatherman |
| Kissing Cousins | 2008 | | Charlie |
| CSI: Crime Scene Investigation | 2007 | TV Series | Steve Card |
| BloodRayne II: Deliverance | 2007 | Video | Billy the Kid |
| Moving McAllister | 2007 | | Earl |
| Postal | 2007 | | Dude |
| Transformers | 2007 | | First Sergeant Donnelly |
| Girlfriends | 2006-2007 | TV Series | Mike |
| Trade | 2007/I | | Alex Green |
| Pennies | 2006 | Short | Stoner Todd |
| Hollywood Kills | 2006 | | Nate Folds |
| All of Us | 2005 | TV Series | Jeff Sizemore |
| NCIS | 2005 | TV Series | Police Officer Billy Krieg |
| Deadwood | 2004-2005 | TV Series | Hotel Desk Clerk |
| Aurora Borealis | 2005 | | Lindstrom |
| Lost | 2005 | TV Series | Marc Silverman |
| Crossing Jordan | 2005 | TV Series | FBI Agent Blair |
| Significant Others | 2004 | TV Series | Zack |
| Charmed | 2004 | TV Series | Sirk / Kevin Casey |
| Resident Evil: Apocalypse | 2004 | | Nicholai Ginovaeff |
| L.A. Twister | 2004 | | Lenny |
| A Night at Sophie's | 2004 | | Tony |
| The Pink House | 2003 | | Murray |
| April's Shower | 2003 | | August |
| Freddy vs. Jason | 2003 | | Bobby Davis (Mark's Brother) |
| Monte Walsh | 2003 | TV Movie | Powder Kent |
| Ghost Dog: A Detective Tail | 2003 | TV Movie | Howie Tibbadoe |
| Chasing Alice | 2003 | TV Movie | |
| MDs | 2002 | TV Series | Dr. Lewis |
| Titus | 2000-2002 | TV Series | Dave Scouvel |
| She Spies | 2002 | TV Series | The Thin Man in Black |
| The Outer Limits | 2002 | TV Series | Link |
| Completely Totally Utterly | 2001 | | Chad |
| Chasing Destiny | 2001 | TV Movie | Eric |
| Almost Famous | 2000 | | The Legendary Red Dog |
| Civility | 2000 | | Billy |
| Anne of Green Gables: The Continuing Story | 2000 | TV Series | Moody Spurgeon |
| Brotherhood of Murder | 1999 | TV Movie | Charles Higgins |
| Y2K | 1999 | TV Movie | Rick Rothman |
| Atomic Train | 1999 | TV Mini-Series | Stan Atkins |
| Profiler | 1999 | TV Series | Reed / Little Joshua |
| The Pretender | 1999 | TV Series | Theodore Reed / Little Joshua |
| The Fair | 1999 | | Jimmy |
| Viper | 1999 | TV Series | Crup |
| JAG | 1998 | TV Series | Curtis Dastuge |
| NYPD Blue | 1995-1998 | TV Series | Dan Evers Jerry |
| Nash Bridges | 1998 | TV Series | Paul Pangborn |
| Blade Squad | 1998 | TV Movie | Billy Mustard |
| Fast Track | 1998 | TV Series | |
| How to Make the Cruelest Month | 1998 | | Manhattan's Neighbor |
| Lancelot: Guardian of Time | 1997 | | A.J. |
| The Sentinel | 1997 | TV Series | Orange Glasses Man |
| Walker, Texas Ranger | 1997 | TV Series | Jerry 'Mad Dog' Sullivan |
| Wild America | 1997 | | D.C. |
| Party of Five | 1997 | TV Series | Ted |
| Sliders | 1995-1996 | TV Series | Gerald Thomas / Security Guard |
| The Size of Watermelons | 1996 | | Skinhead |
| Ed | 1996 | | Dusty Richards (as Zacharias Ward) |
| Star Hunter | 1996 | Video | Cooper (as Zach Ward) |
| Harvest for the Heart | 1994 | TV Movie | Ross Hansen |
| The Club | 1994 | | Kyle |
| Boogies Diner | 1994 | TV Series | Kirby |
| Just for Fun | 1993 | Short | Tom |
| Spenser: Ceremony | 1993 | TV Movie | Hummer |
| Forever Knight | 1992 | TV Series | Topper |
| Maniac Mansion | 1991 | TV Series | Tim |
| My Secret Identity | 1990 | TV Series | Daniel |
| Neon Rider | 1990 | TV Series | Digger |
| Friday the 13th: The Series | 1988 | TV Series | Greg Mazzey |
| Taking Care of Terrific | 1987 | TV Movie | Seth Sandruff |
| Anne of Avonlea | 1987 | TV Mini-Series | Moody Spurgeon |
| Anne of Green Gables | 1985 | TV Mini-Series | Moody Spurgeon |
| A Christmas Story | 1983 | | Scut Farkus |
| Bethany | 2016 | completed | Aaron |
| How to Make a Deal with the Devil | | completed | Stan |
| A Christmas in Vermont | 2016 | TV Movie | David Briggs |
| Izzie's Way Home | 2016 | | Thurston (voice) |
| Restoration | 2016/I | | Harold Stone |
| The Curse of Sleeping Beauty | 2016 | | Nathan |
| Rise of the Tomb Raider | 2015 | Video Game | Konstantin (voice) |
Producer
| Title | Year | Status | Character |
| --- | --- | --- | --- |
| Bethany | 2016 | producer completed | |
| Restoration | 2016/I | producer | |
| Don't Blink | 2014 | producer | |
| Protocol X | 2012 | Short executive producer / producer | |
| End of the Road | 2011/I | associate producer | |
| Monster Mutt | 2011 | associate producer | |
| The Untold Christmas Story | 2008 | Video documentary producer | |
Writer
| Title | Year | Status | Character |
| --- | --- | --- | --- |
| Circus Kane | 2017 | writer post-production | |
| The Terror | 2017 | screenplay post-production | |
| Bethany | 2016 | completed | |
| Restoration | 2016/I | | |
| If Looks Could Kill | 2016 | TV Movie | |
| Protocol X | 2012 | Short writer | |
| Everyday Joe | 2007 | Short | |
Director
| Title | Year | Status | Character |
| --- | --- | --- | --- |
| Restoration | 2016/I | | |
| Fallen Cards | 2014 | TV Series | |
| Protocol X | 2012 | Short | |
Miscellaneous
| Title | Year | Status | Character |
| --- | --- | --- | --- |
| Never Sleep Again: The Elm Street Legacy | 2010 | Video documentary archival material provided by - as Zach Ward | |
| The Untold Christmas Story | 2008 | Video documentary photographs courtesy of | |
Editor
| Title | Year | Status | Character |
| --- | --- | --- | --- |
| Protocol X | 2012 | Short | |
Stunts
| Title | Year | Status | Character |
| --- | --- | --- | --- |
| Don't Blink | 2014 | stunt coordinator | |
Thanks
| Title | Year | Status | Character |
| --- | --- | --- | --- |
| The Condo | 2015 | the director wishes to thank completed | |
| Pernicious | 2014 | the director wishes to thank | |
| A Night at the Movies: Merry Christmas! | 2011 | TV Movie documentary special thanks | |
| Brotherly Love: An Interview with Zack Ward | 2006 | Video documentary short special thanks | |
| Another Christmas Story | 2003 | Video documentary short special thanks | |
Self
| Title | Year | Status | Character |
| --- | --- | --- | --- |
| The Jimmy Star Show with Ron Russell | 2016 | TV Series | Himself - Guest |
| Entertainment Tonight | 2015 | TV Series | Himself |
| Horrified | 2015 | TV Series | Himself |
| Postal 2: Paradise Lost | 2015 | Video Game | Himself (voice) |
| The Healthy Voyager's Global Kitchen | 2014 | TV Series | Himself |
| Good Morning America | 2013 | TV Series | Himself |
| Teens Wanna Know | 2013 | TV Series | Himself - Guest |
| The Cast of a Christmas Story: Where Are They Now? | 2012 | TV Movie documentary | Himself |
| A Night at the Movies: Merry Christmas! | 2011 | TV Movie documentary | Himself - Interviewee |
| Never Sleep Again: The Elm Street Legacy | 2010 | Video documentary | Himself - 'Bobby Davis' |
| Clarkworld | 2009 | Documentary | Himself |
| The Untold Christmas Story | 2008 | Video documentary | Himself |
| From Script to Sand: The Skorponok Desert Attack | 2007 | Video documentary short | Himself |
| Our World | 2007 | Video documentary | Himself |
| The John Kerwin Show | 2007 | TV Series | Himself |
| Up Close with Carrie Keagan | 2007 | TV Series | Himself |
| Resident Evil: Diary of an Apocalypse | 2007 | Video documentary short | Himself |
| Brotherly Love: An Interview with Zack Ward | 2006 | Video documentary short | Himself |
| Game Babes | 2004 | Video documentary short | Himself |
| Game Over: 'Resident Evil' Reanimated | 2004 | Video documentary | Himself |
| Another Christmas Story | 2003 | Video documentary short | Himself - 'Scut Farcus' |
| Postal 2 | 2002 | Video Game | Himself (voice) |
| The Test | 2001 | TV Series | Himself - Panelist |
Archive Footage
| Title | Year | Status | Character |
| --- | --- | --- | --- |
| Friday the 13th: The Series | 1989 | TV Series | Greg Mazzey |
Awards
Won Awards
| Year | Award | Ceremony | Nomination | Movie |
| --- | --- | --- | --- | --- |
| 2004 | Angel Film Award | Monaco International Film Festival | Best Actor | L.A. Twister (2004) |
Source:
IMDb
,
Wikipedia