• Sue Ane Langdon is a retired actress born in Paterson, New Jersey in 1936.
• She is known for her starring role in the 1967 romantic comedy "A Guide for the Married Man" and her performance as Kitty Marsh in the comedy series "Bachelor Father".
• She was married to Jack Emrek for 51 years until his death in 2010.
• Sue is credited with roughly 70 appearances in movies and TV series.
• As of September 2020, her net worth is estimated to be over $3 million.

Known for movies
Short Info
| | |
| --- | --- |
| Spouse | Jack Emrek |
| Fact | In July 1997, she was a guest at the Western Film Fair in Charlotte, North Carolina, along with Will Hutchins, James Drury, Ted Markland, Donna Martell, Jane Adams, Robert F. Hoy, Don Collier, Henry Darrow and Justin Tubb. |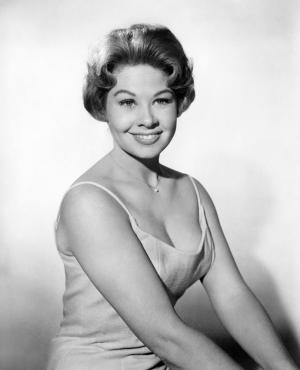 Who is Sue Ane Langdon and where is she now?
Sue Ane Langdon was born in Paterson, New Jersey USA, on 8 March 1936 – her zodiac sign is Pisces and she holds American nationality. She is a retired actress, who is perhaps still best known for her starring role in the romantic comedy movie "A Guide for the Married Man" in 1967 which was written by Frank Tarloff, directed by Gene Kelly and which also starred Walter Matthau and Inger Stevens. The story follows a man who is teaching his co-worker how to cheat on his wife, without her finding out about it – the movie was nominated for Golden Laurel and Writers Guild of America Awards.
Sue retired from acting 30 years ago, and is today leading an apparently peaceful life at her home in Calabasas, California.
Childhood and education
Sue was born to Grace Huddle who was an operatic soprano, and her father Albert G. Lookhoff who was a theatre actor, but she was raised by her mother as her parents split not long after she was born.
Sue became interested in acting while still attending elementary school and she practiced her skills at a local theatre, while also appearing in nearly all the plays performed at her school. She played multiple sports while attending high school to stay in shape, and she also followed a strict diet. Sue matriculated in 1954 and then began attending the University of North Texas before switching to Idaho State University – she quit while attending her senior year to focus on her acting and singing career.
Roles in TV series
After leaving college, Sue began singing on Radio City Music Hall and appearing in Broadway musicals – she eventually moved to Las Vegas where she met Jack Emre, the late American actor, who helped her find her first roles. Sue has beencredited with roughly 70 appearances in movies and TV series, and we are about to mention some of her most notable performances in this article.
She made her debut TV series appearance in 1959, when she portrayed Denise Cerise in the episode "The Dreamer" of the romantic comedy drama "Lux Playhouse", and the following year saw her appear in single episodes of many series, such as the drama "Goodyear Theatre", the western "Shotgun Slade" and the crime drama "Dan Raven".
She gained recognition when she was invited to play Kitty Marsh, one of the lead characters in the comedy series "Bachelor Father", while the year 1961 saw her play three characters in three episodes of the crime series "Coronado 9". Sue went on to guest star in the episode "Girl from Sweden" of the comedy series "Room for One More" in 1962, played Barbara in the episode "Jose the Playboy" of the comedy "The Bill Dana Show" in 1963, and was also cast as Millie in the episode "The Square Peg" of the adventure comedy "Bob Hope Presents the Chrysler Theatre" in 1967. She played three different characters in three episodes of the crime mystery drama "Perry Mason", which starred Raymond Burr, Barbara Hale and William Hopper, and which is about a master criminal defense attorney who takes on the hardest of cases.
The following years saw Sue guest star in single episodes of many series, including the crime mystery drama "Ironside" in 1968, the science fiction adventure "The Name of the Game" in 1969 and the drama "Police Surgeon" in 1971. She portrayed the lead character Lillian Nuvo in the comedy "Arnie" which aired from 1970 to 1972 and also starred Herschel Bernardi and Roger Bowen, and for her performance, Sue was nominated for a Golden Globe Award for Best Supporting Actress – Television in 1971 and won the same award a year later. The series follows the married man Arnie whose life turns upside-down after he gets promoted to manager of a loading dock, and was a big hit as it won one award and was nominated for five others.
Her next notable performance was in 1978 when she was invited to play Rosie in seven episodes of the comedy drama "Grandpa Goes to Washington", and two years later, Sue played Darlene Ridgeway in seven episodes of the short lived comedy "When the Whistle Blows".
Three of Sue's final roles in TV series before retiring from acting were in the episode "Urban Plowboy" of the comedy "Three's Company" and the episode "All I Want for Christmas" of the family comedy musical "Happy Days" both in 1982, and the episode "Bahama Bound Harts" of the action adventure crime "Hart to Hart" in 1983.
Roles in movies
Sue made her debut film appearance (uncredited) in 1960, when she portrayed Daphne in the romantic drama movie "Strangers When We Meet", which starred Kirk Douglas, Kim Novak and Ernie Kovacs, and is about an architect who starts cheating on his wife after growing bored with her and his job – the same year also saw Sue play Eulalie Chandler in the comedy drama "The Great Impostor", which follows Ferdinand Waldo Demara Jr. who will act as a marine, monk, or a navy officer, as long as it helps him get a girl.
Her next role in a movie came in 1964, when she was cast to play Stella in the drama "The New Interns", while the same year also saw her portray the supporting character Madame Mijanou in the musical "Roustabout", which received mixed reviews.
In 1965, Sue portrayed Mary, one of the lead characters in the critically acclaimed comedy western "The Rounders", which starred Glenn Ford and Henry Fonda and follows two cowpokes who enjoy charming ladies and betting on the rodeo. The same year saw her appear in the musical "When the Boys Meet the Girls", and a few of her following roles were in the romantic comedy musical "Frankie and Johnny", the musical comedy "Hold On!", and the romantic comedy "A Fine Madness", all released in 1966. The year 1968 saw Sue star as Ingrid in the action thriller "A Man Called Dagger", and she was then praised for her performance as Opal Ann in the romantic comedy western "The Cheyenne Social Club" in 1970, which was nominated for a Writers Guild of America Award for Best Comedy Written Directly for the Screen.
Sue played Edith Jordan in the crime mystery drama "The Victim" in 1972, portrayed Olie Gibson in the horror crime drama "The Evictors" in 1979, and appeared as Aggy in the science fiction thriller "Without Warning" in 1980. Three of her final roles in movies before retiring from acting were in the romantic action drama "Hawken's Breed", written and directed by Charles B. Pierce in 1988, but which received mostly negative reviews, the comedy "UHF" in 1989, and the science fiction comedy "Zapped Again!" in 1990.
Love life and husband
Sue started dating Jack Emrek, a famous film director, as soon as they met in Las Vegas, and they were together for just over a year before marrying in a private ceremony attended by their closest friends and family on 4 April 1959.
They agreed not to have children, as they both wanted to focus on their careers, and the two remained together for the following 51 year with no rumors nor controversies having surrounded their marriage. Jack died at their home in Calabasas on 27 April 2010, and Sue has been single since his death.
Sue hasn't talked about any other men she might have dated before meeting Jack, but a rumor has it that she was in a long-term relationship with her college sweetheart, and that she decided to quit college after he left her for another girl.
As of September 2020, Sue is single, was once married and doesn't have children.
Hobbies and other interests
Sue's favorite season has always been summer, as she enjoyed showing off her body in her 20s and 30s, and she also posed nude multiple times showing how comfortable she was when naked – she often played sexy but innocent characters in her movies and TV series.
She was keen on playing easy sports with her friends, such as beach volleyball and beach soccer, and also occasionally played tennis and golf. She enjoyed travelling during her career as an actress which had made it possible for her to travel around the world, meet new people and learn about other cultures – Sue doesn't travel anymore, preferring to spend her time at home.
Some of her favorite actors and actresses of today are Will Smith, Tom Hanks and Julia Roberts, and her favorite movies are "Pulp Fiction", "Seven Pounds" and "Sleepless in Seattle".
Measurements and net worth
Sue's age is 84. She had long blonde hair which has turned gray today and her eyes are blue. Her height is 5ft 8ins (1.68m), she weighs around 130lbs (58kgs), with vital statistics of 37-23-36, bra size 34C.
As of September 2020, Sue's net worth has been estimated at over $3 million.
General Info
| | |
| --- | --- |
| Full Name | Sue Ane Langdon |
| Profession | Actor |
| Nationality | American |
Family
| | |
| --- | --- |
| Spouse | Jack Emrek |
| Parents | Grace Wallace Lookhoff, Albert G. Lookhoff |
Accomplishments
| | |
| --- | --- |
| Movies | Frankie and Johnny, Roustabout, The Rounders, The Cheyenne Social Club, A Guide for the Married Man, Zapped!, Without Warning, UHF, A Fine Madness, The Evictors, A Man Called Dagger, Zapped Again!, The Great Impostor, Hold On!, When the Boys Meet the Girls, The Vals, Hawken's Breed, The Victim, The ... |
| TV Shows | Arnie, Grandpa Goes to Washington, When the Whistle Blows |
Social profile links
Facts
| # | Fact |
| --- | --- |
| 1 | In July 1997, she was a guest at the Western Film Fair in Charlotte, North Carolina, along with Will Hutchins, James Drury, Ted Markland, Donna Martell, Jane Adams, Robert F. Hoy, Don Collier, Henry Darrow and Justin Tubb. |
Pictures
Movies
Actress
| Title | Year | Status | Character |
| --- | --- | --- | --- |
| The Andy Griffith Show | 1962 | TV Series | Mary Simpson |
| Follow the Sun | 1962 | TV Series | Juliette Martin |
| The Dick Van Dyke Show | 1962 | TV Series | Marla Hendrix |
| Thriller | 1962 | TV Series | Queenie de Lyte |
| Room for One More | 1962 | TV Series | Lisa |
| Gunsmoke | 1962 | TV Series | Kate Tassel |
| The Detectives | 1961 | TV Series | Fifi LaRue |
| The Joey Bishop Show | 1961 | TV Series | Connie Bowers |
| Coronado 9 | 1960-1961 | TV Series | Holly Crane / Carol / Connie Davis |
| Surfside 6 | 1960-1961 | TV Series | Renee / Darcy Peyton |
| Tales of Wells Fargo | 1961 | TV Series | Jessica Brown |
| Outlaws | 1961 | TV Series | Julie Sharpe |
| The Great Impostor | 1961 | | Eulalie Chandler |
| Bachelor Father | 1959-1961 | TV Series | Kitty Marsh |
| Checkmate | 1960 | TV Series | Mary Lou Johnson |
| Dan Raven | 1960 | TV Series | Lisa |
| Strangers When We Meet | 1960 | | Daphne (uncredited) |
| Shotgun Slade | 1960 | TV Series | Lydia Prescott |
| Goodyear Theatre | 1960 | TV Series | Kitty |
| Bourbon Street Beat | 1959 | TV Series | Lurene |
| Mike Hammer | 1959 | TV Series | Ruby Duvall / Dixie |
| Lux Playhouse | 1959 | TV Series | Denise Cerise |
| Zapped Again! | 1990 | Video | Miss Rose Burnhart |
| UHF | 1989 | | Aunt Esther |
| Hawken's Breed | 1987 | | Holly Clawson |
| Hart to Hart | 1983 | TV Series | Laura |
| The Vals | 1983 | | Kathy - Soap Opera Star (as Sue Ann Langdon) |
| Happy Days | 1982 | TV Series | Belle |
| Zapped! | 1982 | | Rose Burnhart |
| Three's Company | 1982 | TV Series | Cindy's Aunt Becky |
| The Love Boat | 1980 | TV Series | Monica Wells |
| Without Warning | 1980 | | Aggy |
| When the Whistle Blows | 1980 | TV Series | Darlene |
| The Evictors | 1979 | | Olie Gibson |
| Grandpa Goes to Washington | 1978-1979 | TV Series | Rosie |
| Good Heavens | 1976 | TV Series | Gloria |
| Banacek | 1974 | TV Series | Sybil Payson |
| Police Story | 1973 | TV Series | Jean Culhane |
| The Wide World of Mystery | 1973 | TV Series | Jill |
| Here We Go Again | 1973 | TV Series | Florence |
| The Victim | 1972 | TV Movie | Edith Jordan |
| Arnie | 1970-1972 | TV Series | Lillian Nuvo |
| Love, American Style | 1970-1971 | TV Series | Joyce (segment 'Love and the House Bachelor / (segment "Love and the Happy Couple") |
| Police Surgeon | 1971 | TV Series | Carol Denton |
| The Cheyenne Social Club | 1970 | | Opal Ann |
| The Name of the Game | 1969 | TV Series | Harriet |
| Mannix | 1969 | TV Series | Mrs. Devereaux |
| A Man Called Dagger | 1968 | | Ingrid |
| Ironside | 1968 | TV Series | Rhea Prentiss |
| A Guide for the Married Man | 1967 | | Mrs. Irma Johnson |
| Summer Fun | 1966 | TV Series | Dolores |
| A Fine Madness | 1966 | | Miss Walnicki |
| Hold On! | 1966 | | Cecile Bannister |
| Frankie and Johnny | 1966 | | Mitzi |
| Perry Mason | 1961-1966 | TV Series | Dotty Merrill / Bonnie Dunbar / Rowena Leach |
| The Wild Wild West | 1966 | TV Series | Nina Gilbert |
| When the Boys Meet the Girls | 1965 | | Tess Raliegh |
| No Time for Sergeants | 1965 | TV Series | |
| Bonanza | 1961-1965 | TV Series | Tracy Ledbetter / Jennifer Flinch |
| The Rounders | 1965 | | Mary |
| Roustabout | 1964 | | Madame Mijanou |
| The Man from U.N.C.L.E. | 1964 | TV Series | Elsa Barnman |
| Summer Playhouse | 1964 | TV Series | Marge |
| The New Interns | 1964 | | Stella |
| McHale's Navy | 1964 | TV Series | Commander Krasni |
| Bob Hope Presents the Chrysler Theatre | 1964 | TV Series | Millie |
| 77 Sunset Strip | 1961-1963 | TV Series | Jana / Polly Wills |
| The Bill Dana Show | 1963 | TV Series | Barbara |
| General Hospital | 1963 | TV Series | Marge Pulaski (1991) (as Sue Anne Langdon) |
| Jackie Gleason: American Scene Magazine | 1962 | TV Series | Alice Kramden / Blanche La Toache |
Soundtrack
| Title | Year | Status | Character |
| --- | --- | --- | --- |
| When the Boys Meet the Girls | 1965 | performer: "Treat Me Rough" | |
Self
| Title | Year | Status | Character |
| --- | --- | --- | --- |
| 10th Annual Academy of Country Music Awards | 1974 | TV Special | Herself - Presenter |
| Laugh-In | 1972 | TV Series | Herself |
| The Hollywood Squares | 1967-1972 | TV Series | Herself |
| The Tonight Show Starring Johnny Carson | 1966-1972 | TV Series | Herself / Herself - Guest |
| The 29th Annual Golden Globe Awards | 1972 | TV Special | Herself |
| Celebrity Bowling | 1972 | TV Series | Herself |
| This Is Your Life | 1971 | TV Series | Herself |
| The Mike Douglas Show | 1971 | TV Series | Herself - Actress / Herself |
| Jerry Visits | 1971 | TV Series | Herself |
| The Virginia Graham Show | 1971 | TV Series | Herself |
| The Real Tom Kennedy Show | 1970 | TV Series | Herself |
| The David Frost Show | 1970 | TV Series | Herself |
| To Tell the Truth | 1967 | TV Series | Herself |
| Jackie Gleason: American Scene Magazine | 1962 | TV Series | Herself |
Archive Footage
| Title | Year | Status | Character |
| --- | --- | --- | --- |
| The Honeymooners 50th Anniversary Celebration | 2002 | TV Movie | Alice Kramden |
| Jackie Gleason: The Great One | 1988 | TV Movie documentary | Herself / Alice Kramden |
| Lionpower from MGM | 1967 | Short | Ingrid (uncredited) |
Awards
Won Awards
| Year | Award | Ceremony | Nomination | Movie |
| --- | --- | --- | --- | --- |
| 2003 | Golden Boot | Golden Boot Awards | | |
| 1972 | Golden Globe | Golden Globes, USA | Best Supporting Actress - Television | Arnie (1970) |
Nominated Awards
| Year | Award | Ceremony | Nomination | Movie |
| --- | --- | --- | --- | --- |
| 1971 | Golden Globe | Golden Globes, USA | Best Supporting Actress - Television | Arnie (1970) |
Source:
IMDb
,
Wikipedia