• Ruth Ann Buzzi is an American singer, comedian and actress, most known for her role on "Rowan & Martin's Laugh-In".
• She graduated from the Performing Arts in Pasadena Playhouse and started her career by performing off-Broadway.
• She and her husband Kent Perkins collected automobiles and donated them to charity.
• Ruth Ann Buzzi has participated in a lot of charity work and her net worth is estimated to be $20 million.
• Her husband, Kenneth Perkins, was a Major General British Army officer and the Director of Military Assistance Overseas.

Known for movies
Short Info
| | |
| --- | --- |
| Net Worth | $10 million |
| Date Of Birth | July 24, 1936 |
| Spouse | Kent Perkins (m. 1978), Basil Keko (m. 1965–1975) |
| Mark | Her character, park-bench spinster Gladys Ormphby |
| Fact | Appeared at the dedication of Jim Henson's star on Hollywood Boulevard after his death. |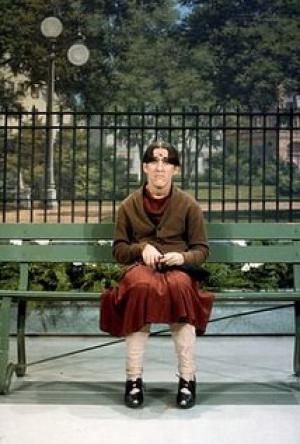 Ruth Ann Buzzi is an American singer, comedian and actress, who is mostly known for her acting career, specifically her role in the comedy show "Rowan & Martin's Laugh-In". Buzzi has several hobbies, two of which are painting and automobile collecting. She has never sold her paintings for the public, instead, she donates original paintings to charity.
Early life, family, educational background
Ruth Ann Buzzi was born on 24 July 1936, in Westerly, Rhode Island USA. She is the daughter of Rena Pauline and Angelo Peter Buzzi who is nationally acknowledged for being a stone sculptor.
Her father also owned Buzzi Memorials at Wequetequock Cove, subsequently managed by her older brother named Harold 'til he retired in 2013. Buzzi grew up in the village of Wequetequock, Stonington, Connecticut where she attended Stonington High School, and was head cheerleader. Starting from the age of 17, she applied for the Performing Arts in Pasadena Playhouse, from where she graduated with honors. Her studies included acting, voice, dance and some courses in Cosmetology.
Career
Ruth Buzzi began her acting career before graduating college, travelling with singer Rudy Vallee in a live musical and comedy act when she was on her summer break from college; this opportunity was the key to graduating with an Actors' Equity Association union card. After graduation, she landed a lead role in an off-Broadway musical revue which allowed her to perform around the East Coast. At that same time, other performers like Joan Rivers, Bernadette Peters and Barbra Streisand were also beginning their careers with her.
She appeared in several television commercials, some of which won nationally recognized awards such as the Clio Award for Best Spokesman for Clorox 2. In the Post Sugar Crisp commercials, she was nominated for her character as Granny Goodwitch. In addition, she voiced over 300 animation shows including Nose Marie on Pound Puppies, Mama Bear on the Berenstain Bears, and the voice of Granny Smurf.
She soon gained her first national recognition when she performed as "Shakundala the Silent" in "The Garry Moore Show" in 1964, as well as appearing in the original cast of "Sweet Charity".
Her popularity grew tremendously after she appeared in "Rowan & Martin's Laugh-In", which was an American TV comedy sketch show from 1968 to 1973. Buzzi was the only featured player to appear in every single episode of the show, even the original pilot. The character she was most well-known for in the show was Dowdy Spinster Ormph, for which she was dressed in dull brown with a bun hairstyle, with her face covered in a hairnet knotted in the center of her forehead. This wasn't the first time she had used this look, in fact she appeared in a school production called "Auntie Mame" in which she played Agnes Gooch.
With her vivid comedic dialogue, she was seen in a number of Dean Martin Roasts from the MGM Hotel in Las Vegas, where she blabbered about prominent roastees such as Frank Sinatra, Lucille Ball, and Muhammad Ali.
Aside from her acting career, Ruth was known to be a very wise investor. Both her and her husband Kent Perkins have invested in various assets that are currently worth a lot of money, located around Texas including a ranch, a farm, gas wells, oil wells, a shopping center, minerals and more. The vehicle collection they own was valued at a few million dollars, with the most luxurious car they own a Chevy which Steve McQueen was behind its wheel once, estimated to be worth $2 million dollars.
Personal Life
Buzzi is currently retired to a 629-acre ranch in Erath County in Texas, where she lived with her husband, Kent Perkins. However, she hasn't completely forgotten her days in Southlake as she still visits from time to time, and writing on Twitter describing her days in Southlake saying, 'Things I loved about Southlake: the best neighbors in the world. The greatest access to the best shopping in the state of Texas, maybe in the country. The biggest choice of restaurants within a 10-mile radius. Wonderful landscaping and beautiful garden work everywhere you look. Lots of groundwater, with ducks, turtles and blue herons. Almost zero crime.'
Ruth Ann Buzzi has participated in a lot of charity work, some of which are for children including The Thalians, St. Jude's Hospital, the Special Olympics, Make a Wish Foundation, and Big Brothers Big Sisters of America. Buzzi is a sponsor in a children's art summer camp as well. Buzzi also helps in fundraising for the Utopia Animal Rescue Ranch, located in Medina, Texas.
Buzzi's name has appeared in several songs, such as "Ruth Buzzi Better Watch Her Back" by The Bled, the duet "You're the Reason Our Kids are Ugly" by Conway Twitty and Loretta Lynn, and "I'm A Swing It" by House of Pain.
Buzzi and her husband share the hobby of collecting automobiles, particularly post-war English vehicles which include Jaguars, Bentleys, and Rolls-Royces, appearing in television commercials, and in her blue Bentley convertible featured on the cover of Vogue with Jessica Simpson driving it. As mentioned, Buzzi has participated in a lot of charity work, so some of the cars were exhibited at the Petersen Automotive Museum in Los Angeles, California by loans or/and donation.
I've never refused taking a photo with fans. pic.twitter.com/p3mfHtPNaq

— RUTH BUZZI (@Ruth_A_Buzzi) January 25, 2021
Who is Buzzi's Husband Ken Perkins?
Kenneth Perkins born in 1926, and was Major General British Army officer who was later seconded to command the Sultan of Oman's armed forces. Ending his military vocation, he held the post of Director of Military Assistance Overseas for two years, from 1980 to 1982. He died in 2009.
Net Worth
According to sources, as of early 2021, the best estimate of Ruth Buzzi's net worth is $20 million.
General Info
| | |
| --- | --- |
| Full Name | Ruth Buzzi |
| Net Worth | $10 million |
| Date Of Birth | July 24, 1936 |
| Height | 1.6 m |
| Profession | Comedian, Voice Actor |
| Education | Old Stonington High School |
| Nationality | American |
Family
| | |
| --- | --- |
| Spouse | Kent Perkins (m. 1978), Basil Keko (m. 1965–1975) |
| Parents | Angelo Peter Buzzi, Rena Pauline |
| Siblings | Harold Buzzi |
Accomplishments
| | |
| --- | --- |
| Nominations | Primetime Emmy Award for Individual Performance - Variety Or Music Program, Daytime Emmy Award for Outstanding Performer in a Children's or Pre-School Children's Series, Primetime Emmy Award for Special Classification Of Individual Achievements, Daytime Emmy Award for Outstanding Performer In Ch... |
| Movies | Freaky Friday, The Villain, The Apple Dumpling Gang Rides Again, Troublemakers, The Being, The Adventures of Elmo in Grouchland, The North Avenue Irregulars, Skatetown, U.S.A., Chu Chu and the Philly Flash, My Mom's a Werewolf, Surf II, Record City, Dixie Lanes, Rockin' with Judy Jetson, Once Upon a... |
| TV Shows | Rowan & Martin's Laugh-In, The Lost Saucer, The Dean Martin Show, The Dean Martin Celebrity Roast, That Girl, You Can't Do That on Television, Baggy Pants and the Nitwits, Linus the Lionhearted, Paw Paws, Pound Puppies, The Jetsons, Sheep in the Big City, The Smurfs, Lotsa Luck, Gravedale High, Cro,... |
Social profile links
Marks
| # | Marks / Signs |
| --- | --- |
| 1 | Her character, park-bench spinster Gladys Ormphby |
Facts
| # | Fact |
| --- | --- |
| 1 | Ruth Buzzi earned five Emmy nominations but never won the award. She did win a Golden Globe in 1973 for 'Laugh In (1967)'. |
| 2 | Left the original Broadway production of "Sweet Charity" starring Gwen Verdon to co-star on Laugh-In (1967). |
| 3 | Ruth Buzzi invented her famous character Gladys Ormphby when she was playing Agnes Gooch in a production of "Auntie Mame.". |
| 4 | Ruth Buzzi made three guest appearances on the legendary "Carol Burnett Show (1967)" and co-starred with Carol Burnett in the film Chu Chu and the Philly Flash (1981). |
| 5 | Friends with Anne Murray. |
| 6 | Living in Ft. Worth, TX. On March 19, 2011, she made a guest appearance on the local PBS station KERA for a special about "Rowan & Martin's Laugh-In". [March 2011] |
| 7 | Appeared at the dedication of Jim Henson's star on Hollywood Boulevard after his death. |
| 8 | Is a ventriloquist. |
| 9 | Her family ran a funeral parlor when she was growing up, and when they weren't busy comforting mourners, they told each other jokes to cheer up. |
| 10 | Biography in: "Who's Who in Comedy" by Ronald L. Smith. Pg. 81-82. New York: Facts on File, 1992. ISBN 0816023387 |
| 11 | Was a regular on the The Best of the Dean Martin Celebrity Roasts (1998). |
| 12 | She was one of only four people and the only woman to appear in every episode of Laugh-In (1967), including the special in 1967. The other three people were Dan Rowan, Dick Martin, and Gary Owens. |
Pictures
Movies
Actress
| Title | Year | Status | Character |
| --- | --- | --- | --- |
| One Month Out | 2017 | post-production | Agnes |
| Come on Over | 2006-2007 | TV Series | Ruthie |
| Fallen Angels | 2006 | | Perril |
| Sesame Street | 1993-2006 | TV Series | Ruthie Suzie Kabloozie Ruthi ... |
| Adventures in Homeschooling | 2004 | Short | Gertie Hemple |
| Passions | 2003 | TV Series | Nurse Kravitz |
| 'Weird Al' Yankovic: The Ultimate Video Collection | 2003 | Video | Bench Cameo (Gump) (uncredited) |
| Sheep in the Big City | 2000-2001 | TV Series | |
| 7th Heaven | 1998-2001 | TV Series | Telephone Operator |
| Nothing But the Truth | 2000 | | Lois Troy |
| The Angry Beavers | 2000 | TV Series | Mrs. Beaver |
| 100 Deeds for Eddie McDowd | 2000 | TV Series | Old Lady |
| Rocket Power | 2000 | TV Series | Dog Owner |
| Diagnosis Murder | 1999 | TV Series | Liz Summers |
| The Adventures of Elmo in Grouchland | 1999 | | Ruthie |
| Boys Will Be Boys | 1999 | TV Movie | Mrs. Rudnick |
| Sabrina, the Teenage Witch | 1998 | TV Series | Delilah |
| The Jamie Foxx Show | 1997 | TV Series | Judge Lekeisha Roshanda Jackson |
| The Savage Dragon | 1995 | TV Series | Additional Voices (voice) |
| The Night Before Christmas | 1994 | | Maw |
| Cro | 1993-1994 | TV Series | Nandy |
| The Pink Panther | 1993 | TV Series | |
| Hollyrock-a-Bye Baby | 1993 | TV Movie voice | |
| The Addams Family | 1992-1993 | TV Series | Additional Voices |
| Wild West C.O.W.-Boys of Moo Mesa | 1993 | TV Series | |
| I Yabba-Dabba Do! | 1993 | TV Movie | Additional Voices (voice) |
| Major Dad | 1992 | TV Series | Mattie Fae Tillman |
| Lucky Luke | 1992 | TV Series | Ma Dalton |
| Lucky Ed's Tabloid News | 1992 | TV Movie | Sample Lady |
| Darkwing Duck | 1991 | TV Series | Alien Cow / Dottie Debson |
| Out of This World | 1988-1991 | TV Series | Mrs. Miller / Mrs. Slater |
| The New Adam-12 | 1991 | TV Series | Mrs. Woolridge |
| They Came from Outer Space | 1991 | TV Series | Carol |
| Diggin' Up Business | 1990 | | Widow Knockerby |
| Wishful Thinking | 1990/I | | Jody |
| The Munsters Today | 1988-1990 | TV Series | Dracula's Mom |
| Saved by the Bell | 1990 | TV Series | Roberta Powers |
| The Adventures of Don Coyote and Sancho Panda | 1990 | TV Series | Additional Voices |
| Gravedale High | 1990 | TV Series voice | |
| Chip 'n' Dale Rescue Rangers | 1990 | TV Series | Ma |
| The Smurfs | 1984-1989 | TV Series | Additional Voices |
| My Mom's a Werewolf | 1989 | | Madame Gypsy |
| Up Your Alley | 1989 | | Marilyn |
| Marvin: Baby of the Year | 1989 | TV Short | Chrissy's Mother (voice) |
| Dixie Lanes | 1988 | | Betty |
| Pound Puppies and the Legend of Big Paw | 1988 | | Nose Marie (voice) |
| Rockin' with Judy Jetson | 1988 | TV Movie | Felonia Funk (voice) |
| Pound Puppies | 1986-1987 | TV Series | Nose Marie / Greyhound Puppy / Charlie's Mom / ... |
| The Love Boat | 1978-1987 | TV Series | Ruth Buzzi / Patti Harmon |
| Milroy: Santa's Misfit Mutt | 1987 | Video short | Mrs. Claus (voice) |
| Kids Incorporated: Rock in the New Year | 1986 | TV Movie | Blanche |
| Life with Lucy | 1986 | TV Series | Mrs. Wilcox |
| Bad Guys | 1986 | | Petal McGurk |
| Check It Out | 1986 | TV Series | Tiffany Cobb, Mrs. Cobb's Daughter |
| Paw Paws | 1985-1986 | TV Series | Aunt Pruney |
| The Jetsons | 1985 | TV Series | |
| The Berenstain Bears | 1985 | TV Series | Mama Bear |
| George Burns Comedy Week | 1985 | TV Series | Juliette |
| Down to Earth | 1985 | TV Series | Mary Louise |
| The New Scooby-Doo Mysteries | 1984 | TV Series | Mrs. Muffinstuffer / Katerina Kobald / Evil Elf |
| Don't Ask Me, Ask God | 1984 | TV Movie | Jonesey's Wife |
| Masquerade | 1984 | TV Series | |
| Surf II | 1984 | | Chuck's Mom |
| Alvin & the Chipmunks | 1983 | TV Series | |
| The Being | 1983 | | Virginia Lane |
| Gun Shy | 1983 | TV Series | Mrs. Mound |
| Trapper John, M.D. | 1982 | TV Series | Laura Morley |
| Chu Chu and the Philly Flash | 1981 | | Consuelo |
| Aloha Paradise | 1981 | TV Series | |
| Alice | 1981 | TV Series | Chloe |
| I Go Pogo | 1980 | | Miz Beaver / Miss Mam'selle Hepzibah (voice) |
| CBS Library | 1980 | TV Series | Mrs. Page |
| Myra | 1980 | Short | Mrs. Page (voice) |
| The Plastic Man Comedy/Adventure Show | 1979 | TV Series | Additional Voices (1979) (voice) |
| Whatever Turns You On | 1979 | TV Series | Miss Take / Miss Fit / Mom / ... |
| Skatetown, U.S.A. | 1979 | | Elvira |
| CHiPs | 1979 | TV Series | Ruth Buzzi |
| The Villain | 1979 | | Damsel in Distress |
| The Apple Dumpling Gang Rides Again | 1979 | | Old Tough Kate, aka 'Granny' |
| You Can't Do That on Television | 1979 | TV Series | Ms. Fitt / Ms. Take |
| The North Avenue Irregulars | 1979 | | Dr. Rheems |
| Legends of the Superheroes | 1979 | TV Series | Aunt Minerva |
| Record City | 1978 | | Olga |
| Once Upon a Brothers Grimm | 1977 | TV Movie | Queen Astrid |
| Baggy Pants & the Nitwits | 1977 | TV Series | Gladys |
| The Rescuers | 1977 | | German Mouse (voice, unconfirmed, uncredited) |
| Freaky Friday | 1976 | | Opposing Coach |
| Medical Center | 1973-1976 | TV Series | Rose Jenkins |
| Emergency! | 1976 | TV Series | Amy Merkle |
| The Krofft Supershow | 1976 | TV Series | Fi (in 'The Lost Saucer') |
| The Lost Saucer | 1975 | TV Series | Fi |
| ABC Afterschool Specials | 1974 | TV Series | Cleaning Lady |
| Paradise | 1974 | TV Movie | |
| Lotsa Luck | 1974 | TV Series | Wilma Wallachek |
| The Dean Martin Show | 1973 | TV Series | Gladys Ormphby |
| Laugh-In | 1968-1973 | TV Series | Regular Performer / Gladys Ormphby |
| Love, American Style | 1970-1973 | TV Series | Helen (segment "Love and the Missing Mister") / Beverly (segment "Love and the Haunted House") |
| Here's Lucy | 1972 | TV Series | Annie Whipple |
| The Singles | 1972 | TV Movie | |
| Night Gallery | 1971 | TV Series | Hungry Witch (segment "Witches' Feast") |
| Walt Disney's Wonderful World of Color | 1970 | TV Series | Soprano |
| The AristoCats | 1970 | | Frou-Frou (singing voice, uncredited) |
| In Name Only | 1969 | TV Movie | Ruth Clayton |
| That's Life | 1969 | TV Series | |
| That Girl | 1967-1968 | TV Series | Pete Peterson |
| The Monkees | 1967 | TV Series | Mrs. Weatherspoon |
| The Steve Allen Comedy Hour | 1967 | TV Series | |
| Days of Our Lives | 1965 | TV Series | Leticia Bradford (1983) |
| Linus! The Lion Hearted | 1964-1965 | TV Series | Granny Goodwitch |
Soundtrack
| Title | Year | Status | Character |
| --- | --- | --- | --- |
| The Sonny and Cher Show | 1976 | TV Series performer - 1 episode | |
| The Muppet Show | 1976 | TV Series performer - 1 episode | |
| The Lost Saucer | 1975 | TV Series performer - 1 episode | |
| Pound Puppies | 1986 | TV Series performer - 1 episode | |
Self
| Title | Year | Status | Character |
| --- | --- | --- | --- |
| According to Dom | 2009 | Documentary short | Herself |
| The 60th Primetime Emmy Awards | 2008 | TV Special | Himself - Presenter: Outstanding Variety, Music or Comedy Series snd Laugh-In Performer |
| The 100 Greatest TV Quotes & Catchphrases | 2006 | TV Mini-Series documentary | Herself |
| Goodnight, We Love You | 2004 | Documentary | Herself |
| TV Land Convention Special | 2004 | TV Movie documentary | Herself |
| A Hot Dog Program | 1999 | TV Movie documentary | Herself |
| The Rosie O'Donnell Show | 1998 | TV Series | Herself |
| Elmopalooza! | 1998 | TV Special | Ruthie |
| Macy's Thanksgiving Day Parade | 1997 | TV Movie | Herself |
| Macy's Thanksgiving Day Parade | 1996 | TV Movie | Herself |
| The Daily Show | 1996 | TV Series | Herself |
| All-Star 25th Birthday: Stars and Street Forever! | 1994 | TV Special | Ruthie (voice) |
| Sesame Street Stays Up Late! | 1993 | TV Special | Ruthie |
| Laugh-In Past Christmas Present | 1993 | TV Special | Herself |
| Macy's Thanksgiving Day Parade | 1993 | TV Movie | Herself |
| The 3rd Annual American Comedy Awards | 1989 | TV Special | Herself |
| Hollywood on Horses | 1989 | Video documentary | Herself |
| Kraft Salutes Super Night at the Super Bowl | 1987 | TV Movie | Herself |
| Dream Boys Revue | 1985 | Video documentary | Herself / Emcee |
| This Is Your Life | 1983 | TV Series | Herself |
| Salute! | 1983 | TV Series | Herself |
| Reading Rainbow | 1983 | TV Series | Herself |
| Dom DeLuise and Friends | 1983 | TV Series | Herself |
| The Shape of Things | 1982 | TV Series | Herself |
| CHiPs | 1980 | TV Series | Herself |
| The Alan Thicke Show | 1980 | TV Series | Herself |
| Kraft Salutes Disneyland's 25th Anniversary | 1980 | TV Special | Herself |
| The 6th People's Choice Awards | 1980 | TV Special | Herself - Performer |
| The Alan Hamel Show | 1979 | TV Series | Herself |
| The Mike Douglas Show | 1967-1979 | TV Series | Herself - Comedienne / Herself |
| Bonkers! | 1979 | TV Series | Herself |
| The Muppets Go Hollywood | 1979 | TV Special | Herself (uncredited) |
| Donny and Marie | 1976-1979 | TV Series | Herself |
| Walt Disney's Wonderful World of Color | 1978 | TV Series | Herself |
| The Dean Martin Celebrity Roast: George Burns | 1978 | TV Special | Herself |
| Dean Martin Celebrity Roast: Jimmy Stewart | 1978 | TV Special | Gladys Ormphby |
| The Dean Martin Celebrity Roast: Jack Klugman | 1978 | TV Special | Herself |
| Hee Haw | 1978 | TV Series | Herself |
| The Dean Martin Celebrity Roast: Frank Sinatra | 1978 | TV Special | Gladys Ormphby (uncredited) |
| The Jim Nabors Show | 1978 | TV Series | Herself |
| The Tonight Show Starring Johnny Carson | 1975-1977 | TV Series | Herself |
| Dean Martin Celebrity Roast: Angie Dickinson | 1977 | TV Special | Gladys Ormphby |
| The Sonny and Cher Show | 1976-1977 | TV Series | Herself / Various Characters |
| The David Steinberg Show | 1977 | TV Series | Herself |
| The Muppet Show | 1976 | TV Series | Herself - Special Guest Star |
| Dinah! | 1974-1976 | TV Series | Herself |
| Dean Martin Celebrity Roast: Dennis Weaver | 1976 | TV Special | Gladys Ormphby |
| The Dean Martin Celebrity Roast: Muhammad Ali | 1976 | TV Special | Sparring Partner's Girlfriend |
| Tony Orlando and Dawn | 1975-1976 | TV Series | Herself |
| Cher | 1976 | TV Series | Herself |
| Celebrity Bowling | 1974-1976 | TV Series | Herself |
| The Dean Martin Celebrity Roast: Evel Knievel | 1975 | TV Special | Herself |
| The Merv Griffin Show | 1975 | TV Series | Herself |
| The Bobby Vinton Show | 1975 | TV Series | Herself |
| The Jim Stafford Show | 1975 | TV Series | Herself |
| The Dean Martin Celebrity Roast: Lucille Ball | 1975 | TV Special | Gladys Ormphby |
| Sandy in Disneyland | 1974 | TV Special | Herself |
| The Dean Martin Show | 1970-1974 | TV Series | Herself |
| The Carol Burnett Show | 1972-1973 | TV Series | Herself - Guest |
| Flip | 1971-1973 | TV Series | Herself |
| The Helen Reddy Show | 1973 | TV Series | Herself |
| Keep U.S. Beautiful | 1973 | TV Special | Herself |
| Dinah's Place | 1971 | TV Series | Herself |
| Pure Goldie | 1971 | TV Movie | Herself |
| The Bob Hope Show | 1970 | TV Series | Herself |
| Gene Kelly's Wonderful World of Girls | 1970 | TV Movie | Herself |
| The John Davidson Show | 1970 | TV Series | Herself |
| It's Tough to Be a Bird | 1969 | Documentary short | Soprano (voice) |
| The Leslie Uggams Show | 1969 | TV Series | Herself |
| The Hollywood Palace | 1969 | TV Series | Herself |
| The Hollywood Squares | 1968 | TV Series | Herself - Panelist |
| Laugh-In | 1967-1968 | TV Series | Herself |
| The Steve Allen Comedy Hour | 1967 | TV Series | Herself |
| The Entertainers | 1964 | TV Series | Regular |
| The Garry Moore Show | 1964 | TV Series | Herself |
Archive Footage
| Title | Year | Status | Character |
| --- | --- | --- | --- |
| Saved by the Bell: It's Alright - Back to the Bell | 2013 | Video short | Roberta Powers (uncredited) |
| Pioneers of Television | 2008 | TV Mini-Series documentary | Herself |
| Derailroaded | 2005 | Documentary | Herself |
| The Best of the Dean Martin Celebrity Roasts | 1998 | TV Movie documentary | Gladys Ormphby - Roaster |
| Rowan & Martin's Laugh-In: 25th Anniversary Reunion | 1993 | TV Movie | Herself |
| Walt Disney's Wonderful World of Color | 1982 | TV Series | Opposing Coach Old Tough Kate Granny |
| Best of the Dean Martin Show | 1979 | TV Movie | Herself |
Awards
Won Awards
| Year | Award | Ceremony | Nomination | Movie |
| --- | --- | --- | --- | --- |
| 1973 | Golden Globe | Golden Globes, USA | Best Supporting Actress - Television | Laugh-In (1967) |
Nominated Awards
| Year | Award | Ceremony | Nomination | Movie |
| --- | --- | --- | --- | --- |
| 1994 | Daytime Emmy | Daytime Emmy Awards | Outstanding Performer in a Children's Series | Sesame Street (1969) |
| 1987 | Daytime Emmy | Daytime Emmy Awards | Outstanding Performer in Children's Programming | The Berenstain Bears (1985) |
| 1974 | Primetime Emmy | Primetime Emmy Awards | Best Supporting Actress in Comedy-Variety, Variety or Music | The Dean Martin Show (1965) |
| 1972 | Primetime Emmy | Primetime Emmy Awards | Outstanding Achievement by a Performer in Music or Variety | Laugh-In (1967) |
| 1969 | Primetime Emmy | Primetime Emmy Awards | Special Classification Achievements - Individuals (Variety Performances) | Laugh-In (1967) |
Source:
IMDb
,
Wikipedia