Known for movies
Short Info
| | |
| --- | --- |
| Fact | Son of actress Kaye Capron. |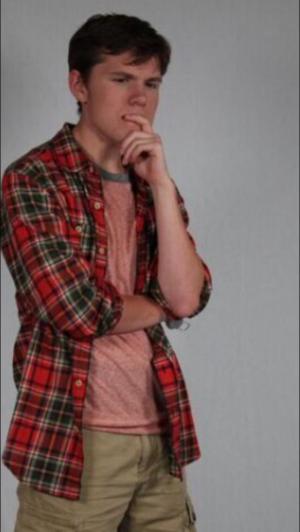 Early life, family, educational background
American child actor Robert B. Capron Jr., was born on 9 July 1998, in Providence, Rhode Island USA, to Kaye and Robert Capron. Robert Jr. is best known for his starring role as Greg Heffley's best friend, Rowley Jefferson, in the "Diary of a Wimpy Kid" film franchise.
Career
Robert's acting career began when he enrolled into a drama program when he was eight years old. The after-school program was sponsored by Trinity Repertory Company; later that year, he was cast as Turkey Boy in their production of "A Christmas Carol."
Film
His debut onscreen role was in the 2009 film "Bride Wars", and later that year he appeared in "Hachi: A Dog's Tale".
Robert's best-known role is as Roland "Rowley" Jefferson, in three of the four "Diary of a Wimpy Kid" movies. Rowley is a secondary character in the series, the best friend of Greg, the main character; he also has a relatively large role in almost every book, excluding books 9, 10 and 12. His parents are over-protective and don't like Greg that much, because they (especially Mr. Jefferson) believe he negatively influences their son. Although he is a secondary character, Rowley is also an anti-hero because he usually does nonsensical, idiotic things that cause Greg to get in trouble, but not himself. Despite his immaturity and lack of forward-thinking, he is a kind character who only wishes the best for everybody.
Both of Robert's parents are actors too. His mother played his character's mother, Linda Jefferson. His father made a cameo appearance in "Diary of a Wimpy Kid: Rodrick Rules", as a Talent Show Guest.
In 2010, Robeet Jr. jointly won the Young Artist Award in the category Best Performance in a Feature Film (Young Ensemble Cast) for "Diary of a Wimpy Kid." He was also nominated for the Young Artist Award in the Best Performance in a Feature Film (Supporting Young Actor) category. The following year, he was once again nominated for Young Artist Award in the category Best Performance in a Feature Film (Supporting Actor) for "Diary of a Wimpy Kid: Rodrick Rules", then in 2012 he won the Young Artist Award for the Best Performance in a Feature Film (Supporting Young Actor) and jointly Best Performance in a Feature Film (Ensemble Cast) categories for "Diary of a Wimpy Kid: Dog Days."
In 2012, Robert voiced a character in "Diary of a Wimpy Kid: Class Clown."
According to "The Wimpy Kid Movie Diary," while filming the "Dog Days" installment, Robert was also filming "Three Stooges," for which he had to cut his hair in order to portray Curly, so a wig was especially made for playing Rowley.
While doing press interviews for the film in August 2012, Robert, Zachary Gordon (the actor who plays Greg Heffley), and the author of the series, Jeff Kinney, all said that a fourth movie was not being planned, but is not entirely ruled out. In an interview with HeyUGuys, Kinney especially said, 'At present, we don't have a fourth film in development, but you never know!'
However, lead actor Zachary said that if a fourth movie were to be made, he would probably not appear in it as he would look too old to continue to play the character – 'There's no way to temporarily stop us from changing and growing up… the characters are supposed to be timeless,' he told the interviewer. In a Spreecast live stream in March 2013, Zachary stated that there would not be a fourth live-action film, which was echoed by Jeff. In an interview, Jeff shared his hopes for the future of the series, 'I hope that it ["Diary of a Wimpy Kid: Cabin Fever"] gets made into an animated movie, but I'd really like to see it turn into an animated television special.'
The fourth live-action film was officially announced in 2016; the ninth book, "Diary of a Wimpy Kid: The Long Haul," was being filmed, and the announcement of the all-new cast. YouTuber and actor Lucas Cruikshank, who is famous for his "Fred" YouTube series and Nickelodeon show, auditioned to play Mac Digby, but didn't read the script and therefore didn't know much about the character aside from that it has to do with YouTube. Ironically, Lucas also auditioned for the first movie to play Greg Heffley.
On 23 February 2017, the teaser trailer and theatrical poster for "Diary of a Wimpy Kid: The Long Haul" were released, with the official trailer coming out the following month.
The teaser trailer and the official trailer were both met with negative reviews from fans, upset with the recasting, particularly of Greg's older brother, Rodrick Heffley; fans used the hashtag "#NotMyRodrick" to express their anger, which eventually went viral before becoming a meme. "Diary of a Wimpy Kid: The Long Haul" was far from a commercial and critical success; it was the lowest-grossing film in the franchise, worldwide total gross $40.1 million, which was not a total flop as the production budget was $22 million. On Rotten Tomatoes, it received an 18% rating with the general review reading, 'With an all-new cast but the same juvenile humor, Diary of a Wimpy Kid: The Long Haul finds the franchise still stuck in arrested – and largely unfunny – development.'
The movie scored a 39/100 on Metacritic and a "B" on CinemaScore.
In 2010, Robert played Oliver Twistmeyer, young Dave's pal in "The Sorcerer's Apprentice." In 2012, he voiced Bob in the Tim Burton movie, "Frankenweenie," and the following year, he experienced acting with motion-capture 3D CGI for the first time in "Tarzan", in which he portrayed Derek. In 2015, he starred as Jake alongside Bailee Madison in the Indie film "Annabelle Hooper and The Ghosts of Nantucket."
Television
From 2014-2018, Robert Jr. had a returning role as Mason in the CBS series "Elementary", an 'irregular' Sherlock hires for computer skills and pays him in limited edition action figures instead of money. Mason was initially a very young colleague, but he's later re-established as a young university student.
He was the lead in two episodes of "The Haunting Hour" on The Hub Network, and he guest-appeared in "The Middle" on ABC.
Personal life
Aside from acting, Robert also has a passion for reading, history, writing screenplays, watching movies, tennis, swimming, and playing video games. He is currently studying film and screenwriting at Brown University.
Appearance
Robert has auburn hair, brown eyes, and is 5ft 8.5in (1.74m) tall.
Net Worth
As of late-2020, Robert Jr.'s net worth is estimated at over $700,000.
General Info
| | |
| --- | --- |
| Full Name | Robert Capron |
| Height | 1.7 m |
| Profession | Voice Actor |
| Education | Brown University |
| Nationality | American |
Family
| | |
| --- | --- |
| Parents | Kaye Capron, Robert Capron Sr. |
Accomplishments
| | |
| --- | --- |
| Movies | Diary of a Wimpy Kid, The Sorcerer's Apprentice, Diary of a Wimpy Kid: Rodrick Rules, The Three Stooges, Diary of a Wimpy Kid: Dog Days, Frankenweenie, The Way, Way Back, Tarzan, Annabelle Hooper And The Ghosts Of Nantucket, The Polka King |
Social profile links
Facts
| # | Fact |
| --- | --- |
| 1 | He is a freshman at Brown University. |
| 2 | Son of actress Kaye Capron. |
Pictures
Movies
Actor
| Title | Year | Status | Character |
| --- | --- | --- | --- |
| R.L. Stine's The Haunting Hour | 2011-2012 | TV Series | Lex Johnson / Marty |
| Frankenweenie | 2012 | | Bob (voice) |
| Diary of a Wimpy Kid: Dog Days | 2012 | | Rowley Jefferson |
| The Three Stooges | 2012 | | Young Curly |
| The Middle | 2012 | TV Series | Tyler |
| Diary of a Wimpy Kid: Rodrick Rules | 2011 | | Rowley Jefferson |
| Confessions of a Teenage Critic | 2010 | TV Series 2014 | |
| The Sorcerer's Apprentice | 2010 | | Young Dave's Pal (as Robert B. Capron) |
| Diary of a Wimpy Kid | 2010 | | Rowley Jefferson |
| Hachi: A Dog's Tale | 2009 | | Student (uncredited) |
| Bride Wars | 2009 | | Student #2 (as Robert B. Capron) |
| Elementary | 2014-2017 | TV Series | Mason |
| The Polka King | 2017 | | David Lewan |
| Annabelle Hooper and the Ghosts of Nantucket | 2016 | | Jake McFeeley |
| Tarzan | 2013 | | Derek (voice) |
| The Way Way Back | 2013 | | Kyle (as Robert Banfield Capron) |
Self
| Title | Year | Status | Character |
| --- | --- | --- | --- |
| Rise and Shine | 2015/III | Documentary short | Himself - Interviewee |
| Piper's Picks TV | 2012 | TV Series | Himself - Guest |
| Film Fiend | 2011 | TV Series | Himself - Guest |
| Made in Hollywood | 2010-2011 | TV Series | Himself |
| Piper's QUICK Picks | 2011 | TV Series | Himself - Guest |
Awards
Won Awards
| Year | Award | Ceremony | Nomination | Movie |
| --- | --- | --- | --- | --- |
| 2013 | Young Artist Award | Young Artist Awards | Best Performance in a Feature Film - Supporting Young Actor | Diary of a Wimpy Kid: Dog Days (2012) |
| 2013 | Young Artist Award | Young Artist Awards | Best Performance in a Feature Film - Young Ensemble Cast | Diary of a Wimpy Kid: Dog Days (2012) |
| 2011 | Young Artist Award | Young Artist Awards | Best Performance in a Feature Film - Young Ensemble Cast | Diary of a Wimpy Kid (2010) |
Nominated Awards
| Year | Award | Ceremony | Nomination | Movie |
| --- | --- | --- | --- | --- |
| 2012 | Young Artist Award | Young Artist Awards | Best Performance in a Feature Film - Supporting Young Actor | Diary of a Wimpy Kid: Rodrick Rules (2011) |
| 2011 | Young Artist Award | Young Artist Awards | Best Performance in a Feature Film - Supporting Young Actor | Diary of a Wimpy Kid (2010) |
Source:
IMDb
,
Wikipedia