• Rick Petko is an American designer, steel builder, and former TV personality
• He is known for appearing in the reality TV series "American Chopper"
• He attended a community college and obtained a degree in welding
• He is currently focused on his own business, RPD & Co, which creates culinary knives and wedding bands
• He has an estimated net worth of almost $2 million

Known for movies
Short Info
| | |
| --- | --- |
| Net Worth | $1.75 million |
| Date Of Birth | September 11, 1968 |
| Fact | During the building of the Lance Armstrong bike, got his hand mashed in the drill press. |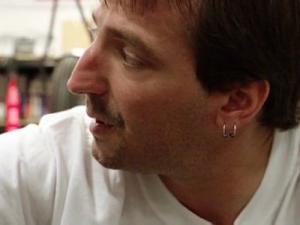 Rick Petko is an American designer, steel builder and former TV personality, born on 11 September 1968, in Bath County, Virginia USA. He's known for appearing in the reality TV series "American Chopper".
Early Life
There's little information about Rick Petko's parents, or his early education. His father, who worked painting bikes, allowed young Rick to paint his first tank at seven years of age. Despite messing up that Zundapp, Rick would discover later in life that his career path would go that way.
His passion for bikes started early in life, and it's not a surprise his favorite movies were also about motorcycles, especially if they were old. As a child he owned various car toys, mini bikes and go-karts which he would break in order to use his imagination to fix them.
This led him to buy his first welder as a teen, which would help him to practice his skills fixing things, and creating his own.
After his high school matriculation, he worked as a crane and coldsaw operator in one of the service centers of the now disappeared Bethlehem Steel, pioneers of steel manufacturing in US: 'I ran a huge cold saw, band saw and was a crane operator. Ed (his friend) ran a multi-torch set up, so when I saw the parts he could cut out, I was hooked.'
Although he left his job at the steel company at some point, it was clear to him that he had found his real passion.
That led him to attend a community College, where he spent more than two years studying and acquiring skills, graduating from it with a degree in welding. However, Rick still considers that many of his abilities are self-taught.
Career
Early Steps
By the time Rick graduated from College, he had surpassed the beginner's phase and was ready for new challenges. His skills at welding made the process of learning to build NASCAR chassis' easier. His ability in this particular field led him to find a job at a driving school of Pocono Raceway, where he worked for five years alongside the race team of Hooters Pro Cup, nowadays known as The CARS Solid Rock Carriers Tour.
Looking for new professional experiences, he became involved in the industrial field, working more than ten years on the East Coast with manufacturing companies dedicated to material processing, heat-treat furnaces and relining kilns. During that time he also worked in crematoriums, and in aluminum foundries.
Orange County Chopper
Returning to his beginnings, Rick started working on auto-restorations, which eventually led him to Orange County Choppers (OOC), the iconic custom bike shop founded in New York by Paul Teutul Sr. in 1999.
His skills were more than necessary for OOC's team when he joined in 2003, as his impressive ability and experience creating and managing steel was recognized.
In his time with OOC, his specialty was old school choppers – his first project was the POW/MIA bike, which was created to pay tribute to POWs (Prisoner of War) and MIAs (Missing in Action). This project was special for Rick, as his cousin fought in the Vietnam War, and his name is on its memorial wall in Washington. As a way to honor him, his name was put on the bike's rear.
Despite obtaining recognition for his work at OOC, transportation made his journey hard during the 13 years he worked at the shop. On average, Rick Petko had to travel 90 minutes from his Pennsylvania house to Newburgh, where the chopper store is located.
American Chopper – Debut on TV
During his time working in Orange County Choppers, Rick also appeared in the reality TV series "American Chopper", which was focused on the shop and especially on its owner, Paul Teutul Sr. and his family.
Premiered in 2003 on Discovery Channel, "American Chopper" became widely known on TV as a pioneer reality show, and was aired for eight seasons until its cancellation in 2010. However, one of the aspects that would catch its viewers' attention was Paul Sr. and his relationship with his son Paul Jr., which ended in a heated discussion in an episode of the series broadcast in 2009, and a severe legal battle in real life.
Rick Petko would also appear in "American Chopper's" short-lived spin-off "Senior vs. Junior". However, Petko's relaxed attitude would contrast with the shows' overall tense work atmosphere, worsened by father and son's quarrels.
Rick left the shop in 2016, long after the TV serie's end.
In an interview with Pocono Record, he revealed his thoughts on the time spent in the series: 'That was great while it lasted, but it still wasn't the core of what I was about or what I like to do'.
Harley Project
In 2016, Rick Petko formed a partnership with Pocono Mountain Harley Davidson to create custom made motorcycles of the brand. At first, Petko was surprised the shop's owners Jim and Linda Schlier accepted his proposal to become associate immediately: 'They were all-in on it from the start. I was surprised. There are not many dealerships in the country that do fab work right out of the store.'
The main ambition of the deal is to offer local customers of the brand more than other shops can: 'It has really everything we need to make anything for anyone's Harley.
If they can dream it up, we can build it. That's the main goal'.
Where is Rick Petko now? What is he doing today?
Currently, Rick is focused on his own business RPD & Co, a creative outlet for his own works, initially founded in 2006. Originally it served as his personal workshop, though he soon started creating race bikes, and other metal works for sale.
Nowadays RPD & Co has grown exponentially, and has customers all over the world. In its official web, it's specified each creation of the brand is original and custom made. However, their main products are culinary knives and wedding bands.
The creative studio is located in Pocono Mountains of Pennsylvania.
Personal Life
In 2012 Rick Petko married Brittany Cockeram, with who he has welcomed two daughters: one born on 24 October 2013 named Everly Rose, and his younger daughter named Lucy Mae, who was born on 27 January 2016.
Petko posted a photo on his official Instagram account showing his love for his wife, with a heart-warming caption: 'Happy Valentines Day babe, you are an incredible wife and mother, I often think back to the first day we met and telling you that you are the one, love ya to the moon'.
Net Worth
As a result of his work creating custom bikes and welding steel, and his earnings from his appearances in TV, Rick Petko has an estimated net worth of almost $2 million.
Physical Appearance
Rick Petko is a man of white ethnicity, whose hair and eyes are brown. His height and weight are unknown, but he has a slender build.
Interesting Facts
His race number is 53.
He owns a Pontiac car with a Firebird 67 GTO 400 motor.
Rick's message for young people is: 'Always be open to new ideas, and be willing to learn something new every day. I've learned a lot by screwing up.'
General Info
| | |
| --- | --- |
| Full Name | Rick Petko |
| Net Worth | $1.75 million |
| Date Of Birth | September 11, 1968 |
Accomplishments
Social profile links
Facts
| # | Fact |
| --- | --- |
| 1 | During the building of the Lance Armstrong bike, got his hand mashed in the drill press. |
Source:
IMDb
,
Wikipedia