• Mindy Cohn is best known for her role as Natalie Green in The Facts of Life and her voice work in the Scooby Doo franchise
• She attended Westlake School and graduated with a degree in cultural anthropology from Loyola Marymount University
• After The Facts of Life, she appeared in various TV series and films, plus TV films, and she was a voice actor in The Chimp Channel and The Kids from Room 402
• She was the voice actor for Velma in What's New Scooby-Doo? and she was in Family Guy and Batman: The Brave and the Bold
• After her 2012 breast cancer diagnosis, she underwent a double radical mastectomy, chemotherapy, and radiation, and is now in remission

Known for movies
Short Info
| | |
| --- | --- |
| Net Worth | $600 thousand |
| Date Of Birth | May 20, 1966 |
| Mark | Natural brown hair. |
| Fact | In 2012, she candidly told Andy Cohen on his show "Watch What Happens Live" that "Facts of Life" jumped the shark a few times, meaning that the show veered off its natural path and declined in quality. She specifically mentioned when the store "Edna's Edibles" was burned down only to open another store called "Over Our Heads" at the beginning of the 1985-1986 season. |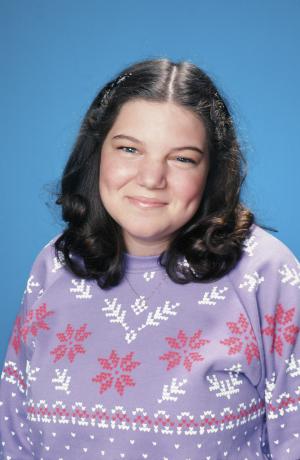 Mindy Cohn is an American actress, comedian, and voice actress, who is best known for her role as Natalie Green in the sitcom, "The Facts of Life," and whose voice the fans of the animated franchise, "Scooby-Doo" (2002-2006), would recognize in Velma.
Early life and family
Mindy Cohn was born Melinda Heather Cohn on 20 May 1966, in Los Angeles, California to Nat and Ina Cohn, a real estate lawyer. She belongs to a Jewish family. No other information is available on her family and growing up years.
Education background
She attended Westlake School in Holmby Hills, California. There is no information on where she matriculated from high school. She graduated with a degree in cultural anthropology from Loyola Marymount University in L.A.
Remember cute Mindy Cohn from 'The Facts of Life'? The actress looks so different today, we hardly recognize her! —> http://bit.ly/2k7Y6PS

Posted by Woman's World on Tuesday, March 7, 2017
Career
First steps
"The Facts of Life"
Cohn had a great start to her career as she landed the role of Natalie Green in NBC's television series, "The Facts of Life." She was only 13 at that time. Apparently, the character actress and comedian, Charlotte Ray Lubotsky, discovered her when Charlotte and the producers of the series went to Westlake School in Holmby Hills to do research for the show. "The Facts of Life" was a spin-off of another television series "Diff'rent Strokes," where Charlotte Rae was cast as Mrs. Edna Garrett, the first housekeeper of the Drummonds, and who would play the same character but as the housemother at the Eastland School, an all-girls boarding school, in the new series.
Mindy said that Charlotte lobbied for her and asked the producers to create a part for her. It seemed that aside from being 'hilarious and irrepressible,' Mindy reminded Charlotte of her best friend, Natalie.
Reception
The sitcom first aired on 24 August 1979 and ran for nine seasons (1979-1987) with 201 episodes. It was the lowest-rated NBC series during the first season and was put on hiatus. Extensive changes were made for season 2 which paid off as it received high ratings on its new timeslot, peaking at 27.4 rating in January 1981, making it the fourth highest-rated scripted series on NBC. Then with its third season, it became NBC's No.2 overall series and its highest-rated comedy series.
It continued its successful run throughout the rest of the seasons. NBC was planning to renew the show for a tenth season but Mindy Cohn and another cast member, Nancy McKeon, decided to leave after the ninth season. With the success of the series, it was also aired in other countries such as Canada, Brazil, and France.
Mindy was also part of the three two-hour movie televisions made, namely "The Facts of Life Goes to Paris" (1982), "The Facts of Life Down Under" (1987), and "The Facts of Life Reunion" (2001).
Further success
She appeared as her character, Natalie Green, in two episodes of "Diff'rent Strokes."
Mindy was also able to play other characters when she guest-starred in an episode or two of other popular television series such as NBC's "Double Trouble" (1985), and "21 Jump Street" (1987-1988) on Fox Network. Her first feature film was in 1986 in the fantasy comedy-drama, "The Boy Who Could Fly," but it didn't fare well at the box office and received a 67% rating on Rotten Tomatoes.
After "The Facts of Life," she continued to appear as a guest in various TV series such as "Charles in Charge" (1988) starring Scott Baio and "Suddenly Susan" (1999) starring Brooke Shields. She was also part of the main cast as Maureen Tucker in NBC's "The Second Half" (1993-1994) and as Maggie, the cook, in "The Help" (2004) from The WB. However, these two series ran for just one season.
Aside from doing TV films, she also did around 10 feature films from 1986 to 2020 including the dark comedy, "Sex and Death 101," in 1987 starring Wynona Ryder and Simon Baker; the romantic comedy, "Violet Tendencies," in 2010; and "A Nice Girl Like You," in 2020.
Voice work
In 1999, she was a voice actor in 13 episodes of "The Chimp Channel" (TCC), which was based on the "Monkey-ed Movies," and featured parodies of popular TV programs, films, advertising, and personalities as well as behind-the-scene antics. The show made use of orangutans and chimpanzees wearing costumes that were voiced by human actors.
Mindy was the voice actor for Candy Yuponce, TCC's make-up girl. The series received negative reviews from critics and only ran for one season.
"The Kids from Room 402" was her next work as a voice actor. This was a Canadian-American animated series based on the children's book, "Gracie Graves and the Kids from Room 402." It was aired in 1999 on the Fox Family Channel in the U.S. and in 2000 on Teletoon in Canada. One of the main characters, Nancy Francis, was voiced by Cohn in 34 out of 52 episodes for two seasons.
Scooby-Doo
Mindy was the voice actor for Velma from the highly popular animated mystery comedy series, "What's New, Scooby-Doo?" (2002-2006), produced by Warner Bros. Animation for WB Kids.
The story revolves around Scooby-Doo and his companions, Fred Jones, Daphne Blake, Velma Dinkley, and Shaggy Rogers, as they solve mysteries in various locations using modern technology. The series was the modernized version of Hanna-Barbera's "Scooby-Doo, Where Are You!" which premiered in 1969. It ran for three seasons with 42 episodes. "Scooby‑Doo! Mystery Incorporated" aired for two seasons (2010-2013) with 52 episodes. There were also 18 Scooby-Doo direct-to-video films and six direct-to-video short films released from 2004 to 2015. Her voice was also featured in five Scooby-Doo video games released from 2004 to 2010.
As a voice actor, she was also in an episode of the animated series "Dexter's Laboratory" as the librarian and "Kim Possible" as Ms. Whisp both in 2003. Interestingly, she was in "Family Guy" as Natalie Green in 2006; she was in "Batman: The Brave and the Bold" as Velma Dinkley in 2011.
Personal Life
Mindy is single at 53 and has no children. There is no news of her dating anybody. She keeps her personal life private. She is currently living in her Beverly Hills home.
Battle with cancer
She was diagnosed with breast cancer in 2012. According to an article from People Magazine in 2017, as Mindy was walking around her neighborhood in L.A., she suddenly felt so tired and had to text her friend, Helen Hunt, to come and help her. It was Hunt who first took her to the doctor.
She was biopsied after a scan showed something in her breast and it turned out that she had breast cancer. At first, she opted to do a lumpectomy, but the cancer had metastasized and spread to her lymph nodes and so she took a year off from work and underwent a double radical mastectomy. She also underwent chemotherapy and radiation. She kept her battle with cancer a secret for five years. Mindy stayed with her friends, Dr. Brent Ridge and Josh Kilmer-Purcell, who are known for their reality show, "The Fabulous Beekman Boys," on their 60-acre ranch during this difficult time. She said that it was hard to go through it alone and added, 'it was bad enough to put my parents through this; I'm glad I didn't put a partner through it too.' She was in remission in 2017 and went back to work.
— Mindy Cohn (@MindyCohn) May 26, 2020
Interesting facts and rumors
Mindy and her acting mentor, Charlotte, maintained their friendship after "The Facts of Life" TV series ended.
She was ranked 43rd at the VH1's List of 100 Greatest Kids Stars.
She received a Daytime Emmy Award nomination for her work in "What's New, Scooby-Doo."
In 2016, she was one of the contestants in season nine: celebrity edition 2 of "The Worst Cooks in America."
She is a strong supporter of the LGBT community.
Mindy is said to be good friends with the American actor, James Haven, and met Angelina Jolie through him as he was her older brother. She is the godmother of two of Angelina and Brad Pitt's children and was even reportedly given a diamond ring to thank her. When asked about this, she only had this to say, 'That story seems to be going around. I just don't talk about any of that.'
After surviving cancer, she became a founding member of weSpark Cancer Support Centre and she is on its Board of Directors.
Appearance
Mindy has a voluptuous figure and is 5ft 1in (1.5m) tall. She has brown hair.
Net Worth
According to sources, Mindy Cohn has an estimated net worth of $1 million.
General Info
| | |
| --- | --- |
| Full Name | Mindy Cohn |
| Net Worth | $600 thousand |
| Date Of Birth | May 20, 1966 |
| Profession | Comedian, Voice Actor, Singer |
| Education | Loyola Marymount University |
| Nationality | American |
Family
| | |
| --- | --- |
| Parents | Ina Cohn, Nat Cohn |
Accomplishments
| | |
| --- | --- |
| Nominations | Daytime Emmy Award for Outstanding Performer In An Animated Program |
| Movies | Scooby-Doo! WrestleMania Mystery, Violet Tendencies, Scooby-Doo! Camp Scare, Scooby-Doo! and Kiss: Rock and Roll Mystery, Big Top Scooby-Doo!, Scooby-Doo! Frankencreepy, Scooby-Doo! Legend of the Phantosaur, Scooby-Doo! Moon Monster Madness, Scooby-Doo! in Where's My Mummy?, Scooby-Doo! Pirates Ahoy... |
| TV Shows | Scooby-Doo! Mystery, Inc., Shaggy & Scooby-Doo Get a Clue!, What's New, Scooby-Doo?, The Help, The Kids from Room 402, The Chimp Channel, The Facts of Life, The Second Half |
Social profile links
Marks
| # | Marks / Signs |
| --- | --- |
| 1 | Voluptuous figure |
| 2 | Natural brown hair. |
| 3 | Deep sultry voice. |
Quotes
| # | Quote |
| --- | --- |
| 1 | [In 2012, dispelling a rumor that Molly Ringwald was mistreated on The Facts of Life (1979)] I'll answer that because Molly and I are actually working together again on The Secret Life of the American Teenager (2008). So no! That first year was very hard for a lot of girls who were cast and didn't become regulars. I think for a 22-minute sitcom to try and give 8 girls at the time, plus Charlotte Rae, plus two other adults lines, I think there was a sense of "What am I doing here?" And Molly had just come off a run on "Annie" on Broadway, and she was on her way up. She'll be the first to tell you that getting off the "Facts of Life" was the best thing that ever happened to her career. I didn't hear that rumor, and I don't think that's her experience. |
| 2 | [Of Charlotte Rae]: More than anything else, my heart just is open to celebrating Charlotte Rae, and the amazing career that she has had, which gratefully included 9 years of The Facts of Life (1979). |
| 3 | [on her latter on- and off-screen chemistry with Charlotte Rae, who played "Edna Garrett"]: I was discovered by Charlotte Rae and the producer at the time, Norman Lear, came to the school that I was attending, "Westlake School For Girls", to try and authenticate the scripts and try to get a feel of what it was like to be - in an all-girls school, and Charlotte really wanted to make sure that "Mrs. Garrett", there was a reason for "Mrs. Garrett" to leave Diff'rent Strokes (1978), which was the show she started on, and go to this all-girls school, for a reason. So, they were trying to figure that out, so I was one of the students they talked to and she and I hit it off ... I guess, extremely well, as a 13-year-old. I don't really know what that means to hit it off with someone. |
| 4 | [on the impending departure of Charlotte Rae, who played Edna Garrett, from 1978-1986 on both Diff'rent Strokes (1978) and The Facts of Life (1979), which was a spin-off]: One of the reasons she left was that this show is really started to focused on the girls, the pull of the show started to be different of her. She sorta felt like 'I'm done!' |
| 5 | [Who admitted that in one aspect she was similar to her Natalie Green character]: Anything that takes more than 20 minutes? No can do. |
| 6 | Ultimately, I want people to be able to see me, that I'm an actor. Sometimes people see me with whatever label, and I've not yet been able to show what I can do. That's the exciting part. I still have the tenacity and the hunger, and my patience is going to pay off. My motto in life is 'The best is yet to come'. |
| 7 | [on her The Facts of Life (1979) co-star, who was fired after the first season]: Felice Schachter is my soul sister. Felice and I became incredibly close, very quickly, very same sensibility. She just felt like family. I think Felice got a bum deal. |
| 8 | [on herself being overshadowed by her Natalie Green character]: It's a catch-22, I get the 'Where have you been? We want to see more of you' comments and I also understand from a producer's point of view, 'We don't want Natalie in our movie.' |
| 9 | Right now, I'm an unemployed actor. My dream is to do eight shows a week [on stage], but I can't do that and financially take care of myself in the way I've become accustomed. |
Facts
| # | Fact |
| --- | --- |
| 1 | Surrogate daughter of Charlotte Rae. |
| 2 | Credits Charlotte Rae as her favorite acting mentor/best friend. |
| 3 | When she was on "The Facts of Life" for 9 years, the producers wouldn't let her audition for film roles, such as for St. Elmo's Fire (1985) in 1984. There was a wide gap between television and film actors at the time, until Michael J. Fox changed it when he starred in the hit film Back to the Future (1985) while simultaneously starring in the hit TV series "Family Ties". Mindy said Mare Winningham ended up getting the role in "St. Elmo's Fire" and that she did a great job in it. |
| 4 | In 2012, she candidly told Andy Cohen on his show "Watch What Happens Live" that "Facts of Life" jumped the shark a few times, meaning that the show veered off its natural path and declined in quality. She specifically mentioned when the store "Edna's Edibles" was burned down only to open another store called "Over Our Heads" at the beginning of the 1985-1986 season. |
| 5 | Revealed that she had a wonderful working relationship with Charlotte Rae on The Facts of Life (1979). |
| 6 | Her acting mentor was Charlotte Rae. |
| 7 | Has a long association with Charlotte Rae. |
| 8 | Best known by the public for her role as Natalie Green on The Facts of Life (1979). |
| 9 | Is good friends with Angelina Jolie's brother James Haven, and is even the godmother of two of Angelina Jolie and Brad Pitt's children. |
| 10 | Keeps in touch with her The Facts of Life (1979) co-star Kim Fields. |
| 11 | Was among the guests at Justine Bateman's 17th birthday party. |
| 12 | Continues to look for acting work and turns down all the VH1 reality shows (Celebrity Fit Club (2005), etc.) because she doesn't want to cash in on her early The Facts of Life (1979) fame. |
| 13 | Was parodied in the TV show Clerks (2000). |
| 14 | Ranked #43 in VH1's list of the "100 Greatest Kid Stars". |
| 15 | Member of the board of directors of weSPARK, a cancer survivor organization founded by actress Wendie Jo Sperber. |
| 16 | Actress Charlotte Rae (Mrs. Garrett) discovered Cohn and also named her character Natalie on The Facts of Life (1979). Rae met Cohn after she and the show's producers noticed her entertaining a group of friends at Harvard-Westlake School in Los Angeles, where they had gone to research and observe. |
| 17 | Graduated from Loyola Marymount in 1995 with a degree in sociology. |
Pictures
Movies
Actress
| Title | Year | Status | Character |
| --- | --- | --- | --- |
| FreakMe | 2014 | TV Movie | April |
| Bones | 2014 | TV Series | Valentina |
| Operation Marriage | 2014 | Short | Kathy |
| Scooby-Doo! Frankencreepy | 2014 | Video | Velma Dinkley (voice) |
| The Middle | 2014 | TV Series | Kimberly |
| Scooby-Doo! Ghastly Goals | 2014 | Video short | Velma Dinkley (voice) |
| Scooby-Doo! WrestleMania Mystery | 2014 | Video | Velma Dinkley (voice) |
| Holiday Road Trip | 2013 | TV Movie | Artie |
| Scooby-Doo! Mecha Mutt Menace | 2013 | Video short | Velma Dinkley (voice) |
| Scooby-Doo! Spooky Scarecrow | 2013 | Video short | Velma Dinkley (voice) |
| Scooby-Doo! Stage Fright | 2013 | Video | Velma Dinkley (voice) |
| Scooby-Doo! Mystery Incorporated | 2010-2013 | TV Series | Velma Dinkley |
| Scooby-Doo! Mask of the Blue Falcon | 2012 | Video | Velma Dinkley (voice) |
| Scooby-Doo! Haunted Holidays | 2012 | Video short | Velma Dinkley (voice) |
| Big Top Scooby-Doo! | 2012 | Video | Velma Dinkley |
| The Secret Life of the American Teenager | 2012 | TV Series | Dylan's Mom |
| Scooby-Doo! Spooky Games | 2012 | Video short | Velma Dinkley (voice) |
| Scooby-Doo! Music of the Vampire | 2012 | | Velma Dinkley (voice) |
| Scooby-Doo! Legend of the Phantosaur | 2011 | Video | Velma Dinkley (voice) |
| Hot in Cleveland | 2011 | TV Series | Cassie |
| Batman: The Brave and the Bold | 2011 | TV Series | Velma / Ticket Girl |
| Scooby-Doo! Camp Scare | 2010 | Video | Velma Dinkley (voice) |
| Scooby-Doo and the Spooky Swamp | 2010 | Video Game | Velma Dinkley (voice) |
| Violet Tendencies | 2010 | | Violet |
| Scooby-Doo! Abracadabra-Doo | 2010 | Video | Velma Dinkley (voice) |
| Scooby Doo! First Frights | 2009 | Video Game | Velma Dinkley (voice) |
| Scooby-Doo and the Samurai Sword | 2009 | Video | Velma Dinkley (voice) |
| Scooby-Doo and the Goblin King | 2008 | Video | Velma Dinkley (voice) |
| Chill Out, Scooby-Doo! | 2007 | Video | Velma Dinkley (voice) |
| Sex and Death 101 | 2007 | | Trixie |
| Shaggy & Scooby-Doo Get a Clue! | 2006 | TV Series | Velma Dinkley |
| Family Guy | 2006 | TV Series | |
| Scooby-Doo: Who's Watching Who | 2006 | Video Game | Velma Dinkley (voice) |
| Scooby-Doo! Pirates Ahoy! | 2006 | Video | Velma Dinkley (voice) |
| What's New, Scooby-Doo? | 2002-2006 | TV Series | Velma Dinkley / Tourist's Daughter |
| Scooby-Doo in Where's My Mummy? | 2005 | Video | Velma Dinkley (voice) |
| Scooby-Doo! Unmasked | 2005 | Video Game | Velma Dinkley (voice) |
| The Third Wish | 2005 | | Bridgette |
| Aloha, Scooby-Doo! | 2005 | Video | Velma Dinkley (voice) |
| The Adventures of Tango McNorton: Licensed Hero | 2005 | TV Short | Lunch Lady |
| Scooby-Doo and the Loch Ness Monster | 2004 | Video | Velma Dinkley (voice) |
| The Help | 2004 | TV Series | Maggie, the Cook |
| Scooby-Doo! Mystery Mayhem | 2004 | Video Game | Velma Dinkley (voice) |
| A Scooby-Doo! Christmas | 2004 | TV Short | Velma Dinkley (voice) |
| Swing | 2003/I | | Martha |
| Kim Possible | 2003 | TV Series | Ms. Whisp |
| Dexter's Laboratory | 2003 | TV Series | Librarian |
| One on One | 2003 | TV Series | Ms. Sorel |
| Under the Gun | 2002 | | Gale |
| The Facts of Life Reunion | 2001 | TV Movie | Natalie Green |
| Virtually Casey | 2001 | TV Movie | Joanne Collins |
| Alone with a Stranger | 2001 | | Toni |
| The Kids from Room 402 | 1999-2001 | TV Series | Nancy Francis |
| The Chimp Channel | 1999 | TV Series | Candy Yuponce (voice) |
| Suddenly Susan | 1999 | TV Series | Cindy |
| The Second Half | 1993-1994 | TV Series | Maureen Tucker |
| Dream On | 1991 | TV Series | Marie |
| The Facts of Life | 1979-1988 | TV Series | Natalie Green / Frenchie |
| Charles in Charge | 1988 | TV Series | Bunny Lembeck |
| 21 Jump Street | 1987-1988 | TV Series | Rosa Banducci / Sal's Wife |
| The Facts of Life Down Under | 1987 | TV Movie | Natalie Green |
| The Boy Who Could Fly | 1986 | | Geneva |
| Double Trouble | 1985 | TV Series | Janie Blakemore |
| The Facts of Life Goes to Paris | 1982 | TV Movie | Natalie Green |
| Table Settings | 1982 | TV Movie | |
| Diff'rent Strokes | 1980-1981 | TV Series | Natalie Green |
| A Nice Girl Like You | 2017 | pre-production | Pricilla |
| Lego Dimensions | 2015 | Video Game | Velma Dinkley (voice) |
| Scooby-Doo! And Kiss: Rock and Roll Mystery | 2015 | Video | Velma Dinkley (voice) |
| You're Killing Me | 2015 | | Karen |
| Scooby Doo and the Beach Beastie | 2015 | Video short | Velma Dinkley |
| Scooby-Doo! Moon Monster Madness | 2015 | Video | Velma Dinkley (voice) |
Producer
| Title | Year | Status | Character |
| --- | --- | --- | --- |
| Bad for the Boats | 2017 | Short producer post-production | |
| Dress Up | 2017 | Short producer post-production | |
| The Morning After | 2017 | Short producer post-production | |
Soundtrack
| Title | Year | Status | Character |
| --- | --- | --- | --- |
| What's New, Scooby-Doo? | 2003 | TV Series performer - 1 episode | |
Self
| Title | Year | Status | Character |
| --- | --- | --- | --- |
| Worst Cooks in America | 2016 | TV Series | Herself - Contestant |
| Today | 2006-2016 | TV Series | Herself - Guest / Herself |
| Home & Family | 2016 | TV Series | Herself |
| Scooby Space Snacks | 2015 | Video short | Herself |
| Space Travel Is Groovy! | 2015 | Video short | Herself |
| Oprah: Where Are They Now? | 2014 | TV Series | Herself |
| Celebrity Ghost Stories | 2011 | TV Series documentary | Herself |
| The 9th Annual TV Land Awards | 2011 | TV Special | Herself |
| Good Morning America | 2011 | TV Series | Herself |
| What Not to Wear | 2010 | TV Series | Herself |
| Totally Tracked Down | 2010 | TV Series | Herself |
| 101 Perversions | 2008 | Video documentary short | Herself |
| TV Land's Top Ten | 2005-2006 | TV Series documentary | Herself |
| Biography | 2005 | TV Series documentary | Herself |
| Intimate Portrait | 2003 | TV Series documentary | Herself |
| Comedy Central Canned Ham | 2002 | TV Series | Carol Rosenthal |
| E! Entertainment Special: Who Let the Dog Out? | 2002 | TV Special | Herself |
| Weakest Link | 2001 | TV Series | Herself |
| The Test | 2001 | TV Series | Herself - Panelist |
| Truth Behind the Sitcom Scandals 5 | 2000 | TV Movie documentary | Herself |
| Hollywood Squares | 1999 | TV Series | Herself - Panelist |
| The Wil Shriner Show | 1987 | TV Series | Herself |
| The New Hollywood Squares | 1986 | TV Series | Herself - Panelist |
| Disneyland's Summer Vacation Party | 1986 | TV Special | Herself |
| Andy Williams and the NBC Kids Search for Santa | 1985 | TV Special | Herself |
| Body Language | 1984-1985 | TV Series | Herself |
| Disneyland's 30th Anniversary Celebration | 1985 | TV Movie documentary | Herself |
| Match Game/Hollywood Squares Hour | 1984 | TV Series | Herself - Panelist |
| Hot Potato | 1984 | TV Series | Herself / Herself - Panelist |
| Battle of the Video Games | 1983 | TV Movie | Herself - Red Team Member |
| The Regis Philbin Show | 1981 | TV Series | Herself |
Archive Footage
| Title | Year | Status | Character |
| --- | --- | --- | --- |
| Entertainment Tonight | 2015 | TV Series | Herself |
| 50 Cutest Child Stars: All Grown Up | 2005 | TV Movie documentary | Herself |
| Retrosexual: The 80's | 2004 | TV Mini-Series documentary | |
| E! True Hollywood Story | 1999 | TV Series documentary | Herself |
Awards
Nominated Awards
| Year | Award | Ceremony | Nomination | Movie |
| --- | --- | --- | --- | --- |
| 2014 | BTVA Special/DVD Voice Acting Award | Behind the Voice Actors Awards | Best Vocal Ensemble in a TV Special/Direct-to-DVD Title or Theatrical Short | Scooby-Doo! Mask of the Blue Falcon (2012) |
| 2013 | BTVA Special/DVD Voice Acting Award | Behind the Voice Actors Awards | Best Female Vocal Performance in a TV Special/Direct-to-DVD Title or Theatrical Short | Scooby-Doo! Music of the Vampire (2012) |
| 2013 | BTVA Television Voice Acting Award | Behind the Voice Actors Awards | Best Vocal Ensemble in a Television Series - Comedy/Musical | Scooby-Doo! Mystery Incorporated (2010) |
| 2012 | BTVA Special/DVD Voice Acting Award | Behind the Voice Actors Awards | Best Vocal Ensemble in a TV Special/Direct-to-DVD Title or Theatrical Short | Scooby-Doo! Legend of the Phantosaur (2011) |
| 2003 | Daytime Emmy | Daytime Emmy Awards | Outstanding Performer in an Animated Program | What's New, Scooby-Doo? (2002) |
| 1984 | Young Artist Award | Young Artist Awards | Best Young Actress in a Comedy Series | The Facts of Life (1979) |
| 1983 | Young Artist Award | Young Artist Awards | Best Young Actress in a Comedy Series | The Facts of Life (1979) |
| 1982 | Young Artist Award | Young Artist Awards | Best Young Comedienne - Motion Picture or Television | The Facts of Life (1979) |
Source:
IMDb
,
Wikipedia