• Miko Hughes is an American actor, born in 1986, who is known for his roles as a child actor in movies such as "Pet Sematary" and "Mercury Rising".
• His first credited role was in the iconic 1989 film "Pet Sematary", and he has continued to act in TV series and films, winning a Young Artist Award in the category "Best Performance in a Feature Film • Leading Young Actor".
• He has also explored other sides of the entertainment industry, such as directing a horror movie and becoming a DJ.
• He has a net worth of $500,000 and is of mixed ethnicity, with Native American origins.
• He has kept his personal life and romantic relationships out of the spotlight, and is the youngest guest ever in the "Tonight Show" with Johnny Carson.

Known for movies
Short Info
| | |
| --- | --- |
| Net Worth | $500 thousand |
| Date Of Birth | February 22, 1986 |
| Fact | Keeps 30,000 bees in his backyard beehive. |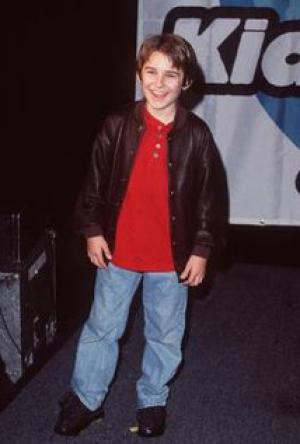 Miko Hughes is an American actor, born on 22 February 1986, in Apple Valley, California USA. He's particularly well known for his roles as a child actor, appearing in iconic movies such as "Pet Sematary" and "Mercury Rising".
Early Life
Miko John Huges was born the fourth child of Mary and John Huges. Due to his mother's Native American ancestry, he was named with the Chickasaw word equivalent of "Chief". His brothers are Mikhael and Mitchel, and his only sister is named Molly.
There's no information about his early education, but it's possible that he was home schooled, as he spent a large part of his childhood acting.
Career
Debut: Pet Sematary
Miko started his career at the very early age of 22 months in a public announcement.
However, it wasn't until he was three years old that he landed his first credited role as Gage Creed in the iconic 1989 film "Pet Sematary", based on the novel of the same title by Stephen King – Gage, who is the younger child of the Creed family, tragically dies after he was run over by a truck. His family, which had recently moved from Chicago to Ludlow, buried the late child in an Indian burial ground said to bring back the dead. When the child indeed comes back from death, he does in a very sinister way.
Miko's performance as Gage was equally surprising and horrifying, and was the first role of what would become a very successful career as actor. Not only was the movie a box office success, it also became a cult film.
In 2015 he was asked if he expected the film to be so successful. He answered: 'At the time, of course not. I don't think I knew I was acting for Pet Sematary; I was just playing pretend. I was practically a baby.' In 2019, exactly 30 years after the release of the original movie, Paramount Pictures release a re-adaption of the movie, with a new cast and modern setting.
Other Projects
After his debut in acting, Miko received many offers – he landed his first role in a series in "Babes", followed by his brief appearances in various series such as "Beverly Hills, 90210", the crime-themed drama "The Burden of Proof" and "Hangin' with Mr. Cooper".
🎬MOVIE HISTORY: 22 years ago today, April 3, 1998, the movie 'Mercury Rising' opened in theaters!#BruceWillis #AlecBaldwin #MikoHughes #ChiMcBride #KimDickens #JohnCarrollLynch #KelleyHazen #LLGinter @bodhielfman #RobertStanton #KevinConway #CarriePreston #PeterStormare pic.twitter.com/MqfS4UMc8j

— Film News Nostalgia (@FilmNewsNos) April 3, 2020
One of his most memorable roles though, was as Aaron in "Full House" through 1990 to 1995. While performing this role, he said one of his most célèbre phrases: 'When we get to the museum, we gotta see those dead guys wrapped up in toilet paper'.
A capture of his facial expression during this series became years later the famous Brazilian meme "Por que você não amadurece?" (Why don't you mature?). Hughes thanked his fans for it, and even shared an alternative version of the meme on Instagram. After "Full House" ended, he made a brief appearance in the series "The Parent 'Hood" as Arnie, and in the film "Apolo 13" as Jeffrey Lovell.
From 1995 to 1998, he landed his second long-lasting role in a TV series when he acted in "Hangin' with Mr. Cooper", playing the role of Tommy Anderson. After the show ended, he was cast in "Mercury Rising" starring Bruce Willis. Miko's performance as Simon Lynch – an autistic kid persecuted by the Government- won him a Young Artist Award in the category "Best Performance in a Feature Film – Leading Young Actor".
Teen and Adult Roles
Miko landed several more roles as a kid and teen. However, it wasn't until 2002 that he started playing more mature characters, when he appeared as Young Dopler in the film "Clockstoppers". He then portrayed the role of Peter Feldman in "Boston Public".
As Miko grew up, he received fewer job offers in Hollywood compared to when he was a kid, and although he continued acting in TV series and films, his appearances were less frequent.
Moving into adulthood, Miko acted as Jensen in the movie "Remains" in 2011, and as Jeremy in "The Untold Story" in 2019. He appeared briefly in the series "The New Adventures of Pinkgirl and The Scone" as well.
Director
In 2013 Miko explored a possible new side to his career when he made his debut as director of "Chilling Visions: 5 Senses of Fear". The horror themed movie received mixed critiques, and average reviews from the audience.
DJ
Besides his work as actor and in the entertainment business, Miko discovered his love for music at an early age.
When asked about how long he had been a 'rave' on Instagram, he answered: 'Since forever! I was importing Trance CDs from Germany and spinning glow sticks when I was 14 haha'.  For what he shows on his social media accounts, he enjoys his work as a DJ and is successful at it.
Personal Life
Hobbies
He became fascinated with bees when he was a child, and obtained his first hive: 'Some kids want dogs or cats – I wanted a beehive. I got my brother into it too now. It helps pollinate any plants in the area or orchard.' He also reflects on his love for natural environments and bees: 'they're (bees) so important to the environment. I feel like bees in a weird way are the transition between plant and animal.
They're like sex organs of trees – flowering, blooming – there are a lot of other insects that can pollinate but not like bees do. Honey is fascinating.'
Sexuality
Despite his fame, Miko Hughes has chosen to keep his personal life and romantic relationships out of the spotlight. Even if his fans speculated about his sexual orientation as being gay for a while, there's no proof to support this hypothesis.
Net Worth
Miko Hughes has an estimated net worth of $500,000 as of 2020, which is a result of his work as an actor in several films and series, mostly as a child actor.
Appearance
Miko is a man of mixed ethnicity, with Native American origins. During his childhood he had blond hair, but his hair's color has become darker and is currently black, combined with hazel eyes.
As adult, he has a strong build and handsome face. Though his weight is unknown, he's 5ft 4ins (1.63m) tall.
Interesting Facts
He used to be friends with actor/musician Joey Zimmerman.
"Pet Sematary" and Miko's role in it as Gage were so iconic, that some fans of the film and of Stephen King's novel have been tattooed with their favorite scenes from the movie. Miko shared a photo on Instagram of one of those tattoos, made by artist Paul Acker on one of his clients: 'the best one I've seen!' said the caption.
On 20 February 1991, he was interviewed in "The Tonight Show" by Johnny Carson, becoming the youngest guest in the show's history.
Along his sister Molly, Miko appeared in a McDonald's commercial from 1995.
Miko's mother Mary Hughes is a writer, who created the screenplay of "Five At Dawn", a movie based on her Chickasaw grandmother. However, even if the story caught the attention of various directors in Hollywood, the film was never made.
Besides his role as an autistic kid in "Mercury Rising", he also played the role of a kid on this spectrum in an episode of "Baywatch".
General Info
| | |
| --- | --- |
| Full Name | Miko Hughes |
| Net Worth | $500 thousand |
| Date Of Birth | February 22, 1986 |
| Height | 1.6 m |
| Profession | Voice Actor |
| Nationality | American |
Family
| | |
| --- | --- |
| Parents | Mary Hughes, John Hughes |
| Siblings | Molly Hughes, Mikhael Hughes, Mitchell Hughes |
Accomplishments
| | |
| --- | --- |
| Movies | Pet Sematary, Mercury Rising, Wes Craven's New Nightmare, Kindergarten Cop, Apollo 13, Spawn, Zeus and Roxanne, Jack the Bear, Baby Geniuses, Cops & Robbersons, Chilling Visions: 5 Senses of Fear, Clockstoppers, Remains, Escape to Grizzly Mountain, Magic Rock, The Town Santa Forgot, The Story of San... |
| TV Shows | Life with Louie |
Social profile links
Facts
| # | Fact |
| --- | --- |
| 1 | Living in Apple Valley, CA. He is acting during the day and is a DJ at night. [October 2006] |
| 2 | He is the youngest guest to be interviewed by Johnny Carson on "The Tonight Show". |
| 3 | Is friends with actor Joey Zimmerman. |
| 4 | Son of John Hughes - not to be confused with the director. |
| 5 | Is of Native American descent (Chickasaw). |
| 6 | Has a sister, Molly and 2 brothers, Mikhael & Mitchell. |
| 7 | Has a cat named Spaz. |
| 8 | Names is pronounced Me-ko. |
| 9 | Miko's name means Chief in Chickasaw. |
| 10 | Keeps 30,000 bees in his backyard beehive. |
Pictures
Movies
Actor
| Title | Year | Status | Character |
| --- | --- | --- | --- |
| The Untold Story | 2017 | completed | Jeremy |
| A City of Shoulders and Noses | | announced | Gio |
| William Froste | | announced | |
| Brody | 2016 | Short | Brody (voice) |
| The New Adventures of Pinkgirl and The Scone | 2014 | TV Series | Bastard Steel |
| Remains | 2011/II | | Jensen |
| Tropic Thunder | 2008 | | Radio DJ (uncredited) |
| Cavemen | 2007 | TV Series | Kyle |
| Thou Shalt Not | 2007 | Short | The Kid |
| Surf School | 2006 | | Taz |
| Dogg's Hamlet, Cahoot's Macbeth | 2005 | | Ghost / Gravedigger / Osiric |
| Veronica Mars | 2005 | TV Series | Stoner Dude #1 |
| Boston Public | 2003 | TV Series | Peter Feldman |
| Clockstoppers | 2002 | | Young Dopler |
| Hey Arnold! | 2002 | TV Series | Alan Redmond |
| Magic Rock | 2001 | | Jesse |
| Roswell | 2000 | TV Series | Nicholas Crawford |
| Twice in a Lifetime | 2000 | TV Series | Max Bogart |
| Escape to Grizzly Mountain | 2000 | | Jimmy |
| Lethal Vows | 1999 | TV Movie | Graham Farris |
| One Last Flight | 1999 | | Ray |
| Baby Geniuses | 1999 | | Sly / Whit (voice) |
| At the End of the Day: The Sue Rodriguez Story | 1998 | TV Movie | Jesse Rodriguez |
| The Puppies Present Incredible Animal Tales | 1998 | TV Movie | Bingo (voice) |
| Baywatch | 1998 | TV Series | Timmy Grayson |
| Mercury Rising | 1998 | | Simon Lynch |
| Life with Louie | 1995-1998 | TV Series | Tommy Anderson |
| Spawn | 1997 | | Zack |
| Adventures from the Book of Virtues | 1997 | TV Series | Prince Fredolin |
| The Parent 'Hood | 1996-1997 | TV Series | Arnie |
| Zeus and Roxanne | 1997 | | Jordan Barnett |
| The Story of Santa Claus | 1996 | TV Movie | Clement (voice) |
| Trail of Tears | 1995 | TV Movie | Ethan |
| Touched by an Angel | 1995 | TV Series | Daniel Duncan |
| Apollo 13 | 1995 | | Jeffrey Lovell |
| Full House | 1990-1995 | TV Series | Aaron |
| Life with Louie: A Christmas Surprise for Mrs. Stillman | 1994 | TV Short | Tommy Anderson (voice) |
| New Nightmare | 1994 | | Dylan |
| Cops and Robbersons | 1994 | | Billy Robberson |
| The Nanny | 1994 | TV Series | Frank Bradley Jr. |
| Natural Selection | 1994 | TV Movie | Nick 'Nicky' Braden |
| The Town Santa Forgot | 1993 | TV Movie | Young Jeremy Creek (voice) |
| Picket Fences | 1993 | TV Series | Elliot Doyle |
| Jack the Bear | 1993 | | Dylan Leary |
| CBS Schoolbreak Special | 1993 | TV Series | Andy Walters |
| Shaky Ground | 1993 | TV Series | Michael |
| Melrose Place | 1992 | TV Series | David Patterson |
| A Child Lost Forever: The Jerry Sherwood Story | 1992 | TV Movie | Robert Jurgens (age 3) |
| Hangin' with Mr. Cooper | 1992 | TV Series | Aaron Bailey |
| Doogie Howser, M.D. | 1992 | TV Series | Matthew |
| The Burden of Proof | 1992 | TV Movie | Sam |
| Beverly Hills, 90210 | 1991 | TV Series | Young Chuckie |
| The Tonight Show Starring Johnny Carson | 1991 | TV Series | Guest |
| Kindergarten Cop | 1990 | | Joseph |
| Babes | 1990 | TV Series | Billy |
| Sister Kate | 1990 | TV Series | Buster |
| Out of This World | 1990 | TV Series | Younger Billy |
| Unspeakable Acts | 1990 | TV Movie | Chad Hershel |
| Pet Sematary | 1989 | | Gage Creed |
Director
| Title | Year | Status | Character |
| --- | --- | --- | --- |
| Chilling Visions: 5 Senses of Fear | 2013 | segment "See" | |
Writer
| Title | Year | Status | Character |
| --- | --- | --- | --- |
| Chilling Visions: 5 Senses of Fear | 2013 | segment "See" | |
Miscellaneous
| Title | Year | Status | Character |
| --- | --- | --- | --- |
| Never Sleep Again: The Elm Street Legacy | 2010 | Video documentary archival material provided by | |
Self
| Title | Year | Status | Character |
| --- | --- | --- | --- |
| Unearthed & Untold: The Path to Pet Sematary | 2016 | Documentary | Miko Hughes |
| Chiller 13: Horror's Creepiest Kids | 2011 | TV Movie documentary | Himself |
| Never Sleep Again: The Elm Street Legacy | 2010 | Video documentary | Himself - 'Dylan Porter' |
| Horror Fans | 2006 | Short | Himself |
| Child Star Confidential | 2006 | TV Series documentary | Himself |
| VH-1 Where Are They Now? | 1999 | TV Series documentary | Gage Creed |
| Watch the Mercury Rising | 1999 | Video documentary short | Himself |
Archive Footage
| Title | Year | Status | Character |
| --- | --- | --- | --- |
| Cinemassacre's Monster Madness | 2011 | TV Series documentary | Dylan |
Awards
Won Awards
| Year | Award | Ceremony | Nomination | Movie |
| --- | --- | --- | --- | --- |
| 2001 | Young Artist Award | Young Artist Awards | Best Performance in a TV Drama Series - Supporting Young Actor | Roswell (1999) |
| 1999 | Young Artist Award | Young Artist Awards | Best Performance in a Feature Film - Leading Young Actor | Mercury Rising (1998) |
| 1991 | Young Artist Award | Young Artist Awards | Outstanding Young Ensemble Cast in a Motion Picture | Kindergarten Cop (1990) |
Nominated Awards
| Year | Award | Ceremony | Nomination | Movie |
| --- | --- | --- | --- | --- |
| 2004 | Young Artist Award | Young Artist Awards | Best Performance in a TV Series - Guest Starring Young Actor | Boston Public (2000) |
| 2000 | Young Artist Award | Young Artist Awards | Best Performance in a TV Movie or Pilot - Supporting Young Actor | Lethal Vows (1999) |
| 1999 | Young Artist Award | Young Artist Awards | Best Performance in a Voice Over in a Feature or TV - Best Young Actor | The Rugrats Movie (1998) |
| 1995 | Saturn Award | Academy of Science Fiction, Fantasy & Horror Films, USA | Best Performance by a Younger Actor | New Nightmare (1994) |
| 1994 | Young Artist Award | Young Artist Awards | Best Youth Actor in a TV Mini-Series, M.O.W. or Special | CBS Schoolbreak Special (1984) |
| 1993 | Young Artist Award | Young Artist Awards | Best Actor Under Ten in a Motion Picture | Jack the Bear (1993) |
| 1990 | Young Artist Award | Young Artist Awards | Outstanding Performance by an Actor Under Nine Years of Age | Pet Sematary (1989) |
Source:
IMDb
,
Wikipedia