• Born in Manhattan, New York City USA on April 15, 1993
• Dual citizenship in America and Canada
• Trained professionally as a ballet dancer and performed in "The Sound of Music" Broadway National Tour when she was seven
• Appeared in the 2003 Broadway revival of "A Day in the Death of Joe Egg" by Peter Nichols at the age of 10
• Voiced JoJo Tickle in the American-Canadian-originated stop-motion animated comedy-musical series "JoJo's Circus" from 2003 to 2007
• Played Annie in her first television appearance, "Law & Order," in 2003
• Played the recurring role of Rebecca 'Becca' Moody in "Californication" from seasons 1 to 6 (2007-2014)
• Voiced Fionna in "Adventure Time" from 2010 to 2018
• Appeared as Jody Milam in "The Good Wife" in 2014
• Played Shelley Godfrey in the second and third seasons of "Hemlock Grove" (2014-2016)
• Voiced characters in "Ice Age: The Meltdown" (2006)
• Played Luli Stringfellow in "Legendary" (2010)
• Appeared as Zoe in "The Discoveries" (2012)
• Played Lucy in the drama "Refuge" (2012)
• Portrayed Lara Heathridge in the 2012 episode of "Criminal Minds"  
• Played Madeline in the third season of "The Marvelous Mrs. Maisel" (2019)
• Played Lucy in the 2020 episode of "What We Do in the Shadows"  
• Net worth estimated at $2 million, as of mid-2020

Known for movies
Short Info
| | |
| --- | --- |
| Date Of Birth | April 15, 1993 |
| Fact | Was considered one of the 55 faces of the future by Nylon Magazine's Young Hollywood Issue. |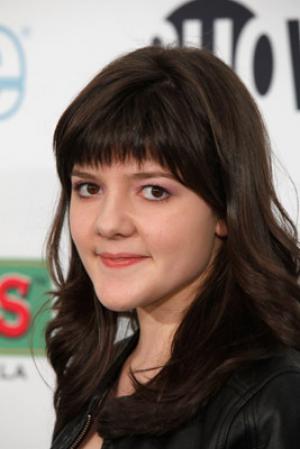 Early life, family, educational background
American-Canadian actress Madeleine Elizabeth Martin was born on 15 April 1993, in Manhattan, New York City USA. She grew up in New York City with her Canadian mother. Madeleine has dual citizenship in America and Canada.
She was homeschooled, but also attended the School of American Ballet.
Career
Theater
She appeared in "The Sound of Music" Broadway National Tour with Richard Chamberlain when she was seven. Two years later, she appeared in the "Les Miserables" Broadway National Tour as a young Cosette.
Madeleine trained professionally as a ballet dancer, which led to her dancing with the New York City Ballet for the Performing Arts at the Lincoln Center. Her impressive performance helped her get accepted into the School of American Ballet, a prestigious dance school.
In the 2003 Broadway revival of "A Day in the Death of Joe Egg" by Peter Nichols, she portrayed the title role of Joe – at just 10 years of she blew everyone away with her portrayal of Joe. At the 2003 Tony Awards, she was the youngest presenter in their history, and was profiled by the Leisure section of the New York Times when she was 12.
She was in the original Broadway cast of "August: Osage County" as Jean Fordham, and in 2012 performed in "Harper Regan" at the Atlantic Theater Company, and in "Picnic" on Broadway in 2013.
Madeleine appeared in "The Harvest" at the Lincoln Center in 2016, then alongside Billy Crudup and Jeff Goldblum in "The Pillowman", and at Madison Square Garden in "A Christmas Carol."
Television
She played Annie in her first television appearance, "Law & Order," in 2003, and returned as April in the 2004 episode "Sick" in "Law & Order: Special Victims Unit."
From 2003 to 2007, she was the voice of JoJo Tickle, the main character of "JoJo's Circus." The American-Canadian-originated stop-motion animated comedy-musical series was created for pre-school children by David Campbell, Jim Jinkins, Eric Weiner and Lisa Jinkins, written by Douglas Wood, the creative executive for Animaniacs and Tiny Toon Adventures.
Jim Latham and Jeffrey Zahn wrote the theme song, and Judy Rothman wrote the lyrics. The show aired on Disney Channel from 28 September 2003 to 14 February 2007.
Meantime, Madeleine played Ivana Charles in the 2005 episode of "Hope & Faith," "Hope Couture."
From 2007 to 2014, she played the recurring role of Rebecca 'Becca' Moody in the comedy-drama "Californication" from seasons 1 to 6, and then she appeared as a guest in season 7, performing several songs on the show, including "Don't Let Us Get Sick," "Surrender," and "Only Women Bleed." Created by Tom Kapinos, the show follows Hank Moody (played by David Duchovny), a New York writer who moves to California and tries to work against his writer's block. He has long-term relationship problems with Karen (played by Natascha McElhone) due to his drug abuse, alcohol addiction, and womanizing ways.
Hank and Karen have one daughter together, Becca, but whom he isn't close to. Other main characters include Hank's best friend and agent, Charlie Runkle and his wife, Marcy. The series was nominated for six Golden Globe Awards, winning one, and four Emmy Awards, winning two. The lead actor, David Duchovny, announced on 9 February 2018 that he supports the idea of a series of revival.
Madeleine voiced Fionna, Finn's female-counterpart in "Adventure Time", appearing in the episodes "Five Short Tables," "The Prince Who Wanted Everything," "Fionna and Cake and Fionna," and "Bad Little Boy." The fantasy animation was created by Pendleton Ward who also produced the show along with Frederator Studios. The series follows Finn, a young boy voiced by Jeremy Shada and his adoptive brother and best friend Jake, a dog voiced by John DiMaggio.
Jake has the ability to change his shape and size whenever he wants. The story is set in a fictional post-apocalyptic place called Land of Ooo. Other characters include the Ice King (voiced by Tom Kenny), Princess Bubblegum (voiced by Hynden Walch), BMO (voiced by Niki Yang), and Marceline (voiced by Olivia Olson). The series was born from a short produced for Frederator and Nicktoons Studios' incubator animation series entitled "Random!Cartoons" in 2007. The short video went viral online, and Cartoon Network decided to commission a full-length series, which premiered on 11 March 2010, which aired from 5 April 2010 to 3 September 2018. The show was somewhat inspired by video games and Dungeons & Dragons, a popular fantasy role-playing game.
Storyboarding artists planned the dialogue and actions in each episode, and animators hand-drew the visions to life. Every episode took around eight to nine months to make, so several episodes were usually worked on at the same time. The cast recorded in group recordings and guest actors often voiced recurring and minor characters. The episodes are approximately eleven minutes long, which meant that two episodes were aired back-to-back to fill the typical half-hour program slots. The series received positive reviews from the audience and critics, and won several awards, including a Motion Picture Sound Editors Award, a Peabody Award, two British Academy Children's Awards, and eight Primetime Emmy Awards, among many others, and was nominated for many others too.
Many comic books were released as spin-offs, and those received awards as well, such as two Harvey Awards and an Eisner Award. Much licensed merchandise has been made of the series, including clothing, books, and video games.
Madeleine portrayed Lara Heathridge in the 2012 episode of "Criminal Minds" entitled "Heathridge Manor."
From 2014 to 2016, she played Shelley Godfrey in the second and third seasons of "Hemlock Grove." Eli Roth produced the horror web series, which was developed by Lee Shipman and Brian McGreevy, based on Brian McGreevy's eponymous book published in 2012. The series premiered on 19 April 2013 with all 13 episodes available on Netflix. The show follows the mysterious events taking place in a fictional Pennsylvanian town, Hemlock Grove.
The heir of the Godfrey family, Roman Godfrey befriends Peter Rumancek, who recently moved to the town, who team up to investigate the brutal murders taking place in the town, while hiding their secrets from each other. Netflix renewed the series for a second season on 19 June 2013, and for its third and final season on 2 September 2014. In 2013 Netflix received the first nomination for original online-only web television award at the Primetime Emmy Awards.
In 2014 Madeleine guest-starred as Jody Milam in "The Good Wife" episode entitled "Red Zone."
She played the recurring role of Madeline in the third season of "The Marvelous Mrs. Maisel" in 2019. She is the colleague of Abe's father – Abe is the main and titular character.
The series premiered on Prime Video on 17 March 2017. Creator of "Gilmore Girls," Amy Sherman-Palladino, also created this series, which follows Miriam 'Midge' Maisel (played by Rachel Brosnahan), a housewife who decides to pursue stand-up comedy. The series is set in New York City in the late 1950s and early 1960s, and co-stars Kevin Pollak, Michael Zegen, Caroline Aaron and Tony Shalhoub. Amazon Studios picked the show up after its critically-successful pilot episode premiered. On 12 December 2019, the show's renewal for a fourth season was announced. The series has received positive reviews from audiences and critics, as well as numerous nominations and awards. In 2017 it won the Golden Globe Award for Best Television Series – Musical or Comedy.
In 2018 it won the Primetime Emmy Award for Outstanding Comedy Series. That night, Amy Sherman-Palladino received awards for Outstanding Writing and Outstanding Directing in the Outstanding Comedy Series category. In 2018 Rachel Brosnahan won the Primetime Emmy Award for Outstanding Lead Actress in a Comedy Series. In 2018 and 2019, she won the Golden Globe Awards for Best Actress – Television Series Musical or Comedy.
In the 2020 episode of "What We Do in the Shadows" entitled "On the Run," Madeleine portrayed Lucy.
Film
She voiced several characters in 2006's "Ice Age: The Meltdown."
In 2010 she played Luli Stringfellow in "Legendary", alongside John Cena who plays Mike.
Mel Damski directed the sports drama, which was produced by WWE Studios, but her performance received a lot of criticism. Devon Graye stars as Cal Chetley, the high school wrestler, with other main cast members including Danny Glover, Tyler Posey and Patricia Clarkson as Cal and Mike's mother, Sharon. Cal joins the wrestling team at his high school in Oklahoma after being bullied. He is a smart boy and hopes that joining the team will help him reconnect with his wayward and estranged brother, Mike. At first, their mother does not support Cal's decision to join the team, especially after being informed via a phone call from Mike's jail cell that he is giving Cal secret coaching. Like her son, Sharon has not been in contact with Mike for more than a decade.
She portrayed Zoe in "The Discoveries" in 2012, a dark comedy written and directed by Justin Schwarz, alongside Cara Buono and Griffin Dunne. The plot is about Griffin Dunne's character, Lewis Birch – a history teacher and aspiring author who takes a road trip to attend a conference with his children Zoe and Jack. Early in their journey, he finds out that his mother is severely ill, so decides to visit her instead. When he arrives, he finds that his mother has already passed, and his father, Stanley, chooses to join Lewis and his children on their road trip.
That year Madeleine also played Lucy in the drama "Refuge", directed and written by Jessica Goldberg, adapted from her eponymous play.
Madeleine Martin from #Californication on stage with @davidduchovny #hellorhighwater pic.twitter.com/k2kOCyclPN

— X-Files News (@XFilesNews) May 13, 2015
Along with Madeleine, the film starred Brian Geraghty, Krysten Ritter, and Logan Huffman. After her parents' disappearance, Amy (played by Krysten Ritter) drops out of college to look after her two younger siblings. She has a one-night stand with Sam (played by Brian Geraghty), and he approaches her about renting a room in her house. After he moves in, romance blossoms between the two.
Hobbies, favorite things, and interesting facts
In Nylon Magazine's Young Hollywood Issue, they named Madeleine as one of the 55 faces of the future.
Appearance
Madeleine has brunette hair and dark brown eyes. She is 5ft 5ins (1.65m) tall.
Net worth and salary
Her net worth is estimated at $2 million, as of mid-2020.
General Info
| | |
| --- | --- |
| Full Name | Madeleine Martin |
| Date Of Birth | April 15, 1993 |
| Height | 1.65 m |
| Profession | Voice Actor |
| Education | School of American Ballet |
| Nationality | American |
Family
Accomplishments
| | |
| --- | --- |
| Movies | My Daughter Must Live, The Discoverers, Refuge, Legendary, Ice Age: The Meltdown |
| TV Shows | Hemlock Grove, Californication, JoJo's Circus |
Social profile links
Facts
| # | Fact |
| --- | --- |
| 1 | Was considered one of the 55 faces of the future by Nylon Magazine's Young Hollywood Issue. |
Pictures
Movies
Actress
| Title | Year | Status | Character |
| --- | --- | --- | --- |
| Adventure Time | 2011-2016 | TV Series | Fionna / Additional Voices |
| Hemlock Grove | 2014-2015 | TV Series | Shelley Godfrey |
| The Good Wife | 2014 | TV Series | Jody Milam |
| Californication | 2007-2014 | TV Series | Becca Moody |
| My Daughter Must Live | 2014 | TV Movie | Katie O'Malley |
| Refuge | 2012/I | | Lucy |
| The Discoverers | 2012 | | Zoe |
| Criminal Minds | 2012 | TV Series | Lara Heathridge |
| JoJo's Circus | 2003-2011 | TV Series | JoJo |
| Legendary | 2010 | | Luli Stringfellow |
| Law & Order | 2003-2008 | TV Series | Emma Waxman / Annie |
| Night of the Living Cat Girl | 2007 | Video | Hitomi |
| Ice Age: The Meltdown | 2006 | voice | |
| Hope & Faith | 2005 | TV Series | Ivana Charles |
| Law & Order: Special Victims Unit | 2004 | TV Series | April |
Soundtrack
| Title | Year | Status | Character |
| --- | --- | --- | --- |
| Adventure Time | 2011-2013 | TV Series performer - 2 episodes | |
| Californication | | TV Series 1 episode, 2007 performer - 1 episode, 2007 | |
| JoJo's Circus | 2004-2005 | TV Series performer - 2 episodes | |
Self
| Title | Year | Status | Character |
| --- | --- | --- | --- |
| Séries express | 2008 | TV Series | Herself |
| The 57th Annual Tony Awards | 2003 | TV Special | Herself - Presenter: 'A Year with Frog and Toad' |
Awards
Won Awards
| Year | Award | Ceremony | Nomination | Movie |
| --- | --- | --- | --- | --- |
| 2013 | Stargazer Award | Gen Art Film Festival | GenArtist Emerging Actress Award | The Discoverers (2012) |
| 2013 | Special Jury Prize | RiverRun International Film Festival | Spark Award | |
Nominated Awards
| Year | Award | Ceremony | Nomination | Movie |
| --- | --- | --- | --- | --- |
| 2015 | Chainsaw Award | Fangoria Chainsaw Awards | Best TV Supporting Actress | Hemlock Grove (2013) |
Source:
IMDb
,
Wikipedia