• Linda Kaye Henning is an American actress, dancer and singer born in 1944.
• She is best known for portraying Betty Jo in the sitcom "Petticoat Junction".
• She also acted in "Green Acres", "Mork & Mindy", and "Happy Days".
• She was married to Mike Minor from 1968 to 1973 and to Ashby Adams from 1994 onwards.
• Her father Paul Henning was the creator of "Petticoat Junction".

Known for movies
Short Info
| | |
| --- | --- |
| Date Of Birth | September 16, 1944 |
| Spouse | Mike Minor |
| Mark | Red Hair |
| Fact | Because of her being credited as 'Linda Kaye' early in her career, in the 1990s some reference books and online guides mixed up and combined her credits with those of another Linda Kaye. |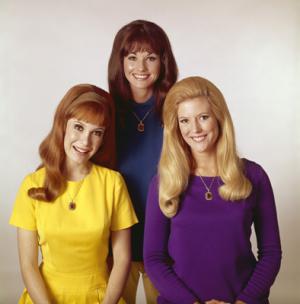 Linda Kaye Henning is an American actress, dancer and singer, born on 16 September 1944, in Los Angeles, California USA. She's known perhaps still best known for portraying Betty Jo's character in the sitcom "Petticoat Junction".
Early Life
Linda Kay Henning is the first daughter of Paul and Ruth Henning, and older sister of Carol Alice and Paul Anthony. In an effort to overcome her shyness, Linda Kay was enrolled by her mother into "The Peter Pan Players", a theater club for children in which Linda acted in various plays inspired by fairy tales such as "Cinderella", "Snow White" and "Pinocchio". During her teens, she continued her acting activities, as well as studying dance.
There's no information about Linda's primary education, though it's known she attended the University of California, Los Angeles (UCLA), but it's unknown in which year she graduated.
Early Career
Acting Debut and Petticoat Junction
Linda Kay's first appearance on TV was as Penelope, a minor role in the comedy series "Mr. Ed", then appearing as a teenage dancer in the film "Bye Bye Birdie". Despite only being cast in small roles at the time, actress Bea Benaderet suggested Paul Henning, Linda Kay's father and producer of "Petticoat Junction", to include her as one the three main girls of the show.
However, her father suspected he would be accused of nepotism if his daughter was cast in the show, so he didn't participate in the casting, and after Linda obtained a role as one the Bradley sisters, he even asked her to change her middle name to Kaye so people wouldn't know they were related.
Known as Linda Kaye Henning, her character Betty Jo became the role she's mostly known for, but concurrently she was in other productions, such as "Green Acres" and "The Beverly Hillbillies". She also made her debut as singer in the TV series "Toast of the Town" in 1964.
Other famous series Linda acted in were "Family Affair", "Mork & Mindy" and "Happy Days", also appearing as Mrs Osbourne in the movie "Mad About You".
Her most recent role in TV was in 2007, when she portrayed Mrs Mallory's character in "Sliders". However, since then she hasn't been active as actress.
Personal Life
First Marriage
Linda Kaye met actor Mike Minor on the set of "Petticoat Junction", in which he acted as Steve Elliott. As Betty and Steve's characters fell in love on set, the actors also fell in love in real life, becoming engaged in early 1967, to be wed on 9 September that year, the exact date their characters in the series were going to be wedded. However, in spring that year the couple surprisingly called off their engagement.
Later that year, Minor would reveal the break-up's reason as the couple's fight caused by his insecurities about their careers, though Mike assured he never stopped loving Linda Kaye during the time they were separated. After their TV marriage, the couple reconciled and cleared their differences, marrying in real life in 1968.
Minor, who was previously married to Monyeen Rae Martini until 1966, played roles in various series such as "My Three Sons" and "All My Children". He was also a singer, whose debut album was "This Is Mike Minor" from 1966, and he released multiple other singles. In his time in "Petticoat Junction", he performed several songs with the cast of the series, and sung the theme song of "The Smiths Family".
Minor and Henning's marriage ended in 1973, for reasons undisclosed.
Second Marriage
Linda Kaye married actor Ashby Adams in 1994, though the pair's love story is unknown. Adams is also an actor, known for his roles in "The Doctors", "Santa Barbara" and "The Adventures of Brisco County, Jr.".
Famous Father
Linda Kaye's father Paul Henning was a successful director and writer of several TV shows, including the creator of "Petticoat Junction", getting the idea of the show from a childhood story his wife told him: 'My wife had been telling me about her early days in Missouri, where her grandparents had a hotel beside the railroad tracks. Traveling salesmen would come because the rates were very reasonable and there was home cooking.'
He also worked as the director of "The Ezio Pinza Show", "The Bob Cummings Show" and "Green Acres". He's also credited for being the screenwriter of "Where's Raymond?" and "The RCA Victor Show".
He along Linda's mother Ruth founded in Missouri "The Ruth and Paul Henning Conservation Area".
Net Worth
Linda Kaye Henning's net worth is estimated at $1 Million, as a result of her long career as an actress.
Appearance
Linda Kaye Hennings is regarded as a beautiful red haired woman, of white ethnicity. She is 5ft 3ins (1,60m) tall, but her weight is unknown, though she's always had a slender figure.
Interesting Facts
Besides her love for dance and acting, Linda Kaye Hennings also showed strong interest in science while young.
Mike Minor's first time in "Petticoat Junction" was actually in 1964, playing a minor character. During that unique appearance, he developed a crush on Linda Kaye, though the red-head never noticed him as they never acted together in a scene. He, however, was still married at the time to his first wife.
In her marriage to Mike Minor, Linda wore the same dress she wore during their fictional marriage on TV.
Linda Kaye Hennings is a member of California Artists Radio Theatre.
She shares her birth date with her father.
Bea Benaderet was Linda's TV mom during "Petticoat Junction". Unfortunately Benaderet died in 1968 of lung cancer, two years before the show's cancellation. In an interview, Linda recalled a sad experience during the show after Benaderet's death: 'The toughest day was when they had a letter written from Kate to Betty Jo. They had recorded Bea reading it, and I just tried not to burst out into tears during the scene'.
General Info
| | |
| --- | --- |
| Full Name | Linda Kaye Henning |
| Date Of Birth | September 16, 1944 |
| Profession | Actor |
| Nationality | American |
Family
| | |
| --- | --- |
| Spouse | Mike Minor |
| Parents | Ruth Henning, Paul Henning |
| Siblings | Paul Anthony Henning, Carol Alice Henning |
Accomplishments
| | |
| --- | --- |
| TV Shows | Petticoat Junction |
Social profile links
Marks
| # | Marks / Signs |
| --- | --- |
| 1 | High Pitched Voice |
| 2 | Red Hair |
Quotes
| # | Quote |
| --- | --- |
| 1 | I've been fortunate enough. I had good parents and I had good values, and when you grow up with that they never leave you. That always stays with you and there's just so little of that today. |
Facts
| # | Fact |
| --- | --- |
| 1 | Her first husband, actor Mike Minor developed a crush on Linda when he first played a small guest part in the second season of Petticoat Junction (1963). She did not know him, however, because they didn't share any scenes together. Once he was a regular on the series, plans were to have his character and the character of older sister Billie Jo fall in love and get married. However, when Mike and Linda fell in love on the set, the producers decided to go with it and fit it into the show instead of the original idea. |
| 2 | Because her father Paul Henning, who shares her birth date, was afraid of being accused of nepotism, he was not involved in the casting of Linda. Once she was cast, she dropped her last name at the request of her father and used her middle name of Kay instead. He wryly suggested she add an "e" to make it "Kaye" so people might think she was the daughter of fellow redheaded comedian Danny Kaye. |
| 3 | Took classes at UCLA for years with her TV sister Meredith MacRae. |
| 4 | Appeared in a number of musical theatre plays including "Brigadoon," "Carousel" (with John Raitt), "Best Foot Forward," "Applause," "The Pajama Game," "I Do! I Do!" and "Damn Yankees." Legitimate plays include "Born Yesterday" and "Mary, Mary.". |
| 5 | Enjoyed science very much while young, particularly physiology. Later married a man who had a masters in physiology and was a research scientist for several years. |
| 6 | Appears frequently at TV nostalgia conventions with her former TV sisters Lori Saunders and Gunilla Hutton. |
| 7 | Belonged to the California Artists Radio Theatre, which was set up at the Hollywood Roosevelt Hotel. |
| 8 | Once worked as a docent at the Los Angeles Zoo. |
| 9 | Her mother enrolled her in the children's theater group, The Peter Pan Players, to help her overcome her extreme shyness where she performed in a number of fairy tale pieces such as Cinderella, Pinocchio and Snow White. It worked and she stayed with it into her teen years. Actress Bea Benaderet saw her in one of their productions and told Paul Henning, the Petticoat Junction (1963) creator, that she would be ideal for the role of one of the daughters on their upcoming TV series. She auditioned and got the part of youngest sister Betty Jo Bradley. |
| 10 | Like her character of Betty Jo, Linda was a tomboy growing up. She liked climbing trees and animals. |
| 11 | Dubbed in the voice of Jethrine on the Beverly Hillbillies. |
| 12 | Along with Cleavant Derricks, she is one of only two actors to appear in both the pilot and finale of Sliders (1995): Sliders: Pilot (1995) and Sliders: The Seer (2000). |
| 13 | She played the same character (Betty Jo Elliott) on three different series: The Beverly Hillbillies (1962), Petticoat Junction (1963) and Green Acres (1965). |
| 14 | Because of her being credited as 'Linda Kaye' early in her career, in the 1990s some reference books and online guides mixed up and combined her credits with those of another Linda Kaye. |
| 15 | Ex-sister-in-law of Gregg Fedderson. |
| 16 | Ex-stepdaughter-in-law of Yvonne Lime. |
| 17 | Daughter of producer Paul Henning and Ruth Henning. |
| 18 | Only actress that starred in Petticoat Junction (1963) for the duration of its seven year run on television. |
| 19 | Ex-daughter-in-law of Don Fedderson and Tido Fedderson. |
Pictures
Movies
Actress
| Title | Year | Status | Character |
| --- | --- | --- | --- |
| Return to Peyton Place | 1972 | TV Series 1973 | |
| Adam-12 | 1971 | TV Series | Hilary Warner |
| Family Affair | 1970 | TV Series | Kathy Prentiss |
| Petticoat Junction | 1963-1970 | TV Series | Betty Jo Bradley |
| The Beverly Hillbillies | 1962-1970 | TV Series | Jethrine Bodine Betty Jo Bradley Elliott |
| Green Acres | 1966 | TV Series | Betty Jo Bradley |
| My Living Doll | 1964 | TV Series | Guest at party |
| The Many Loves of Dobie Gillis | 1963 | TV Series | Elsa |
| Bye Bye Birdie | 1963 | | Teenager (uncredited) |
| Mister Ed | 1962 | TV Series | Penelope |
| Wrangling Coach Rankin | 2007 | Short | Linda |
| Sliders | 1995-2000 | TV Series | Mrs. Mallory |
| Room for Two | 1992 | TV Series | Corrine |
| Mad About You | 1989 | | Mrs. Osbourne |
| Hunter | 1989 | TV Series | Mrs. Kessler |
| The New Gidget | 1987-1988 | TV Series | |
| The Facts of Life | 1987 | TV Series | Margaret Parks |
| CBS Schoolbreak Special | 1984 | TV Series | Carol Anastas |
| Happy Days | 1977-1984 | TV Series | Jean Kelly / Army Lt. Quinlan |
| Double Trouble | 1984 | TV Series | Karen |
| ABC Weekend Specials | 1984 | TV Series | Mrs. Cane |
| Kudzu | 1983 | TV Movie | Mavis DuBose |
| Capitol | 1982 | TV Series | Lenore Clemmons (1987) |
| The Return of the Beverly Hillbillies | 1981 | TV Movie | Linda (Secretary) |
| Mork & Mindy | 1979 | TV Series | Pam Stockhaus / Margaret |
| Blansky's Beauties | 1977 | TV Series | Miss Lawler |
| Barnaby Jones | 1976 | TV Series | Joyce Elkins |
| The Nurse Killer | 1975 | TV Movie | Beth |
| The ABC Afternoon Playbreak | 1973 | TV Series | Marian |
| Love, American Style | 1973 | TV Series | Peggy (segment "Love and the Crisis Line") |
Soundtrack
| Title | Year | Status | Character |
| --- | --- | --- | --- |
| Petticoat Junction | 1963-1970 | TV Series performer - 39 episodes | |
| The Many Loves of Dobie Gillis | 1963 | TV Series performer - 1 episode | |
Thanks
| Title | Year | Status | Character |
| --- | --- | --- | --- |
| The Night Before Christmas | | Short special thanks post-production | |
Self
| Title | Year | Status | Character |
| --- | --- | --- | --- |
| TV Land Moguls | 2004-2009 | TV Mini-Series documentary | Herself |
| CMT: The Greatest - 20 Greatest Country Comedy Shows | 2006 | TV Special | Herself |
| The History of Hooterville | 2005 | Video documentary | Herself |
| Paul Henning & The Hillbillies | 2005 | Video documentary | Herself |
| E! True Hollywood Story | 2001 | TV Series documentary | Herself |
| Television: The First Fifty Years | 1999 | Video documentary | Herself - Interviewee / Betty Jo Bradley |
| Vicki! | 1992 | TV Series | Herself |
| Body Language | 1984 | TV Series | Herself |
| The $10,000 Pyramid | 1984 | TV Series | Herself |
| Family Feud | 1983 | TV Series | Herself |
| Password Plus | 1979 | TV Series | Herself |
| Showoffs | 1975 | TV Series | Herself |
| Tattletales | 1975 | TV Series | Herself |
| You Don't Say | 1975 | TV Series | Herself |
| Rhyme and Reason | 1975 | TV Series | Herself |
| Password All-Stars | 1974 | TV Series | Herself |
| The New High Rollers | 1974 | TV Series | Assistant (1975) |
| All-Star Baffle | 1973-1974 | TV Series | Herself |
| Match Game 73 | 1974 | TV Series | Herself - Panelist / Herself |
| The Weird World of Weird | 1970 | TV Movie documentary | Herself (as Linda Kaye Henning) |
| He Said, She Said | 1970 | TV Series | Herself |
| Funny You Should Ask | 1969 | TV Series | Herself |
| The Hollywood Squares | 1969 | TV Series | Herself / Herself - Panelist |
| The Tonight Show Starring Johnny Carson | 1968 | TV Series | Herself - Guest |
| The Song Is You | 1968 | TV Movie | Herself |
| Dateline: Hollywood | 1967 | TV Series | Herself |
| The Hollywood Stars of Tomorrow Awards | 1967 | TV Special | Herself |
| The Ed Sullivan Show | 1964 | TV Series | Singer |
Source:
IMDb
,
Wikipedia