• John Aniston is an 86-year-old Greek-American soap opera actor best known for starring in the role of Victor Kiriakis in NBC's "Days Of Our Lives"
• He has a net worth of over $10 million, achieved through his successful involvement in the film industry
• He was born in Chania, Crete, Greece, and immigrated to the US as a child with his family
• He is married twice and is the father of famous "Friends" star Jennifer Aniston
• He has appeared in more than 30 TV and film titles since his career started in the early 1960s

Known for movies
Short Info
| | |
| --- | --- |
| Net Worth | $10 million |
| Date Of Birth | July 24, 1933 |
| Spouse | Sherry Rooney (m. 1984), Nancy Dow (m. 1965–1980) |
| Fact | Graduated from Penn State University with a BA in Theater Arts. |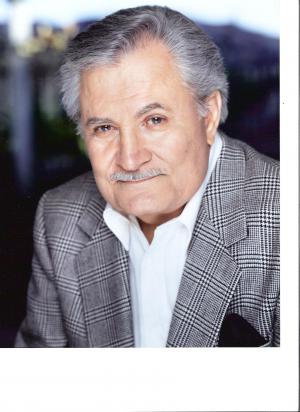 Who is John Aniston?
Yiannis Antonios Anastasakis was born on 24 July 1933 under the sign of Leo in Chania, Crete, Greece. He is an 86-year-old Greek-American soap opera actor, better known as John Anthony Aniston, and probably best recognized for starring in the role of Victor Kiriakis in more than 2600 episodes of the NBC daytime soap opera "Day Of Our Lives". He is also known as the father of famous "Friends" star Jennifer Aniston.
How rich is he, as of now? John Aniston Net Worth
As of mid-2020, John Aniston's net worth is over $10 million, acquired through his successful involvement in the film industry as a professional actor, who has starred in more than 30 TV and film titles since his career started in the early 1960s.
Early Life, Nationality, Ethnicity, Religion
John Aniston spent his early years in his hometown of Chania, raised by his father, Antonios Anastasakis, and his mother, Stella Joanne. He has three siblings, a brother named Gustau Aniston, and two sisters named Helen Aniston and Mary Aniston. At the age of ten, the family immigrated to the United States and settled down in Chester, Pennsylvania, where they opened a restaurant. His father anglicized their name to Aniston, so he holds both Greek and American nationalities, belongs to the White Caucasian ethnic group, and practices Christianity.
Upon matriculation, John enrolled into Pennsylvania State University, from which he graduated with a Bachelor's degree in Theater Arts in 1955.
During his time there, John was a member of the Alpha Chi Rho fraternity. He is fluent in Greek, English, and Spanish. Following his graduation, John joined the US Navy and serve in the position of an intelligence officer on active duty in Panama. He would later serve in the reserve, rising to the rank of lieutenant commander.
Career Beginnings
John Aniston made his debut television appearance in 1962, when he landed a small role of an officer in the episode "New Man In The Precinct" in the NBC crime drama series "87th Precinct". In the following year, he made his film debut as Birdman of Macy's in the romantic comedy drama film "Love With The Proper Stranger", but it went uncredited. It was followed by his guest-starring roles in such TV series as "Combat!", "I Spy", and "Accidental Family".
More Guest-Starring Roles
In 1968, John featured as an Indian in the Comedy Western film "The Shakiest Gun In The West", directed by Alan Rafkin, and during the same year guest-starred as Frank West in the episode "Ride To Misadventure" of "The Virginian", and played Achmed in the made-for-TV comedy film "Now You See It, Now You Don't", directed by Don Weis. John also guest-starred as First IMF Captain in the episode "Time Bomb" of the CBS action series "Mission Impossible" (1969) and as Phil Harvey in the episode "Stop The Presses I Want To Get Off" of the ABC sitcom "That Girl" (1970).
Big Break and "Search For Tomorrow"
During the 1970s, John was relatively inactive. He only guest-starred as Webster / Dancik in two episodes of the CBS action crime drama series "Kojak" (1974), and Eddie Aleata in an episode of the CBS soap opera "Love Of Life" (1975).
John's next role came five years later when he joined the cast of the CBS / NBC soap opera "Search For Tomorrow", portraying Martin Tourneur in the series from 1980 to 1984. Thereafter, he guest-starred as Colonel Arturo Alzar in the episode "Short Walk To Freedom" of the CBS military drama series "Airwolf" in 1985.
Worldwide Recognition and "Days Of Our Lives"
Later in 1985, John was selected to play Victor Kiriakis in the NBC daytime soap opera "Day Of Our Lives", and subsequently appeared in over 2600 episodes in the role that earned him two Soap Opera Digest Awards for Outstanding Actor in a Leading Role on a Daytime Serial, and Outstanding Villain on a Daytime Serial, both in 1986.
He also received a Daytime Emmy Award nomination for Outstanding Supporting Actor in a Drama Series in 2017. "Days Of Our Lives" is one of the longest-running television programs in the world, since it's been on air with more than 13,800 episodes since it premiered back in 1965.
Roles during the 1990s
In 1993, John reprised the role of Victor Kiriakis in the made-for-TV drama film "Night Sins", next to Crystal Chappell and Matthew Ashford. He then guest-starred as Carlton Everest in the episode "Must Kill TV" of the CBS crime drama series "Diagnosis Murder", and as Gordon in the episode "Honey, I Shrunk The Turkey" of the NBC sitcom "Fired Up", both in 1997.
By the end of the decade, he also guest-starred as Alex Zota in the episode "Faces Of Fear" of the TNT action series "L.A. Heat" (1999).
The early 2000s
With the beginning of the 2000s, John continued to land guest-starring roles. So, he appeared as Quarren Ambassador in two episodes of the UPN sci-fi series "Star Trek: Voyager" (2001), which is a part of the "Star Trek" franchise. He then played Alexander Thompson in two episodes of the NBC serial political drama series "The West Wing", and featured as Douglas Swope in the episode "A Deep-Fried Korean Thanksgiving" of The WB comedy-drama series "Gilmore Girls", both in 2002.
In the following year, John guest-starred as Constantine Christakos in the episode "Greek Easter" of the CBS sitcom "My Big Fat Greek Life", after which he made an appearance as John Victor in the episode "Old Enough To Fight" of the NBC drama series "American Dreams" in 2004.
The late 2000s
In 2007, John landed the role of a wise man in the short film "Order Up", written and directed by Neil A. Stelzner. During the same year, he played Nigel Barrington in the Sci-Fi Channel original film "Sands Of Oblivion", along with Adam Baldwin and Morena Baccarin, and guest-starred as Meririt Ambiaucher in an episode of the NBC sci-fi romance series "Journeyman". It was followed by his portrayals of Mr. Gable in the 2007 drama romance "The Awakening Of Spring", Detective Macomasi in the 2008 drama "Fixing Rhonda", and Gerard Benedict in the 2009 family adventure comedy "The Gold & The Beautiful".
At the same time, he guest-starred in such TV series as "Worst Week", "Cold Case", and "Mad Men".
Projects in the early 2010s
In 2011, John made a guest-starring appearance as Harold Melon in the episode "The Old Guy" of the NBC sitcom "The Paul Reiser Show", a spin-off from another NBC sitcom entitled "Mad About You". Three years later, he landed the role of Ned in the drama film "Return To Zero", directed by Sean Hanish. Since then, he hasn't been active in any other project except "Days of Our Lives".
Appearance and Vital Statistics
John Aniston has short grey hair and dark brown eyes. He stands at a height of 6ft 2ins (1.88m), while his current weight is unavailable.
Personal Life
John Aniston has been married twice. His first wife was actress Nancy Maryanne Dow – the couple married on 11 December 1965, and he adopted her son John T. Melick III from her previous marriage to pianist John T. "Jack" Melick, Jr. She gave birth to their only child, a daughter they named Jennifer Joanna Aniston, on 11 February 1969. One of his best friends, actor Telly Savalas, was his daughter's godfather. Their daughter became one of the highest-paid actresses in Hollywood. John and Nancy divorced in August 1980. Subsequently, he met actress Sherry Rooney when they were filming "Love Of Life". They started dating, and eventually tied the knot on 14 June 1984. They have a son named Alexander Aniston, born in 1989.
General Info
| | |
| --- | --- |
| Full Name | John Aniston |
| Net Worth | $10 million |
| Salary | $10 million |
| Date Of Birth | July 24, 1933 |
| Height | 1.9 m |
| Profession | Actor |
| Education | Pennsylvania State University |
Family
| | |
| --- | --- |
| Spouse | Sherry Rooney (m. 1984), Nancy Dow (m. 1965–1980) |
| Children | Jennifer Aniston, Alex Aniston |
| Parents | Stella Anastassakis, Anthony Anastassakis |
| Siblings | Helen Aniston, Mary Aniston, Gustau Aniston |
Accomplishments
| | |
| --- | --- |
| Movies | Sands of Oblivion, The Awakening of Spring, The Gold & the Beautiful |
| TV Shows | Search for Tomorrow, Love of Life, Days of Our Lives |
Social profile links
Quotes
| # | Quote |
| --- | --- |
| 1 | This is a business. Be smart. Choose wisely. |
| 2 | Why thrust your kid into that? You try to protect them from all the bad people out there. |
| 3 | In show business, you get chewed up and spit out. |
Facts
| # | Fact |
| --- | --- |
| 1 | Grandfather of Ryat Aniston. |
| 2 | Father-in-law of Adriane Hallek. |
| 3 | Has two sisters, Mary Aniston and Helen Aniston. One brother, Gustau Aniston. |
| 4 | Son of Anthony Aniston and Stella "Yiayia" Joanna Aniston. |
| 5 | Ex-stepfather of John T. Melick. |
| 6 | According to the DVD commentary from the first season of Mary Tyler Moore (1970), he was supposed to play the role of Ted Baxter before Ted Knight was found. |
| 7 | Best friend was Telly Savalas, who was also daughter Jennifer Aniston's godfather. |
| 8 | Served in the US Navy as an intelligence officer on active duty in Panama and later in the reserves attaining the rank of Lieutenant Commander. |
| 9 | Graduated from Penn State University with a BA in Theater Arts. |
| 10 | He has acted in over 40 theatrical productions including his debut in the Broadway musical "Little Mary Sunshine" and the Hollywood production of Arthur Miller's "Death of a Salesman". |
| 11 | Speaks fluent Greek and Spanish. |
| 12 | Former father-in-law of Brad Pitt |
| 13 | Father of Jennifer Aniston and Alexander |
Pictures
Movies
Actor
| Title | Year | Status | Character |
| --- | --- | --- | --- |
| 87th Precinct | 1962 | TV Series | Officer #1 |
| Love of Life | 1951 | TV Series | Eddie Aleata (1975-1978) |
| Days of Our Lives | 1986-2016 | TV Series | Victor Kiriakis |
| Return to Zero | 2014 | | Ned |
| The Paul Reiser Show | 2011 | TV Series | Harold Melon |
| Mad Men | 2010 | TV Series | Wallace Harriman |
| Cold Case | 2009 | TV Series | Herbert 'Wolf' James '09 |
| The Gold & the Beautiful | 2009 | | Gerard Benedict |
| Worst Week | 2008 | TV Series | Jim |
| The Awakening of Spring | 2008 | | Mr. Gable |
| Fixing Rhonda | 2008 | | Detective Macomas |
| Journeyman | 2007 | TV Series | Merrit Ambaucher |
| Sands of Oblivion | 2007 | TV Movie | Nigel Barrington |
| Order Up | 2007 | Short | Wise Man |
| American Dreams | 2004 | TV Series | John Victor |
| My Big Fat Greek Life | 2003 | TV Series | Constantine Christakos |
| Gilmore Girls | 2002 | TV Series | Douglas Swope |
| The West Wing | 2002 | TV Series | Alexander Thompson |
| Star Trek: Voyager | 2001 | TV Series | Quarren Ambassador |
| L.A. Heat | 1999 | TV Series | Alex Zota |
| Fired Up | 1997 | TV Series | Gordon |
| Diagnosis Murder | 1997 | TV Series | Carlton Everest |
| Night Sins | 1993 | TV Movie | Victor Kiriakis |
| Airwolf | 1985 | TV Series | Colonel Arturo Alzar |
| Search for Tomorrow | 1980-1984 | TV Series | Martin Tourneur |
| Kojak | 1974 | TV Series | Webster / Dancik |
| That Girl | 1970 | TV Series | Phil Harvey |
| Mission: Impossible | 1969 | TV Series | First IMF Captain |
| Now You See It, Now You Don't | 1968 | TV Movie | Achmed |
| The Virginian | 1968 | TV Series | Frank West |
| The Shakiest Gun in the West | 1968 | | Indian (uncredited) |
| Accidental Family | 1967 | TV Series | |
| I Spy | 1967 | TV Series | Economides |
| Combat! | 1964 | TV Series | Greek #2 |
| Love with the Proper Stranger | 1963 | | Birdman of Macy's (uncredited) |
Thanks
| Title | Year | Status | Character |
| --- | --- | --- | --- |
| Picture Perfect | 1997 | thanks | |
Self
| Title | Year | Status | Character |
| --- | --- | --- | --- |
| The 83rd Annual Hollywood Christmas Parade | 2014 | TV Movie | Himself |
| The 40th Annual Daytime Emmy Awards | 2013 | TV Special | Himself |
| The Jeff Probst Show | 2012 | TV Series | Himself |
| The 39th Annual Daytime Emmy Awards | 2012 | TV Special | Himself |
| The Promise of Tomorrow 1940- 1960 | 2009 | Documentary | |
| Entertainment Tonight | 2009 | TV Series | Himself |
| The 29th Annual People's Choice Awards | 2003 | TV Special | Himself |
| NBC's Funniest Outtakes | 2002 | TV Special | Himself |
| The 22nd Annual Daytime Emmy Awards | 1995 | TV Special | Himself - Presenter: Outstanding Talk Show Host |
Archive Footage
| Title | Year | Status | Character |
| --- | --- | --- | --- |
| Biography | 2010 | TV Series documentary | Himself - Father |
Awards
Won Awards
| Year | Award | Ceremony | Nomination | Movie |
| --- | --- | --- | --- | --- |
| 2001 | Soap Opera Digest Award | Soap Opera Digest Awards | Outstanding Supporting Actor | Days of Our Lives (1965) |
| 1986 | Soap Opera Digest Award | Soap Opera Digest Awards | Outstanding Actor in a Leading Role on a Daytime Serial | Days of Our Lives (1965) |
| 1986 | Soap Opera Digest Award | Soap Opera Digest Awards | Outstanding Villain on a Daytime Serial | Days of Our Lives (1965) |
Source:
IMDb
,
Wikipedia