• Gates McFadden is an American actress and choreographer.
• She is best known for her role as Dr. Beverly Crusher in the "Star Trek" motion picture saga.
• She has appeared in a dozen stage plays and multiple films, such as "The Muppets Take Manhattan", "Dreamchild", and "Labyrinth".
• She has also lectured at various prestigious universities and was Artistic Director of the Los Angeles Ensemble Studio Theatre.
• As of mid-2020, her net worth is estimated to be around $3 million.

Known for movies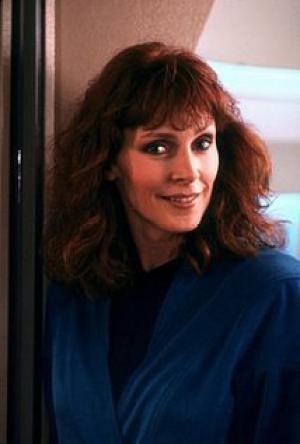 Who is Gates McFadden?
Gates McFadden is an American actress, who is probably best known for portraying the character of Dr. Beverly Crusher through several installments of the "Star Trek" motion picture saga. Additionally, under the name of Cheryl McFadden, she is widely recognized as a renowned theatrical choreographer.
Early Life and Education
Cheryl Gates McFadden was born under the zodiac sign of Pisces on the 2nd March 1949, in Cuyahoga Falls, Ohio, and apart from being of American nationality and white ethnicity, she is of some Lithuanian ancestry through her mother's side.
There aren't any other relevant details about her parents or family's background.
She obtained her Bachelor of Arts' degree, cum laude, from Brandeis University in Waltham, Massachusetts, graduating in theatre arts, before enrolling at L'École Internationale de Théâtre Jacques Lecoq in Paris, France.
Early Career
McFadden's career began in the early 1980s, when she joined The Jim Henson Company in Los Angeles, California, where she began by serving as its choreographer.
Prior to switching to on-screen acting full time, during her early career, Gates appeared in over a dozen stageplays, including Theatre De Lys' "Cloud 9", Ensemble Studio Theatre's "To Gillian on Her 37th Birthday" and "The Bloodletters".
To greater prominence she came in 1984, for her on-screen and behind-the-camera works on the Oscar-nominated puppet comedy drama film "The Muppets Take Manhattan", after which she served as a supervising choreographer for the 1985 drama movie "Dreamchild". Later that year she appeared in the comedy movie "When Nature Calls", while in 1986 she made her small screen acting debut in an episode of "The Wizard" TV series.
In 1986 she served as the director of choreography for the Jim Henson's BAFTA Award-nominated fantasy movie "Labyrinth", featuring David Bowie in the leading role.
"Star Trek"
The real breakthrough in Gates' acting career occurred in 1987, when she was cast for the role of Dr. Beverly Crusher – one of the main characters of the first season of the TV Sci-Fi series "Star Trek: The Next Generation". Although initially intended to be the love interest of Captain Jean-Luc Picard, portrayed by (Sir) Patrick Stewart, she was dismissed after the show's first season and was replaced by Dr. Katherine Pulanski, portrayed by Diana Muldaur.
However, not managing to establish a 'chemistry' with the rest of the cast, the character of Dr. Pulanski was fired after the second season, and Gates was approached by the series' creator Gene Roddenberry to return to her role of Dr. Crusher. Hesitant at first, after receiving a vast number of fan letters as well as a persuasive 'phone call from her co-star Patrick Stewart, McFadden returned to the show, and reprised the role of Dr. Crusher in its following five seasons, appearing in the total of 154 episodes 'til 1994, when it was eventually called off.
In 1994 Gates reprised the same role in the seventh movie from the "Star Trek" saga and the first movie from its "The Next Generation" series, entitled "Star Trek: Generations", while in 1996 she appeared in its sequel film "Star Trek: First Contact". Additionally, as Beverly she starred in two remaining sequels – the 1998 film "Star Trek: Insurrection" and the 2002 movie "Star Trek: Nemesis".
Gates was also featured in several video games voice-acting for Dr. Crusher, including titles such as "Star Trek: The Next Generation – A Final Unity" in 1995, and "Star Trek: Generations" in 1997.
Other Career's Highlights
In 1990, McFadden appeared opposite Sean Connery and Alec Baldwin in John McTiernan's Oscar-winning thriller movie "The Hunt for Red October", after which she starred in the comedy movie "Taking Care of Business".
After her initial success in on-screen appearances in "Star Trek: The Next Generation" TV series, McFadden's career rocketed so that in 1995 she was cast for the recurring role of Kimba in the television drama series "Marker", after which she was cast for the recurring role of Allison Rourke in "Mad About You" TV romantic comedy series.
yes please check it out. hope you enjoy this terrific, rather terrifying story❤️❤️❤️❤️
and it was an honor to participate in the Gateways Reading Series. https://t.co/HpohFO6eaQ

— Gates McFadden (@gates_mcfadden) July 3, 2020
In 1997 she appeared in the TV movie "Crowned and Dangerous", after which she made a streak of guest appearances in popular television series such as "The Practice", "The Division" and "The Handler".
In 2005 she appeared opposite Cuba Gooding Jr. in the crime drama thriller movie "Dirty", which was followed by an appearances in the comedy movie "Make the Yuletide Gay" in 2009. Between 2011 and 2013, she starred in the recurring role of Judge Mallory Jacobs through the first three seasons of the TV crime comedy series "Franklin & Bash", after which she appeared in the short movie entitled "Mattresside" in 2015.
Gates McFadden's most recent on-screen appearances dates back to 2017, when she starred in the TV thriller movie "A Neighbor's Deception", and made a guest appearance in an episode of the TV crime series "NCIS".
Apart from her professional on-screen acting career, Gates McFadden had also lectured at several prestigious academic institutions, such as the American Academy of Dramatic Arts, the University of Pittsburgh, Harvard University, Purdue University as well as the University of Southern California, and the Stella Academy in Hamburg, Germany.
In addition to all these, between January 2009 and October 2014, she served as the Artistic Director of the Los Angeles' Ensemble Studio Theatre.
Personal Life
McFadden is in a long-term marriage since the late 1980s with actor and producer John Talbot, with whom she welcomed a son they named James Cleveland McFadden-Talbot, born in 1991.
The 71-year-old American actress is standing 5ft 7ins tall (1.72m) and weighs around 121lbs (55kg).
Net Worth
According to authoritative sources, speaking as of mid-2020, it is estimated that the total of Gates McFadden's net worth revolves around the sum of $3 million, that has been primarily acquired through her on-screen acting career since the 1980s.
General Info
| | |
| --- | --- |
| Full Name | Gates McFadden |
| Net Worth | $3 million |
| Date Of Birth | March 2, 1949 |
| Height | 1.72 m |
| Profession | Film director, Actor, Choreographer |
| Education | Brandeis University |
| Nationality | American |
Family
| | |
| --- | --- |
| Spouse | John Talbot |
| Children | James McFadden Talbot |
Accomplishments
| | |
| --- | --- |
| Movies | Star Trek: First Contact, Star Trek Generations, Star Trek Nemesis, Star Trek: Insurrection, The Hunt for Red October, The Muppets Take Manhattan, Make the Yuletide Gay, When Nature Calls, Crowned and Dangerous, Taking Care of Business, Dirty |
| TV Shows | Marker, Star Trek: The Next Generation |
Social profile links
Marks
Quotes
| # | Quote |
| --- | --- |
| 1 | On auditioning for Star Trek: The Next Generation (1987): I walked in and was told they had three parts, and I could play any part I wanted. "Okay", I asked, "Which one is the funniest?" Beverly Crusher. I swear to God. Seriously! So I go, "Okay, fine", and I look at the scene and it's a scene from "The Naked Now" and that's funny because she's kind of drunk and I thought, "This is funny." So that's about the only funny scene in seven seasons! (Star Trek Magazine, April 2006) |
| 2 | Theater really is my first love. I love the stage, performing for an audience. Some of my favorite credits would have to be the Shakespeare work I did in New York and "To Gillian on Her 37th Birthday". I also loved working with Jim Henson on The Muppets Take Manhattan (1984) and Labyrinth (1986). I've also loved Star Trek: The Next Generation (1987). (1994) |
| 3 | On the boat scene in Star Trek: Generations (1994): Shooting the boat sequences, I think, is probably something all of us have a story to tell about. I can tell you that the boat was supposed to be pitching back and forth, so we all had to really pitch back and forth... for days. At times, it was very funny and we were all having a good laugh, and at other times, it wasn't at all funny and it could be quite tiring. But it's a terrific scene. (1994) |
| 4 | It's wonderful that the show was so imaginative and creative. I'm glad to be a part of it. I get many kids telling me that they would like a mom like Beverly Crusher, and they feel I can solve their problems. It's not an easy world to grow up in. It's tough. And it's nice to think we are doing our bit to help. I always wish I had more to do, but I got my moments and direction [the seventh season episode] Star Trek: The Next Generation: Genesis (1994) was, without question, the high point of my years with the show, really the culmination of my Star Trek experience. (1994) |
Facts
| # | Fact |
| --- | --- |
| 1 | She is of Lithuanian ancestry on her mother's side. |
| 2 | Has played a doctor in both Star Trek: The Next Generation (1987) and The Hunt for Red October (1990). |
| 3 | Currently resides in the South of France, where she is restoring an old theatre. [August 2004] |
| 4 | Continues teaching at the University of Southern California. [November 2005] |
| 5 | Studied acting in Paris with famous teacher Jacques Lecoq. |
| 6 | She choreographed the ballroom scene in the Jim Henson film Labyrinth (1986). |
| 7 | She was a Muppeteer and movement coordinator for Jim Henson prior to her role on Star Trek: The Next Generation (1987). |
| 8 | Her son, James Cleveland McFadden-Talbot, was born on June 10, 1991. |
| 9 | Received her Bachelor's degree in Theatre from Brandeis University in Waltham, Massachusetts. |
| 10 | Brent Spiner is the godfather of Gates's son. |
Pictures
Movies
Actress
| Title | Year | Status | Character |
| --- | --- | --- | --- |
| Next Door | 2017/I | | Dr. Constance Abrams |
| Scary Endings | 2016 | TV Series short | The 911 Operator |
| Mattresside | 2015 | Short | Nurse |
| Family Guy: The Quest for Stuff | 2014 | Video Game | Beverly Crusher (voice) |
| Franklin & Bash | 2011-2013 | TV Series | Judge Mallory Jacobs |
| Make the Yuletide Gay | 2009 | | Martha Stanford |
| Dirty | 2005 | | Wife |
| The Handler | 2004 | TV Series | Siobhan |
| Star Trek: Nemesis | 2002 | | Beverly Crusher |
| The Division | 2001 | TV Series | Mrs. Petersen |
| The Practice | 2000 | TV Series | Judge Emily Harrison |
| Star Trek: Insurrection | 1998 | | Beverly |
| Star Trek: Generations | 1997 | Video Game | Commander / Dr. Beverly Crusher (voice) |
| Crowned and Dangerous | 1997 | TV Movie | Patrice Baxter |
| Star Trek: First Contact | 1996 | | Beverly |
| Mad About You | 1995-1996 | TV Series | Allison Rourke |
| Star Trek: The Next Generation - A Final Unity | 1995 | Video Game | Commander / Dr. Beverly Crusher (voice) |
| Mystery Dance | 1995 | TV Series | Nancy Maxwell |
| Marker | 1995 | TV Series | Kimba |
| Star Trek: Generations | 1994 | | Beverly |
| Party of Five | 1994 | TV Series | Greer Erikson |
| Star Trek: The Next Generation | 1987-1994 | TV Series | Dr. Beverly Crusher |
| Dream On | 1993 | TV Series | Ina Dreikoff |
| L.A. Law | 1992 | TV Series | Oota Keller |
| Taking Care of Business | 1990 | | Diane |
| Beyond the Groove | 1990 | TV Series | Secretary |
| The Hunt for Red October | 1990 | | Caroline Ryan |
| The Cosby Show | 1987 | TV Series | |
| The Wizard | 1986 | TV Series | Darcy |
| When Nature Calls | 1985 | | Gena ("Gena's Story" trailer) (as Cheryl McFadden) |
| The Muppets Take Manhattan | 1984 | | Mr. Price's Secretary (as Cheryl McFadden) |
| All My Children | 1970 | TV Series | Dr. Lisa Mallory (1988) |
Miscellaneous
| Title | Year | Status | Character |
| --- | --- | --- | --- |
| Star Trek: The Next Generation | 1991 | TV Series choreographer - 1 episode | |
| Labyrinth | 1986 | choreographer - as Cheryl McFadden | |
| Dreamchild | 1985 | choreographer | |
Director
| Title | Year | Status | Character |
| --- | --- | --- | --- |
| Star Trek: The Next Generation | 1994 | TV Series 1 episode | |
Camera Department
| Title | Year | Status | Character |
| --- | --- | --- | --- |
| Galacticast | 2006 | TV Series short camera operator - 1 episode | |
Thanks
| Title | Year | Status | Character |
| --- | --- | --- | --- |
| Chaos on the Bridge | 2014 | TV Movie documentary thanks | |
Self
| Title | Year | Status | Character |
| --- | --- | --- | --- |
| Home & Family | 2016 | TV Series | Herself |
| 50 Years of Star Trek | 2016 | TV Movie | Herself |
| Star Trek: The Next Generation - The Sky's the Limit - The Eclipse of Star Trek: The Next Generation | 2014 | Documentary | Herself |
| Star Trek: The Next Generation - The Unknown Possibilities of Existence: Making All Good Things... | 2014 | Documentary short | Herself |
| Chaos on the Bridge | 2014 | TV Movie documentary | Herself |
| Beyond the Five Year Mission: The Evolution of Star Trek - The Next Generation | 2014 | Documentary | Herself |
| Requiem - A Remembrance of Star Trek: The Next Generation | 2013 | Video documentary | Herself |
| Star Trek: From One Generation to the Next | 2013 | Video short | Herself |
| Relativity: The Family Saga of Star Trek - The Next Generation | 2013 | Documentary | |
| The Captains Close Up | 2013 | TV Series | Herself |
| Resistance Is Futile: Assimilating Star Trek -The Next Generation | 2013 | Documentary | Herself |
| Star Trek: The Next Generation - Regeneration: Engaging the Borg | 2013 | Documentary | Herself |
| Making It So: Continuing Star Trek - The Next Generation | 2012 | Video documentary | Herself |
| Reunification: 25 Years After Star Trek - The Next Generation | 2012 | Video documentary | Herself |
| Stardate Revisited: The Origin of Star Trek - The Next Generation | 2012 | Documentary | Herself |
| FedCon XXI | 2012 | Documentary | Herself |
| Family Guy | 2009 | TV Series | Herself |
| Make the Yuletide Gay: Cast Interviews | 2009 | Video short | Herself |
| Space Top 10 Countdown | 2007 | TV Series | Herself |
| Galacticast | 2006 | TV Series short | Herself |
| America Loves... Star Trek | 2001 | TV Movie documentary | Herself |
| Journey's End: The Saga of Star Trek - The Next Generation | 1994 | TV Movie documentary | Herself |
| Comic Relief VI | 1994 | TV Special documentary | Doctor Beverly Crusher |
| Star Trek 25th Anniversary Special | 1991 | TV Movie documentary | Herself |
| Inside the Labyrinth | 1986 | TV Movie documentary | Herself (as Cheryl McFadden) |
| Saturday Night Live | 1982 | TV Series | Herself - Audience Member |
Archive Footage
| Title | Year | Status | Character |
| --- | --- | --- | --- |
| The Drunken Peasants | 2015-2016 | TV Series | Beverly Crusher Dr. Beverly Crusher |
| How William Shatner Changed the World | 2005 | TV Movie documentary | Doctor Beverly Crusher |
| Star Trek: The Next Generation Companion | 1999 | Video Game | Commander / Dr. Beverly Crusher |
| Ultimate Trek: Star Trek's Greatest Moments | 1999 | TV Short | Doctor Beverly Crusher |
| Star Trek: The Next Generation | 1989 | TV Series | Dr. Beverly Crusher |
Source:
IMDb
,
Wikipedia