• Estelle Harris is an American actress, comedian and voice actress, best known for her role as Estelle Costanza in "Seinfeld".
• She was born Estelle Nussbaum in Manhattan, New York to Polish immigrant parents, and attended Tarentum High School.
• Her acting career began in 1977 and she rose to fame after starring in "Seinfeld" (1992-1998).
• She has a long list of voice acting credits, and is a cancer survivor.
• Estelle is married to Sy Harris and has three children.

Known for movies
Short Info
| | |
| --- | --- |
| Spouse | Sy Harris |
| Fact | 20 September 2001 - Estelle and Sy escaped injury after their car blew a tire and flipped twice outside of L.A. |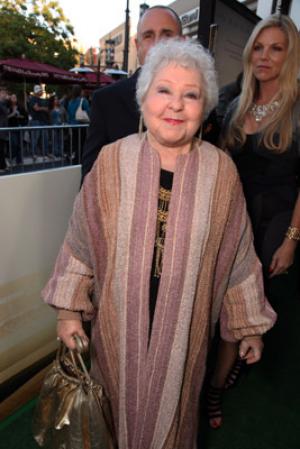 Who is Estelle Harris?
Estelle Harris is an American actress, comedian and voice actress, who is perhaps best known to the world as Estelle Costanza in the Golden Globe Award-winning comedy series "Seinfeld" (1992-1998), and also as Muriel in the TV series "The Suite Life of Zack & Cody" (2005-2008), in addition to other popular roles she has had during her career.
Estelle Harris Biography- Age, Childhood, and Education
Born Estelle Nussbaum on the 4th April 1928, in Manhattan, New York USA, the daughter of Isaac Nussbaum and his wife, Anna.
Her parents were Polish immigrants, and she has an older sister, but her name hasn't been revealed in the media. For her education, Estelle went to Tarentum High School.
Career Beginnings
Estelle didn't pursue a career in acting until her children had grown-up and achieved success on their own. As a result, it was only in 1977 that she made her acting debut, selected for the role of Irma in the comedy-drama film "Looking Up", starring Marilyn Chris, Dick Shawn and Doris Belack. She made another appearance in 1977, this time as Mrs.
Baleeka in the film selected"Summerdog", and then didn't feature anywhere until the mid-'80s, when she was cast for the part of Peggy's Mother in the film "Once Upon a Time in America", starring Robert De Niro, James Woods and Elizabeth McGovern. She continued with minor roles in the '80s, such as Secretary in the film "Stand and Deliver" in 1988.
Rise to Stardom
Although she hadn't had notable roles since starting her career, Estelle joined the cast of "Seinfeld" in 1992 as Estella Costanza, and in the next six years appeared in 27 episodes of the popular series, which made her very popular.
While working on "Seinfeld", Estella also appeared in several other projects, including the films "Downhill Willie" (1996), "Out to Sea" (1997), and "My Giant" (1998), among others.
With the start of the new millennium, Estelle began to focus more on voice acting, but has still featured in a number of on-screen appearances. She had a minor role in the romantic comedy "Good Advice" in 2001, starring Charlie Sheen, Angie Harmon and Denise Richards, while from 2005 to 2008 she portrayed Muriel in the TV comedy series "The Suite Life of Zack & Cody". Then in 2010, she co-starred in the romantic comedy film "Movin' In", next to Alex Yves, Griff First and Christy Carlson Romano, and two years later appeared in all 12 episodes of the short-lived series "Greetings from Home".
Furthermore, she was cast in the film "CBGB", which is a story about the punk-rock scene and the venerable nightclub of the same name, and had a minor role in the 2015 comedy television movie "The Slice".
Voice Acting
In addition to her on-screen appearances, Estelle has also had a marvelous career as a voice actress; she started in 1995 with the voice of Timon's Mother in the animated series "Timon & Pumbaa". In 1999 she had a stint in the animated series "The Brothers Flub", and the same year made her debut as Mrs. Potato Head in the animated film "Toy Story 2". In 2000 she lent her voice to Mrs.
Duckstein in the animated series "Queer Duck", while from 2004 to 2005 she was the voice of Lula in the animated series "Dave the Barbarian". From 2009 to 2014 she gave her voice to Oz's Mom in the TV series "Fanboy & Chum Chum", and from 2014 to 2015 she voiced Peg-Leg Peg from "Jake and the Never Land Pirates", and then retired.
Where is Estelle Harris Now?
Since retiring, Estelle has been living a simple life away from the media buzz, currently living with her husband in West Hollywood, California.
However, in 2019 she returned to voice acting, only to reprise her role of Mrs. Potato Head in the fourth installment of the popular animated film "Toy Story".
Estelle Harris Net Worth, Height, Weight, Appearance
Estelle is a renowned actress, and with around 100 roles during her career, her wealth has increased by a large margin. According to authoritative sources, Estelle Harris' net worth has been estimated at $5 million as of mid-2020.
Estelle stands at 5ft 4ins (1.64m) tall, while she weighs approximately 143lbs ~ 65kgs – at her age, vital statistics are unimportant, but unsurprisingly she has grey hair, and brown eyes.
Estelle Harris Personal Life, Marriage, Husband
Estelle has been married for more than 65 years to Sy Harris; the wedding ceremony was held in 1953, and the two welcomed two sons and a daughter together. Her husband Sy was a window treatment salesman, though he had a one-time appearance in the film "Destiny, West!" in 1960.
Estelle Harris News, Facts
Before making a break as an actress, Estelle appeared in numerous commercials, including the highly popular ad in which she sang the praises of Handi-Wrap II. She was so popular that she featured in 23 commercials in a year.
Back in 2013, Estelle came forward and announced that she is a cancer survivor, though she didn't reveal which type of cancer she had, only bringing the happy news that she had successfully undergone cancer treatment. Since then, she hasn't had any health scares.
Estelle is recognized by her high pitched raspy voice.
Because of the unique character of Estella Costanza, she and Jerry Stiller were named several times as the best TV parents. Her "Seinfeld" partner, Jerry Stiller died recently, in early May 2020 – he was 92 years old.
General Info
| | |
| --- | --- |
| Full Name | Estelle Harris |
| Height | 1.64 m |
| Profession | Comedian, Voice Actor |
| Nationality | American |
Family
| | |
| --- | --- |
| Spouse | Sy Harris |
| Children | Taryn Harris |
| Parents | Anna Nussbaum, Isaac Nussbaum |
| Siblings | Minnie Harris |
Accomplishments
| | |
| --- | --- |
| Movies | Toy Story 3, Toy Story 2, Stand and Deliver, Tarzan II, Brother Bear, Home on the Range, CBGB, Hawaiian Vacation, Once Upon a Time in America, Small Fry, Addams Family Reunion, Teacher's Pet, Chairman of the Board, Partysaurus Rex, Good Advice, Out to Sea, Lost & Found, Playing Mona Lisa, What's Coo... |
| TV Shows | Seinfeld, Dave the Barbarian, Can You Teach My Alligator Manners?, Queer Duck, Good Advice, The Suite Life of Zack & Cody, Toy Story Toons, Nick Freno: Licensed Teacher, Fanboy & Chum Chum, The Brothers Flub |
Social profile links
Facts
| # | Fact |
| --- | --- |
| 1 | Has three children with husband Sy Harris. |
| 2 | 20 September 2001 - Estelle and Sy escaped injury after their car blew a tire and flipped twice outside of L.A. |
| 3 | Her daughter, Taryn, is a retired police officer. |
Pictures
Movies
Actress
| Title | Year | Status | Character |
| --- | --- | --- | --- |
| Toy Story 4 | 2019 | pre-production | Mrs. Potato Head (voice) |
| The Slice | 2015 | TV Movie | Mima D'Angelo |
| Promoted | 2015 | | Sylvia |
| Jake and the Never Land Pirates | 2014-2015 | TV Series | Peg-Leg Peg |
| Fanboy & Chum Chum | 2009-2014 | TV Series | Oz's Mom |
| CBGB | 2013 | | Bertha Kristal |
| The Exes | 2013 | TV Series | Mother |
| Toy Story Toons: Partysaurus Rex | 2012 | Short | Mrs. Potato Head (voice) |
| Futurama | 2012 | TV Series | Velma Farnsworth |
| Are You There, Chelsea? | 2012 | TV Series | Tess |
| The Looney Tunes Show | 2012 | TV Series | Sylvester's Mother |
| Greetings from Home | 2012 | TV Series | Nana |
| Toy Story Toons: Small Fry | 2011 | Short | Mrs. Potato Head (voice) |
| Toy Story Toons: Hawaiian Vacation | 2011 | Short | Mrs. Potato Head (voice) |
| Retired at 35 | 2011 | TV Series | Mrs. Eagen |
| Movin' In | 2010 | | Arlene Taylor |
| Toy Story 3 | 2010 | | Mrs. Potato Head (voice) |
| Sonny with a Chance | 2010 | TV Series | Grace Gallagher |
| Curb Your Enthusiasm | 2009 | TV Series | Estelle Harris |
| American Dad! | 2009 | TV Series | Marty's Wife |
| The Suite Life of Zack and Cody | 2005-2008 | TV Series | Muriel |
| Can You Teach My Alligator Manners? | 2008 | TV Series | Nana |
| Case Closed | 2007 | TV Movie | Madame |
| The Emperor's New School | 2007 | TV Series | Mrs. Mudka |
| iCarly | 2007 | TV Series | Mrs. Halberstadt |
| The Grand | 2007 | | Ruth Melvin |
| ER | 2006 | TV Series | Mrs. Markovic |
| Queer Duck: The Movie | 2006 | Video | Mrs. Duckstein (voice) |
| Mind of Mencia | 2006 | TV Series | |
| Phil of the Future | 2005 | TV Series | Older Pim |
| Tripping the Rift | 2005 | TV Series | Estelle |
| Tarzan II | 2005 | Video | Mama Gunda (voice) |
| Dave the Barbarian | 2004-2005 | TV Series | Lula |
| Hidden Howie: The Private Life of a Public Nuisance | 2005 | TV Series | Howie's Grandmother (2004-?) |
| As Told by Ginger | 2004 | TV Series | Myrna |
| Kim Possible | 2004 | TV Series | Mrs. Lipsky - Dr. Drakken's Mom |
| A Dairy Tale | 2004 | Video short | Audrey, the chicken (voice) |
| Home on the Range | 2004 | | Audrey, the Chicken (voice) |
| Teacher's Pet | 2004 | | Mrs. Boogin (voice) |
| Brother Bear | 2003 | | Old Lady Bear (voice) |
| The Proud Family | 2003 | TV Series | Helga |
| Regular Joe | 2003 | TV Series | Aunt Mickie |
| Half & Half | 2003 | TV Series | Grandma Sophie |
| House of Mouse | 2002 | TV Series | Mrs. Turtle |
| No Prom for Cindy | 2002 | Short | Cindy's Grandmother |
| Good Advice | 2001 | | Iris |
| Family Guy | 2001 | TV Series | Death's Mother |
| Sabrina, the Teenage Witch | 2001 | TV Series | Dora |
| Mickey Mouse Works | 1999-2000 | TV Series | Mrs. Turtle |
| Providence | 2000 | TV Series | Darlene |
| Playing Mona Lisa | 2000 | | Aunt Velva |
| Dancing in September | 2000 | | Sally |
| What's Cooking? | 2000 | | Aunt Bea |
| The Kids from Room 402 | 2000 | TV Series | Aunt Cookie |
| Queer Duck | 1999 | TV Series short | Mrs. Duckstein (voice) |
| Toy Story 2 | 1999 | | Mrs. Potato Head (voice) |
| Sunset Beach | 1999 | TV Series | Margaret Raynor |
| The Parkers | 1999 | TV Series | Miss Agnes |
| Lost & Found | 1999/I | | Mrs. Stubblefield |
| The Secret Files of the SpyDogs | 1999 | TV Series | Frank's Owner |
| Godzilla: The Series | 1998 | TV Series | |
| The Wild Thornberrys | 1998 | TV Series | Turtle / Iguana |
| Hercules | 1998 | TV Series | Phil's Mother |
| Addams Family Reunion | 1998 | TV Movie | Grandma Addams |
| Seinfeld | 1992-1998 | TV Series | Estelle Constanza Estelle Costanza |
| My Giant | 1998 | | Aunt Pearl |
| The Odd Couple II | 1998 | | Flirting Woman |
| Chairman of the Board | 1998 | | Ms. Krubavitch |
| Out to Sea | 1997 | | Bridget |
| Cybill | 1997 | TV Series | Woman |
| Living Single | 1997 | TV Series | Esther Brooks |
| Moesha | 1997 | TV Series | Frances Howie |
| Star Trek: Voyager | 1996 | TV Series | Old Woman |
| The Tick | 1996 | TV Series | Ruth |
| Night Stand | 1996 | TV Series | Real Mother |
| The Mask | 1996 | TV Series | Lt. Kellaway's Mother |
| Downhill Willie | 1995 | | Mama Saxer |
| In the House | 1995 | TV Series | Mrs. Claus |
| The West Side Waltz | 1995 | TV Movie | |
| Timon & Pumbaa | 1995 | TV Series | Timon's Mother |
| Fallen Angels | 1995 | TV Series | Mom Henderson |
| Aladdin | 1995 | TV Series | |
| Perfect Alibi | 1995 | | Aunt Dorothy |
| Chicago Hope | 1995 | TV Series | Speaker at Funeral |
| Good Advice | 1993 | TV Series | Ronnie Cohen |
| Mad About You | 1992 | TV Series | Barry's Mother |
| Law & Order | 1992 | TV Series | Mrs. Rachlin |
| This Is My Life | 1992 | | Aunt Harriet |
| Brooklyn Bridge | 1991 | TV Series | Esther Shapiro |
| Mathnet | 1990 | TV Series | Postal Worker |
| Stand and Deliver | 1988 | | Secretary |
| Married with Children | 1987 | TV Series | Delilah |
| Night Court | 1985-1986 | TV Series | Easy Mary |
| Once Upon a Time in America | 1984 | | Peggy's Mother |
| Summerdog | 1977 | | Mrs. Baleeka |
| Looking Up | 1977 | | Irma |
Self
| Title | Year | Status | Character |
| --- | --- | --- | --- |
| Seinfeld: Inside Look | 2005-2006 | TV Series documentary short | Herself |
| Running with the Egg: Making a 'Seinfeld' | 2005 | Video documentary short | Herself |
| Kramer vs. Kramer: Kenny to Cosmo | 2004 | Video documentary short | Herself |
| The Bench: Life Before 'Seinfeld' | 2004 | Video documentary short | Herself |
| Test the Nation | 2003 | TV Movie | Herself |
| Whammy! The All New Press Your Luck | 2002 | TV Series | Herself |
| Weakest Link | 2002 | TV Series | Herself |
| The Rosie O'Donnell Show | 1998 | TV Series | Herself |
| The Talk | 2011 | TV Series | Herself - Guest |
| Toy Story 3: The Gang's All Here | 2010 | Video documentary short | Herself / Mrs. Potato Head |
| Mom Squad | 2010 | Short | Herself |
| Totally Tracked Down | 2010 | TV Series | Herself |
| Made in Hollywood | 2009-2010 | TV Series | Herself |
| KTLA Morning News | 2010 | TV Series | Herself |
| The Bonnie Hunt Show | 2010 | TV Series | Herself |
Archive Footage
| Title | Year | Status | Character |
| --- | --- | --- | --- |
| That Fellow in the Coat | 2010 | TV Series | Mrs. Potato Head |
| Mr. Warmth: The Don Rickles Project | 2007 | Documentary | Herself / Mrs. Potato Head |
| Seinfeld: Inside Look | 2005-2007 | TV Series documentary short | Estelle / Estelle Costanza |
Awards
Nominated Awards
| Year | Award | Ceremony | Nomination | Movie |
| --- | --- | --- | --- | --- |
| 1998 | OFTA Television Award | Online Film & Television Association | Best Guest Actress in a Comedy Series | Seinfeld (1989) |
Source:
IMDb
,
Wikipedia