• Delta Burke is an actress, author, and producer with a net worth of over $3 million.
• She was born in Orlando, Florida, and won the state Miss Flame Award and Miss Florida title.
• She starred in the television sitcom "Designing Women" and later the mini-series "The Chisholms" and "Filthy Rich".
• She married actor Gerald McRaney and is an advocate of gay rights.
• She battled depression, an eating disorder, and compulsive hoarding syndrome.

Known for movies
Short Info
| | |
| --- | --- |
| Date Of Birth | July 30, 1956 |
| Spouse | Gerald McRaney |
| Fact | Starring on Broadway in "Steel Magnolias" (Truvy - the Dolly Parton role in the movie). [March 2005] |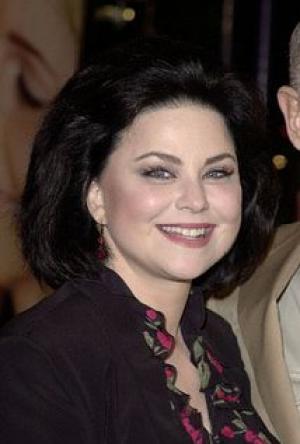 Who is Delta Burke?
Delta Ramona Leah Burke was born on 30 July 1956, in Orlando, Florida, USA. She is an actress, author, and producer, perhaps best known for her highly acclaimed appearance in the television sitcom "Designing Women", in which she portrayed Suzanne Sugarbaker. She's also worked on other notable television programs, including "Boston Legal" and "Filthy Rich".
The Net Worth of Delta Burke
As of early-2020, Delta Burke's net worth is estimated to be over $3 million, earned through a successful career in acting since 1974. She's also written a book, and has also done various behind-the-scenes roles in television production.
Early Life and Education
Delta grew up in Orlando, raised primarily by her mother as her father was not present in her life. However, the two didn't stay by themselves for long as her mother remarried to realtor Frederick Burke, who adopted her. She then grew up alongside two younger siblings from her mother's remarriage. At a young age, she showed a strong passion for performance and had a lot of confidence, leading many to believe that she would have a successful life.
She attended Colonial High School, and during her time there she won the State Miss Flame Award, after winning the local Miss Flame crown in Orlando.
The pageant is organized by the state's various fire departments, to help attract more attention to them, as well as to help raise funds. During her senior year in high school, she continued in pageantry and won the Miss Florida title, making her the youngest to ever win the competition.
Continued Studies and Acting Beginnings
Thanks to Burke becoming Miss Florida, she was offered a scholarship by the Miss America Organization, and this led her to continue pursuing her dream as an actress. She enrolled in a two-year program at the London Academy of Music and Dramatic Art, the oldest performing arts school in the UK.
Afterwards, she returned to the US and made her first appearance in the mini-series "The Chisholms" aired on CBS. The show starred Robert Preston, and followed the titular family's life as they encounter various troubles including with Native Americans.
Afterwards she became a cast member of the show "Filthy Rich", which she was a part of for a year, portraying Kathleen Beck, a young widow. The show aired on CBS and starred Charlie Frank and Dixie Carter, and was noted for being a satire of popular soap operas of the time, including "Dynasty" and "Dallas". She then appeared in the HBO program "1st & Ten", which was one of the earliest efforts of HBO to lure viewers away from what was then considered the top-three in US television networks, CBS, NBC, and ABC.
The show follows the story of a fictional American Football team, and she portrayed a team owner in the show.
Designing Women
Delta's next role would become her most notable, as she was cast in "Designing Women". The show follows the story of a man and four women who are a part of an interior design firm based in Atlanta, Georgia, set in the 1980s, and also starring Dixie Carter, Jean Smart and Annie Potts. The show follows the lives of these co-workers and the problems in their professional and personal lives. During its early run, it had good ratings and was among the top 20 shows in the US.
However, things went downhill after the show started changing its cast members, with Burke and Carter leaving. The show was canceled after seven seasons due to decreasing interest.
During the peak of her career in the show, she was nominated twice for a Primetime Emmy Award. Before she left the show, she had gone public about her dissatisfaction with the show due to long working hours that kept them tired and stressed. This eventually led to a rift between her and Carter, leading to them being released from their contracts.
Life After Designing Women
Following her work in "Designing Women", Delta started a show named after her which was short-lived.
She then reprised her character in "Women of the House" after reconciling with several people from the show, but this second effort was also short-lived – she also eventually reconciled with Carter after five years. In the 1990s, her career had a significant downturn and the media pointed to her increasing weight. She battled with depression, and an eating disorder that had been present during her pageant days. Despite the issues surrounding her weight, she made it work to her advantage, delivering some of her best performances, stemming from programs that focused on her weight.
In 2000, she had a supporting role in the film "What Women Want", before being cast in "DAG" in which she had returned to a healthy weight after a diabetes diagnosis. In 2003, she forayed into stage productions, working on "Thoroughly Modern Millie" then on the original production of "Steel Magnolias", in which she played the character Truvy. A few of her latest projects include a recurring role in "Boston Legal" playing an old flame of William Shatner's character. She's also worked on several Hallmark films, and was cast in the pilot for "Counter Culture" but production was suspended due to an injury, and the show was never picked up.
In 1989, Delta married actor Gerald McRaney, and the couple have since resided in Los Angeles, but they also have homes in New Orleans and Telluride. Her husband is known for his work in shows such as "Jericho", "House of Cards", "Castle", "Longmire" and "Promised Land". The couple don't have any children. She is a known advocate of gay rights, and has openly supported gay members of the entertainment industry, collaborating with them or promoting their work. She has admitted to having a compulsive hoarding syndrome, which she had to take therapy to overcome. During the peak of her hoarding obsession, she owned 27 storage units.
General Info
| | |
| --- | --- |
| Full Name | Delta Burke |
| Date Of Birth | July 30, 1956 |
| Height | 1.65 m |
| Profession | Television producer, Comedian, Film producer, Author, Actor |
| Education | Colonial High School |
| Nationality | American |
Family
| | |
| --- | --- |
| Spouse | Gerald McRaney |
| Parents | Jean Burke, Frederick Burke |
| Siblings | Jennifer Burke, Jonathan Burke |
Accomplishments
| | |
| --- | --- |
| Nominations | Primetime Emmy Award for Outstanding Lead Actress in a Comedy Series |
| Movies | What Women Want, Sordid Lives, Going for Broke, Bridal Fever, Dangerous Child, The Year Without A Santa Claus, Good Boy!, Where the Hell's That Gold?, A Bunny's Tale, Murder Me, Murder You, Day-O, Hansel and Gretel, Maternal Instincts, A Last Cry for Help, The Last Guy on Earth, Rooster |
| TV Shows | DAG, Women of the House, The Mighty Jungle, Designing Women, 1st & Ten, Filthy Rich, The Chisholms, Delta |
Social profile links
Facts
| # | Fact |
| --- | --- |
| 1 | Just wrapped production of the Hallmark Channel original movie Bridal Fever (2008) as "Dahlia", a romance novelist, which will air next year. [November 2007] |
| 2 | Starring on Broadway in "Steel Magnolias" (Truvy - the Dolly Parton role in the movie). [March 2005] |
| 3 | In 1981, Delta Burke won the role of Katherine Wentworth on Dallas (1978) and was offered a recurring part on Private Benjamin (1981), but she had a holding option on her contract for the yet-to-be-picked-up series Filthy Rich (1982) and was forced to turn both parts down. The role of Katherine Wentworth ultimately went to Morgan Brittany. |
| 4 | Checked herself into rehab to modify her medications for her depression and diabetes [February 12, 2008]. |
| 5 | Graduate of Colonial High School in Orlando, Florida. |
| 6 | April 2003 - While on the set of a new tv pilot, "Sweet Potato Queens", that was not picked up any network for the Fall 2003 season, some of her jewelry including her wedding and engagemant rings were stolen. The stolen jewelry was valued at approximately $74,000. The rings were inscribed with the word "always" and the date of her wedding. No clue to the thief and the LAPD told her that the common thing is to steal the diamonds and throw away the bands, so little hope of recovery was offered. |
| 7 | Following her firing from Designing Women (1986), she was parodied in a short-lived Fox comedy show, The Edge (1992), in one skit where she was portrayed as a giant who was getting revenge on her former castmates by ripping the roof off the house, pulling them out, and biting their heads off like chickens. Despite the unflattering nature of the skit, Ms. Burke was reportedly very amused by it. |
| 8 | Is diabetic |
| 9 | Has suffered from chronic depression since her teens |
| 10 | Miss Florida 1974 |
Pictures
Movies
Actress
| Title | Year | Status | Character |
| --- | --- | --- | --- |
| The Misadventures of Sheriff Lobo | 1980 | TV Series | Diane Stone |
| The Chisholms | 1980 | TV Mini-Series | Bonnie Sue Chisholm |
| A Last Cry for Help | 1979 | TV Movie | Carol |
| Charleston | 1979 | TV Movie | Stella Farrell |
| The Seekers | 1979 | TV Mini-Series | Elizabeth Fletcher Kent |
| Zuma Beach | 1978 | TV Movie | Terri (uncredited) |
| Counter Culture | 2012 | TV Movie | Nonie |
| Drop Dead Diva | 2009 | TV Series | Tessa Wells |
| Bridal Fever | 2008 | TV Movie | Dahlia Marchand |
| The Wedding Bells | 2007 | TV Series | Sheila Pontell |
| Boston Legal | 2006-2007 | TV Series | Bella Horowitz |
| The Year Without a Santa Claus | 2006 | TV Movie | Mrs. Claus |
| Good Boy! | 2003 | | Barbara Ann (voice) |
| Going for Broke | 2003 | TV Movie | Laura Bancroft |
| Sweet Potato Queens | 2003 | TV Movie | |
| St. Sass | 2002 | TV Movie | Billie Lang |
| Hansel & Gretel | 2002 | | Stepmother |
| Family Law | 2002 | TV Series | Marcie Dell |
| Dangerous Child | 2001 | TV Movie | Sally Cambridge |
| Touched by an Angel | 1996-2001 | TV Series | Diana Winslow Julia Fitzgerald |
| Popular | 1999-2001 | TV Series | Cherry Cherry |
| DAG | 2000-2001 | TV Series | Judith Whitman |
| What Women Want | 2000 | | Eve |
| Sordid Lives | 2000 | | Noleta Nethercott |
| Any Day Now | 1998-1999 | TV Series | Teresa O'Brien |
| Melanie Darrow | 1997 | TV Movie | Melanie Darrow |
| Promised Land | 1996 | TV Series | Julia Fitzgerald |
| Lois & Clark: The New Adventures of Superman | 1996 | TV Series | Myrtle Beech |
| Maternal Instincts | 1996 | | Tracy Horton |
| A Promise to Carolyn | 1996 | TV Movie | Debra |
| Women of the House | 1995 | TV Series | Suzanne Sugarbaker |
| Simon & Simon: In Trouble Again | 1995 | TV Movie | Mrs. Heiser |
| Diagnosis Murder | 1994 | TV Series | Sister Michael / Maggie Donovan |
| The Mighty Jungle | 1994 | TV Series | Viola, the Toucan (voice) |
| Delta | 1992-1993 | TV Series | Delta Bishop |
| Day-O | 1992 | TV Movie | Grace Connors |
| Love and Curses... And All That Jazz | 1991 | TV Movie | Desiree |
| Designing Women | 1986-1991 | TV Series | Suzanne Sugarbaker |
| Where the Hell's That Gold?!!? | 1988 | TV Movie | Germany |
| Simon & Simon | 1987 | TV Series | Christy Keating |
| 1st & Ten: The Championship | 1984-1987 | TV Series | Diane Barrow |
| Hotel | 1986 | TV Series | Sherry |
| Temporary Insanity | 1985 | TV Movie | Big Woman |
| A Bunny's Tale | 1985 | TV Movie | Margie |
| Who's the Boss? | 1985 | TV Series | Diane Wilmington |
| T.J. Hooker | 1984 | TV Series | Diana Polnoi |
| The Love Boat | 1983-1984 | TV Series | Gloria / Andrea Sheppard / Lydia Harris |
| The New Mike Hammer | 1984 | TV Series | Linda Sloane |
| Lottery! | 1984 | TV Series | |
| Automan | 1984 | TV Series | Rachel Innis |
| Johnny Blue | 1983 | TV Movie | Joanne Kruger |
| Remington Steele | 1983 | TV Series | Nancy Stinson Dannon |
| Filthy Rich | 1982-1983 | TV Series | Kathleen Beck |
| Gun Shy | 1983 | TV Series | Clementine |
| Murder Me, Murder You | 1983 | TV Movie | Paula Corey |
| Fantasy Island | 1983 | TV Series | Gloria Ransom |
| The Fall Guy | 1982 | TV Series | Bryna |
| Rooster | 1982 | TV Movie | Laura DeVega |
| Nero Wolfe | 1981 | TV Series | Jean Wellmann |
Producer
| Title | Year | Status | Character |
| --- | --- | --- | --- |
| Melanie Darrow | 1997 | TV Movie producer | |
| Maternal Instincts | 1996 | executive producer | |
| Women of the House | 1995 | TV Series co-executive producer - 3 episodes | |
| Delta | 1992 | TV Series co-executive producer | |
Soundtrack
| Title | Year | Status | Character |
| --- | --- | --- | --- |
| Women of the House | 1995 | TV Series performer - 1 episode | |
| Delta | 1992-1993 | TV Series performer - 5 episodes | |
Self
| Title | Year | Status | Character |
| --- | --- | --- | --- |
| Entertainment Tonight | 2006-2009 | TV Series | Herself |
| The View | 2003-2008 | TV Series | Herself |
| In Search of Puppy Love | 2007 | Documentary | Herself |
| The 2007 Miss America Pageant | 2007 | TV Movie | Herself - Judge |
| TV Land's Top Ten | 2006 | TV Series documentary | Herself |
| Mississippi Rising | 2005 | TV Movie documentary | Herself |
| 50th Annual Drama Desk Awards | 2005 | TV Special | Herself - Presenter |
| TV Movie Superstars: Women You Love | 2004 | TV Movie | Herself |
| The Designing Women Reunion | 2003 | TV Movie documentary | Herself |
| In Performance at the White House | 2001 | TV Special | |
| The Rosie O'Donnell Show | 1996-2001 | TV Series | Herself |
| Entertainment Tonight Presents: The Real Designing Women | 2000 | TV Movie documentary | Herself |
| Intimate Portrait | 1999-2000 | TV Series documentary | Herself |
| The Martin Short Show | 1999 | TV Series | Herself |
| ABC Mark Curry & Delta Burke Back Lot Special | 1994 | TV Movie | Herself |
| The Tonight Show with Jay Leno | 1993 | TV Series | Herself |
| Laughing Back: Comedy Takes a Stand | 1992 | TV Movie | Herself |
| The 43rd Annual Primetime Emmy Awards | 1991 | TV Special | Herself - Nominated: Outstanding Lead Actress in a Comedy Series |
| Saturday Night Live | 1991 | TV Series | Herself - Host / Nancy / Amanda / ... |
| Yellow Ribbon Party | 1991 | TV Special | Herself |
| The 42nd Annual Primetime Emmy Awards | 1990 | TV Special | Herself - Nominee: Outstanding Lead Actress in a Comedy Series |
| 70th Annual Miss America Pageant | 1990 | TV Special | Herself - Judge |
| The 41st Annual Primetime Emmy Awards | 1989 | TV Special | Herself |
| The 1988 Annual Women in Film Awards | 1988 | TV Special | Herself |
| The 14th Annual People's Choice Awards | 1988 | TV Special documentary | Herself - Presenter |
| Circus of the Stars #12 | 1987 | TV Special documentary | Herself - Ringmaster |
| Dolly | 1987 | TV Series | Herself |
| The Wil Shriner Show | 1987 | TV Series | Herself |
| Super Password | 1987 | TV Series | Herself |
| The New Hollywood Squares | 1986-1987 | TV Series | Herself - Panelist / Guest Appearance / Herself |
| Battle of the Network Stars XIII | 1982 | TV Special | Herself - CBS Team |
Archive Footage
| Title | Year | Status | Character |
| --- | --- | --- | --- |
| Entertainment Tonight | 2015 | TV Series | Herself |
| 50 Most Wicked Women of Primetime | 2004 | TV Movie documentary | Suzanne Sugarbaker - Designing Women |
| 50 Years of Funny Females | 1995 | TV Movie documentary | Herself |
| Miss America: Beyond the Crown | 1994 | TV Movie documentary | Herself - Miss Florida 1974 |
| Best of Saturday Night Live: Special Edition | 1992 | Video | Various Characters |
Awards
Won Awards
| Year | Award | Ceremony | Nomination | Movie |
| --- | --- | --- | --- | --- |
| 1999 | OFTA Television Award | Online Film & Television Association | Best Guest Actress in a Cable Series | Any Day Now (1998) |
Nominated Awards
| Year | Award | Ceremony | Nomination | Movie |
| --- | --- | --- | --- | --- |
| 2001 | TV Guide Award | TV Guide Awards | Actress of the Year in a New Series | DAG (2000) |
| 1991 | Primetime Emmy | Primetime Emmy Awards | Outstanding Lead Actress in a Comedy Series | Designing Women (1986) |
| 1991 | Q Award | Viewers for Quality Television Awards | Best Actress in a Quality Comedy Series | Designing Women (1986) |
| 1990 | Primetime Emmy | Primetime Emmy Awards | Outstanding Lead Actress in a Comedy Series | Designing Women (1986) |
| 1990 | Q Award | Viewers for Quality Television Awards | Best Actress in a Quality Comedy Series | Designing Women (1986) |
2nd Place Awards
| Year | Award | Ceremony | Nomination | Movie |
| --- | --- | --- | --- | --- |
| 1989 | Q Award | Viewers for Quality Television Awards | Best Actress in a Quality Comedy Series | Designing Women (1986) |
Source:
IMDb
,
Wikipedia