• Daren Kagasoff is an American actor born in 1987
• He is best known for his role as Ricky Underwood in "The Secret Life of the American Teenager"
• He has appeared in various TV shows and movies including "Ouija" and "The Village"
• He has an estimated net worth of $2 million and is active on Instagram
• His celebrity crush is Kate Winslet and his favorite show is "Dancing with the Stars"

Known for movies
Short Info
| | |
| --- | --- |
| Net Worth | $450 thousand |
| Date Of Birth | September 16, 1987 |
| Fact | The Secret Life Of The American Teenager [February 2009] |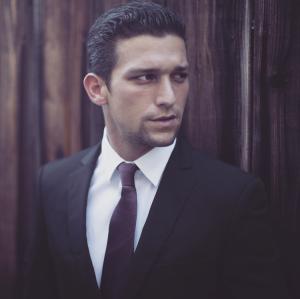 Daren Maxwell Kagasoff is an American actor, born on 16 September 1987, in Encino, California USA. He is probably best known for his starring role as Ricky Underwood in "The Secret Life of the American Teenager", debuting in 2008.
Early Life And Education
Kagasoff was born the son of Elise and Barry Kagasoff, the middle of three children with an older brother Justin, and younger sister Natalie. His family is of Russian and Polish origin.
Darren attended Montclair Preparatory, where he played in its baseball team. In a 2008 interview with Seventeen Magazine, he described himself to be 'a rebel' when he was 17 years old. He also revealed information about his high school life: 'I got really bad grades, so I'd hid my report card from my dad.
My mom was in on it too, because she knew he'd be furious. I probably would've gone to boot camp. Seriously!'.
After his high school matriculation, he attended San Francisco State University but had problems finding his true passion: 'I was up at San Francisco State studying Business Management, and I kind of couldn't find my niche in anything. My heart wasn't into baseball anymore, and that's the reason I went up there, so it was the time to really find out what I wanted to do'.
He dropped out of College and went home, from where he started auditioning for various productions as an actor.
Career
First Steps
Darren's first acting opportunity was as Tim, one of the main roles in the play adaption by Eric Bogosian of the film "Suburbia" in the Whitmore-Lindley Theatre Center. This opportunity encouraged Darren to start his acting studies when the project ended, and he kept auditioning for other productions.
The Secret Life Of The American Teenager: 2008 – 2013
One of Daren's next auditions gained him the approval of director Brenda Hampton, who personally picked him for the leading role of "The Secret Life of the American Teenager". The story is about Daren's character Ricky Underwood and his relationship with Amy Juergens, portrayed by Shailene Woodley, as they accidentally become teen parents after a one-night stand, and a complicated love story begins between them.
Contrasted by the kindness and innocence that characterizes Amy Juergens, Ricky Underwood's character is a bad-boy with a promiscuous reputation. However, as the story advances more layers of his personality are discovered and the audience is presented with Ricky's tumultuous past and childhood abuse story.
The ABC's series received good reviews and a great audience approval, eventually running for 100 episodes and was on air for five years. This is Daren Kagasoff's most famous and iconic role to the date, winning him a Teen Choice Award in the category "Choice Summer TV Star: Male" in 2009.
Concurrently, Daren made appearances in various TV shows, such as "The Tyra Banks Show" in 2009, and was a presenter in the "Teen Choice Awards" and "Much Music Video Awards" in 2010.
Ouija and Other Projects: 2014 – 2019
Kagasoff continued on with his acting career in 2014, cast in the TV series "Blue" starring Julia Stiles, whose character, Blue tries to keep her secret past away from her son.
Kagasoff's next acting project was as Alex Sheathes in the TV movie "Delirium". The movie centers on Lena Holoway, who lives in a world where love is deemed a disease. Following this role, Daren appeared as Eric Bates in the pilot chapter of "Stalker", a crime themed TV series centered on a group of Los Angeles' detectives.
Kagasoff's next role came when he was cast in the lead role of Trevor, in the 2014 film "Ouija". The horror movie tells the story of a group of friends who awaken the ire of evil spirits through an Ouija board. Despite its mixed critiques, the movie was a box office success, and is one of Kagasoff's most recognized roles.
Kagasoff next appeared in 2014 as Hunter, in seven episodes of the TV series "Red Band Society". The FOX's drama series is the story of a group of teens who deal with their illnesses while living together in a hospital. The series was on air for a year.
In 2015 Kagasoff appeared in the TV movie "Paradise Pictures" as Wyatt Osborne.
The story was written by Rick Muirragui and takes place in 1940s Hollywood. After this production, Kagasoff had only minor roles until 2017, when he was cast as Gordon in the episode "Imposters" of the action series :"S.W.A.T."
Another two years passed before Kagasoff landed another significant role, this time in the series "The Village" as the lawyer Gabe Napolitano, one of the recurring characters of the 2019 TV series. The story follows the life of residents of an apartment building in Manhattan, and their intertwined life experiences despite the differences between them.
Personal Life
In an interview in 2009, Kagasoff decided to reveal some details of his romantic life to Seventeen Magazine: 'I want a girl who lets me do my own thing, but who is going to be by my side the whole time, because I know I'd be supportive of her.
And kissing is a big thing for me! You have to be a good kisser'. He also denied having dating rules: 'Not really. When I meet a girl I like, I call her the next day. I don't play that three-day rule. Maybe that's psycho. But I usually feel like I should have called her that night!'.
In the same interview, he opened up about his high-school girlfriend, and what his long-lasting relationship with her taught him: 'I definitely learned never to fall in love in high school, because it just takes over your brain. We were so psychotic for each other that I didn't care about anything else. It was too much. Relationships are important, but stay focused on all the things that are important. Figure out what you want'.
Kagasoff has decided to maintain his present personal life out of the spotlight, however, rumors about his romantic partners have circulated for a while. During his time in "The Secret Life of the American Teenager", he was romantically linked to his co-star Shailene Woodley. Kagasoff never denied the rumors, but after the series ended Woodley denied the relationship in an interview: 'I literally have not had a boyfriend in almost five years. I've never even hooked up with anybody I've worked on a movie with'.
In 2013 he was romantically linked to actress Jacqueline Wood, and they were photographed kissing in public, however, the relationship ended.
In 2018 Wood was reportedly dating Elan Ruspoli, but as of 2020, there's no information about Kagasoff's current partner, but it's known that he is unmarried.
Net Worth
As a result of his work as an actor since 2008, Daren Kagasoff has an estimated net worth of $2 Million.
Appearance
Daren Kagasoff is a man of white ethnicity. His has brown hair and eyes, and is 6ft (1.83m). He has a slender but strong build.
Interesting Facts
He revealed that he had his first kiss when 13 years old.
He said that his guilty pleasure was to watch "Dancing with the Stars"; he also revealed that his celebrity crush was Kate Winslet.
32❤️ pic.twitter.com/aVkeYFMXfM

— Daren Kagasoff (@DarenKagasoff) September 17, 2019
The member of his family he is the closest to is his mother.
He says that his worst habit is procrastinating.
When asked about his personality during his teens, he answered 'One time in high school, this group of guys egged my car on Halloween. I was on my way to pick up my girlfriend for a party, but instead I went after them. I knocked some people in the face, but let's just say it was the first time I got my a** kicked. I had to get 25 stitches under my right eye that night!'
Currently, he's active on Instagram.
General Info
| | |
| --- | --- |
| Full Name | Daren Kagasoff |
| Net Worth | $450 thousand |
| Date Of Birth | September 16, 1987 |
| Profession | Actor |
| Education | San Francisco State University, Montclair College Preparatory School |
| Nationality | American |
Family
| | |
| --- | --- |
| Parents | Barry Kagasoff, Elise Kagasoff |
| Siblings | Natalie Kagasoff, Justin Kagasoff |
Accomplishments
| | |
| --- | --- |
| Awards | Teen Choice Award for Choice Summer TV Star: Male |
| Nominations | Teen Choice Award for Choice TV Actor - Drama/Action Adventure, Teen Choice Award for Choice TV: Breakout Star Male |
| Movies | Ouija |
| TV Shows | The Secret Life of the American Teenager |
Social profile links
Quotes
| # | Quote |
| --- | --- |
| 1 | I was up at San Francisco State studying business management and I kind of couldn't find my niche in anything. My heart wasn't into baseball anymore, and that's the reason I went up there, so it was the time to really find out what I wanted to do. I kept going back and forth with myself, thinking, oh do you want to act, because I didn't know what my parents would think, and finally just called them and said listen, I want to go back home and start acting, and they were like "okay, do your thing" so I came back, jumped into a class for 8 months, and this project was like the 5th or 6th audition I've ever been out on, and it came my way. I just feel really lucky. |
Facts
| # | Fact |
| --- | --- |
| 1 | The Secret Life Of The American Teenager [February 2009] |
| 2 | During one of his first auditions he was hand-picked for the role as "Ricky" in the ABC Family show The Secret Life of the American Teenager by Brenda Hampton (Creator of 7th heaven). |
| 3 | After deciding to be an actor he headed to LA and got the part of Tim, an alcoholic slacker, in the Whitmore-Lindley Theatre Center production of suburbia. |
| 4 | He is the middle of three children. |
| 5 | Daren was born and raised in Encino, California, to Elise (Levy), a designer, and Barry Kagasoff, a wholesale diamond dealer. He is of mostly Russian Jewish heritage. |
Pictures
Movies
Actor
| Title | Year | Status | Character |
| --- | --- | --- | --- |
| Paradise Pictures | 2015 | TV Movie | Wyatt Osborne |
| Red Band Society | 2014-2015 | TV Series | Hunter |
| Ouija | 2014/II | | Trevor |
| Stalker | 2014 | TV Series | Eric Bates |
| Delirium | 2014 | TV Movie | Alex Sheathes |
| Blue | 2014 | TV Series | Daren |
| The Secret Life of the American Teenager | 2008-2013 | TV Series | Ricky Underwood |
Self
| Title | Year | Status | Character |
| --- | --- | --- | --- |
| Ouija: Adapting the Fear | 2015 | Video documentary short | Himself |
| Entertainment Tonight | 2014 | TV Series | Himself - Ouija |
| Teen Choice Awards 2010 | 2010 | TV Special | Himself - Presenter |
| 2010 MuchMusic Video Awards | 2010 | TV Special | Himself |
| The Teen Choice Awards 2009 | 2009 | TV Special | Himself |
| The Tyra Banks Show | 2009 | TV Series | Himself |
| The Teen Choice Awards 2008 | 2008 | TV Special | Himself |
Archive Footage
| Title | Year | Status | Character |
| --- | --- | --- | --- |
| Entertainment Tonight | 2014 | TV Series | Himself - Ouija |
Awards
Won Awards
| Year | Award | Ceremony | Nomination | Movie |
| --- | --- | --- | --- | --- |
| 2009 | Teen Choice Award | Teen Choice Awards | Choice Summer TV Star: Male | The Secret Life of the American Teenager (2008) |
Nominated Awards
| Year | Award | Ceremony | Nomination | Movie |
| --- | --- | --- | --- | --- |
| 2012 | Teen Choice Award | Teen Choice Awards | Choice Summer TV Star: Male | The Secret Life of the American Teenager (2008) |
| 2011 | Teen Choice Award | Teen Choice Awards | Choice TV Actor: Drama | The Secret Life of the American Teenager (2008) |
| 2010 | Teen Choice Award | Teen Choice Awards | Choice TV Actor: Drama | The Secret Life of the American Teenager (2008) |
| 2010 | Teen Choice Award | Teen Choice Awards | Choice Summer TV Star: Male | The Secret Life of the American Teenager (2008) |
| 2009 | Teen Choice Award | Teen Choice Awards | Choice TV Breakout Star: Male | The Secret Life of the American Teenager (2008) |
Source:
IMDb
,
Wikipedia