• Bolo Yeng was born in 1946 in Guangzhou, China
• He is a martial artist, actor, and former competitive bodybuilder
• He has a net worth estimated to be over $1.5 million
• He gained recognition for his role in "Enter the Dragon" with Bruce Lee and "Bloodsport" with Jean-Claude Van Damme
• He is married and has two sons and a daughter, and continues to practice Tai Chi and Wing Chun

Known for movies
Short Info
| | |
| --- | --- |
| Date Of Birth | July 3, 1946 |
| Mark | Huge pectoral muscles |
| Fact | He first became Bodybuilding Teacher in the 1960s. |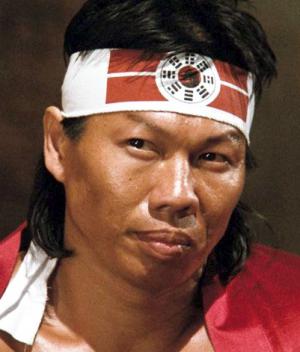 Who is Bolo Yeung?
Yang Sze was born on 3 July 1946, in Guangzhou, Guangdong, China. He is a martial artist, actor, and former competitive bodybuilder, best known for his villainous role in the Bruce Lee film "Enter the Dragon", in which he portrayed Bolo. He later collaborated with Jean-Claude Van Damme in the film "Bloodsport".
The Riches of Bolo Yeung
As of early-2020, Bolo Yeung has a net worth estimated to be over $1.5 million, earned through a successful career in acting. While he's had numerous roles in Hollywood, he also achieved success in bodybuilding, and has had work as a martial arts trainer which has helped in building his wealth.
Early Life
Bolo grew up in Guangzhou, the son of a local businessman. At a young age he became very interested in kung fu, and studied under several masters in his locality. This eventually led to his love for tai chi, a martial art known for its meditation and health benefits – while it is often depicted as an exercise practice for elderly people, the martial art is also known for its ability to be used in combat. Tai chi focuses on defense, with many of its practitioners learning to use enemy attacks and momentum against them. Over the years, many forms of tai chi have been developed, though its origins trace back to the Chen village and the oldest form of tai chi.
During the rise of communism in China, human rights violations and violence were found all around. To escape from any judgment, Bolo took an opportunity to go to a part of China nearest to Hong Kong, where he could swim across the perilous area known as the Deep Bay. Many Chinamen resorted to this effort to try and escape, with some of them succeeding and finding a new home in Hong Kong.
Body Building and Career Beginnings
While living and working in Hong Kong, Bolo developed a love for bodybuilding, and became a frequent visitor at a local gym.
He quickly developed a massive physique, and competed in bodybuilding competitions in the locality. He eventually won the Mr. Hong Kong contest which is held to determine the competitor for Mr. World. His large physique led him to be noticed by several film producers, and his earliest collaborations were with the largest Hong Kong film production company, Shaw Brothers.
During this period he appeared in several films, mostly portraying a villain, including "Angry Guest", "The Deadly Duo", and "The Heroic Ones". After leaving the company, he did a bit of commercial work, and while filming for an ad for Winston cigarettes would meet fellow martial artist Bruce Lee.
At the time, Lee was starting to become popular in the film industry as well, thanks to his martial arts prowess and the rise of popularity of kung fu films. The two became friends, and this would eventually lead to Bolo's international breakthrough.
Enter the Dragon and Further Success
Yeung's friendship with Bruce Lee would lead him to become the student of the famed martial artist. He enjoyed Lee's martial arts philosophy of trying various styles, using what was necessary and discarding what was not useful.
His physique combined with his passion reached out to Lee, and soon he was asked to become a part of his film "Enter the Dragon", which would be one of Lee's most iconic film projects. The film was released a month after Bruce's death, and was highly successful in the box office – it's considered one of the best martial arts films of all time.
Along with Lee, many other martial artists gained recognition from the film including Leung. A few years after Lee's death, he mentioned how it was an honor that he was able to become a friend with a man like Bruce Lee, as there will never be anyone else like him.
As the decade progressed, he gained more film projects, mostly in villainous role.
Later Career
It wasn't until the film "Bloodsport" in 1988 that he continued to make a name for himself, working alongside Jean-Claude Van Damme. Playing the role of Chong Li, Bolo also formed a close friendship with Van Damme. The film was also very successful at the box office, and is one of Jean-Claude's earliest starring roles which established him in mainstream cinema. He later recommended Bolo to work with him in the film "Double Impact", set in East Asia with director Sheldon Lettich at the helm.
Afterward, he experienced a bit of difficulty as he wasn't able to frequent the US due to the lack of support. He was originally set to move to the US with Bruce Lee, but due to the latter's death, it took him over a decade before he was able to take on roles more consistently.
He eventually met and befriended director Jalal Merhi, who would cast him in his debut film "Fearless Tiger", and the two continued to collaborate in "Tiger Claws" and "TC 2000". In the later part of his career, he started taking less film work, appearing in a few independent features from time to time. He made a rare appearance as a protagonist in the film "Blizhniy Boy: The Ultimate Fighter".
He also appeared in the show "Warrior" produced by Cinemax, a project created from the initial writings of Bruce Lee, planning a television show.
Personal Life
Bolo is married though he doesn't talk a lot about his relationship, and keeps her identity seceret, although they have two sons and a aughter. While he is long retired from competitive bodybuilding, he remains very active within the scene as a part of the Hong Kong Gym Business Association and the Taipei International Bodybuilders Squad. He continues to stay fit even in his 70s and practices Tai Chi consistently. He even learned Wing Chun, the martial art that was popularized by both Bruce Lee and his master Ip Man.
General Info
| | |
| --- | --- |
| Full Name | Bolo Yeung |
| Date Of Birth | July 3, 1946 |
| Height | 1.68 m |
| Profession | Actor, Bodybuilder |
| Nationality | Chinese |
Family
| | |
| --- | --- |
| Children | Danny Yeung, David Yeung, Debbra Yeung |
Accomplishments
| | |
| --- | --- |
| Movies | Bloodsport, Enter the Dragon, Double Impact, Bloodfight, Shootfighter: Fight to the Death, Ironheart, Tiger Claws, TC 2000, Breathing Fire, Shootfighter 2, Legacy of Rage, Bruce Le's Greatest Revenge, The Clones of Bruce Lee, Enter the Game of Death, Wu-Tang Clan Presents: 10 Magnificent Killers, Fe... |
| TV Shows | G-Men '75 |
Social profile links
Marks
| # | Marks / Signs |
| --- | --- |
| 1 | Huge pectoral muscles |
Quotes
| # | Quote |
| --- | --- |
| 1 | I have always been happy being the bad guy. |
| 2 | It's work, whether I'm the hero or the villain. I'm not a kid anymore, where nervousness keeps me from sleeping. |
| 3 | Why do we always defend? Tai Chi never actively attacks. The art of war says "Retreating when the enemy advances". |
| 4 | Among those people who have religion, there are small proportions of people who do good things but conditionally. They are opportunists. The reason why they do good things is the fear of the hell and the desire for the heaven. This kind of person may not necessarily still do good things if there is no heaven or hell. This kind of person made the meaning of people into data. A lot of things are screwy now. Confucianism nearly disappeared. Taoism became the tool to tell geomantic omen. Even the Buddhism temple is became a profiting organization. There are even more. But I don't think I would like to talk about it anymore. |
| 5 | Durning the filming of Enter the Dragon, Bruce and I worked very closely on technique training. We experimented, trying to decide what worked and what wouldn't. You see, Bruce was always learning, always experimenting, always changing. |
| 6 | I realize I'm still very popular with audiences and that's makes me very happy. I think that all started with Bruce Lee and Enter the Dragon. All the fans and audiences from 20 years ago still remember Bruce lee as the biggest star. They still have not found anyone to take his place. Also, it helped to work with Jean Claude Van Damme on his movies. Like Bruce lee, Jean-Claude offered a special package, a unique look that attracted and kept audiences coming back. |
| 7 | I know what is good for me as an actor. Because of the way I look, that is what I am going to be a success in. I know my place in movies; no matter how good an actor is, if he doesn't know his place in the movies he will never be successful. |
| 8 | There are plenty of times people will come up to me for an autograph and tell me they enjoyed my work on Enter the Dragon. But people just know me from the movie, they don't really know who I am. |
| 9 | I had the opportunity to come to America back in 1973. The plans were all made and everything. Then Bruce died, and everything fell through. So I'm getting here 17 years late. Maybe I'm little old now, but that's no problem. |
Facts
| # | Fact |
| --- | --- |
| 1 | He still lives in Monterey Park and regularly trains at his local gym. [2010] |
| 2 | He currently lives in Monterey Park which is a city in Los Angeles, California. [2007] |
| 3 | His best "dead lift" exceeded 700lbs. |
| 4 | In 2007 he played a good guy role in "Blizhniy Boy:The Ultimate Fighter" but this movie is still not released because legal issues. |
| 5 | Bolo retains the barbell Bruce Lee kept in his Golden Harvest office along with a rare business card from Lee's Hong Kong production company concord. |
| 6 | He quan (1979) was his favorite film from that era. |
| 7 | He was wrongly described in the films blurb for Enter the Dragon as being the south east Asian shotokon karate champion - he never even practiced that martial art. |
| 8 | Was good Friends with Bruce Lee and they would sometimes get together to train or discuss Kung Fu. |
| 9 | Also trained in Wing Chun which is another form of Kung Fu. |
| 10 | He first became Bodybuilding Teacher in the 1960s. |
| 11 | He was born to a local business man and his wife in guangzhou Suburbia which is a suburb of canton in Mainland China. |
| 12 | He is the Chairman of the Hong Kong Gym Business Association, and the Team Manager of the Tapei international Bodybuilders Squad. |
| 13 | His Hollywood breakthrough came when he landed the role of Chong Li in Bloodsport (1988). |
| 14 | Was stereotyped as a villain until he got the chance to play the good guy in Shootfighter: Fight to the Death (1993). He played the good guy in 3 more movies: Shootfighter II (1996), TC 2000 (1993), and Fearless Tiger (1991). |
| 15 | In the 1960s he swam from China to Hong Kong to escape communism. |
| 16 | Is a Weightlifter he goes to the gym La Fitness and trains alongside his son David, who is a bodybuilding champion in his own right. |
| 17 | Has two sons, Danny & David Yeung, and a daughter Debbra. |
| 18 | He is a former Mr Hong Kong Bodybuilding Champion - he won the title in 1967. and held it for ten years. He is also a former Mainland China powerlifting Champion. |
| 19 | His prefered Martial Arts is Tai-Chi. |
| 20 | Was a martial arts student of Bruce Lee. |
Movies
Actor
| Title | Year | Status | Character |
| --- | --- | --- | --- |
| The Whole World at Our Feet | 2016 | | Bulo |
| Blizhniy Boy: The Ultimate Fighter | 2007 | | Askar Trainer |
| Shootfighter II | 1996 | | Shingo |
| Tiger Claws II | 1996 | | Chong |
| TC 2000 | 1993 | | Master Sumai |
| Shootfighter: Fight to the Death | 1993 | | Shingo |
| Ironheart | 1992 | | Ice |
| Xue ran hong chen | 1992 | | The Wu Tang Swordsman |
| Tiger Claws | 1991 | | Chong |
| Fearless Tiger | 1991 | Video | Master on Mountain |
| Double Impact | 1991 | | Moon |
| Breathing Fire | 1991 | | Thunder (as Bolo Young) |
| Bloodfight | 1989 | | Chang Lee, the Vietnamese Snake |
| Yi qi liang fu | 1988 | | Dung Ken - Muscleman |
| Bloodsport | 1988 | | Chong Li |
| Piao cuo can | 1987 | | Man Standing outside cinema |
| Yong ai zhuo yi ren | 1987 | | Punk Leader |
| Bu ye tian | 1987 | | Pit Fighter |
| Legacy of Rage | 1986 | | Thug |
| Zui jia fu xing | 1986 | | Movie Patron |
| Pi li da la ba | 1986 | | Henchman |
| Shanghai Express | 1986 | | Cotton Weaver |
| Huan chang | 1985 | | Bar Customer in Green Shirt |
| Bruce Lee's Dragons Fight Back | 1985 | | |
| Da gung wong dai | 1985 | | Giant Kickboxer |
| Juk nei ho wan | 1985 | | Mrs. Tsao's Henchmen |
| Fuk sing go jiu | 1985 | | Millionaire Chan |
| Yi ren zai jian | 1984 | | Maltesa's Brother |
| Fan wan di | 1984 | as Yang Sze | |
| Supergang | 1984 | | Big King (as Yang Sze) |
| Mo | 1983 | | Mr. Bu-bo - the Thai Boxer |
| Kong xin da shao ye | 1983 | | Bo |
| Shao ye Wei Wei | 1983 | | Billion's Killer |
| Zui she xiao zi | 1982 | Guest appearance | |
| Mi quan san shi liu zhao | 1982 | | Cheungs Brother (as Yang Szu) |
| Xiong zhong | 1982 | as 'Bolo' Yang Tse | |
| Huo tóu xiao zi | 1982 | | |
| Gui ma zhi duo xing | 1981 | | Brawler in Bar |
| Fearless Hyena 3 | 1980 | | Yang Tze (as Yang Tze) |
| Shen wei san meng long | 1980 | | Martial Arts trainer (as Yang Tze) |
| Long li ji | 1980 | | |
| She xing zui bu | 1980 | | The Giant |
| Fen zhu chi lao hu | 1980 | as Szu Yang | |
| Mie jue qi qi | 1980 | | Chang / Pang (as Yang Sze) |
| He quan | 1979 | | Master Lung |
| Da Mo wu ying quan | 1979 | | |
| Diao qin shuang jue | 1979 | | |
| Super Hero | 1979 | | BurkeThe Bullkiller (as Yang Sze) |
| The Dragon, the Hero | 1979 | | |
| Wen da | 1979 | | Ah Yen (as Yang Sze) |
| Jie quan da dong kau | 1978 | | Tan Yin (as Yung Sze) |
| Way of the Dragon 2 | 1978 | | Bull (as Sze Yang) |
| The King of Kung Fu | 1978 | as Yang See | |
| Da lu qiang ren | 1978 | | |
| Meng nan da zei yan zhi hu | 1978 | | Kimura (as Yang Szu) |
| E yu tou hei sha xing | 1978 | | Ta Niu (Big Ox) (as Bolo Yung) |
| She nu yu chao | 1978 | | |
| Amsterdam Connection | 1978 | | Big Lui (as Yeung Sze) |
| Game of Death | 1978 | as Yeung See | |
| Nan yang tang ren jie | 1978 | | |
| Dragon on Fire | 1978 | Guest star as Yang Sze | |
| Huo shao shao lin men | 1978 | | |
| Bai ma hei qi | 1977 | | Bolo |
| G-Men '75 | 1977 | TV Series 1975 | |
| Da mo tie zhi gong | 1977 | | Lam Chi Chu - Jujitsu Master (as Yeung See) |
| Soul of Bruce Lee | 1977 | | Nepal (as Sze Young) |
| Jiang Nan ba da xia | 1977 | | |
| Shi da sha shou | 1977 | | Ling Chu (as Yang Szu) |
| International Assassin | 1976 | | Ram |
| Long jia jiang | 1976 | | Yang (as Yang Szu) |
| Lian ai gong fu | 1976 | | |
| Lung men bei chi | 1976 | as Young Zee | |
| Xiang Gang chao ren | 1975 | | |
| Dong kai ji | 1975 | | General Shi Hsing-Fang (as Yang Tze) |
| Shen quan fei long | 1975 | | |
| Zhan cao chu gen | 1975 | as Yung Sze | |
| Karateciler Istanbul'da | 1974 | | Mr. Yang (as Yang Sze) |
| Chi dan hao han | 1974 | as Yang Szu | |
| Tie han rou qing | 1974 | | |
| Fight! Dragon | 1974 | TV Series | |
| Za karate | 1974 | | |
| Meng hu dou kuang long | 1974 | as Yang Sze | |
| Zhao Chou quan wang | 1973 | | |
| Thunderkick | 1973 | | |
| Enter the Dragon | 1973 | | Bolo (as Yang Sze) |
| Xiao ba wang | 1973 | | Tiger (as Sze Yang) |
| Da xu hai | 1973 | | |
| Ma tou da jue dou | 1973 | | Chiang Tai (as Yang Sze) |
| Dao bing fu | 1973 | | General Tung Gou Chung (as Yang Tze) |
| Duo ming ke | 1973 | Guest star | |
| Hei ren wu | 1973 | | |
| Meng han | 1973 | as Sy Young | |
| Ying han gong fu ben | 1973 | as Sze Yang | |
| Wang ming tu | 1972 | | Master Xi's bodyguard |
| Shao nai nai de si wa | 1972 | | Prince Charming (wrestler) (as Sze Yang) |
| Qun ying hui | 1972 | | |
| Chou lian huan | 1972 | | Chin Hsi Fu (as Sze Yang) |
| The 14 Amazons | 1972 | | Hsia Boxing Champion |
| Hu lu shen xian | 1972 | | Prince Apu-hua (as Yang Szu) |
| Nian qing ren | 1972 | as Yang Sze | |
| Five Fingers of Death | 1972 | | Pa Tu-er, Mongolian Fighter |
| E ke | 1972 | as Sze Yang | |
| Wan jian chuan xin | 1971 | | Officer Shi (as Yang Sze) |
| Shuang xia | 1971 | | The river dragon of jin (as Szu Yang) |
| Xie jiu tian lao | 1971 | | Cha Te |
| Nu sha shou | 1971 | | |
| The Heroic Ones | 1970 | | General Meng Chieh Hai (as Yang Szu) |
| The Wandering Swordsman | 1970 | | 'Unicorn' Du Kuo Lung (as Yang Sze) |
Stunts
| Title | Year | Status | Character |
| --- | --- | --- | --- |
| Amsterdam Connection | 1978 | stunt coordinator | |
| Bai ma hei qi | 1977 | stunt coordinator | |
| Shi da sha shou | 1977 | stunt coordinator | |
| Zhao Chou quan wang | 1973 | stunt coordinator | |
Director
| Title | Year | Status | Character |
| --- | --- | --- | --- |
| Wen da | 1979 | | |
| Bai ma hei qi | 1977 | | |
Producer
| Title | Year | Status | Character |
| --- | --- | --- | --- |
| Shootfighter II | 1996 | associate producer | |
Production Manager
| Title | Year | Status | Character |
| --- | --- | --- | --- |
| Bai ma hei qi | 1977 | production manager | |
Self
| Title | Year | Status | Character |
| --- | --- | --- | --- |
| Jean Claude Van Damme: Behind Closed Doors | 2011 | TV Series documentary | Himself |
| The Life of Bruce Lee | 1994 | TV Movie documentary | Himself |
Archive Footage
| Title | Year | Status | Character |
| --- | --- | --- | --- |
| Blood and Steel: Making 'Enter the Dragon' | 2004 | Video documentary short | Himself / Bolo |
| Tiger Claws III | 2000 | | Chong (uncredited) |
| Jing wu ying xiong 2: Tie bao biao | 1996 | | Mongol |
| Bruce Lee's Jeet Kune Do | 1995 | Documentary | Bolo (scenes from Enter the Dragon) (uncredited) |
| Top Fighter | 1995 | Video documentary | Himself |
| The Curse of the Dragon | 1993 | Documentary | Himself (uncredited) |
| Bruce Lee and Kung Fu Mania | 1992 | Documentary | |
Source:
IMDb
,
Wikipedia