• Douglas Christopher Judge is an American actor and screenwriter, with a net worth estimated at over $3 million.
• He grew up in Los Angeles and attended the University of Oregon on a football scholarship.
• He is best known for his work in Stargate SG-1 and voicing the character Kratos in the 2018 release of the video game God of War.
• He has been married twice and is involved in various charity works.
• He enjoys playing golf and other sports in his spare time.

Known for movies
Short Info
| | |
| --- | --- |
| Date Of Birth | October 13, 1964 |
| Spouse | Gianna Patton (m. 2011), Margaret Judge (m. 1995–2011) |
| Fact | His character, "Hector", was killed by "Remiel", played by Michael Shanks, in the Andromeda (2000) episode, Andromeda: Day of Judgement, Day of Wrath (2003). In the Stargate SG-1 (1997) episode, Stargate SG-1: Moebius: Part 2 (2005), his character, "Teal'c", killed Shanks' character, "Dr. Daniel Jackson". |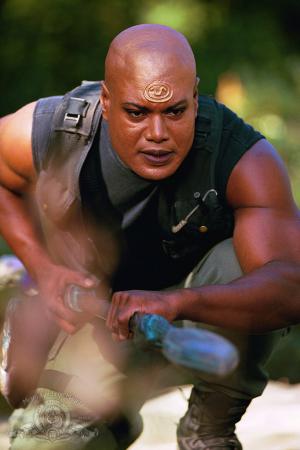 Who is Christopher Judge?
Douglas Christopher Judge was born on 13 October 1964, in Los Angeles, California, USA, and is an actor, perhaps best known for voicing the character Kratos in the 2018 release of the video game "God of War". Apart from that, he was also known for his work in the series 'Stargate SG-1" in which he played Teal'c.
The Net Worth of Christopher Judge
As of early-2020, Christopher Judge's net worth is estimated to be over $3 million, earned through a successful career as an actor, in the profession since 1990. Apart from his usual work, he also does screenwriting, having done so in "Stargate SG-1".
Early Life and Education
Christopher grew up in Los Angeles, and became aware of the entertainment industry at a young age, with his younger brother also dreaming of becoming an actor. He watched a lot of television, and realized that he wanted to be the type of person who could invoke different feelings in viewers. He also showed a bit of athletic inclination and played American Football, while also taking up drama classes in high school.
He earned a few accolades from football while playing at Carson High School, but his heart was always set on pursuing acting.
After matriculating, he enrolled at the University of Oregon under an athletic scholarship, and played for the school's football team, the Ducks during his entire college life, mostly as a safety and a defensive back. During his freshman year, he won the Casanova Award for best newcomer of the year, and continued to gain attention in the sport. After completing his degree, he participated in a radio competition in Oregon and won, leading him to host a morning show. After gaining a bit of experience, he then moved back to his hometown Los Angeles, where he signed with an agent. Apparently he never considered a professional career in football.
Acting Career and Stargate SG-1
At the onset of his acting career, Judge took classes at L.A.'s Howard Fine Studio where he developed his skills further as he sought out work in the profession. He had numerous roles in the early 1990s, appearing mostly in minor parts in projects such as "Bird on a Wire" and "MacGyver". In 1994, he got his first regular role in the television show "Sirens", which ran for a year.
In 1997, he gained one of his most notable roles when he was cast as a regular in "Stargate SG-1". He auditioned for the role after seeing his roommate practicing for an audition for the show, then contacted his agent to try and help him get an audition.
He became confident in getting the role, as he was the only one in the final reading, beating out 10 other hopefuls. The show takes place after the events of the 1994 film "Stargate", telling the story of the US government creating task forces from Earth to help explore and defend the galaxy. The show was highly successful, winning numerous awards, and creating spin-offs. Films were also created expanding the lore and the adventures of SG-1, the elite task force the show is focused on.
Writing Work and Other Projects
While working on "Stargate SG-1", Christopher had the opportunity to write several episodes, beginning from the fifth season.
After the show ended, he pursued further writing work, and even created a script for the show "Rage of Angels" which has yet to be produced. He also continued appearing as a guest in popular shows such as "The Mentalist" and "Stargate Atlantis".
Some of his most notable films in recent years include "Snow Dogs", which starred Cuba Gooding Jr. and is inspired by the Gary Paulsen book "Winterdance: The Fine Madness of Running the Iditarod". He also had a small role in the Christopher Nolan film "The Dark Knight Rises", appearing as one of the henchmen of the villain Bane. The film is the final installment of the trilogy of "The Dark Knight" films, Nolan's take on the popular DC character Batman.
The show received a lot of praise, and became one of the highest-grossing films of all time.
Voice Acting
Judge developed an interest in voice acting at around the same time he began working on "Stargate SG-1". A few of his earliest projects include "X-Men: Evolution" in which he voiced the Marvel character Magneto and the video game "Turok" in which he voiced Jericho. He also voiced Piccolo in "Dragonball: Evolution", and the antagonist of the game "Def Jam Vendetta", reprising his role in "Def Jam: Fight for NY".
In 2016, he contributed his voice to the video game "God of War", and revealed that he was replacing Terrence C. Carlson for the voice of Kratos.
The game is a continuation of the highly successful "God of War" trilogy, which saw Kratos fight against various creatures and gods of Greek mythology. This revival continues the story, seeing Kratos live in a world of Norse mythology, where he hides from his past while raising a boy who is unaware of his father's divine nature. The game received high praise and near-universal acclaim for its various features. Many praised its story, narration, characters, music, and its new take on the franchise with a revamped combat system. The game became the highest rated in the entire series, and was awarded as Game of the Year by numerous high profile publications.
It elevated his career significantly as a voice acting talent, making him one of the most highly sought after voice actors of recent years.
Personal Life
Christopher married model Margaret Schinke in 1995, and they stayed together for 16 years, having three children, all of whom pursued careers in professional sports or fitness. They separated for a long time before finalizing their divorce in 2011, and shortly after which he remarried Gianna Patton, and they have a child together.
When not busy with acting projects, he loves playing golf, and also does charity work. He collaborates often with the Boys & Girls Clubs of Canada, which promotes various programs for the well-being of people living across the country.
General Info
| | |
| --- | --- |
| Full Name | Christopher Judge |
| Date Of Birth | October 13, 1964 |
| Height | 1.91 m |
| Weight | 109 kg |
| Profession | Screenwriter, Voice Actor |
| Education | University of Oregon |
| Nationality | American |
Family
| | |
| --- | --- |
| Spouse | Gianna Patton (m. 2011), Margaret Judge (m. 1995–2011) |
| Children | Cameron Judge, Catrina Christine Judge, Chloe Judge |
| Siblings | Jeff Judge |
Accomplishments
| | |
| --- | --- |
| Movies | Stargate: The Ark of Truth, Stargate: Continuum, The Dark Knight Rises, Mega Shark Versus Mecha Shark, Clash of the Empires, Snow Dogs, Dead Space: Aftermath, A Dog's Breakfast, LA Apocalypse, A Tiger's Tail, Bird on a Wire, Sharknado 3: Oh Hell No!, Max Steel: Bio Crisis, Out of Line, Paradox, Cade... |
| TV Shows | Stargate Atlantis, Stargate SG-1, He-Man and the Masters of the Universe, X-Men: Evolution, Action Man, Sk8, Sirens |
Social profile links
Quotes
| # | Quote |
| --- | --- |
| 1 | (When asked about his inspiration growing up) "My number one inspiration was my mother. She worked two jobs and had breakfast and dinner prepared. I essentially called my mother, The Lion. She's fierce and she's proud. I'd like to think some of that rubbed off on me. In the film industry, Sidney Poitier, in a broader sense, Muhammad Ali. He put his beliefs above any monetary value. That's why his celebrity has never waned. Movies, TV, sports, come and go, but what you stand for is what people remember. Mandela, Martin Luther King, John Kennedy are people who really stood for something and were willing to die for it. You don't see a whole lot of that any more." |
| 2 | (When asked about what advice he would give people interested in the acting field) "The advice that I can give anyone wanting to be in the biz: do all the work, learn your craft. There are no shortcuts. If you stay with it, you will get an opportunity. Whether you make the most of an opportunity depends on if you are prepared. Learn your craft, every aspect of it. Eat it, drink it, sleep it, then when you are the most prepared, you can make the most of it." |
Facts
| # | Fact |
| --- | --- |
| 1 | He is of African and Cherokee ancestry. |
| 2 | According to the DVD commentary for Stargate SG-1 (1997) Season 3, while filming the episode, _"Stargate SG-1" (1997) {Urgo (#3.16)_, Judge found guest star Dom DeLuise so hilarious, it proved nearly impossible for him to maintain a straight face around DeLuise while cameras were rolling, mainly due to DeLuise's constant improvising on the set, which was something of an issue, given the normally stone-faced, stoic demeanor of Judge's character, "Teal'c". As such, everyone agreed to scale back the scenes involving Teal'c, giving many of his character's lines to other cast members. |
| 3 | Of the four original "Stargate SG-1" team members from the hit sci-fi series Stargate SG-1 (1997), he appeared in the most episodes (212). Amanda Tapping was in 207 episodes, Michael Shanks was in 197 and Richard Dean Anderson only appeared in 175. |
| 4 | Christopher is his mother's maiden name. |
| 5 | Brother-in-law of actress Erica Durance. |
| 6 | Brother of Jeff Judge. |
| 7 | His fiancée, actress/model Gianna Patton, gave birth to their first child, a girl Chloe. [February 2005] |
| 8 | His character, "Hector", was killed by "Remiel", played by Michael Shanks, in the Andromeda (2000) episode, Andromeda: Day of Judgement, Day of Wrath (2003). In the Stargate SG-1 (1997) episode, Stargate SG-1: Moebius: Part 2 (2005), his character, "Teal'c", killed Shanks' character, "Dr. Daniel Jackson". |
| 9 | Of the five original Stargate SG-1 (1997) regulars, he is the only one who did not appear in the first season of the spin-off series Stargate: Atlantis (2004). |
| 10 | His best friend is Stargate SG-1 (1997) co-star Michael Shanks. |
| 11 | Studied Drama at the renowned Howard Fine Studio in Los Angeles. |
| 12 | Attended the University of Oregon on a football scholarship. Studied telecommunications and film. He played defensive safety and played in the Hula Bowl his senior year. |
| 13 | During college, he entered a contest to host the West Coast FOX KLSR Morning Show. His five minute dialogue won. |
| 14 | Father, with Margaret Judge (nee Margaret Schinke), of Cameron Judge, Christopher Judge and Catrina Judge, and with Gianna Patton, of Chloe Judge. |
Pictures
Movies
Actor
| Title | Year | Status | Character |
| --- | --- | --- | --- |
| Out of Line | 2001 | | Alfonso James |
| Action Man | 2000-2001 | TV Series | Simon Grey |
| Freedom | 2001 | TV Series | Doctor Roeg |
| First Wave | 2001 | TV Series | Xevallah |
| Adventures from the Book of Virtues | 2000 | TV Series | Plato |
| The Fresh Prince of Bel-Air | 1995 | TV Series | Workman |
| Sirens | 1994-1995 | TV Series | Off. Richard Stiles |
| House Party 2 | 1991 | | Miles (as D. Christopher Judge) |
| Cadence | 1990 | | Psych. Ward M.P. #1 (as Douglas Judge) |
| Bird on a Wire | 1990 | | Cop at Cafe (as Doug Judge) |
| Booker | 1990 | TV Series | Jones / Mover |
| 21 Jump Street | 1990 | TV Series | Man in Queue |
| MacGyver | 1990 | TV Series | Deron |
| Neon Rider | 1990 | TV Series | |
| God of War | 2017 | Video Game filming | Kratos (voice) |
| Minutes to Midnight | 2017 | completed | Ranger Taso |
| Nobility | 2016 | completed | Admiral Nev |
| Lowlifes | 2017 | | Commander Randall |
| Alternate Realities | 2015 | | Professor Ernstrom |
| Before the Border | 2015 | | Bear |
| Sharknado 3: Oh Hell No! | 2015 | TV Movie | Lead Agent Vodel |
| LA Apocalypse | 2015 | | Lieutenant Grisham |
| To Have and to Hold | 2015/I | | Sampson |
| Wraith | 2014/II | Short | Wraith (voice) |
| World of Warcraft: Warlords of Draenor | 2014 | Video Game voice | |
| Reaper | 2014/I | | Officer Banks |
| Knock 'em Dead | 2014 | | Freddy |
| A Tiger's Tail | 2014 | | Joe Camp |
| Mega Shark vs. Mecha Shark | 2014 | | Jack Turner |
| Smokin' | 2013 | Short | Jim |
| Stargate SG-1: Unleashed | 2013 | Video Game | Teal'c (voice) |
| Clash of the Empires | 2012 | Video | Amthar |
| The Dark Knight Rises | 2012 | | Mercenary Security #4 |
| The Mentalist | 2012 | TV Series | Dante Holmes |
| Rehab | 2011 | | Charles |
| Dead Space: Aftermath | 2011 | Video | Nickolas Kuttner (voice) |
| Paradox | 2010/I | | Captain Papillo |
| NCIS: Los Angeles | 2010 | TV Series | Assan Refiq |
| Stargate SG-1: Children of the Gods - Final Cut | 2009 | Video | Teal'c |
| Max Steel: Bio Crisis | 2008 | Video | Jefferson (voice) |
| Stargate: Continuum | 2008 | Video | Teal'c |
| Stargate: The Ark of Truth | 2008 | Video | Teal'c |
| Stargate: Atlantis | 2007-2008 | TV Series | Teal'c |
| Turok | 2008 | Video Game | Jericho (voice, as Chris Judge) |
| A Dog's Breakfast | 2007 | | Chris |
| Personal Effects | 2005 | TV Movie | Nate Wall |
| Def Jam Fight for NY | 2004 | Video Game | D-Mob (voice, as Chris Judge) |
| Masters of the Universe vs. the Snake Men | 2003-2004 | TV Series | Zodak / Zeelahr |
| X-Men: Evolution | 2000-2003 | TV Series | Magneto Magnus |
| Andromeda | 2002-2003 | TV Series | Hector Resolution of Hector Achilles Avatar |
| Def Jam Vendetta | 2003 | Video Game | D-Mob (voice) |
| Just Cause | 2002 | TV Series | Reverend Lester Stokes |
| Romantic Comedy 101 | 2002 | TV Movie | Nigel |
| Snow Dogs | 2002 | | Dr. Brooks |
Writer
| Title | Year | Status | Character |
| --- | --- | --- | --- |
| Stargate SG-1 | | TV Series written by - 3 episodes, 2003 - 2004 story by - 1 episode, 2002 | |
Thanks
| Title | Year | Status | Character |
| --- | --- | --- | --- |
| Def Jam Fight for NY | 2004 | Video Game thanks: EA - as Chris Judge | |
Self
| Title | Year | Status | Character |
| --- | --- | --- | --- |
| e-Life | | Documentary post-production | Himself - Narrator (rumored) |
| Bombshell Bytes | 2015 | TV Series | Himself |
| Syfy 20th Anniversary Special | 2012 | TV Special documentary | Himself |
| Hollywood Treasure | 2010 | TV Series | Himself |
| The 7PM Project | 2010 | TV Series | Himself |
| The Jace Hall Show | 2010 | TV Series | Himself |
| FedCon XVIII: The Golden Future | 2009 | Documentary | Himself |
| Behind the Mythology of Stargate SG-1 | 2007 | TV Movie documentary | Himself |
| Sci Fi Inside: Stargate SG-1 200th Episode | 2006 | TV Movie documentary | Himself |
| Sci Fi Inside: Sci Fi Friday | 2005 | TV Movie documentary | Himself / Teal'c |
| 05 Spaceys | 2005 | TV Special | Himself |
| 2nd Annual Spaceys | 2004 | TV Special | Himself |
| From Stargate to Atlantis: Sci Fi Lowdown | 2004 | TV Movie documentary | Himself / Teal'c |
| 1st Annual Spaceys | 2003 | TV Movie | Himself |
| Stargate: The Lowdown | 2003 | TV Movie documentary | Himself - Host |
Archive Footage
| Title | Year | Status | Character |
| --- | --- | --- | --- |
| Fanboys | 2009 | | Teal'c (uncredited) |
| Sci Fi Lowdown: Behind the Stargate - Secrets Revealed | 2005 | TV Movie documentary | Himself / Teal'c |
| Stargate SG-1 | 2003-2004 | TV Series | Teal'c |
Awards
Nominated Awards
| Year | Award | Ceremony | Nomination | Movie |
| --- | --- | --- | --- | --- |
| 2002 | Saturn Award | Academy of Science Fiction, Fantasy & Horror Films, USA | Best Supporting Actor in a Television Series | Stargate SG-1 (1997) |
Source:
IMDb
,
Wikipedia