• American comedian-actor, sports anchor, and television host
• Born in 1962 in Kansas City, Missouri
• Attended Montana State University, graduating with dual Bachelor's degrees in Media and Theatre Arts
• Started career in radio, then became a sports anchor for ESPN's "SportsCenter"
• Hosted Comedy Central's "The Daily Show" for three years
• Hosted CBS's "The Late Late Show" for five seasons
• Starred in several movies and appeared in various TV specials
• Net worth estimated to be over $7 million

Known for movies
Short Info
| | |
| --- | --- |
| Net Worth | $7 million |
| Date Of Birth | August 24, 1962 |
| Mark | Towering height |
| Fact | Big fan of Minnesota Timberwolves, especially Kevin Garnett. |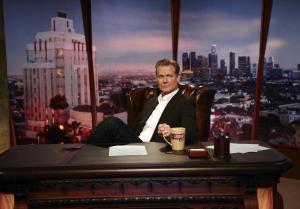 Craig Kilborn is an American comedian-actor, sports anchor, and television host, who is best known for his poker-faced dry delivery of comedic lines, for his hosting style on "The Late Late Show" that aired on CBS in the early part of 2000's, and for being a former "SportsCenter" anchor on ESPN.
Early Life and Family
Craig Lawrence "Kilby" Kilborn was born on 24 August 1962, in Kansas City, Missouri, USA to parents Hiram Kilborn, who was an insurance executive, and Shirley Kilborn, a former teacher. From age five onwards, he and his brother, Chris, were raised in Hastings when his father decided to move to Minnesota.
Growing up, he was tall for his age and would use this advantage on the basketball court instead of the city's much favored sport of hockey. He would always find his taste a little bit different from his hometown peers even at a young age, including listening to the timeless voice of Nat King Cole instead of the young Reo Speedwagon, or preferring to devour blue cheese over popular candies such as Milky Way and M&M which were made in Hastings. From an interview with Los Angeles Times, he said that 'Yes, I had a very happy childhood, and it's only intensified as an adult. At some point I mastered the art of living.'
He loved the times he spent watching "Firing Line," a public affairs TV show hosted by William F. Buckley Jr., with his father, and was the reason why he was never stirred up by political humor or social commentaries. He said he'd like his politics to come from intellectual people not amateurs.
Education
He matriculated from Hastings High School where he played excellent basketball, and was given a college scholarship at Montana State University from where he graduated in 1984 with dual Bachelor's degrees in Media and Theatre Arts.
Career
First Step
Craig started his career in radio by doing the play-by-play commentary in 1986, for CBA's Savannah Spirit's games that lasted until 1987. Then he moved to television and debuted in one of Fox's affiliate television station KCBA in Salinas, serving the Monterey County locals in California as a sports anchor.
Further Success
In 1993, he became a sports anchor in ESPN's "SportsCenter" until 1996, where he became known for his iconic catch phrases such as 'The Feel Good Edition,' 'Oh, Precious,' and 'Release, Rotation, Splash.'
Craig left the world of sports and turned to late night show TV hosting. In 1996, he was the host of Comedy Central's "The Daily Show" which he ran for three years. He created several segments for the show, including "Dance, Dance, Dance," "5 Questions," and "Moment for Us," which became popular and were used by future hosts of the show. It earned him an Outstanding Entertainment Host nomination from the Cable ACE Award, and his late night show was declared the Best Late Comedy by the American magazine TV Guide.
When CBS offered him a hosting job, replacing Tom Snyder for "The Late Late Show," which would be aired right after "Late Show with David Letterman," he immediately accepted, and left "The Daily Show" in 1998 after hosting 386 episodes.  Craig started hosting it in March of 1999, and was filmed in Studio 58 for the next five seasons until he elected not to renew his contract, leaving everyone bewildered by his decision. The show was popular and was the peak of his career; he created many iconic segments which were fan favorites, such as "Five Questions," "Yambo," and "What's Up." He left the show in August of 2004.
Craig took some time off from doing television, but took part in some movies, including the remake of Walt Disney's "The Shaggy Dog" with Tim Allen, Robert Downey Jr., and Kristin Davis in 2006, "The Benchwarmers" with Rob Schneider and David Spade in 2006, and "Full of It" with Kate Mara and Ryan Pinkston released in 2007.
After being gone from television for six years, Craig returned to the small screen, and started a new show called "The Kilborn File," which was aired on Fox. However, it didn't pass beyond the six-week test run given for TV shows with a primetime slot, and was cancelled immediately after the 30th episode. The show wasn't positively received by viewers and critics alike.
Craig did some voice acting for an episode in "BoJack Horseman," an adult comedy cartoon series in 2015, and appeared in an episode in the series "Workaholics," a comedy series aired on Comedy Central in 2017. He also had supporting roles in a couple of movies, including "The Extendables," a parody of Sylvester Stallone's "The Expendables" in 2014, and in "The Bronze," a sports-comedy-drama in 2015.
He was not part of any regular TV show after the "The Kilborn File" was cancelled, and was rarely seen except for a few guest appearances during TV specials including Jon Stewart's final "Daily Show with Jon Stewart" in 2015, and "The Rich Eisen Show" interview for the 40th anniversary of ESPN in 2019.
Interesting Facts
When he did not renew his contract with CBS "Late Late Show," all kinds of speculation was aired. One of them was money issues, as one producer claimed that he was asking for more. Another one said that Craig grew tired when things don't go his way with the formatting of the show. Craig broke his silence by saying he was tired of the comedy of the late night show and the demand of making social commentaries which he didn't want to do.
He enjoyed his early retirement easily, and adapted to it smoothly by renovating his 1920's mansion. His Instagram account which he opened in August of 2018 delighted many of his fans, who said it was like watching the vintage Kilby again.
Craig was rumored to be gay as he would never share details of his personal life or his sexual preference. There was one time it was said that after divorcing his first wife, he married himself and went to Catalina Island for a honeymoon, masturbating the whole week. His comedic monologues would spark up discussions among fans if it were true or not. The rumor died down when it was revealed that he married again.
Personal Life
Little else is known about his personal life, except that he married his personal trainer Erin O'Brien and has a son, Sheppard O'Brien, and a daughter, Malin O'Brien, with her. He was also married to former model-actress Amber Smith in 1998 but they divorced in 2002 after having a son, Jonathan, way before they were married.
Appearance
Lewis is 6ft 5ins. (1.96m) tall and weighs 190lbs (86kgs). He is of Scottish descent, with blonde hair and hazel brown eyes.
Net worth
According to sources, Craig Kilborn has an estimated net worth of over $7 million as of June 2020.
General Info
| | |
| --- | --- |
| Full Name | Craig Kilborn |
| Net Worth | $7 million |
| Date Of Birth | August 24, 1962 |
| Height | 1.96 m |
| Profession | Screenwriter, Television producer, Comedian, Talk show host, Actor |
| Education | Montana State University |
| Nationality | American |
Family
| | |
| --- | --- |
| Children | Jonathan Kilborn |
| Parents | Hiram Kilborn, Shirley Kilborn |
Accomplishments
| | |
| --- | --- |
| Movies | The Extendables, Full of It, The Benchwarmers, The Shaggy Dog, Old School |
| TV Shows | The Late Late Show with Craig Kilborn, The Late Late Show with Tom Snyder, The Daily Show, The Kilborn File, Where's Elvis This Week? |
Social profile links
Marks
| # | Marks / Signs |
| --- | --- |
| 1 | Towering height |
Quotes
| # | Quote |
| --- | --- |
| 1 | There are misconceptions that could stay with you for a long time or they'll go away. It's more the responsibility of the critic to watch the show and figure it out. It's no skin off my back. I've always had thick skin, but I'll tell you, it's a lot thicker than it used to be. |
| 2 | "I was a slow white player, and I still am." - Describing his college basketball career at Montana State University. |
| 3 | In my issue, the ink will be glow-in-the-dark, so all the boy bands can read it on the closet. - On guest-editing the September, 2001 issue of Gear magazine |
Facts
| # | Fact |
| --- | --- |
| 1 | Leaving his Late Late Show to "try other things" such as writing and producing television shows. Presumably will also continue to dabble in acting. [September 2004] |
| 2 | The character of Casey McCall in Sports Night (1998) was loosely based on him. |
| 3 | Last name is traditionally pronounced "Kil-burn," but in the US it is commonly pronounced "Kil-born." He has addressed this on the show with Irish guests. |
| 4 | Has a son, Jonathan, born in 1987. |
| 5 | Big fan of Minnesota Timberwolves, especially Kevin Garnett. |
| 6 | Played collegiate basketball for Montana State University. |
| 7 | Replaced Tom Snyder as host on the Late Late show in 1999. Was replaced by Craig Ferguson in 2005. |
Pictures
Movies
Writer
| Title | Year | Status | Character |
| --- | --- | --- | --- |
| The Kilborn File | | TV Series writer - 3 episodes, 2010 written by - 1 episode, 2010 | |
| The Late Late Show with Craig Kilborn | 1999-2004 | TV Series writer - 524 episodes | |
| CBS' Super Bowl Uncensored | 2001 | TV Special | |
| The Daily Show | 1996-1998 | TV Series writer - 386 episodes | |
| The Daily Show Year-End Spectacular '98 | 1998 | TV Special | |
| Stephen Colbert Across America | 1998 | TV Special writer | |
| When Animals Go on TV | 1998 | TV Special writer | |
| The Daily Show Beach House | 1998 | TV Special writer | |
| Weirder Than Whitney | 1998 | TV Special writer | |
| The Beth Littleford Interview Special | 1998 | TV Special writer | |
| The Daily Show Guide to Home Video | 1998 | TV Special writer | |
| The Daily Show Year-End Spectacular '97 | 1997 | TV Special writer | |
Actor
| Title | Year | Status | Character |
| --- | --- | --- | --- |
| BoJack Horseman | 2015 | TV Series | Michael Morgan |
| The Bronze | 2015 | | Heath Parker |
| The Extendables | 2014 | | Kilborn |
| Chuck | 2011 | TV Series | Roger Bale |
| Full of It | 2007 | | Mike Hanbo |
| The Benchwarmers | 2006 | | Jerry |
| The Shaggy Dog | 2006 | | Baxter |
| Cursed | 2005 | | Craig Kilborn |
| Old School | 2003 | | Mark |
| Pauly Shore Is Dead | 2003 | | Craig Kilborn (as Craig Killborn) |
| JAG | 2000 | TV Series | Craig Kilborn |
| Martial Law | 1999 | TV Series | Lewis |
| The Bold and the Beautiful | 1999 | TV Series | Nurse |
Producer
| Title | Year | Status | Character |
| --- | --- | --- | --- |
| The Kilborn File | 2010 | TV Series executive producer - 3 episodes | |
Self
| Title | Year | Status | Character |
| --- | --- | --- | --- |
| The Daily Show | 1996-2015 | TV Series | Himself - Host / Himself |
| Celebrity Ghost Stories | 2013 | TV Series documentary | Himself |
| The Tonight Show with Jay Leno | 2010 | TV Series | Himself |
| The Kilborn File | 2010 | TV Series | Himself - Host |
| The Battle for Late Night | 2010 | TV Movie documentary | Himself |
| Pittsburgh | 2006 | | Himself |
| The Late Late Show with Craig Kilborn | 1999-2004 | TV Series | Himself - Host |
| Now | 2004 | TV Series documentary | Himself |
| Rocked with Gina Gershon | 2004 | TV Series documentary | Himself |
| CBS at 75 | 2003 | TV Special documentary | Himself |
| Late Show with David Letterman | 1997-2003 | TV Series | Himself / Himself - Guest |
| 'Old School' Orientation | 2003 | Video short | Himself |
| Uncensored Comedy: That's Not Funny! | 2003 | TV Movie documentary | Himself (uncredited) |
| Resurrection Blvd. | 2002 | TV Series | Himself |
| The Hamptons | 2002 | TV Mini-Series documentary | Himself |
| CBS: 50 Years from Television City | 2002 | TV Movie | Himself |
| The 27th Annual People's Choice Awards | 2001 | TV Special | Himself |
| Yes, Dear | 2001 | TV Series | Himself |
| 3rd Annual TV Guide Awards | 2001 | TV Special | Himself - Host |
| CBS Cares | 2001 | TV Series | Himself |
| The 26th Annual People's Choice Awards | 2000 | TV Special | Himself - Presenter: Favorite Musical Group or Band |
| The Daily Show Year-End Spectacular '98 | 1998 | TV Special | Himself |
| The Daily Show Beach House | 1998 | TV Special | Himself |
| The 19th Annual CableACE Awards | 1997 | TV Special | Himself |
| The Daily Show Year-End Spectacular '97 | 1997 | TV Special | Himself |
| Where's Elvis This Week? | 1996 | TV Series | Himself |
| SportsCenter | 1979 | TV Series | Himself (1993-1997) |
Archive Footage
| Title | Year | Status | Character |
| --- | --- | --- | --- |
| 30 for 30 | 2010 | TV Series documentary | Himself |
| Playboy: Inside the Playboy Mansion | 2002 | TV Movie documentary | Himself |
Awards
Nominated Awards
| Year | Award | Ceremony | Nomination | Movie |
| --- | --- | --- | --- | --- |
| 1997 | CableACE | CableACE Awards | Entertainment Host | The Daily Show (1996) |
Source:
IMDb
,
Wikipedia