• Peter Ostrum is a former actor turned veterinarian with an estimated net worth of $500,000
• He is best known for his work in the 1971 film "Willy Wonka & the Chocolate Factory"
• He declined a three-film contract to pursue veterinary medicine at Cornell University
• He has been a managing partner for Dairy Health & Management Services, and has appeared in "Veterinarians on Call"
• He is married and has two children, one of whom is also an actor

Known for movies
Short Info
| | |
| --- | --- |
| Net Worth | $500 thousand |
| Date Of Birth | November 1, 1957 |
| Spouse | Loretta Ostrum |
| Fact | Attended North Hunterdon Regional High School in Annandale, New Jersey. |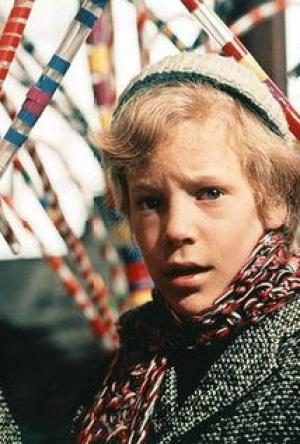 Who is Peter Ostrum?
Peter Gardner Ostrum was born on 1 November 1957, in Dallas, Texas, USA, and is a former actor turned veterinarian, best known for his work in the 1971 film "Willy Wonka & the Chocolate Factory". Despite being in only one film during his career, his role had a profound impact at the time.
The Net Worth of Peter Ostrum
As of early-2020, Peter Ostrum's net worth is estimated to be over $500,000, earned through success in his various endeavors.
While he did earn significant income from his work in "Willy Wonka & the Chocolate Factory", his later career as a veterinarian is responsible for the majority of his wealth.
Early Life and Child Acting
While Peter was born in Dallas, the youngest of four siblings, his family later moved to Cleveland, Ohio where he would grow-up, and took his education in the area. At a young age, he showed an interest in the acting, performing in local theatre as a part of the Cleveland Play House. It was during this time that several talent agents took notice of him, and invited him to audition for "Willy Wonka & the Chocolate Factory".
After recording a book reading and taking photos of him, the agents returned to New York and it wasn't until two months later that he was contacted for a screen test there, and a month later he was informed that he was given the part. In 1970, he left the US to live briefly in Munich, then West Germany as it was the location for filming for the next five months. The entire filming felt like a student exchange program, as he was able to enjoy what most of Germany had to offer in the next five months.
Film Success
Ostrum was able to witness the construction of the 1972 Summer Olympics Olympia Park.
He also worked with notable talents such as Jack Albertson and Gene Wilder, and was mentored by these more experienced actors, particularly Wilder whom he considered his parent during his time there. He had tutoring lessons and filmed most days, with his singing voice significantly cut in the final version of the film, which was released to a very strong positive response.
The film is based on the Roald Dahl novel "Charlie and the Chocolate Factory", telling the story of the titular Charlie who visits a world-famous chocolate factory with other children after winning a Golden Ticket, given randomly through a chocolate bar.
The film attracted a bit of controversy due to the screenplay being altered heavily by David Seltzer against the author Dahl's wishes, but earned over $1 million at the box office, and was successful even in its television release. The film received both Academy and Golden Globe nominations, losing out to "Fiddler on the Roof" which performed strongly in awards shows during the year.
The Chocolate Factory's Effect
After filming, producer David L. Wolper offered Peter a three-film contract, which would essentially kick-start his career. However, he declined the offer as he felt that it limited the choice he had in what roles he would play.
He later left acting behind, and even though he missed it, he was glad he didn't feel the pressures that child actors felt as they transitioned to more adult roles. During high school, he retained his interest and later auditioning several times, but unsuccessfully.
He was approached by interviewers and reporters but declined to comment on his past. He didn't talk about the role for a long time, and even kept it from his future wife for a while. In the 1990s, he embraced the experience and began speaking about it more openly, especially to his alumni. Since then, he's appeared in more events involving the film, leading up to the release of the next iteration "Charlie and the Chocolate Factory" in 2005. T
he new film saw a resurgence in interest in him, and it eventually led him to decline a lot of reporters due to the crowding.
Veterinary Career
During his teenage years, Ostrum's parents bought him a horse, and his time with the animal left a strong impression, leading him to pursue veterinary studies later on, during which period he continued to raise and groom horses in Pennsylvania. He even considered stopping this path to return to acting once more, but ultimately decided to focus on veterinary medicine.
He studied at the Cornell University College of Veterinary Medicine, based in Ithaca, New York, part of the State University of New York (SUNY) system.
In recent years he's been based in New York, working as a veterinarian with the Dairy Health & Management Services, in which he also shares the title of managing partner, and also serves specifically in the Countryside Veterinary Clinic, focusing on cows and horses. One of his last video appearances was in the series "Veterinarians on Call", which focused on the work of veterinarians working with large animals such as horses. The video series was funded by Pfizer, one of the largest pharmaceutical companies in the US.
While he has done a lot in this field, he has not left his love for the "Willy Wonka & the Chocolate Factory" behind, even appearing during a 40th-anniversary celebration in 2011.
Personal Life
Peter began dating Loretta M. Lepkowski in the 1980s, leading them to marry in 1987. The couple have two children together, and reside in Lowville, New York. One of his children also caught the acting bug, following his father's youth and participating in numerous local musicals in which he has been credited as a leading actor. One of the biggest things that motivated Peter in his career decisions was seeing the same professionals enjoying their work, and learning more about what they did. His father was a lawyer but he didn't know anything about the job when he was a child, so didn't pursue a similar career.
General Info
| | |
| --- | --- |
| Full Name | Peter Ostrum |
| Net Worth | $500 thousand |
| Date Of Birth | November 1, 1957 |
| Profession | Child actor, Veterinary physician |
| Education | Cornell University College of Veterinary Medicine |
| Nationality | American |
Family
| | |
| --- | --- |
| Spouse | Loretta Ostrum |
| Children | Helenka Ostrum, Leif Ostrum |
Accomplishments
| | |
| --- | --- |
| Movies | Role Model: Gene Wilder, Willy Wonka & the Chocolate Factory |
| TV Shows | 100 Greatest Kid Stars |
Social profile links
Quotes
| # | Quote |
| --- | --- |
| 1 | For a long time I hated talking about the movie. When anyone brought it up, I wanted to change the topic. I didn't want to be known as that former child actor. Now, since I've been out of the industry for so long and have grown up, I look on the whole experience with fond memories and see it as a wonderful part of my life. It's fun to reflect now with the maturity that I didn't have at one point when I was younger. |
| 2 | He frightened me! We had become good friends during the filming, so I had no idea why he was yelling at me during the scene. The director then yells "cut" and Gene all of sudden smiles and was like "great job!" I was so confused on what just happened, but realized he and David (Seltzer) had prepared how to do the scene and didn't want to tell me so they could get a more genuine reaction. What can you say, it worked. |
| 3 | Do I regret turning down the movie offer? I don't think so. I love the job I am doing right now. Granted it is about as far away from Hollywood as you can get, but I have a feeling of self-satisfaction with it. I don't believe that I made the right choice or the wrong choice. I made a choice that fit what I wanted, and it shaped how life unfolded for me. Would have life been better if I took the movie offer? Maybe, but I'll never know, and it's something I'll never question. |
| 4 | [on how he almost returned to performing]: When I made Willy Wonka & the Chocolate Factory (1971), acting was something that interested me. It still does, but not as a profession. The only time I ever considered it again was when I heard they were holding auditions to replace Peter Firth in 'Equus' on Broadway. My thinking was that, perhaps I should at least present myself. Getting the part would have been like lightning striking twice, but I didn't get it. So I continued in school with the same majors - animal husbandry and veterinary medicine. |
| 5 | [on making Willy Wonka & the Chocolate Factory (1971)]: The entire experience was better than enjoyable. It was really interesting. But I had a chance to see what everyone's job entailed and I knew I didn't want to do any of those things for a living. Including being stars like Gene Wilder and Jack Albertson. When it was over I was anxious to become just another kid again. |
| 6 | When the picture was over, it was like it had never happened. I returned to school and by the time it was in theatres I'd changed a lot so I wasn't even recognised much. So, when I was, it was always a nice experience because people like 'Charlie'. He's a nice kid. My parents told me to look on it as an experience, which is what I did....My mom and dad were not at all stage parents. They made sure I had a clear choice about what I did for a living. I'm really grateful to them because being a veterinarian is very gratifying. |
Facts
| # | Fact |
| --- | --- |
| 1 | Has said that he would love to be in a Quentin Tarantino movie. |
| 2 | resides in Glenfield, New York. [June 2006] |
| 3 | Today, a practitioner in Glenfield, New York, Dr. Ostrum visits public schools in his community to talk about his experiences, what it's like to be a veterinarian, and how one's life changes with the decisions one makes. [January 2002] |
| 4 | In 1984 he earned a doctorate from Cornell University College of Veterinary Medicine. |
| 5 | Was number 78 on vh1's The Greatest: 100 Greatest Kid Stars (2005). |
| 6 | Lived in Munich, Germany for more than six months while filming Willy Wonka & the Chocolate Factory (1971). |
| 7 | Lived in three different cities as a kid: Dallas, Texas; Cleveland, Ohio; and Newark, New Jersey. |
| 8 | Attended North Hunterdon Regional High School in Annandale, New Jersey. |
| 9 | Although born in Dallas, he was raised largely in the Cleveland, Ohio, area, where he first acted in local children's theatre productions. |
| 10 | He is the youngest of four children by over a decade. |
| 11 | Came in first place among males age 40-49 at the Lake Placid Half Marathon in 2001. |
| 12 | Both Denise Nickerson and Julie Dawn Cole admit that they had crushes on him during the time they made Willy Wonka & the Chocolate Factory (1971) together. |
| 13 | Is a vet to large farm animals (cows and horses) in rural New York state. |
| 14 | Was offered a three picture contract after Willy Wonka & the Chocolate Factory (1971), but turned it down. |
| 15 | Has two children, Helenka and Leif. |
| 16 | Willy Wonka & the Chocolate Factory (1971) was his only film appearance. He later went on to become a veterinarian. |
Pictures
Movies
Soundtrack
| Title | Year | Status | Character |
| --- | --- | --- | --- |
| Sicko | 2007 | Documentary performer: " I've Got a Golden Ticket" | |
| Willy Wonka & the Chocolate Factory | 1971 | performer: "I've Got a Golden Ticket" - uncredited | |
Actor
| Title | Year | Status | Character |
| --- | --- | --- | --- |
| Willy Wonka & the Chocolate Factory | 1971 | | Charlie |
Thanks
| Title | Year | Status | Character |
| --- | --- | --- | --- |
| Citizen Candy Man: A Chocumentary | 2005 | Short everlasting thanks | |
Self
| Title | Year | Status | Character |
| --- | --- | --- | --- |
| Oprah: Where Are They Now? | 2014 | TV Series | Himself |
| Veterinarians On Call | 2011 | Video short | Himself |
| Top Chef: Just Desserts | 2011 | TV Series | Himself |
| The 100 Greatest Family Films | 2005 | TV Movie documentary | Himself |
| Best Ever Family Films | 2005 | TV Movie documentary | Himself |
| The Greatest | 2005 | TV Series documentary | Himself |
| After They Were Famous | 2003 | TV Series documentary | Himself |
| Child Stars: Then and Now | 2003 | TV Special documentary | Himself |
| Pure Imagination: The Story of 'Willy Wonka and the Chocolate Factory' | 2001 | Video documentary short | Himself |
Archive Footage
| Title | Year | Status | Character |
| --- | --- | --- | --- |
| Role Model: Gene Wilder | 2008 | TV Movie documentary | Charlie Bucket (uncredited) |
| Gilmore Girls | 2000 | TV Series | Charlie Bucket |
Source:
IMDb
,
Wikipedia