• Aryn Drake-Lee is a real estate broker and ex-wife of Jesse Williams, an American actor and film director.
• Aryn was born in Chicago and studied at French American International School and Barnard College.
• She and Jesse met in 2007 and married in 2012, having two children together before divorcing in 2017.
• She is an animal lover and likes to read books, watch comedy movies and TV series and travel.
• Aryn is 38 years old and has a estimated net worth of $2 million, while Jesse has a net worth of $8 million.

Known for movies
Short Info
| | |
| --- | --- |
| Date Of Birth | August 5, 1981 |
| Spouse | Aryn Drake-Lee |
| Fact | Married Aryn Drake-Lee, age 32, a real estate broker, on September 1, 2012 in Los Angeles. They have been together for five years. |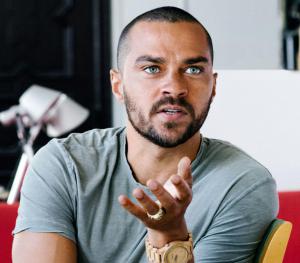 Who is Jesse Williams' ex-wife Aryn Drake-Lee? Wiki Bio
Aryn Drake-Lee was born in Chicago, Illinois USA, on 12 December 1981 – her zodiac sign is Sagittarius and she holds American nationality. Aryn is a real estate broker, who gained public recognition after she married and later divorced Jesse Williams, a famous American actor and film director and producer.
Childhood and education
Aryn was raised an only child in Chicago by her white father who was a businessman, and her black mother who was teaching at a local high school. Her parents had many problems with their families as they were not supportive of their decision to marry someone of different color.
Aryn studied at French American International School in San Francisco, California at which she learned how to speak and write both French and Spanish, and she was also physically active as she played volleyball and tennis. Upon matriculation in 1999, Aryn enrolled at Columbia University's Barnard College located in New York City, from which she graduated with a Bachelor of Arts degree in 2003.
Career as a real estate broker
While she was still studying at Barnard College, Aryn began working at the company Webb and Booker in Harlem, which was at that time regarded as one of the best black management companies in New York.
She stayed with them for a year before moving to William B. May Company, where she was a real estate agent for two years before being offered the position of an Associate Real Estate Broker at Brown Harris Stevens, and she went on to become one of their best brokers.
Aryn has been working at Brown Harris Stevens for over 10 years now, and is currently based at their office in Park Slope.
Love life and divorce from Jesse Williams
Aryn and Jesse Williams met in 2007 when he was teaching history at a local high school in New York City – Jesse wasn't popular back then, as he hadn't launched his acting career yet. The two started dating, and were together for over five years before marrying in a small ceremony in Los Angeles, on 1 September 2012, attended by their closest friends and family.
The couple welcomed their daughter Sadie Williams in December 2013, while their son Maceo Williams followed in October 2015.
After becoming a famous actor, Jesse filed for divorce in April 2017, refusing to pay Aryn spousal support while he also demanded joint custody over their children. Aryn stated in an interview that she helped him while he was working his way up in the film industry, but that now  he's famous, he wants to be single. However, Jesse was soon seen with actress Minka Kelly on several occasions, and it was confirmed that the two were together for several months by July 2017.
Aryn requested from the court that she gains sole custody over Sadie and Macoe, and that Jesse pays her spousal support and even though she is today getting $100,000 a month from Jesse, the court have given them joint custody over their children.
Aryn is currently single while Jesse has been in a relationship with the American actress Taylour Paige since the summer of 2019.
Hobbies and other interests
Aryn likes to spend her free time at the gym where she is mostly focused on doing cardio, and she is also following a strict diet, thus her hourglass body figure. She enjoys reading books in her spare time – her favorite writer is Nicholas Sparks as she is a hopeless romantic, while some of her favorite books are "Dear John" and "Message in a Bottle".
Aryn is a lover of animals with her favorites being cats and elephants; she likes to travel and has been to several US states while she has also travelled to Africa, Europe and Asia on multiple occasions.
Aryn is keen on watching comedy movies and TV series, and some of her favorite actors and actresses are Tom Hanks, Matt LeBLanc and Courteney Cox, while some of her favorite movies are "The Terminal", "Groundhog Day", and "When Harry Met Sally" – her favorite TV series is "Friends".
Appearance and net worth
Aryn is 38 years old. She has long curly black hair and brown eyes, is 5ft 5ins (1.65m) tall, and weighs around 121lbs (55kgs). As of June 2020, her net worth is estimated at over $2 million, while Jesse's net worth is reputedly over $8 million.
Who is Jesse Williams? Wiki Bio
Jesse Wesley Williams was born in Chicago, Illinois USA, on 5 August 1981 – his zodiac sign is Leo and he holds American nationality.
Jessie is perhaps best known for his portrayal of Dr. Jackson Avery in the romantic drama series "Grey's Anatomy" since 2009, which has been airing since 2005. The series stars Ellen Pompeo, Chandra Wilson and James Pickens Jr., and is about five surgical interns working at a local hospital. It's won 76 awards including two Golden Globes, and has been nominated for 221 others.
Jesse was raised alongside his two younger brothers in Chicago, by their mother Johanna Chase who was a professional potter, and father Reginald Williams who was the owner of a small moving company – he became a history teacher in 1998. Jesse attended Moses Brown School where he became interested in acting, and started appearing in school plays.
Upon matriculation in 1998, Jesse enrolled at Temple University in Philadelphia, Pennsylvania from which he graduated with a Bachelor of Arts degree in both film and media arts, and African-American studies in 2002.
He launched his career by becoming a high school teacher, and he taught American and African Studies for six years before deciding to focus entirely on his acting career. He made his debut TV series appearance in 2006, when he portrayed Kwame in a single episode of the police procedural and legal drama series "Law & Order", before he appeared in eight episodes of the drama series "Beyond the Break" and two episodes of the comedy drama series "Greek".
The year 2010 saw him portray Dr. Jackson Avery in six episodes of the medical drama series "Seattle Grace: Message of Hope", before he guest starred in a single episode of the surreal comedy series "The Eric Andre Show" in 2016, and the comedy drama series "Most Expensivest" in 2018. Some of his latest roles in TV series have been in the crime drama "Power" in 2019, the action drama "Station 19" and the drama web mini-series "Little Fires Everywhere" both in 2020.
Jesse made his debut film appearance in 2008, when he portrayed Leo in the comedy drama "The Sisterhood of the Travelling Pants 2" – his following roles were in the crime drama movie "Brooklyn's Finest" in 2009, the short drama film "Dirty Dancing 3: Capoeira Nights" in 2010, and the horror comedy movie "The Cabin in the Woods" in 2012.
'Truth is greater than fear' — @iJesseWilliams and @ColorOfChange are exposing the truth about #massincarceration and how politicians used fear to keep people of color downpic.twitter.com/XtvDYG81CL

— Siman Hadi (@siman_hadi) June 10, 2020
He made his producing debut in the same year, when he worked on the drama film "Question Bridge: Black Males" and then went on to play James Lawson in the historical drama movie "The Butler". Jesse portrayed Don 'The Snake' Prudomme in the biographical drama movie "Snake and Mongoose" which is about the rivalry between two drag racers, and some of the roles which followed were in the horror drama film "They Die by Dawn" in 2013, the crime thriller movie "Money" in 2016, and the comedy drama movie "Band Aid" in 2017. A few of Jesse's latest roles in movies have been in the drama "Selah and the Spades", the psychological thriller "Jacob's Ladder", and the slasher horror "Random Acts of Violence" all released in 2019.
Jesse has also done a bit of modelling, posing for Kenneth Cole Productions and Tommy Hilfiger Corporation among other companies, and has been featured in a variety of musical videos, making his debut appearance in "When Your Heart Stops Beating" performed by +44 in 2006. In 2009, he appeared in Rihanna's music video "Russian Roulette", as well as in "Fall in Love" performed by Estelle in 2010. Two of his latest appearances in musical videos have been in "Tell Me You Love Me" by Demi Lovato, and "Legacy" by Jay-Z in 2017. He has also lent his looks and voice to the character Markus in the adventure video game "Detroit: Become Human".
Jesse has short brown hair and blue eyes, is 6ft 1ins (1.85m) tall, and weighs around 174lbs (79kgs).
General Info
| | |
| --- | --- |
| Full Name | Jesse Williams |
| Date Of Birth | August 5, 1981 |
| Height | 1.87 m |
| Profession | Film producer, Activist, Actor, Model, Teacher |
| Education | Temple University |
| Nationality | American |
Family
| | |
| --- | --- |
| Spouse | Aryn Drake-Lee |
| Children | Maceo Williams, Sadie Williams |
| Parents | Reginald Williams, Johanna Chase |
Accomplishments
| | |
| --- | --- |
| Awards | BET Humanitarian Award, Young Hollywood Award for TV Actor of the Year |
| Nominations | People's Choice Award for Favorite Dramatic TV Actor, NAACP Image Award for Outstanding Supporting Actor in a Drama Series, Shorty Award for Best in Activism |
| Movies | Money, They Die By Dawn, Snake and Mongoose, The Butler, The Cabin in the Woods, Brooklyn's Finest, The Sisterhood of the Traveling Pants 2, Jacob's Ladder |
| TV Shows | Grey's Anatomy, Washingtonienne |
Social profile links
Quotes
| # | Quote |
| --- | --- |
| 1 | Freedom is always coming in the hereafter. But the hereafter is a hustle. We want it now. |
| 2 | It was very important to me to be with a woman who is better than me at some things. You want someone who brings new, interesting things into your life. |
| 3 | You have to be up-front from the very beginning about what your expectations of the other person are, and you can't make any promises you don't intend to keep. |
| 4 | That's why the role that I have on 'Grey's Anatomy' is important to me, because it's a human being. He doesn't have to wear race on his sleeve; he doesn't even have to talk about it. We just lead by our actions. |
| 5 | Staying true to our goals, Question Bridge as a company and as a project is not singularly about black males. One of the things I'm so excited about Question Bridge is that my vision goes far beyond black males. |
| 6 | We should all have the opportunity to at least get a basic education and feel that you are worthy of something in life. |
| 7 | I'm very grateful and fully aware that 90 percent of actors are not working. Going from public school teacher to a show like 'Grey's Anatomy', I love what I do. |
| 8 | As an actor, you want to be able to move your character forward into new ground, but also it's really interesting to go backwards and unpeel those layers and the interesting elements of what your character is and what informs the decisions that you make so that you can have as much meat to work with. |
| 9 | Storybooks were always a big part of my imagination, and my childhood and adolescence. |
| 10 | I'm always trying to find the next comedian that just gives me something a little funny to combine with all of the depressing news that I'm processing. |
| 11 | I always find that really interesting, you know, when I get to see characters that I love in TV and film and theater around their family. |
| 12 | I download, like, forty songs a day, I'm a big music collector and a big record collector. |
| 13 | I like to take credit for the work that I have done. |
| 14 | I thought that if acting didn't work out, I'd have done law school or medical school: probably law to be honest. |
| 15 | I'm an athletic junkie - I play in all the celebrity all-star games, and I've become buddies with a bunch of athletes. |
| 16 | We often grow up being told that we can do this or that, but if you don't see anybody that looks like you doing it, you don't believe you can do it. But I had great teachers, and I wanted to be a great teacher. |
| 17 | There's so much material out there that's unnecessarily racist. It takes a shot at what is 'urban' or demonstrates blackness with some sassy, neck-jiving character that's not even relevant to the plot. I see it time and time again, and it doesn't move the story forward. It just kind of cryogenically freezes us in this old racial paradigm. |
| 18 | I'm kind of in a middle space, being marketed as a biracial actor. Roles are written either stereotypically black, or they're written 'normal,' which is just code for white. |
| 19 | Storytelling is based on the word, being an honorable person of integrity is based on your word. |
| 20 | Coming from New York, you're kind of indoctrinated with anti-L.A. sentiment, but California is just a really dope state. |
Facts
| # | Fact |
| --- | --- |
| 1 | In New York shooting new movie Money (2016). [June 2015] |
| 2 | Married Aryn Drake-Lee, age 32, a real estate broker, on September 1, 2012 in Los Angeles. They have been together for five years. |
| 3 | Attended Moses Brown high school in Rhode Island. |
| 4 | His father is African-American, with some Seminole ancestry. His mother is of Swedish descent. |
| 5 | A former high school teacher. |
| 6 | Attended Temple University (B.A.) in Philadelphia, PA |
Pictures
Movies
Actor
| Title | Year | Status | Character |
| --- | --- | --- | --- |
| Jacob's Ladder | 2017 | post-production | |
| Band Aid | 2017 | | |
| Grey's Anatomy | 2009-2017 | TV Series | Dr. Jackson Avery |
| Money | 2016 | | Sean |
| The Spoils Before Dying | 2015 | TV Mini-Series | Parker |
| They Die by Dawn | 2013 | | John Taylor |
| Snake & Mongoose | 2013 | | Don 'The Snake' Prudhomme |
| The Butler | 2013/I | | James Lawson |
| Rich Girl Problems | 2012 | Short | Peter |
| The Cabin in the Woods | 2012 | | Holden |
| J.A.W. | 2011 | Short | Enin |
| Seattle Grace: Message of Hope | 2010 | TV Series | Jackson Avery |
| Dirty Dancing 3: Capoeira Nights | 2010 | Video short | Johnny |
| Beyond the Break | 2009 | TV Series | Eric Medina |
| Washingtonienne | 2009 | TV Movie | Keya |
| Brooklyn's Finest | 2009 | | Eddie Quinlan |
| Greek | 2008 | TV Series | The Hotness Monster / Drew Collins / Hotness Monster |
| The Sisterhood of the Traveling Pants 2 | 2008 | | Leo |
| Law & Order | 2006 | TV Series | Kwame |
Producer
| Title | Year | Status | Character |
| --- | --- | --- | --- |
| America Divided | 2016 | TV Mini-Series documentary producer - 2 episodes | |
| Stay Woke: The Black Lives Matter Movement | 2016 | Documentary executive producer | |
| Snake & Mongoose | 2013 | executive producer | |
| J.A.W. | 2011 | Short co-producer | |
Self
| Title | Year | Status | Character |
| --- | --- | --- | --- |
| The Survivor's Guide to Prison | 2017 | Documentary post-production | Himself |
| Complex Conversations | 2017 | TV Series documentary | Himself |
| Ellen: The Ellen DeGeneres Show | 2016 | TV Series | Himself |
| America Divided | 2016 | TV Mini-Series documentary | Himself |
| The Eric Andre Show | 2016 | TV Series | Himself |
| BET Awards 2016 | 2016 | TV Movie | Himself |
| Stay Woke: The Black Lives Matter Movement | 2016 | Documentary | |
| Hollywood Today Live | 2015 | TV Series | Himself |
| 20th Annual Critics' Choice Movie Awards | 2015 | TV Special | Himself |
| The 41st Annual People's Choice Awards | 2015 | TV Special | Himself |
| Celebrity Name Game | 2014 | TV Series | Himself - Celebrity Player |
| The Queen Latifah Show | 2014 | TV Series | Himself - Guest |
| The View | 2014 | TV Series | Himself |
| The Arsenio Hall Show | 2014 | TV Series | Himself - Guest |
| Mind of a Man | 2014 | TV Series | Himself - Special Guest |
| The Insider | 2013 | TV Series | Himself |
| Made in Hollywood | 2013 | TV Series | Himself |
| The 39th Annual People's Choice Awards | 2013 | TV Special | Himself |
| The Chew | 2012 | TV Series | Himself - Guest |
| 13th Annual Young Hollywood Awards | 2011 | TV Special | Himself - Actor of the Year in TV |
| MTV Video Music Awards 2010 | 2010 | TV Special | Himself (uncredited) |
| Entertainment Tonight | 2010 | TV Series | Himself |
| The Tonight Show with Jay Leno | 2010 | TV Series | Himself - Beer Pong at the ESPYs |
| Rock n' Gol | 2010 | TV Movie | Himself |
| The Mo'Nique Show | 2010 | TV Series | Himself |
| The Wendy Williams Show | 2010 | TV Series | Himself |
| Jimmy Kimmel Live! | 2009-2010 | TV Series | Himself |
Archive Footage
| Title | Year | Status | Character |
| --- | --- | --- | --- |
| Ok! TV | 2015 | TV Series | Himself |
| Cinemassacre's Monster Madness | 2014 | TV Series documentary | Holden |
Awards
Won Awards
| Year | Award | Ceremony | Nomination | Movie |
| --- | --- | --- | --- | --- |
| 2016 | BET Award | BET Awards | Humanitarian Award | |
| 2011 | Young Hollywood Award | Young Hollywood Awards | TV Actor of the Year | |
Nominated Awards
| Year | Award | Ceremony | Nomination | Movie |
| --- | --- | --- | --- | --- |
| 2016 | Best Ensemble Cast | Orlando Film Festival | Narrative Feature | Money (2016) |
| 2015 | People's Choice Award | People's Choice Awards, USA | Favorite Dramatic TV Actor | |
Source:
IMDb
,
Wikipedia