• Tyler Hoechlin is an actor known for his work in the television series "Supergirl".
• His net worth is estimated to be over $4 million.
• He grew up in Corona and has a diverse ancestry.
• He originally pursued a career in professional baseball, but later decided to pursue acting full-time.
• He is single and close with his "Supergirl" co-star Melissa Benoist.

Known for movies
Short Info
| | |
| --- | --- |
| Date Of Birth | September 11, 1987 |
| Fact | Beat out more than 2,000 young actors for the role of Michael Sullivan Jr. in Road to Perdition. |
| Payments | Earned $60,000 from 7th Heaven (1996) |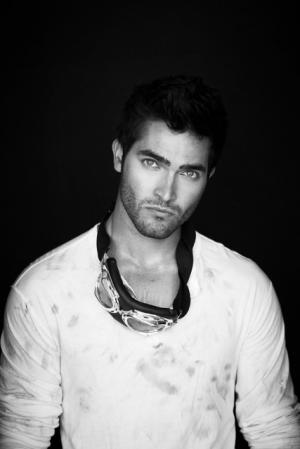 Who is Tyler Hoechlin?
Tyler Lee Hoechlin was born on 11 September 1986, in Corona, California, USA, and is an actor best known for his work in the television series "Supergirl" in which he portrays Superman. He's also worked on other popular shows during his career, such as "Teen Wolf", and "7th Heaven" in which he portrayed Martin Brewer.
The Net Worth of Tyler Hoechlin
As of early-2020, Tyler Hoechlin's net worth is estimated to be over $4 million, earned through a successful career in acting, having been in the profession since 1998. He's also worked on numerous films during his career, and has won awards thanks to his performances.
Early Life, Education, and Career Beginnings
Tyler grew up in Corona and is of a diverse ancestry, with some of his roots being traced back to Ireland, Germany, and Native America. He grew up with an older sister and two brothers. At a young age, he aspired to pursue a career in professional baseball, beginning to play the sport as a child. He participated in several competitions, and continued playing as he attended Santiago High School, known for its athletic program.
After matriculating, he enrolled at Arizona State University under a scholarship that allowed him to play infield with the school's baseball team, which he helped reach the College World Series held in Omaha.
After a year in the school, he opted to transfer to the University of California, Irvine which had a more prestigious baseball team. He played as second baseman for the UC Irvine Anteaters, and spent his summers playing in college leagues. He also had an interest in acting, and was involved in a few production during his free time, but his sights were set on a baseball career.
Acting History
Hoechlin had turned down a few big productions and auditions due to his commitments with baseball, including from director Francis Ford Coppolla, and a role in the "Twilight" films.
During his third year, he picked up a hamstring injury that limited his capabilities in baseball, and so he decided to take on more auditions, and was eventually advised to pursue an acting career full time. At this time, he already had an agent due to appearing in commercials when he was a baby.
He'd also had a few notable roles as a child, including appearing in the Tom Hanks film "Road to Perdition" when he was 13 years old; the film is based on the graphic novel of the same name, and follows the story of a mob enforcer who tracks another mobster who killed his family during the Great Depression era.
For this performance he won a Young Artist Award and a Saturn Award, which made a lot of producers and directors set their sights on him due to his potential, even as he pursued baseball.
Full-Time Acting
In 2003, Tyler was cast in the role of Martin Brewer for "7th Heaven"; originally intended to be a guest role, his character p,roved popular and was written into the series. For the role, he won a Teen Choice Award and continued winning awards for his entire four-season run with the popular show. After it ended, he took on other roles, such as guest appearances in "CSI: Miami" and "Castle". In 2011, he worked alongside Christina Applegate in "Hall Pass".
When he fully turned his attention to acting, his first regular role was in the show "Teen Wolf",
played the role of werewolf Derek Hale during its first four seasons, and reprising his role as a guest in later seasons. He continued to win awards for his work, though he desired to pursue other roles, which is why he didn't stay with the show for its entire run. He appeared in "Everybody Wants Some!!", which had sparked his interest due to its connection to baseball. The film received positive reviews, and this led him to seek out more baseball-related roles, including in "Undrafted" but which turned out to be unsuccessful.
Superman and Recent Projects
In 2016, Tyler was cast in the role of Superman in the CW show "Supergirl", without even auditioning for it. He was the first choice of the producers, and began appearing in the show from its second season. His portrayal of the character has met positive reviews, and he later reprised his role in a few Arrow crossovers, making appearances with characters in "The Flash" and "Arrow". In 2019, a spin-off was announced by the CW, confirming that he was set to become a regular for a show called "Superman & Lois".
Apart from his work in "Supergirl", he also featured in "Fifty Shades Freed" as the author Boyce Fox. He also worked on films such as "The Domestics" and "Bigger" in which he played the role of one of the founders of the International Federation of Bodybuilders. Afterwards he was cast in the film "Then Came You", and made an appearance in "Another Life". One of his latest film projects is "Can You Keep A Secret?", starring alongside Alexandra Daddario, and based on the novel of the same name written by Sophie Kinsella. Another recent project he starred in is the romantic comedy "Palm Springs", which premiered during the Sundance Film Festival.
Personal Life
Tyler is single, and while he has been in relationships in the past, he is currently single, showing no signs that he is dating anyone. He is close with "Supergirl" star Melissa Benoist thanks to their work in the show together, leading to rumors of them dating which were later denied. He is the shortest actor to play Superman though not by a large margin. He admits that he dislikes playing roles in television shows for long periods, as he doesn't want to feel that he's doing the same thing every year. He still loves spending time at the gym.
General Info
| | |
| --- | --- |
| Full Name | Tyler Hoechlin |
| Date Of Birth | September 11, 1987 |
| Height | 1.83 m |
| Profession | Actor, Baseball player |
| Education | University of California, Irvine |
| Nationality | American |
Family
| | |
| --- | --- |
| Parents | Lori Hoechlin, Don Hoechlin |
| Siblings | Tanner Hoechlin, Travis Hoechlin, Carrie Hoechlin |
Accomplishments
| | |
| --- | --- |
| Awards | Saturn Award, Young Hollywood Award for Best Ensemble Cast, Teen Choice Award for Choice TV: Male Scene Stealer |
| Nominations | Teen Choice Award for Choice TV Actor - Drama/Action Adventure, Teen Choice Award for Choice TV: Breakout Star Male, Critics' Choice Movie Award for Best Young Performer |
| Movies | Stratton: First into Action, Undrafted, Everybody Wants Some!!, Melvin Smarty, Open Gate, Hall Pass, Solstice, Grizzly Rage, The Rapture of the Athlete Assumed into Heaven, Road to Perdition, Train Quest, Family Tree |
| TV Shows | 7th Heaven, Teen Wolf, Supergirl |
Social profile links
Salary
Quotes
| # | Quote |
| --- | --- |
| 1 | [on suiting up as Superman for Supergirl (2015)] The first couple of times it definitely took longer to get into. I started to think that Superman's greatest power was actually being able to just jump into [the suit] as quickly as he does, because it's not quite as smooth the first couple of times you do it. |
| 2 | [on his portrayal of Superman on Supergirl (2015)] I never try to compare and contrast performances because it's such an iconic character already. Superman is Superman so I'm just going to try to carry on the tradition of that and play that part. |
| 3 | I'm a mama's boy. |
| 4 | If I'm in the gym I'll stay for a while, and I'm not usually in a hurry to leave. |
| 5 | I love going to movies by myself. |
| 6 | I played baseball my entire life, up through college and everything, so working out and being physically active was always a huge part of my life. I'll spend at least a couple of hours in the gym a day. |
| 7 | For me, as an actor, one of the biggest fears on a TV show is getting stuck in something where you end up feeling like you're doing the same thing, every single year. |
| 8 | My girlfriend and I never let each other forget how much we love each other. It's all about reminding the other person how important and special she is to you. |
Facts
| # | Fact |
| --- | --- |
| 1 | Is shorter an younger than co-star Mehcad Brooks who portrays James Olsen on Supergirl (2015). It is usually the opposite when the characters are depicted in other media. |
| 2 | Was as old as Melissa Benoist (28 years old) when cast as Superman on _Supergirl (2015), though his incarnation of Superman is supposed to be twelve years older than his cousin, Kara Zor-El. |
| 3 | He went to prom with Katie Cassidy. |
| 4 | Was considered by Zack Snyder and Warner Bros for the role of Bruce Wayne/Batman in Batman v Superman: Dawn of Justice (2016) but lost out to Ben Affleck. Hoechlin later was, however, cast as Clark Kent/Superman on Supergirl (2015). |
| 5 | He has transferred to UCI and will be on the baseball team as a red-shirt freshman. [October 2007] |
| 6 | Currently playing as an infielder on the baseball team the Battle Creek Bombers out of Battle Creek, Michigan. [July 2007] |
| 7 | Playing baseball for a Collegiate Summer team, The Maxim Yankees, in Santa Clara, California. [June 2008] |
| 8 | Is currently on 7th Heaven playing the character of Martin. [January 2004] |
| 9 | Son of Don and Lori Hoechlin. |
| 10 | His father is of one quarter Swiss-German and three quarters German descent. His mother has English, German, Norwegian, Scottish, and Irish ancestry. Tyler's patrilineal line can be traced back to his great-great-grandfather, Conrad C. Hoechlin, who was born, c. 1839, in Switzerland. |
| 11 | He was offered the role as Emmett Cullen in the "Twilight" saga, but turned it down to play college baseball. |
| 12 | Hit into the last out ever at LSU's Alex Box Stadium during the 2008 NCAA Baseball Super-Regional as a member of the UCI Anteaters. |
| 13 | Recently received a college scholarship to play baseball at Arizona State University (2005) |
| 14 | Tyler has big plans to play professional baseball in a few years. |
| 15 | Owns a red Hummer H2 |
| 16 | Has 2 brothers (Tanner and Travis) and a sister (Carrie). |
| 17 | Last name is pronounced 'Heck-lin'. |
| 18 | Auditioned for the role of Max in Charlie's Angels: Full Throttle (2003), but lost to Shia LaBeouf. |
| 19 | Was a U.S. baseball team member at the Pan-American games at age 9 |
| 20 | Beat out more than 2,000 young actors for the role of Michael Sullivan Jr. in Road to Perdition. |
Pictures
Movies
Actor
| Title | Year | Status | Character |
| --- | --- | --- | --- |
| Fifty Shades Freed | 2018 | post-production | Boyce Fox |
| Fifty Shades Darker | 2017 | completed | Boyce Fox |
| Stratton | 2016 | completed | Marty |
| The Domestics | | filming | Mark West |
| Supergirl | 2016 | TV Series | Clark Kent Superman |
| Undrafted | 2016 | | Dells |
| Everybody Wants Some!! | 2016 | | McReynolds |
| Teen Wolf | 2011-2014 | TV Series | Derek Hale |
| The Sticks | 2013 | TV Movie | Hot Cop Clark Russell |
| Melvin Smarty | 2012 | | Ricky |
| Charlie Brown: Blockhead's Revenge | 2011 | Short | Schroeder |
| Hall Pass | 2011 | | Gerry |
| Open Gate | 2011 | | Kaleb |
| Lincoln Heights | 2009 | TV Series | Tad |
| Castle | 2009 | TV Series | Dylan Fulton |
| My Boys | 2009 | TV Series | Owen Scott |
| Solstice | 2008/II | | Nick |
| CSI: Miami | 2007 | TV Series | Shawn Hodges |
| Grizzly Rage | 2007 | TV Movie | Wes Harding |
| 7th Heaven | 2003-2007 | TV Series | Martin Brewer |
| The Rapture of the Athlete Assumed Into Heaven | 2007 | Short | The Athlete |
| Road to Perdition | 2002 | | Michael Sullivan Jr. |
| Train Quest | 2001 | | Billy |
| Family Tree | 1999 | | Jeff Jo |
| Disney Sing Along Songs: Happy Haunting | 1998 | Video short | Zach |
Soundtrack
| Title | Year | Status | Character |
| --- | --- | --- | --- |
| Everybody Wants Some!! | 2016 | performer: "Cherokee ChaChow" - as The TWITA Boys | |
Self
| Title | Year | Status | Character |
| --- | --- | --- | --- |
| Rachael Ray | 2016 | TV Series | Himself - Guest |
| Last Call with Carson Daly | 2016 | TV Series | Himself - Guest |
| GeekRockTV | 2016 | TV Series | Himself |
| Made in Hollywood | 2016 | TV Series | Himself |
| Today | 2016 | TV Series | Himself - Guest |
| Back Bumper Confessions on Torio TV | 2016 | TV Mini-Series | Himself |
| Wolf Watch | 2014 | TV Series | Himself / Himself - Guest |
| 2013 Young Hollywood Awards | 2013 | TV Special | Himself |
| Teen Wolf: Back to the Pack | 2013 | TV Movie | Himself |
| Teen Wolf Revelations | 2012 | TV Series | Himself |
| 2011 MTV Video Music Awards | 2011 | TV Special | Himself |
| MTV Video Music Awards 2011 Pre-Show | 2011 | TV Special | Himself (as Teen Wolf Cast) |
| Teen Choice 2011 | 2011 | TV Special | Himself |
| 2011 MTV Movie Awards | 2011 | TV Special | Himself |
| 74th Annual Hollywood Christmas Parade | 2005 | TV Special | Himself |
| The Teen Choice Awards 2004 | 2004 | TV Special | Himself |
| The Tonight Show with Jay Leno | 2002 | TV Series | Himself - Guest |
| HBO First Look | 2002 | TV Series documentary | Himself |
| The Making of 'Road to Perdition' | 2002 | TV Short documentary | Himself |
Awards
Won Awards
| Year | Award | Ceremony | Nomination | Movie |
| --- | --- | --- | --- | --- |
| 2014 | Teen Choice Award | Teen Choice Awards | Choice TV: Male Scene Stealer | |
| 2003 | Saturn Award | Academy of Science Fiction, Fantasy & Horror Films, USA | Best Performance by a Younger Actor | Road to Perdition (2002) |
| 2003 | Young Artist Award | Young Artist Awards | Best Performance in a Feature Film - Leading Young Actor | Road to Perdition (2002) |
Nominated Awards
| Year | Award | Ceremony | Nomination | Movie |
| --- | --- | --- | --- | --- |
| 2008 | Fright Meter Award | Fright Meter Awards | Best Supporting Actor | Solstice (2008) |
| 2005 | Teen Choice Award | Teen Choice Awards | Choice TV Actor: Drama | 7th Heaven (1996) |
| 2005 | Young Artist Award | Young Artist Awards | Best Performance in a TV Series (Comedy or Drama) - Leading Young Actor | 7th Heaven (1996) |
| 2004 | Teen Choice Award | Teen Choice Awards | Choice Breakout TV Star - Male | 7th Heaven (1996) |
| 2003 | Critics Choice Award | Broadcast Film Critics Association Awards | Best Young Actor/Actress | Road to Perdition (2002) |
| 2003 | OFTA Film Award | Online Film & Television Association | Best Youth Performance | Road to Perdition (2002) |
| 2003 | PFCS Award | Phoenix Film Critics Society Awards | Best Performance by a Youth in a Leading or Supporting Role - Male | Road to Perdition (2002) |
| 2002 | Sierra Award | Las Vegas Film Critics Society Awards | Youth in Film | Road to Perdition (2002) |
Source:
IMDb
,
Wikipedia