• Troy Gentile is an American actor born in 1993.
• Had his first role when 12 years old.
• Best known for his role of Barry Goldberg in the series "The Goldbergs".
• Has an estimated net worth of over $5 million as of mid-2020.
• Has a girlfriend named Jessica Inn.

Known for movies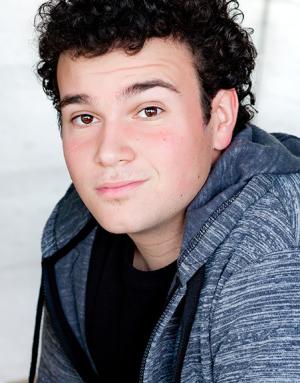 Troy Gentile is an American actor, born on 27 October 1993, in Boca Raton, Florida USA. He's probably best known for his role of Barry Goldberg in the series "The Goldbergs".
Early Life
Troy Francis Farshi was born the son of Albert and Debra Farshi – it's unknown if he has any siblings. His family, of Iranian and Italian origins, moved across the US to Los Angeles when Troy was four years old. Troy's maternal grandfather is named Felix, of whom he shared a photo on Instagram in 2019.
There's no information about Troy's childhood and early education, but it's known that he studied at a community college in Los Angeles.
Career
Early Career
After adopting his mother's maiden name as his artistic name, Troy Gentile landed his first role when he was only 12 years old, as Matthew Hooper in the film "Bad News Bears".
The next year Troy acted in two movies starring Jack Black – as Young Nacho in "Nacho Libre" and as Lil' JB in "Tenacious D in The Pick of Destiny". In 2006 he also landed his first role on TV, when he appeared in an episode of the series "The Suite Life of Zack & Cody".
He was cast in various minor roles in several productions, such as Young Stu in "Good Luck Chuck". Directed by Mark Helfrich, the movie from 2007 is centered on Charlie Logan, a young doctor who has many romantic problems, despite his popularity with women.
Troy also appeared in the movie "9 Lives of Mara" as Larry, and as Mitchell Levine in an episode of the TV series "Entourage".
In 2008 Troy appeared in the movie "Drillbit Taylor" starring Owen Wilson, in which he portrayed Ryan 'T-Dog' Anderson's character, a chubby teenager who along with his two nerd friends hire Bob 'Drillbit' Taylor, a veteran and homeless man, as their personal bodyguard. This is not only one of Troy's most memorable characters to the date, but was also his first main role.
Through 2009 and 2011, Gentile portrayed various short-lived characters in projects such as the movie "Hotel for Dogs", the series "Hawthorne", and the short film "Pig Lady".
The Goldbergs: 2013 – Present
Leaving his child actor phase behind, Troy had the opportunity to play a role more suitable for his age in the sitcom "The Goldbergs". Premiered in 2013, the series centers on a 1980's family whose middle child Barry Goldberg, portrayed by Gentile, is an over-confident teen who is frequently regarded as foolish, but despite his flaws he is a skilled ice hockey player and wrestler.
The successful series has been on air for seven years, and has been Gentile's stepping stone to become a recognized actor in Hollywood. In 2015, Gentile revealed what he considers to be the reason for "The Goldbergs" success: 'We love one another, and that's the absolute truth. I think that's why the show is so good.'
He also shared the reason why he loves working on the series: 'Our cast really, really, really gets along. We are such a real group of people and not a lot of fake actors piled in a room.'
Most Recent Projects
"The Goldberg's" spin-off series, in which Troy plays the same character from the original series entitled "Schooled", premiered in 2019, and focuses on William Penn Academy professors' lives, and their eccentric and sometimes unconventional behavior. He also appeared as himself in the episode "Black-ish vs. The Goldbergs" in the series "Celebrity Family Feud".
The dad who will do it all… Well, almost all! Happy #FathersDay to Murray and all Dads out there! #TheGoldbergs pic.twitter.com/Z6Z2Q2iMnv

— The Goldbergs (@TheGoldbergsABC) June 21, 2020
In 2020, Gentile landed his first starring role as Kevin Brooks in the series "That One Time". The project is still in the filming process.
Awards
Gentile has been nominated three times to win a Young Artist Award during his career – the first was in 2005, when he jointly won in the category Best Performance by an Ensemble in a Feature Film for his work in the movie "Bad News Bears". He was also nominated for his work in "Nacho Libre" and "Drillbit Taylor", but lost to his competitors.
Despite his success as actor, Troy considers education an important part of his life, and the reason he took a short break from acting through 2011 to 2013: 'I'm trying to establish myself as a young adult now.
I'm no longer the chubby kid in the wheelchair or the young Jack Black' he said, referring to his debut role in "Bad News Bears" and "Tenacious D in The Pick of Destiny" respectively. -'I've seen how you can hit rock bottom in this industry, and you need to have something to fall back on. Right now, being an actor is on my plate, but I was going to community college before I got "The Goldbergs". All of a sudden, life's a trip. So now I'm like, okay, I guess this is my craft.'
Personal Life
Romantic Life
Troy Gentile has kept his personal life out the spotlight, however, his fans were surprised when on 27 November 2019 he posted a photo on Instagram happily hugging a woman named Jessica Inn.
On the photo's caption he wrote: 'My Love Jessica! ❤'. Although Gentile never confirmed the relationship, Jessica is publicly acknowledged as his girlfriend.
There's no information about any of Troy's former romantic partners.
Love for Basketball
Troy Gentile is openly known as a longtime Los Angeles Lakers' fan. The basketball team from California holds 16 championships, and the longest winning streak in NBA of 33 games straight.
In 2020 Lakers' star Kobe Bryant and his daughter died in an accident, and Troy shared a photo on Instagram in memorium of them: 'Rest In Peace Kobe & Gianna. Thank you for everything. We love YOU. ❤' he wrote as the photo's description.
Net Worth
As a result of his work as an actor, Troy Gentile has an estimated net worth of over $5 million as of mid-2020.
Appearance
During his time as a child actor, Troy had a chubby appearance and was noticeably overweight. As he grew up, he changed his appearance and currently has a slender build. He is 5ft 10ins (1,78m) tall, has short curly black hair and brown eyes.
Interesting Facts
People usually recognize him for his role in "The Goldbergs" instead of for his real name. When asked about it Troy answered: 'I'll make a name for myself one day'.
He used to be fan of Lil Peep's music, and in 2017 he posted a photo of the deceased rapper in his honor: 'I love you. You are my heart and got me thru the hardest days.'
Troy often shares photos of his family, and has referred to his grandparents as his 'everything'.
He was ecstatic the first time he was asked for an autograph by a fan: 'He asked for an autograph. That's kind of unusual, normally people asked for selfie. That makes a lot more sense to me than my autograph; I'm not Kobe Bryant or some huge sports star. Then he asked if he could take a picture with me, he holds out his hand and it's just shaking. He couldn't keep his phone straight for the picture. – that was weird, but it was also awesome. I really do appreciate all the love we get from all of the "Goldbergs" fans; there are so many fans of the show, it's great.'
General Info
| | |
| --- | --- |
| Full Name | Troy Gentile |
| Date Of Birth | October 27, 1993 |
| Height | 1.72 m |
| Profession | Actor |
| Nationality | American |
Family
| | |
| --- | --- |
| Parents | Debbie Gentile, Albert Farshi |
Accomplishments
| | |
| --- | --- |
| Nominations | Young Artist Award for Best Performance in a Feature Film - Supporting Young Actor |
| Movies | Hotel for Dogs, Drillbit Taylor, 9 Lives of Mara, Good Luck Chuck, I Could Never Be Your Woman, Tenacious D in The Pick of Destiny, Nacho Libre, Bad News Bears |
| TV Shows | The Goldbergs, Zip |
Social profile links
Quotes
| # | Quote |
| --- | --- |
| 1 | [observation, 2014] I'm trying to establish myself as a young adult now. I'm no longer the chubby kid in the wheelchair [Bad News Bears (2005)] or the young Jack Black [Tenacious D in The Pick of Destiny (2006)]. I've seen how you can hit rock bottom in this industry, and you need to have something to fall back on. Right now, being an actor is on my plate, but I was going to community college before I got The Goldbergs (2013). All of a sudden, life's a trip. So now I'm like, okay, I guess this is my craft. |
Facts
Pictures
Movies
Actor
| Title | Year | Status | Character |
| --- | --- | --- | --- |
| The Goldbergs | 2013-2017 | TV Series | Barry Goldberg |
| The Middle | 2015 | TV Series | Kid at Party |
| Pig Lady | 2011 | Short | Justin |
| Hawthorne | 2010 | TV Series | R.J. Paxton |
| Hotel for Dogs | 2009 | | Mark |
| Entourage | 2008 | TV Series | Mitchell Levine |
| Pineapple Express | 2008 | | Troy (uncredited) |
| Drillbit Taylor | 2008 | | Ryan |
| Fugly | 2007 | TV Movie | Nathan |
| Good Luck Chuck | 2007 | | Young Stu |
| Order Up | 2007 | Short | Boy |
| I Could Never Be Your Woman | 2007 | | Fighting Boy |
| 9 Lives of Mara | 2007 | | Larry |
| Zip | 2007 | TV Movie | Nelson |
| Tenacious D in The Pick of Destiny | 2006 | | Lil' JB |
| Nacho Libre | 2006 | | Young Nacho |
| The Suite Life of Zack and Cody | 2006 | TV Series | Jeremy |
| The Late Late Show with Craig Ferguson | 2005 | TV Series | Young Craig Ferguson |
| Bad News Bears | 2005 | | Matthew Hooper |
Soundtrack
| Title | Year | Status | Character |
| --- | --- | --- | --- |
| The Goldbergs | 2013-2016 | TV Series performer - 11 episodes | |
Thanks
| Title | Year | Status | Character |
| --- | --- | --- | --- |
| The Goldbergs: An '80s Rewind | 2016 | TV Movie thanks | |
Self
| Title | Year | Status | Character |
| --- | --- | --- | --- |
| The Goldbergs: An '80s Rewind | 2016 | TV Movie | Himself / Barry Goldberg |
| Entertainment Tonight | 2015 | TV Series | Himself |
| The 83rd Annual Hollywood Christmas Parade | 2014 | TV Movie | Himself |
| The Queen Latifah Show | 2013 | TV Series | Himself - Guest |
| A Home for Everyone: The Making of 'Hotel for Dogs' | 2009 | Video documentary short | Himself |
| The Making of 'The Pick of Destiny' | 2007 | Video documentary | Himself |
| Access Hollywood | 2006 | TV Series | Himself |
Archive Footage
| Title | Year | Status | Character |
| --- | --- | --- | --- |
| Your Movie Show | 2006 | TV Series | Himself |
Awards
Won Awards
| Year | Award | Ceremony | Nomination | Movie |
| --- | --- | --- | --- | --- |
| 2008 | Tabloid Witch Award | Tabloid Witch Awards | Best Supporting Actor | 9 Lives of Mara (2007) |
| 2006 | Young Artist Award | Young Artist Awards | Best Performance in a Feature Film - Young Ensemble Cast | Bad News Bears (2005) |
Nominated Awards
| Year | Award | Ceremony | Nomination | Movie |
| --- | --- | --- | --- | --- |
| 2009 | Young Artist Award | Young Artist Awards | Best Performance in a Feature Film - Young Ensemble Cast | Drillbit Taylor (2008) |
| 2007 | Young Artist Award | Young Artist Awards | Best Performance in a Feature Film - Supporting Young Actor | Nacho Libre (2006) |
Source:
IMDb
,
Wikipedia