• Shelby Chong is an American comedian, actress, and producer, best known as the wife of Tommy Chong.
• She was born in Los Angeles, California in 1948 and matriculated from Gladstone Secondary School in Vancouver, British Columbia in 1966.
• She began her on-screen career in 1980 and has a net worth estimated at $4 million.
• She is married to Tommy Chong and they have four children together.
• Tommy Chong's net worth is estimated at $8 million and he is a vocal supporter of marijuana legalization.

Known for movies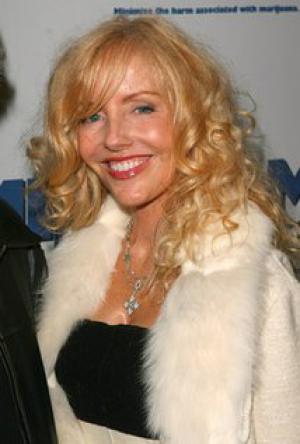 Who is Shelby Chong?
Shelby Chong is an American comedian, actress, and producer as well, but who is perhaps best known to the world as the wife of the famous comedian and actor Tommy Chong. She has appeared in several films with her husband, including "Cheech & Chong's The Corsican Brothers" (1984), among other projects.
Shelby Chong The Untold Truth- Birth Name, Age, Childhood, and Education
Shelby was born as Shelby Fiddis on the 1st February 1948, in Los Angeles, California USA; she spent her childhood in Hollywood, so from an early age was interested in acting.
However, she moved to Canada for her high school and went to Gladstone Secondary School in Vancouver, British Columbia, from which she matriculated in 1966.
Career
She switched her interest from acting to comedy and began performing in local Los Angeles comedy clubs. As she was improving she was meeting other comedians and actors, including her future husband, Tommy Chong. The two soon became a couple and married in 1975. From then Shelby's career took a turn for the better, and she appeared in several films, and also produced a number of them.
She started her on-screen career in 1980 with a minor role in the film "Cheech and Chong's Next Movie", and continued appearing in the films throughout the '80s, such as "Nice Dreams" (1981), which she also produced, then "Things Are Tough All Over" (1982), and "Cheech & Chong's The Corsican Brothers". She remained active as an actress until 2010 but didn't make many notable appearances, starring only in the film "Sandman" in 1993. However, she has been more focused on producing, and recently in 2019, she produced the film "Homewrecker". Also, from 1996 to 2000 she was the opening act to her husband and his comedy partner, Cheech Marin.
After the Cheech and Chong's split, Shelby officially became his partner, but once the legendary comedy duo reunited, Shelby was downgraded to an opening act for the two.
Shelby Chong Net Worth, Height, Weight, and Appearance
Although Shelby's career wasn't as successful as her husband's, she has still managed to earn recognition, and her wealth has increased by a large margin. According to authoritative sources, it has been estimated that Shelby Chong's net worth is as high as $4 million, as of early 2020.
Shelby's great look has also contributed to her popularity; she stands at 5ft 4ins (1.65m) tall, while she weighs approximately 119lbs ~ 54kg.
Her vital statistics are 32-26-32 ins, and she has brown eyes, while her hair is blonde. Shelby has talked about her use of botox, stating that she uses it every four months.
Shelby Chong Personal Life, Marriage, Children
Shelby and Chong started their romance following Tommy's divorce; in 1974 they welcomed their first child, a son Paris, and married the following year. Their second child, Gilbran, was born in 1981, and five years later, the couple welcomed their third child and only daughter, Precious Chong. Before they had their second child, the two adopted Marcus Wyatt, whose biological father was Martin Wyatt.
Both Shelby and Tommy are pro-marijuana, and have talked about their smoking, mostly Tommy's, with Shelby confessing that Tommy is even more fun when he is high.
Shelby Chong's Husband, Tommy Chong
Born Thomas Bing Kin Chong on the 24th May 1938, in Edmonton, Alberta Canada, he is the son of Lorna Jean, a waitress who is of Scottish-Irish Canadian ancestry, and Stanley Chong, who is Chinese and worked as a truck driver in Canada. He was a troubled child, and left high school when he was 16 years old. At the time, he started playing guitar, and as he got older he started playing with music groups.
Career
With the start of the '60s, his musical career was developing and he was a part of the soul group the Shades. With them, he worked on several albums, and with bandmate Bobby Taylor he started the nightclub Blue Balls. Unfortunately, at some time, he was fired by the group's manager for being late for a gig. He became a star in the late '70s and early '80s with the comedy duo "Cheech and Chong", alongside Cheech Marin. The two starred in several films and toured the US, releasing several comedy albums, four of which were nominated for a Grammy Award for Best Comedy Album.
Following the split of Cheech and Chong, Tommy continued his career, but didn't have much success, except for the role of Leo in the TV series "That 70's Show" (1999-2006), and most recently as Ezra in the sci-fi horror film "Color Out of Space" (2019), starring Nicolas Cage, Joely Richardson, and Madeleine Arthur.
Law Problems
Tommy has faced legal problems several times in his life, for his use of marijuana including being a part of the Operation Pipe Dreams. Luckily, he the trial, after making a deal with the US Attorney for the Western District of Pennsylvania's Office, and eventually served his sentence of nine months at the Taft Correctional Institution.
His cellmate was Jordan Belfort, known as the original Wolf of Wall Street. Tommy was the one who inspired and encouraged Jordan to write his memoirs, and they are still good friends.
Personal Life and Net Worth
Before meeting Shelby, Tommy had one failed marriage behind him; back in 1960, he married Maxine Sneed, who is of Black Canadian and Cherokee ancestry. The two were married until 1970 and have two daughters together, Rae Dawn and Robbi Chong.
He has remained true to his marijuana support, and is now a regular contributor to Cannabis Culture Magazine, while he also sits on the advisory board of NORML (National Organization for the Reform of Marijuana Laws).
Back in 2012, Tommy faced his first cancer diagnosis, that of prostate cancer, but after using hemp oil he stated that he was been cured. However, in 2015, he was diagnosed with colorectal cancer but has also managed to beat that terrible disease. He also spoke about his dance lessons that affected his entire condition.
Tommy Chong's net worth is estimated at around $8 million, as of early 2020.
General Info
| | |
| --- | --- |
| Full Name | Shelby Chong |
| Date Of Birth | February 1, 1948 |
| Profession | Comedian, Film producer, Actor |
| Nationality | American |
Family
| | |
| --- | --- |
| Spouse | Tommy Chong |
| Children | Paris Chong, Marcus Chong, Precious Chong, Gilbran Chong |
Accomplishments
| | |
| --- | --- |
| Movies | Far Out Man, Cheech & Chong's The Corsican Brothers, Things Are Tough All Over, Nice Dreams, Cheech & Chong's Next Movie, Best Buds |
Social profile links
Quotes
| # | Quote |
| --- | --- |
| 1 | Botox. I have it done about every four months. I have glycolic peels done as well, and I drink lots of water. |
| 2 | My vanity has kept me maintaining my beauty. I've gotten that from my mother who always told me to take care of myself. |
| 3 | When I stopped acting and started stand-up comedy. It was then that I started speaking in my own voice. And I found that the more honest you are about yourself, the more the audience responds. |
| 4 | I love Oprah [Oprah Winfrey] because she takes a lot of chances. I admire Audrey Hepburn for her femininity and class. Sarah Jessica Parker can also be grouped with these women. All of these women are feminine and intelligent. |
Facts
Pictures
Movies
Actress
| Title | Year | Status | Character |
| --- | --- | --- | --- |
| Tommy Chong Presents Comedy at 420 | 2013 | TV Movie | |
| Just for Laughs | 2010 | TV Series | |
| High Times Potluck | 2002 | | Happy Girl |
| Sandman | 1993 | | Nancy Reynolds |
| Dead On: Relentless II | 1992 | Video | Waitress |
| The Spirit of '76 | 1990 | | Cashier |
| Far Out Man | 1990 | | Tree |
| Tripwire | 1989 | | Monkey Shine Receptionist |
| Cheech & Chong's The Corsican Brothers | 1984 | | Princess I (as Shelby Fiddis) |
| Things Are Tough All Over | 1982 | | French Girl #1 (as Shelby Fiddis) |
| Nice Dreams | 1981 | | Body Builder |
| Cheech and Chong's Next Movie | 1980 | | Beautiful |
Producer
| Title | Year | Status | Character |
| --- | --- | --- | --- |
| Cheech & Chong's The Corsican Brothers | 1984 | associate producer - as Shelby Fiddis | |
| Still Smokin | 1983 | associate producer - as Shelby Fiddis | |
| Things Are Tough All Over | 1982 | associate producer | |
| Nice Dreams | 1981 | associate producer - as Shelby Fiddis | |
Soundtrack
| Title | Year | Status | Character |
| --- | --- | --- | --- |
| Far Out Man | 1990 | performer: "Black Man Blues" | |
| Things Are Tough All Over | 1982 | lyrics: "Me and My Old Lady" - uncredited | |
Thanks
| Title | Year | Status | Character |
| --- | --- | --- | --- |
| American Drug War: The Last White Hope | 2007 | Documentary very special thanks | |
Self
| Title | Year | Status | Character |
| --- | --- | --- | --- |
| Hey Watch This | 2010 | Video documentary | Herself |
| Cheech & Chong: Roasted | 2008 | TV Special | Herself |
| Urban Rush | 2007 | TV Series | Herself |
| A/k/a Tommy Chong | 2006 | Documentary | Herself |
| The Making of 'The Corsican Brothers' | 1984 | TV Movie documentary | Herself |
Source:
IMDb
,
Wikipedia