• Sam Horrigan is an American actor and stuntman best known for his lead role in the 1994 film "Little Giants"
• Sam was raised in Davis, California and was a very active child, playing multiple sports and performing magic tricks
• He has appeared in several movies and TV shows, performing all his stunts himself
• Sam is currently single after filing for divorce in 2018 due to his mental health issues
• His current net worth is estimated to be over $500,000

Known for movies
Short Info
| | |
| --- | --- |
| Date Of Birth | August 23, 1981 |
| Fact | A professional skater for Team Rollerblade for 3 years. |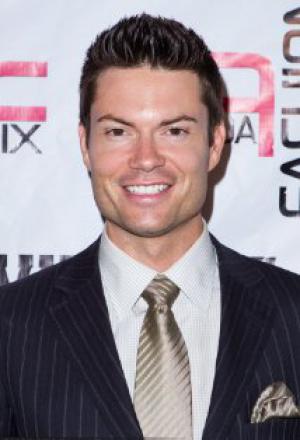 Who is Sam Horrigan? Wiki Bio
Samuel Emmett Horrigan was born in Sacramento County, California USA, on 23 August 1981 – his zodiac sign is Virgo and he holds American nationality. Sam is an actor and a stuntman, perhaps still best known for his portrayal of the lead character Spike in the family comedy sport film "Little Giants" in 1994, which starred Rick Moranis, Ed O'Neill and Shawna Waldron, and followed a football team made-up of people not very good at sports. The movie was directed by Duwayne Dunham and written by James Ferguson and Robert Shallcross, and although it gained a lot of attention, it didn't win any awards. Sam performed all his stunts in the movie himself.
Childhood and education
Sam was raised in the small city of Davis in Northern California alongside his brother Joe, by their parents Tom and Janet, who were both athletes and who played a variety of sports.
Looking up to them, Sam began running at the age of six, and has to this day competed in more than 100 5km events, mostly those organized by charity foundations. He later started skating, and competed with the Team Rollerblade for three years, and became a professional rollerblader after turning 15. He started playing soccer while attending elementary school, and joined the team Davis Hydra while attending high school – they were the only undefeated team for three consecutive years. Sam was interested in many other sports and activities, and as he was a huge fan of magic, he also learned many cards tricks himself. He has been reading comics since a very early age, and dressing up as Metro Man won the "Beauty and the Geek" Comic-Con Superhero Challenge.
Sam was smarter than nearly all of his peers, and skipped two grades, matriculating from high school after he turned 15; he went on to attend Glendale City College at the age of 16, and graduated with a Bachelor of Arts degree in 2000, aged 19.
Roles in movies
Sam made his debut film appearance in 1992, when he portrayed the lead character Sam Slick in "What If", directed and written by Tom Logan and which also starred Andrew Norborg – the film follows several children who are asking themselves 'What if?' The following year saw him make an uncredited appearance in the family adventure comedy movie "Remote", which starred Chris Carrara and Jessica Bowman, and was about a 13-year old boy who loves remote-controlled cars and airplanes.
In 1994, Sam played Bobby Harrison in the drama film "Children of the Dark", which is about a young couple whose lives change after learning that their two daughters are suffering from Xeroderma Pigmentosum, XP – extreme sensitivity to the sun. He also portrayed the Boy on the Subway in the comedy crime family film "Getting Even with Dad", which was nominated for two awards. Sam gained recognition in 1995, when he was cast to play Xander in the critically acclaimed family adventure fantasy film "Escape to Witch Mountain", which starred Robert Vaughn and Elisabeth Moss, and in which Sam again did all his stunts himself.
Sam then went on hiatus – a three-year break from appearing in movies – before being invited to play Jake in the comedy video "1973", which starred famous actors Ben Foster and James Franco, and was about the lives of several teenagers during the '70s, while the same year saw him portray Val in the family sport movie "Brink!" directed by Greg Beeman and written by Jeff Schechter. Again, Sam did all his stunts in the film himself.
In 2002, he portrayed Shovel and Rake Guy in the short comedy film "B. S.", which starred Christy Carlson Romano, Jordan Wood and Eddie McClintock, and was about the lives of girls attending the Fisk Academy Girls Boarding School, while his following role was in 2004, when he appeared as Copper in another short comedy movie "Sweden, Ohio", which follows an Ohio family who learn that their exchange student from Sweden who they thought was a boy is actually a gorgeous girl. The year 2006 saw Sam play Mike Welsh in the comedy movie "Accepted", which starred Justin Long, Jonah Hill and Blake Lively, and which follows a boy who, after being rejected by every college he applied to, decided to open his own school, The Harmon Institute of Technology.
In 2008, he played Brad Thunder in the comedy movie "Bar Starz" in which he performed all of his stunts, but the movie gained rather poor reviews.
Two years later, Sam played Clint Bagswell in the short adventure comedy film "Heavy Metal Strawberry Pickers", before being invited to play a supporting character in the romantic comedy film "Holiday Engagement", which starred Bonnie Somerville and Shelley Long, and was about a woman who hires an actor to pretend to be her fiancé for four days, while she's spending Thanksgiving with her family.
Sam's latest role in a movie has been in 2017, when he portrayed Jesus in the drama movie "In God's Time", but which failed to attract much attention.
Roles in TV series
Sam made his debut TV series appearance in 1993, when he played two different characters in the episodes "Boys II Mensa" and "Cory's Alternative Friends" of the critically acclaimed comedy drama family series "Boy Meets World"; starring Ben Savage and Rider Strong, it won five awards, and was nominated for 17 others.
In 1997, he portrayed the supporting character Brad Emerson in the episode "Orange Kid" of the action crime drama series "C-16: FBI", and also played one of the lead characters, Quentin Kelly in 39 episodes of the romantic comedy series "Grace Under Fire", of course performing all his stunts in both series. Sam then appeared as Bart in two episodes of the comedy series "Opposite Sex" in 2000, a single episode of the comedy fantasy series "Do Over" in 2002, and the episode "Football" of another comedy series – "The O'Keefes" – in 2003. He portrayed the supporting character Scott in the episodes "I Right the Wrongs" and "Henry's Been Working for the Drug Squad" of the comedy series "Grounded for Life", which starred Donal Logue and Megyn Price and won an award and was nominated for eight others, including a Primetime Emmy. Sam was then invited to guest star in single episodes of the romantic sport series "One Tree Hill", and the romantic comedy series "Still Standing".
The year 2004 saw him guest star in many TV series – two of his most notable performances were in three episodes of the comedy series "8 Simple Rules" as Pete, and the comedy series "Quintuplets", in which he played Luskin in the episode "Boobs on the Run". Some of his following roles were in the romantic science fiction series "Jack & Bobby", the comedy crime series "Joan of Arcadia", and the critically acclaimed mystery comedy series "Desperate Housewives".
In 2006, Sam was invited to portray Brian 'Pop' Popovich in the episode "Wichita Linebacker" of the crime mystery series "Veronica Mars", starring Kristen Bell and Jason Dohring, and was about Veronica, who becomes somewhat of a detective in her hometown Neptune – the series won six awards and was nominated for 18 others.
Some of Sam's following appearances were in the comedy series "Reba" in 2006, the mystery crime series "CSI: Crime Scene Investigation" in 2009, and the fantasy mystery series "True Blood" in 2011.
Two of his latest roles in TV series have been in the family comedy musical "School of Rock" portraying Vince in two episodes, and the romantic comedy "Modern Family", in which he played Nick in the episode "Grab It" in 2016.
Love life and girlfriends
Sam avoids talking about his love life in public, but it is known that he married his other half Betty in 2014, in a private ceremony attended by their close friends and family. Several months after the wedding, Betty gave birth to their son Blake, while their daughter Hailey followed two years later. It seemed to many that the family was leading a happy life together, however, Sam filed for divorce in June 2018, citing irreconcilable differences.
After Betty requested Sam be examined by a psychiatrist, it was revealed that he is an alcoholic and that he has 'homicidal ideations', meaning that he is often thinking about killing people or is even planning to kill them in his head. The court has ordered him to continuously see a psychiatrist who could help him with his 'homicidal ideations', and has given full custody over their children to Betty, without allowing Sam to visit them at all.
Although some of his fans have claimed to have seen Sam with another woman, it is believed that Sam is currently single.
Hobbies and other interests
Sam is still physically very active, and in addition to many sports which he still often plays today (soccer, tennis, basketball etc.), he also has several training sessions at the gym each week, thus his muscular body. Summer is his favorite season, as he loves to swim in the ocean, and is an avid surfer, but he also likes winter as he both skis and snowboards.
Despite his aforementioned affliction, Sam is involved in charity work, and spends some spare time helping charity organizations gather money for underprivileged children and war veterans. He is a huge lover of animals and has a pet dog, but isn't a supporter of the People for the Ethical Treatment of Animals (PETA) organization, as he believes it's true goal is not helping the animals, but rather to make a profit.
In his spare time, Sam enjoys watching movies, and his personal favorite actor and actress are Johnny Depp and Angelina Jolie, while some of his favorite movies are the franchise "The Pirates of the Caribbean", "Edward Scissorhands" and "Lara Croft: Tomb Raider – The Cradle of Life".
Sam's net worth
Sam's net worth has been estimated at over $500,000 as of June 2020. He has brown hair and his eyes are blue, while his height is 6ft (1.83m). Sam is 38 years old.
General Info
| | |
| --- | --- |
| Full Name | Sam Horrigan |
| Date Of Birth | August 23, 1981 |
| Profession | Stunt Performer |
| Nationality | American |
Family
| | |
| --- | --- |
| Parents | Janet Horrigan, Tom Horrigan |
| Siblings | Joe Horrigan |
Accomplishments
| | |
| --- | --- |
| Movies | Bar Starz, Accepted, Brink!, Little Giants, 1973, In God's Time |
| TV Shows | Beauty and the Geek |
Social profile links
Facts
| # | Fact |
| --- | --- |
| 1 | Los Angeles, CA, USA: Host of the 1st Annual Burbank Wedding and Bridal Show. [March 2013] |
| 2 | Running in the "Run for her Life" Charity run with Mya [October 2009] |
| 3 | Working with Generosity Water to build wells in countries that don't have clean safe drinking water. [March 2011] |
| 4 | SHARE's 57th Annual Boomtown Charity Event [June 2010] |
| 5 | Los Angeles, CA: Host of the Burbank Town Center 4th of July Fireworks Festival. [July 2013] |
| 6 | Signed with Sovereign Talent Group. [February 2010] |
| 7 | Runs 5 miles every morning except Sunday. |
| 8 | He has been an avid runner since the age of six and has run in over 100 5k races. He loves to run in races that raise money for charities. |
| 9 | When he was 18 and bodybuilding he could bench press over 400lbs. |
| 10 | Spends most of his free time doing charity work. |
| 11 | Placed his hands in cement at the Mann's Theatre in Florida. |
| 12 | Parents had him turned down the role of James Leer in the feature film Wonder Boys opposite Michael Douglas and Robert Downey Jr. In the end, the part was played by Tobey Maguire. |
| 13 | Turned down the role of Trip in the Feature film Detroit Rock City. |
| 14 | Is a big fan of Magic Tricks and specializes in Card Tricks himself. |
| 15 | Suffers from Dyslexia. |
| 16 | Mother's name is Janet and father's name is Tom. |
| 17 | Shattered his Rib cage skating on a Half Pipe while working on Grace Under Fire. Didn't miss a day of work. |
| 18 | His soccer team Davis Hydra was undefeated 3 years in a row. |
| 19 | Did his own stunts in Bars Starz including Fight Scenes and setting himself on fire. |
| 20 | Doesn't drink or smoke cigarettes. |
| 21 | Is a partner at In His Presence Church. |
| 22 | A professional skater for Team Rollerblade for 3 years. |
| 23 | Hired to play the part of the male beauty on Beauty and the Geek. However it was not scripted. All his funny one liners were improvised right on the spot. |
| 24 | Won the Comic-Con Superhero challenge on Beauty and the Geek with his comic superhero character Metro Man. |
| 25 | He was a professional rollerblader when he was 15. |
| 26 | Graduated high school when he was 15 and began attending Glendale city college at 16. |
| 27 | Grew up in Northern California in a town called Davis with his brother Joe. |
Pictures
Movies
Actor
| Title | Year | Status | Character |
| --- | --- | --- | --- |
| Desperate Housewives | 2006 | TV Series | Dale Helm |
| Joan of Arcadia | 2004 | TV Series | Tommy Belkin |
| Jack & Bobby | 2004 | TV Series | College Guy |
| Quintuplets | 2004 | TV Series | Luskin |
| 8 Simple Rules | 2004 | TV Series | Pete |
| Oliver Beene | 2004 | TV Series | Coach Wright |
| Cracking Up | 2004 | TV Series | |
| Sweden, Ohio | 2004 | TV Movie | Cooper |
| Still Standing | 2004 | TV Series | Kyle |
| One Tree Hill | 2003 | TV Series | Thing |
| Grounded for Life | 2003 | TV Series | Scott Bianco |
| The O'Keefes | 2003 | TV Series | |
| B.S. | 2002 | TV Movie | Shovel and Rake Guy |
| Do Over | 2002 | TV Series | Judd Chulak |
| Opposite Sex | 2000 | TV Series | Bart |
| Brink! | 1998 | TV Movie | Val |
| 1973 | 1998 | TV Movie | Jake |
| Grace Under Fire | 1996-1998 | TV Series | Quentin Kelly #2 |
| C-16: FBI | 1997 | TV Series | Brad Emerson |
| Escape to Witch Mountain | 1995 | TV Movie | Xander |
| Little Giants | 1994 | | Spike |
| Getting Even with Dad | 1994 | | Boy on Subway |
| Children of the Dark | 1994 | TV Movie | Bobby Harrison |
| Boy Meets World | 1993 | TV Series | Costumed Kid #2 / Student #1 |
| Remote | 1993 | Video | Student (uncredited) |
| What If | 1992 | TV Movie | Sam Slick |
| In God's Time | | completed | Jesus |
| Modern Family | 2016 | TV Series | Nick |
| School of Rock | 2016 | TV Series | Vince |
| Holiday Engagement | 2011 | TV Movie | Surfer Dude |
| True Blood | 2011 | TV Series | Fangbanger |
| Heavy Metal Strawberry Pickers | 2010 | Short | Clint Bagswell |
| CSI: Crime Scene Investigation | 2009 | TV Series | Eric Tobin |
| Bar Starz | 2008 | | Brad Thunder |
| Reba | 2006 | TV Series | Actor |
| Veronica Mars | 2006 | TV Series | Brian 'Pop' Popovich |
| Accepted | 2006 | | Mike Welsh |
| The Jake Effect | 2006 | TV Series | Steve Skinner |
Stunts
| Title | Year | Status | Character |
| --- | --- | --- | --- |
| Bar Starz | 2008 | stunts - uncredited | |
| Brink! | 1998 | TV Movie stunts - uncredited | |
| C-16: FBI | 1997 | TV Series stunts - 1 episode | |
| Grace Under Fire | 1997 | TV Series stunts - 1 episode | |
| Escape to Witch Mountain | 1995 | TV Movie stunts - uncredited | |
| Little Giants | 1994 | stunts - uncredited | |
Self
| Title | Year | Status | Character |
| --- | --- | --- | --- |
| Beauty and the Geek | 2007 | TV Series | Himself |
| Reality Revealed: Beauty and the Geek | 2007 | TV Movie | Himself |
Archive Footage
| Title | Year | Status | Character |
| --- | --- | --- | --- |
| Horse Sense | 1999 | TV Movie | Val |
Source:
IMDb
,
Wikipedia